Guide to Successful Salesforce Project Integration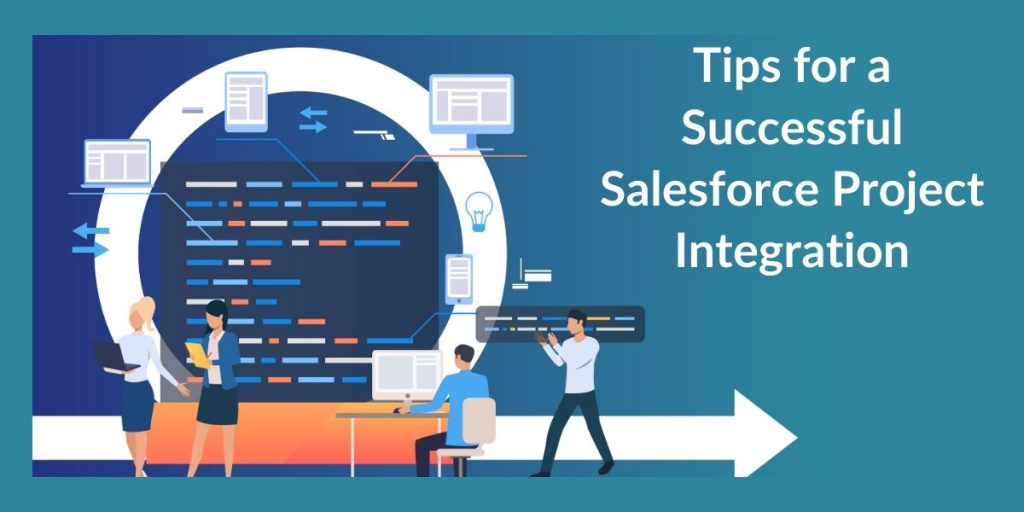 While considering Salesforce implementation in your system, your mind always has a turmoil that your Salesforce project must be successfully implemented. And some of the most common tips would be to set a real goal, get your data all cleaned up, aligning all the projects, and keeping an eye on the training sessions of your employees.
Salesforce Project Integration Tips:
But these tips are very normal; these things should be kept in mind while implementing any new software in your system. Noting specific, how a salesforce software should be launched for a successful integration.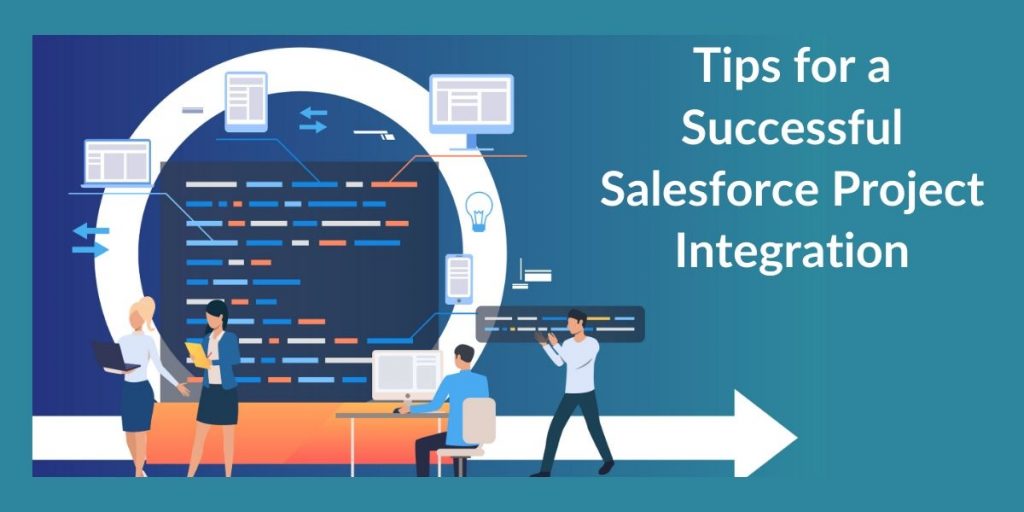 Below are some tips to understand what are the major points to keep in mind while implementing Salesforce Sales Cloud.
1. Recreating your opportunity process
As an organization that is switching to cloud based crm solutions from a traditional analysis tool, they need to recreate their Lead-to-Opportunity process. This is the core of a salesforce integration process. But to achieve success, there are some areas where you should keep a note.
Do not transfer leads in bulk to salespeople; they will start ignoring those.

Assign every lead to a Contact or Opportunity before transferring to the sales team

Create separate pipeline reports and dashboards for every stage.

Create a feedback mechanism for the sales and marketing team.
2. Adopt a four-step approach
If your customers are not correctly engaging with your system, that implies your Salesforce project has not been integrated correctly. Inculcate these four steps to secure true user adoption.
(i) Develop a simple system that can be easily leveraged by the end-user.
(ii) The system should also be easy for the sales team; in fact, they should realize that the current system that they are using is much harder than the Salesforce system.
(iii) Monitor the performance of your system. You won't be able to understand its growth if you do not measure it correctly. Therefore, gather all the data and analyze it to know the user behavior.
(iv) Manage your user's adoption. Leverage your data to manage your user's way of handling the system. Also, reward and compliment your employees and users for doing well.
Related Post: Advantages of Salesforce Integration
3. Manage a Database
Salesforce has many significant benefits, but one of the major ones is getting visibility of sales pipeline and sales performances.
Companies are still failing to install dashboards to track that visibility. For a successful integration and functioning of a Salesforce project, it is important that there should be a dashboard and it should consist of:
Metrics on the quality of the pipeline

Information on the trend in the pipeline

Visibility of the size of the pipeline.
Without these metrics, there is no use of integrating Salesforce for the Sales team.
4. Train your employees
Your salesforce project success begins when your team starts using it correctly. Knowing how to use the tool to drive sales is very important. This means each sales team member needs to be trained thoroughly to drive sales. Not only analysis should be strong, but how the lead should be managed and transformed into an opportunity is critical for every project's success.
An effective and learned Salesforce trained employee will be the one that can recognize every chart in the dashboard and identify the places of improvement.
5. Kickstart your launch
A loosely left launch means making the Salesforce available to users, but not driving them to make use of it. Implying that the project team believes the system is not fully ready or perfect for integration.
So, it is important that as soon as you launch your Salesforce tool, make sure everyone understands the importance of using it and keeping data and records up to date.
6. Target Tracking
The target audience is what drives the real ROI. With Salesforce consulting services, you can directly incorporate target tracking into your system.
Target tracking needs to show historical performance and compare it with future potential revenue. Which means, it must compare the future pipeline with the weighted pipeline for the next period of time.
7. Developing a scalable and robust Salesforce tool
The best way to start with a robust salesforce architecture is not to directly start developing it. Instead, it is important that you collaborate with your team and plan out its architecture. Prior, plan how can you scale it in the near future, what robust design is required, and how will it meet all the objectives.
8. Cleanup data
Your existing system already has a humongous data including leads, contacts, customers, prospects, current, and past opportunities. This data needs to be transferred into the new Salesforce system.
But what are the benefits of importing already existing data
User adoption and interaction will get easy, as all the data will already have been saved in the existing data.

Efficiency and productivity will increase as you will not have to insert any data manually.

No need to wait until there is a certain amount of data.
Most organizations integrating Salesforce, range from small to big enterprises, meaning that they might have limited resources will make specific choices to make around the features and functionality. So, it would be a good option that they do not include all the features at once but rather see the usage and then scale.
Related Post: Salesforce Enhances Customer Experience
Tip: Make a list of all the features and functionality you want to include in your Salesforce and then include half of them according to the priority. Then ask your team to prioritize their needs.
Also, organizations should ensure to get feedback from their audience and employee to get a clear picture of their Salesforce tools. And make modifications to it accordingly.
Keeping these eight tips in mind during your Salesforce implementation will help create a smooth transition, maintain a clear company vision, and receive the maximum ROI from your new solution!