How Salesforce Implementation can Maximize your Business Value?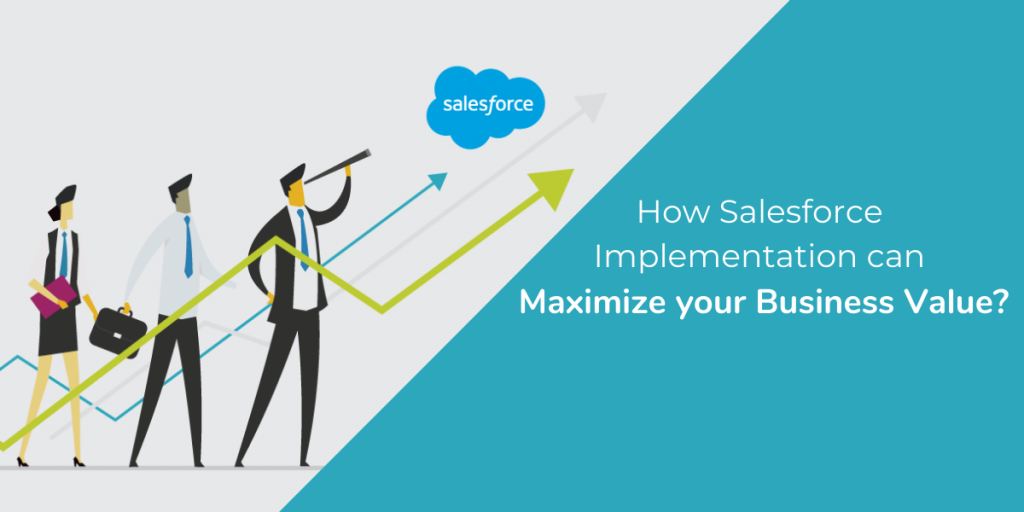 Today's customer is not the one who keeps on waiting for your service. If they are not getting attended they will move ahead with other options.
Together with Salesforce implementation, a company can quickly and easily retrieve all the available data of the customer, be it new or existing for a more personalized experience. Moreover, the CRM system has the ability to store and retrieve all the activities concerning past purchases, preferences, and anything else that might assist them in finding a solution.
And, instead of bringing in new resources, it is effective to integrate a solution that can flawlessly handle your customer's data.
CRM is known to improve the retention rate by 27%
In reality, Salesforce implementation with your system means working no matter where you are, you can still access your customer's data. Introducing the Salesforce Cloud CRM solution offers a lot of benefits from identifying, assisting, and understanding your clients.
Some Undeniable Benefits of Salesforce Implementation:
1. Improved Information Database
With more and more databases, your company is able to provide them with a positive experience that leaves an impact. After all, every interaction that you have with your client leaves a lot of data behind. So, it is important to identify, record, and document this data.
For salesforce implementation, you need to add a full-proof solution that runs beyond the excel sheet and sticky notes. Salesforce cloud solutions allow you to store a huge amount of data and anything & everything important. No matter which representative assists the customer, all are provided with actionable data.
2. Enhanced Communication
CRM is cloud-based and accessible from any device with an internet connection; the communication benefits of mobile CRM are not limited to the office. Additionally, it can also help in sending personalized messages and build campaigns with templates to track and nurture prospects. In fact, you can easily send messages from the Salesforce web or mobile app.
Salesforce implementation with your system means that you can easily access a detailed history of the prospects. As a result, you can keep track of your customers to understand their unique interests and also get real-time tracking.
With the collected data, your organization can uncover certain trends by monitoring the stored data. Accessing metrics like opens and click-through rates can understand what is impacting your pipeline.
Wells Fargo, the seventh most profitable company in the United States with approximately $1.9 trillion in assets and roughly 70 million customers. The organization leverages Salesforce CRM system to keep their customers, banking, mortgages, investing, and credit cards all in sync.
Outcome: Wells Fargo has saved hundreds of Business hours, significantly reducing technical debt driving growth and innovation.
3. Improved Customer Experience
Deploying Salesforce Sales Cloud in your business process gives you an omni-channel consistency. The system focuses on growing the company's customer base, leveraging the insights, and offering personalized recommendations.
Some other areas that CRM helps improve are:
Evaluation: Performance evaluation is important to track the corporate's overall performance. When an organization evaluates the performance of employees, you give them the best opportunity to meet and exceed the company's expectations.
Motivation with Recognition: It is seen that 10% of the workplace education increase leads to a boost of 8.6% in total productivity. CRM tools ensure that everyone involved has the knowledge they need to do their jobs well and that they can easily get help when the situation calls for it.
Related Post - How Salesforce Enhances Customer Experience?
4. Automation
Salesforce CRM services support diverse automation tasks from marketing to sales, and assistance to enhance productivity and improve the customer experience.
Marketing
Campaign Management
Lead nurturing
Audience Re-engagement
Lead prioritization
Sales
Focusing on the hottest leads.
Execute multiple campaigns effectively.
Streamline tasks
Pipeline stage transitions.
Service:
Generate reports in a fraction of the time.
Configuration of Dashboard
Send automatic notification alerts
Welcome emails.
CRM Automation can Significantly:
Save time
Streamline tasks
Increase leads
Improve sales conversions
Enhance customer satisfaction
Drive higher retention rates
Some of the Most Required Features for CRM:
Contact Management
Funnel Monitoring
Sales Automation
Track Interactions
Scheduling
Third-party integration
Help Desk
Email Marketing
Centralized Database
Performance
5. Increase Efficiency
Efficiency figures out how fast you do something, while effectiveness tells you how useful your efforts are towards reaching an intended end result. Everyone is using the online CRM system to record their customer interactions. It helps them to serve the customers better with the knowledge of what has been discussed in the previous interaction.
As you know more about clients, the better able you are to serve them. Rather than focusing on information gathering and task efficiency, work on its effectiveness. Ensure that your sales teams are doing the right things at the right time with the right people. Over time, this will create successful behaviors and a winning sales culture.
6. Improved Analytical Data and Reporting
Salesforce implementation helps you to store information in one place, which leads to improved analysis of the data as a whole. Easily integrated with different tools or plugins, you have the ability to generate automatic reports to maximize your time.
Personalize your dashboard views to quickly locate information needed such as customer information, sales goals, and performance reports to reach blocked opportunities.
Salesforce CRM platform eliminates sales, marketing, and service problems.
Related Post - Guide to Successful Salesforce Project Integration
Once the data is entered, it is automatically communicated to relevant stakeholders or logged into the right systems, all without duplicate manual data entry. CRM systems can also automatically pull data from emails, messaging apps, and similar systems to further reduce the amount of clerical work businesses must do.