Strategies to Launch a Mobile App Successfully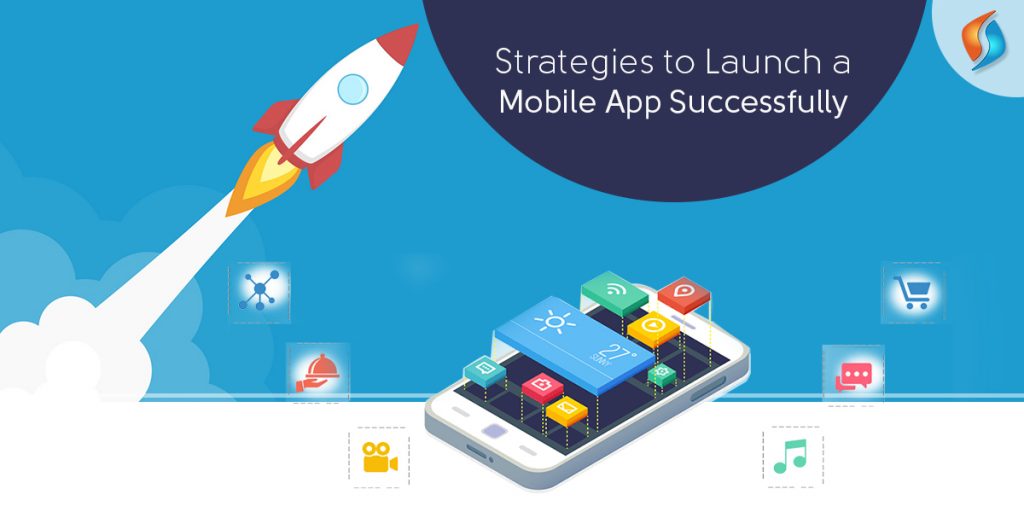 We live in a world where marketing and advertisement is everything. From shoes to Real estate, marketing is something that remains omnipotent if success is the want of the producer. When it comes to enterprise mobility solutions, India is growing bigger and bigger with every passing day. It is the perfect market for the success of any business enterprise. The mobile app development companies play a significant role in our everyday activities through their smart mobile app development solutions. They are the biggest influence of our time, whether it is the youth or the teenagers. As we know, there are thousands and thousands of Mobile Applications in our native mobile app markets. But what is it that marks the success and failure of any mobile application? If you ever wondered about this, then this is the place where you will find all the answers
Role of Mobile App in our day to day life
The mobile application is something which is known by everyone these days. There are tons of mobile applications developed on all the operating platforms, whether it is Android or IOS application development. A mobile app is a software designed to satisfy our needs by offering great interaction. They are useful, and we can perform various functions in one place. They have replaced the usage of search engine for every website. There is a native mobile application of mostly every website and corporation.
Strategies to Launch a Mobile App Successfully
Launching an app successfully is a big task, and it is not as easy as it seems. Making your way into the top and trending list is the goal of any app owner. There are tons of factors that can affect the launch of a Mobile application development both positively and negatively.
The first and foremost thing that you can do is to make your app as engaging as possible. You can take help of iPhone and Android app development companies in India for this task. While there is a miraculous success overnight, example Prisma App that took over the globe and soon became the App of the year. But there are millions of apps that are trying to cross the hundred mark in terms of installation.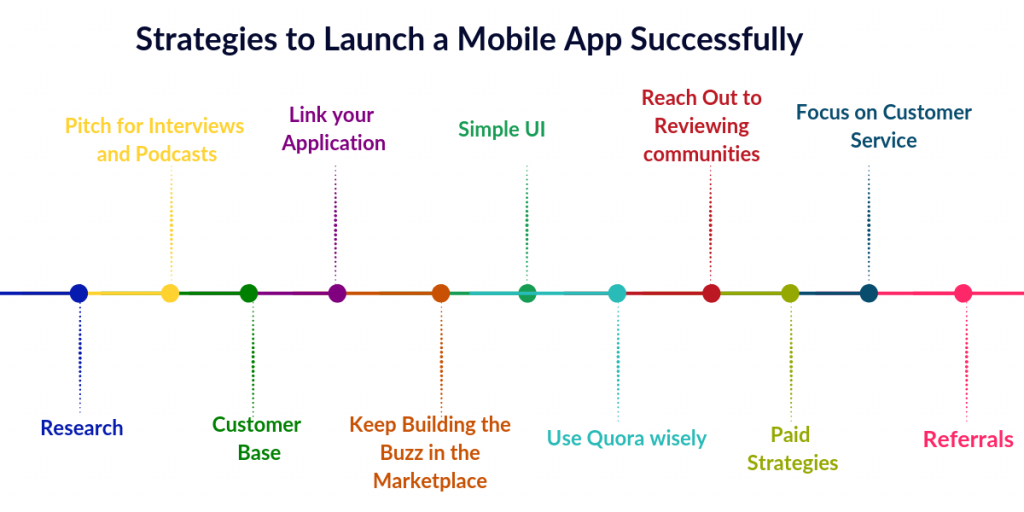 Here are some things that you should remember while getting your app created. These points will affect your launch in a significant way.
1. Research
Research is one of the key players that can help in excelling in the mobile app market. It will also give you an idea about the target audience and give you great market insights. Start with these questions-
How others have named their apps?
What features made them popular and get more downloads?
What are the categories that we need to target?
Which keywords are ranking high?
A correct analysis of all these questions can help you in developing a successful marketing strategy.
Another way of knowing how your app is performing is by looking at your customer reviews posted on the App Store or Play Store.
An eye on good and bad reviews will help you understand about customer's pain points. Start by creating a recurring customer review list and communicate the same with your product development team to stay a step ahead in the mobile application market.
2. Simple UI
No one wants a mobile application for which they have to spend hours learning its usage. Getting a simple and easy to interact application for your business is very important. Make the UI as simple as possible by offering big thumbnails, simple forms and texts that are to the point. Everything a customer sees in your application should be relevant to the very last bit.
3. Customer Base
Research and analysis of your customer base is one thing that is very important. If anybody wants their application to be successful, targeting the market audience wisely is the key. It helps the business in such a manner that both the revenue and productivity will increase if done right. The various mobility service provider offer mobile app development solutions for this task. You can hire individuals who can run surveys and other pools to know the likes and dislikes of your customers.
With these things being in their place, other things play a direct role into a successful launch. These things can make a simple application famous and when not done correctly, even best applications will fact the dirt. Mobile app development companies in USA are known for successful implementations and launches. These are some of the strategies that will come in very handy for your mobile application's launch.
4. Link your Application
Getting your application linked to every business platform of yours is very important. Once your application is built, add it to your Facebook and Twitter handle. Also, connect it to your website's homepage, so if a customer confuses they can visit that too.
5. Paid Strategies
Without digital marketing services, nothing runs in our country or in the whole world. Proper marketing is necessary for your application's success. Start with pop up adds and sponsored ads on social media. Make a small video describing the usage of an application and stream it over your channels. Buy some YouTube ads to get more viewers worldwide. It is the best way to increase your reach as well as grow your business faster.
6. Pitch for Interviews and Podcasts
An interview can play a preeminent role in your mobile application's success, and so is the podcast. They are the best tool to reach out to your customers. It lets them be aware of the fact that you are now available on their mobile. Aim to mention all the facts and advantages as for why someone should use your application.
7. Use Quora Wisely
Quora is something that can beat any other marketing platform any day. It is such a significant community to go for that will increase your business manifold. There are thousands of people out there who are searching for answers. When your ads in the form of the solution will come up, they will get aware of your application. This is the best way of digital marketing as you are doing it for free and in disguise.
8. Referrals
What can be more persuasive than an application referral with free bucks with just one click? YES! This might be the oldest trick in the book, but it never fails to work. References can make your launches successful in just a nick of time. There are hundreds of mobile app development companies profiting from this strategy.
9. Reach out to Reviewing Communities
Getting your app reviewed from the big guns in the field can help you out. As people trust their reviews and if your application receives a good review then there is no stopping for it.
Focus Groups are another great way. There are a lot of app developers who shy away from focus groups because they are too expensive. But there are a lot of ways to do this for free or at a very low cost. Posting information online through popular forums. Reaching out to college students by offering them a small gift cards or something rewarding.
10. Focus on Customer Service
Providing top-notch service to your customers is essential. This will help you to generate goodwill. Solve customer issues as fast as you can. Make video tutorial so that they can use the application to the best. In case you are hoping for a beta launch, this will make an app launch successful without a doubt.
11. Keep Building the Buzz in the Marketplace
A common mistake that app developers make during the launch is to start by building an email list, creating content, and posting on social media. But all washes off after the initial stage and then everyone gets busy with their work.
If you want a successful launch for that, you need to keep building the buzz in the market - communicating regularly with the email list, sharing updates and keep on conversating on the social media channels.


Mobile application development plays a crucial role in the successful launching of an app. A mobile app with all features, easy navigation, and perfect user interface can help in increasing app downloads. Signity Solutions, a leading mobile, and custom web development company in India offers you the best mobility solutions. Our team will take into consideration the time for launch strategy, deployment environment, scalability and reach while ensuring security and analytics are in place. We provide enterprise mobility solutions that are interesting and keep the users engaged. Our development team ensures that all the critical aspects of mobile app development to get covered. Our out-of-the-box Mobile Application Development Services include iOS App development, Android App development, and Progressive Web Apps. Consult our app developers now!!