How Small Travel Agencies Can Generate Online Sales Lead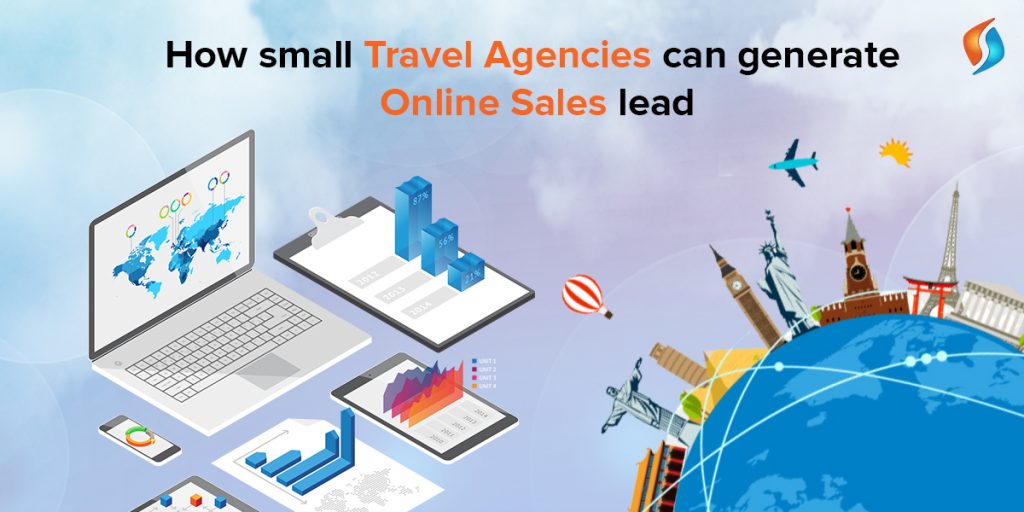 Travel agencies do not just provide lovely trips, but they also offer the best experiences too. However, numerous reasons and factors affect the growth of agencies around the world. One of the most significant factors is having a robust online presence. According to Statista, in the year 2017 gross revenue receipt from online travel bookings was more than the US $ 567 billion. This figure reiterates that for small travel agencies to make it big, it is essential to have a robust online presence. Availing the services of travel portal development company is an ideal option in this scenario.
Guidelines on how small travel agencies can generate online sales lead
Here are some guidelines on how small travel agencies can generate online sales lead in the market by leveraging their online presence.
1. Marketing:
Marketing the product plays a crucial role in travel portal development services. The way these digital marketing agencies market their brand name is the key to get ahead in any market. When marketing their website, the travel agencies must keep in mind that they should develop reader-friendly content. It not only attracts more traffic to the site but also helps generate a lot of other activities and queries, which in turn help in marketing the brand. The agencies must make sure they have engaging and organized content with all necessary details such as a prospectus, latest brochures, offers, phone numbers, e-mail, and much more.
2. Follow up on Booking Leads:
Sometimes the travel agencies might get a lot of responses and traffic in terms of potential clients that are looking through their sites, but only a small percentage out of the billion people could be booking. However, even in this small percentage of people, the booking count decreases and some wonder why. It could be because of the time lag between answering phone calls or e-mails regarding queries. Some sites also have bad reviews that could give a wrong impression to the customer visiting your site. So, it is not just about marketing traffic that requires consideration, but also the right way to handle multiple queries from customers.
3. Promotions:
Technology has a significant advantage in the modern era. For questions, study material, or research people look up on the internet and get more than a million results. Similarly, for booking a trip, sightseeing, or outing, people also look for choices on the internet. It can lead them to your website which should have a proper marketing strategy. However, the critical factor which influences the human mind is social media. The best custom web development company can help you understand what offers, discounts, locations, and trips you should promote on various platforms to encourage more people to show interest in your travel agency.
4. Timely Response:
The next key factor is that the travel agencies must be appropriate in everything. It could be making changing in their website to make it more reader-friendly or in responses to queries. They all should be implemented quickly so that the customers know that the company is serious in their work and are genuine.
5. Mailing:
When planning a trip or vacation everyone wants the best and ideal trip to spend their money on. So, customers raise queries via emails such as price, offers, customization, accommodation, flights, and several others. However, many organizations turn down customers by not replying to the mail within 24 hours or by just ignoring the mail. It will not only cause a negative impression of the agency, but it will create a skeptical image of the company. Most of the custom website development companies will help you put an automated system in place which would make sure that all queries and emails are responded to within a few hours.
6. Emotional Quotient:
It is easier to sell products or implement marketing techniques face to face than onsite as it is easier to convey emotion. The more the customers are comfortable with the brokers or in charges, the more it is guaranteed they will book a trip. However, onsite it is harder to convey. So, the main focus of the travel portal development services should always be expressing true emotions and your goals to the customer so that they believe you. The content written on your site must be precise and shouldn't be overpromising.
7. Support:
If a travel agent is developing their website and content online recently, they can avail the comfort of their big companies. It will not only promote your travel agency, but it will also help them too. There are also support groups where there are travel agencies to help each other to grow larger in the market. Joining such groups can also benefit travel agencies online to a great extent. This support is also achievable through online travel portal development services. These portals make the small travel agencies heard and empowered. These portals help the travel agencies to present the best of their company to their customers in a better way. It not only enhances traffic, but it also improves the booking and growth of the company too.
There are many ways through which small travel agencies can generate online leads. The primary factor small travel agencies must keep in mind is the marketing strategy they apply across the website. The website must be eye-catchy, reader-friendly, and organized.
The travel agencies must also be open to booking and queries coming from several customers at once. These queries may include questions which need to be answered soon or else the customers lose interest in the agency. So, handling multiple reservations is also a crucial factor. Travel agencies must also promote their company and have a customer service that answers emails within 24 hours.
Responding timely will show seriousness, dedication, and persistence in making the company better and will help the customers trust the travel agency.
Hire the best travel portal development company!
At Signity, we have a team of expert web designers and developers to help in online travel portal development. We will help you generate more leads and enhance your profits. You can also hire our outsourcing team or get in touch with us now. We can walk you into the world of online travel.