The Changing Face of Travel Agency Business with Travel Portals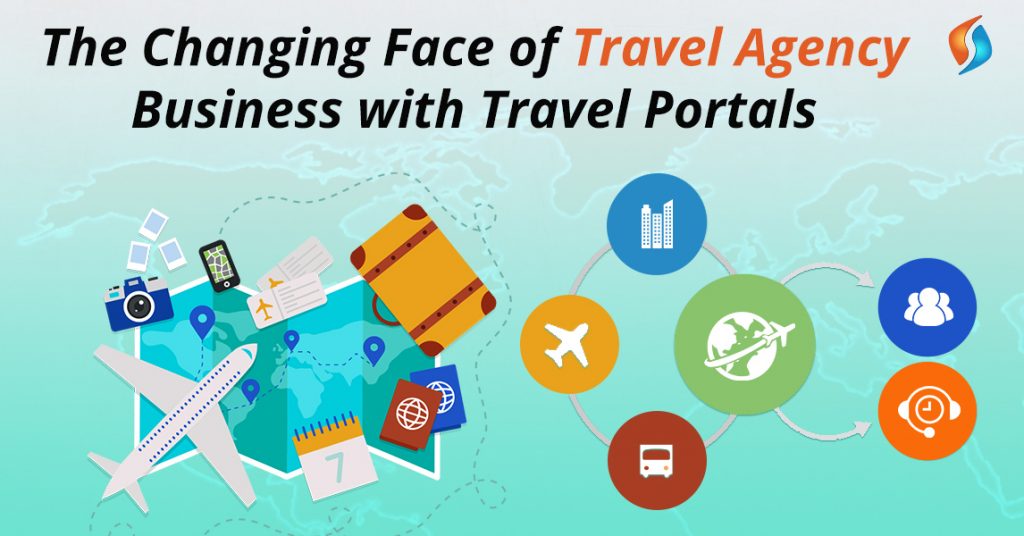 Travel Industry has undergone an extreme transformation with rapid integration of technology. Long gone are those days when customers used to travel to the office of a travel agent to make the bookings. Customers had to rely on the agent for every travel related need. This task was time-consuming and full of hassles. With the rise of Online Travel Agents (OTAs), the industry is undergoing a paradigm shift. At one point, there was a belief that the surge of OTAs has led to the annihilation of travel agencies. But the reality is different. The travel agency business is booming. The total revenue from the industry is going to surpass the US $ 17 billion by 2020. This is a 40% increase over the 2010 level of US $ 12 billion. Much of this has to do with the emergence of a good set of travel portal development services.
Where does the revenue come from?
The significant chunk of revenue for travel agencies is in the form of commissions and service charges. Though, the source of income has completely changed over the last few years. After drying up of commissions from Airlines in the mid-90s, travel agencies shifted their focus. Now, add-on services like Hotels and transport are contributing to their revenue.
This trend is also changing. With the rising popularity of online platforms such as Uber and Airbnb, the commissions have even started to dwindle. But like in the past, travel agency business is now evolving into another dimension. And this has become possible with the support of tourism portal development. There are two major categories of customers who are still preferring travel agencies. One is corporate travelers, and the other is international holidaymakers.
A large number of business travelers opt for services of travel agencies for their requirements. This is because they cannot spare time and resources on this and prefer outsourcing. Custom itineraries and holiday planning for international holidays are offering a new lease of life to travel agencies. The increase in revenue from these sources is making up for the loss in commission for travel agents.
The road ahead for Travel Agencies
It is only a temporary solution for travel agencies — the travel industry in a consolidation mode. Large corporations are acquiring smaller travel agents. The only way ahead for travel agents is through innovation.
In the past, the travel agency industry has relied on channels that have not been affected by technology. After drying up of the commissions from Airlines, the focus shifted to hotels and taxis, then to business travelers and package tours. Now the time has come for travel agencies to buck the trend and reinvent their business model. They need to focus on adding value to a customer's travel requirements to become a preferable option.
- Value Addition
The best option is to avail travel portal development services. You must create a platform that addresses all small issues that a traveler faces and add value. Some of the significant problems that travelers face are a hotel, foreign exchange, internet, language, etc.
As a travel agent, you should enlist a travel portal development company in India. These companies will help you create an online platform and offer solutions for these problems to your customers. When you provide all the necessary services under one roof, customers will prefer using your services. This will help with client retention and growth of revenue.
Another aspect you can focus on is the factor of uniqueness. Create custom packages for exotic locations and enhance the experience for customers. This will provide you with an edge over OTAs as you are adding value to a customer's holiday experience.
- Consultation
As a travel agent, you have significant data insights from your customers. You should use online travel portal development services and create a dynamic portal. This portal should offer useful information to travelers about their questions. It is not possible for you to manage all the data points. With a dynamic portal and mobile app development services for your travel business, you can offer paid consultancy to clients. You can cover critical aspects like places to avoid, the best time to visit, the best hotels to stay, etc. When you merge information from all sources, you will be able to help travelers have a great holiday.
- Networking
You must create a network with fellow travel agents in other countries. You can hire an outsourcing team to help you with this aspect. It would enable you to share real-time information with fellow travel agents. When you have a local partner, you can offer personalized services to your clients. You and your fellow travel agents can share data to draw meaningful insights and drive up your revenue.
At present, it is easy for customers to access mobile apps and make their travel bookings. It becomes essential for you as a travel agent to be pro-active and take the initiative. You can also leverage the technology for your advantage. Use the services of companies providing travel portal development in India to create a new platform. Offer latest and value-added services to the travelers. Travel Agency business is growing at the moment, but it will face competition from OTAs and start-ups. If you do not be proactive, the advantage might slip away.
If you are thinking about app development outsourcing, you must enlist Signity, a leading custom web development company in India, as your partner. We are famous for our travel portal development services. For many years, we have been helping travel agents take advantage of our expertise. Our team of developers and programmers create fabulous apps and websites for your travel business. Get in touch with us today and take your travel agency business to new heights. We are always there to help you out, contact us now.