Travel & Tourism Web Applications - How to make them Successful?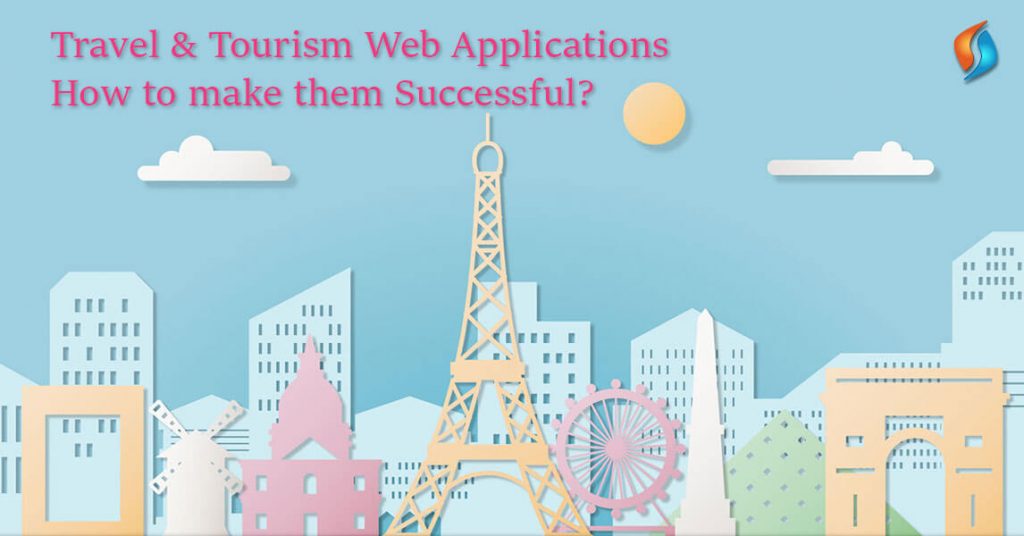 Remember those times when you had to scour newspapers and magazines to find out about vacation rentals. When you had to hail a taxi by hand and rely on paper maps to explore a new place. When hotels, flights, buses, trains, etc. had to be booked by physically visiting the buildings. That time was not a long time ago. Technology has changed the tourism industry at an exponential rate in the last two decades.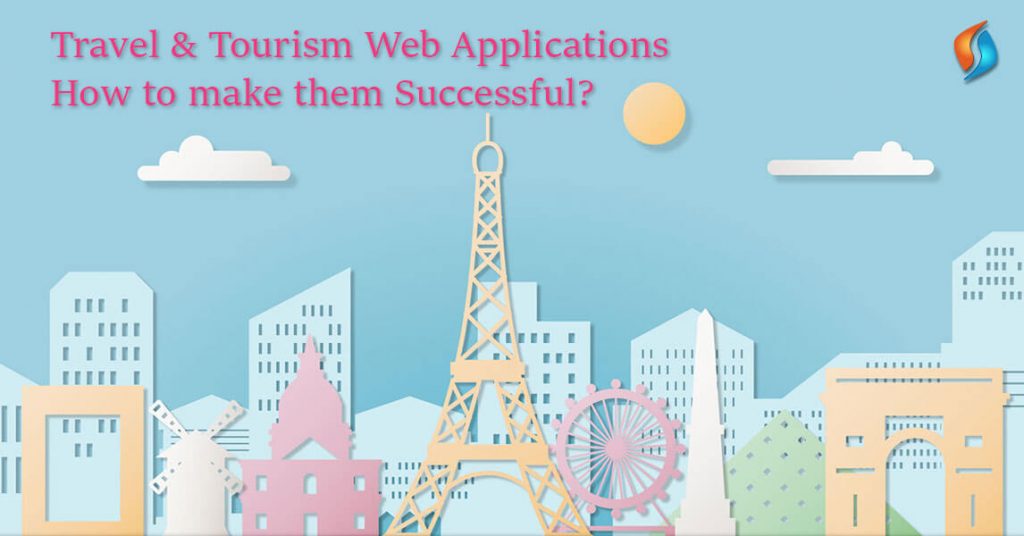 New Era of Web Apps
With the introduction of web apps in the 1990s and mobile apps in the late 2000s, almost every business related to travel and tourism started fighting for a place on the internet. It also brought a lot of fortune to the travel portal development services. The global rise in young population and internet penetration has given such a boost to technology in this industry. And if you think that you have missed the train, then you are so wrong because if you look at the past trends, this industry is not stopping to grow any time soon. Just look at the rise in traveling related businesses in the US alone in the last decade:

(Image Source: Deloitte)
That should be enough to turn your head towards the business opportunities lying in the amalgamation of technology and tourism. Although mobile apps are the most preferred tools to provide a personalized and engaging experience to users but to start with a low budget and to gain broader audience reach, a web application is not a bad option either. So if you have a unique idea which is going to serve the travelers better, then pick up your backpack and get ready for a fantastic journey of a travel web application development.
Travel Web Application Development
Like you plan your trips to make them fun, plan your development process too to make that web app successful. And to help you with the same, we present you the following points which you should keep in mind before you take your first step in the process:
Automate
This is the most basic point and it is highly dependent on your idea. Remember one thing, if it's an app it should get some job done. You are not merely developing a static website, you should save some time and effort of the user. Whether you are providing useful information or helping with some bookings, just try to automate each and every step in your app. Right from suggestions to billing, everything should be done at a couple of clicks in the app.
Travel portal development companies integrate tools like Google maps, GPS, email service and digital wallets, etc. to give your idea a better shape through your web application.
Collaborate
Travel apps are successful if they are one-stop solutions. If tourist books a flight ticket from one app, then books a hotel room from another and uses different apps for taxi and train bookings. Ultimately he keeps hopping from one app to another for the whole journey. Why not you, through your web app, provide him a single assistant for the whole trip?
Just look out for opportunities. Think about how your app can be of further use. Collaborate with other businesses and relish the mutual gain. It will increase customer engagement and will provide an additional source of revenue. I am not asking you to cover all the aspects of traveling and make one complex web app, but you should also never sell pillows without offering them pillow covers.
Secure
A travel portal development is incomplete without transactions. The payment through digital mediums has provided the next level of comfort to the travelers. Now they travel without carrying huge amounts of cash and can avoid those cumbersome tasks of bank transfers.
But this does not come without extra risks of hacking and cybercrimes. And web apps have a reputation of being more vulnerable to these dangers than the mobile apps. Therefore, to make your web app a successful one, you need to make sure that the payment options you provide to your customers are safe. Users can forgive many mistakes, but carelessness with their hard earned money is unacceptable and this can hamper your reputation for a long time.
Relate
A web app will not be successful if your users are not coming back again. To call them back again and again, you need to build relations with them. Relationships need information, communication & most importantly personalization. But how can you provide all these things to thousands of users? The answer is CRM, i.e. a Customer Relationship Management tool.
CRM software basically collects all the data of your users from their interests to bookings. You will get useful insights from the data such as what places these users are interested in, what services are they looking for and what price are they ready to pay for those services. These tools suggest you what you can do to improve the sales cycle by providing a single view of all the customer activities. And integration of CRM with other business systems will let you manage your customer relations like never before.
Market
A peacock's dance in the deep dark forest is appreciated by none. It means if the world does not get to know about your web app, then what is the point of developing one. Just like you have the option of online travel portal development, you can market your web app online too. Facebook, Twitter, YouTube, Instagram and what not, all these social media channels can be used for the digital marketing of your travel app. Do not ignore Search Engine Optimization (SEO) tools, which help in improving your rankings in the web searches.
But the catch here is, digital marketing needs its own homework. You need to know your target audience. For example, if your travel app is something related to different types of triathlons, then Instagram will be a suitable channel to advertise as it has a majority of the younger user base. And if your tourism app is meant for temples and pilgrimages, you should go with Facebook and YouTube as these channels will help you reach the people with higher age who are more interested in spiritual tourism.
Many tourism portal development companies will also provide you with assistance in marketing and advertising of your app. But before you blindly follow any suggestion, you should do your research and come up with a marketing mix for your web application.
Serve
This is the whole purpose of your web application. Your app tends to make the lives of your customers easy. But traveling is a hassle-prone experience. Your users may need you anytime. They can feel confused with your application and services anytime and that too in the unknown places. At that time, you cannot afford to give them the cold shoulder.
Your customers may have been facing some difficulty with the billing, payments, offers, discounts, etc. On the field, problems can be as big as natural disasters or as small as directions, locations, local language, and gestures. You build trust in those difficult moments by providing excellent assistance to your users and helping them with whatever they need in those emergency situations.
Here is the infographic: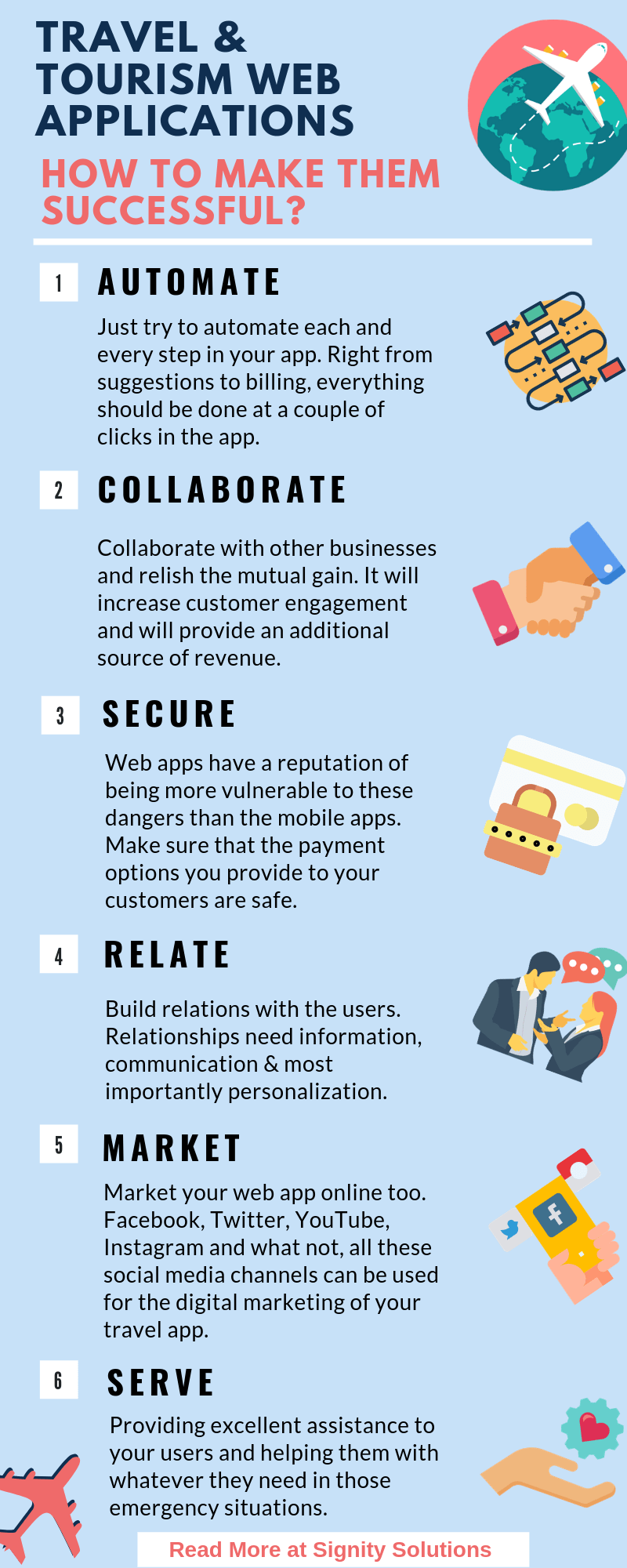 Conclusion
Developing travel web applications can be tricky, but just like any other business, if you know your 4Ps that are the product, people, promotion and price then you can be the master of your game.
Making traveling easier will not only help your business, but it will also boost the whole industry. People want to move around the world, explore new places, experience different cultures and taste other cuisines but they sometimes hesitate because of the fear of unknown. And if you can play a part in eliminating this hesitation through your web application, then you must go ahead and help other eyeballs to see the world.