Why Mobile Apps are Important for Travel Businesses?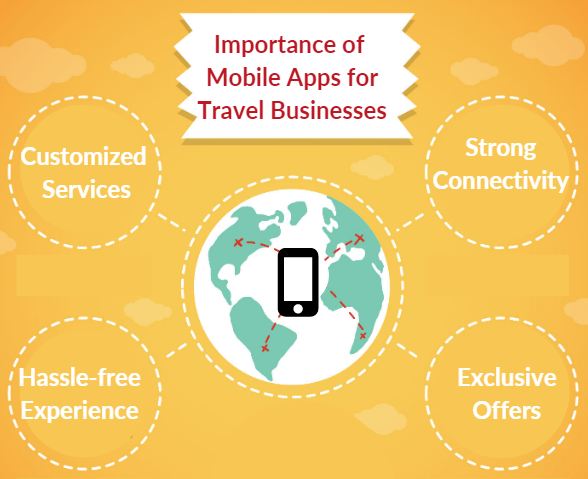 Traveling has gained immense popularity among people of all ages over the last decade. This era has witnessed an unprecedented rise in the use of a smartphone to access vital information to enrich their travel experience. Euromonitor International finds the growth of mobile usage crucial to shaping the travel industry.
Travel companies are leveraging their best potential to attract travelers through personalized services. With advanced technology solution integrating the mobile apps, travelers can get instant information through message alerts or chats with the customer representatives. Marketers are tracing the peculiar behavior exhibited by customers whilst browsing through travel websites or apps.
Importance of Mobile Apps for Travel Businesses
Let's delve a dig deeper to determine the inherent potential of mobile apps in promoting the travel business: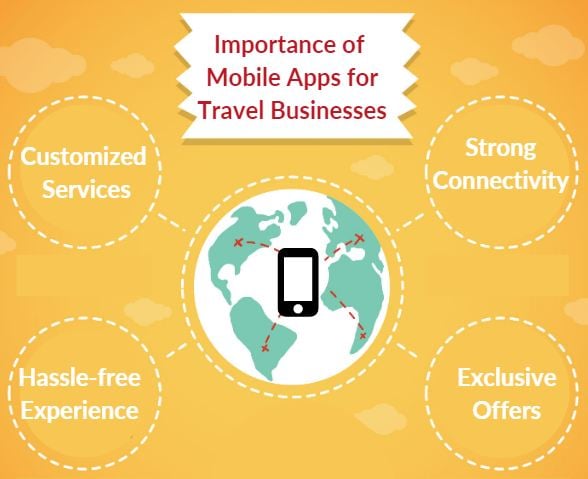 1. Customized services:
Travel companies are finding out the engaging ways and means to connect with the customers while they are on the move. They are anticipating the customer needs to improve their services through travel apps and travel portal development services. For example, Priceline Group's (OTA) online travel agent services are touted to offer some of the best discount rates for travel-related purchases such as airline booking, hotel accommodation, etc.
The company's three major brands: Booking.com, Priceline.com, and Agoda.com have overwhelming offers for accommodations for hotels, food, apartments, and other properties. They provide rental car reservations at RentalCars.com. In totality, it's about giving the customers much more before they even ask for through strong connectivity. It's like a mad race to sequential target ever precise needs of the travelers. Mobile application development services for travel businesses has become one of the best sources to target & engage prospect customers in the travel industry.
2. Strong Connectivity:
People want to travel arrangements to be hassle-free. Be it choosing the right travel package, or hotel accommodations, they like it has customized options to match their specific needs. Travel agencies have to find the best ways to provide regular information and updates as travelers are on the move. They give message alerts or go for the push notifications to make it all the easier. As people carry smartphones whilst traveling, travel agencies must connect and engage with them to improve their travel experience.
As per Google's Mobile Playbook, an estimated 94% of customers use smartphones to find the local information and another 90% have acted upon their need within the next day. It only makes the smartphone usage all the more commercially beneficial for the companies. Companies must determine these specific behaviors to fit inappropriate features in the apps. Travel agents can call the customers to provide legit information about special offers, and other discounts. It's just about exploiting the potential of smartphones to sell and promote exclusive travel services.
3. Hassle-free Experience:
Customers have become over-friendly with mobile applications to satiate their basic needs. E-commerce is one such example which goes on to show the transformation, shopping has experienced through android and iPhone app development services. And the case is the same as the travel companies as they are giving an easy way to the ardent travelers. Online travel agencies have made it easy for travelers to find attractive traveling packages for themselves.
With efficient broadband services, smartphone users can access comprehensive information to make the right decision. They can browse through travel packages, airline tickets, hotel bookings, car rentals, etc. Travel apps such as GateGuru and lounge finder LoungeBuddy are focusing on to escalate travel experience. Customers can eliminate the hassle of airport security checks and explore the airport amenities. Going with the popular perception, customers will look for convenience whilst plan their next sojourn.
4. Exclusive Offers:
There is a horde of companies vying to grab the attention of customers with irresistible offers. In fact, online travel agencies are using their best tactics to lure customers towards their affordable travel services. Be it discounted air travel or affordable accommodations, travel companies are making use of mobile apps to provide the best discounts to the customers.
Though travel websites are still existent, special discounts are offered to those with mobile apps by MakeMyTrip. It's another smart move by travel companies to add more value to their mobile applications. Whilst there are plenty of benefits, travel companies focus on special deals and other discounts through mobile apps to impress the customers. Instead of cutting down the travel expenses, it's better to browse through exclusive discounts to enjoy the complete travel experience.
To offer better discounts, you can use hotel rate shopping tools that provide real-time hotel price data city wise. Once you know what pricing hotels in your city are offering, you can tailor your discount accordingly.
To develop a great travel app, there are certain factors that should be considered before developing travel mobile app. Also, it is recommended to consult the best mobile app development company that can understand your requirements much better.
So, if you are looking for the best mobile app development company or considering outsourcing to India, consult Signity Solutions. We are a leading custom web and mobile app development company in India. Get your dream travel app from our skilled mobile app developers and give your travel business a new experience with a mobile app.