Why Service Cloud Over any Other Support Optimization Platform?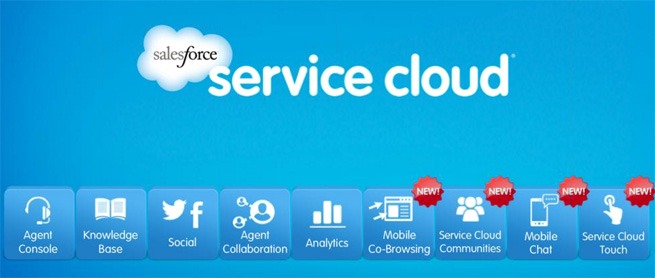 Are you looking for smart solutions that provide instant and personalized services to your customers? Is your business suffering on account of increasing customer complaints and higher support costs? Is your current Support Platform troublesome, limited and doesn't allow customizations, upgrades and integration? If yes, it is high time you should consider on deploying Salesforce's Service Cloud as your support automation platform to ensure increased sales and enhanced customer experience.
Service Cloud offers several benefits over most support optimization platforms in terms of delivering prompt customer service, elevating performance standards, and building the reputation of your business. The platform provides users with automated features to walk through customer service requests, streamline work processes, and build knowledge based capabilities for effective resolution of customer issues.
Here are some interesting insights on why should you select Service Cloud over any other support optimization platform.
Helps you resolve customer issues faster
Service Cloud enables faster resolution of customer complaints as it enables you to deploy live agent support options designed to provide a connected experience that not only restores the confidence of your customers but also helps in delivering instant solutions to their problems. Service Cloud platform allows the use of various service apps to track customer service requirements, workflow updates and guide customers through self-service processes. While most CRM solutions provide effective means of managing your customers, integration with Service Cloud will enable you to strengthen your relationship with your customers.
Incorporate smarter self-service features for empowered users
The Service Cloud platform allows efficient integration of all support processes and the related functions in a single platform where service reps can efficiently deliver immediate responses to customer queries, issues and feedback. Use this platform to improve service response rates by deploying smart track technology systems that report the need for product maintenance or performance feedback automatically. Links to online community groups and discussion forums enable customers to self-seek answers to their queries and enterprises can use these platforms effectively to promote self-service features - thereby deflecting cases and reducing support costs.
Explore endless possibilities using the dynamic capabilities of the Cloud
The multi-channel interactive capabilities of the Service Cloud platform not only add to the customer experience but also enhances the scope of applying knowledge based services for increased efficiency. The knowledge module supported by the app enables customers as well as support and sales reps to seek answers to various product related queries. Sales reps can share quick product/service related information with probable leads and support reps can use this information for solving customer complaints or queries.
Use Snap-ins and Bots to promote customer engagement
You can now incorporate some dynamic Snap-in features supported by the Service Cloud platform to integrate various customer support features such as Live Agent, SOS video and knowledge management facilities. Use Snap-ins to promote customer engagement using features like SOS video chat, real time video and Live Agent options. Improve customer satisfaction by closing cases faster using Knowledge based case management options and online guidance using screen sharing features. Service Cloud Bots enable customers to plug in to third party bots that respond to customer queries and issues automatically with pre-defined conditions and query responses. The platform uses the bots for routine and procedure based queries.
Service Cloud offers powerful features that help in aligning your business goals to customer service goals and objectives. Successful deployment of CRM tools require customization of several features to support effective integration with various data sources, business intelligence platforms, cloud based applications and social media platforms.
So, are you ready to give a Cloud boost to your CRM app? If you are looking for a high performance support optimization platform that contributes to enhanced customer satisfaction and efficient service standards, Service Cloud is the ideal choice. Service Cloud is a versatile platform that has tremendous potentials of adding value to your business' support function. Write to us at info@signitysolutions.com for any help with Service Cloud, Sales Cloud and the entire Salesforce Suite