How is Zoho Overpowering the CRM World?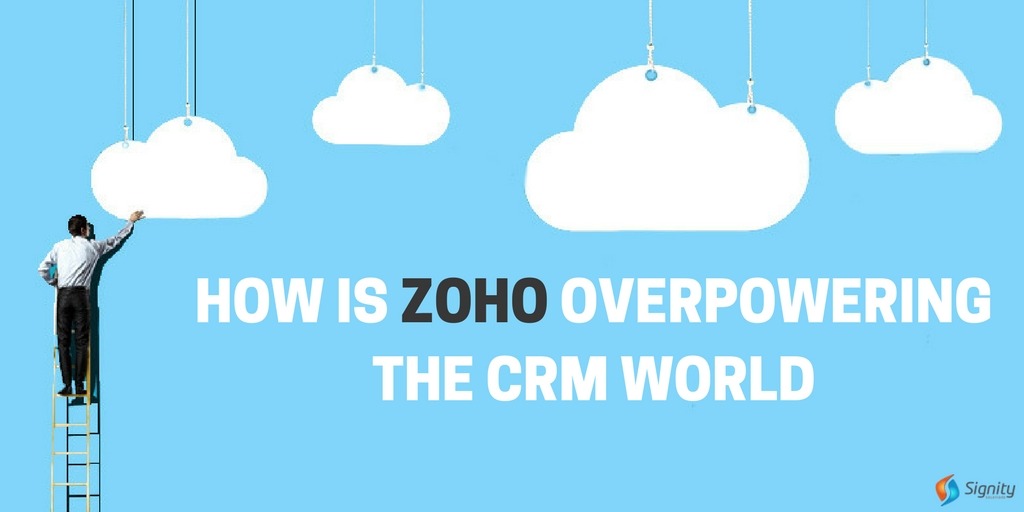 The stiff competition amidst the businesses and the urge to stand out in the crowd has increasingly made businesses incorporate new businesses strategies. Moreover, with the enhanced purchasing power, there has been a significant change in the buying behavior of the customers. Hence, in order to meet these changes, businesses are moving on the CRM cloud services. It doesn't only help businesses in accelerating sales but, also contribute significantly to customer support and satisfaction. In this context, Zoho has emerged as a one-stop destination for all the CRM benefits a business can acquire.With a user base of a whopping 25 million, Zoho consultants are helping businesses pave new avenues of success through its intuitive and well-built award-winning app, Zoho CRM along with its top-notch employee base of 3500 dedicated employees.Its extensive user base is quite evident that Zoho's made in India technology is entrusted by thousands across the globe.
Furthermore, Zoho developers are making it big through its extensive sales and support operations carried out in India. In fact, it won't be wrong to say that it has overpowered the world of CRM. Want to know why Zoho has become such a sort-after name for CRM? Read on. We have you covered.
Helping businesses through extensive multi-channel support
A better experience is imperative for customer satisfaction thereby building a strong and loyal customer base. In this context, Zoho CRM integration provides you with multi-channel support facilitating your seamless communication with the customers. It provides you solutions such as sales signals which help you reach your prospective customers in real time. Zia's data intelligence which gives you an insight about the right time to call a customer. Furthermore, it has facilities for acquiring statistics on click-through-rates along with the analysis of email history, chat history and social media interaction to enhance your overall customer interaction. The fact that the top website like hypestat.com has made Zoho CRM their integral part that led to an escalated monthly website visits of a whopping 2.5M, makes it evident that the credibility of Zoho is par excellence.
Encourages employees to give the best of their performance through gamification
Zoho CRM doesn't only keep your customers happy but, also considerably satisfies your employees. After all, employee satisfaction is vital for good performance. In this context, it gives you the option of Game scope which introduces fun sales contests where your sales team gets badges and trophies, making work a fun place and inducing your employees with a healthy competitive spirit. Apart from this, it also gives you features of territory management along with excellent CRM big data analytics for proper customer segmentation and understanding customer behavior through recent trend analysis and sales performance data respectively.
It works towards seamless automation of sales and enhances productivity
Zoho CRM gives you vital opportunities to convert prospects into revenue generating customers by saving ample leads for you and accelerating your sales opportunities. It goes deep into the analytics and extracts sufficient customer information through their website visits, online forms etc. In addition, it also has features of a sales forecast to analyze current sales and improving your performance.
It customizes itself the way you work
With cloud CRM solution such as custom modules and layouts, you can personalize your CRM for every action. It helps you be flexible as well as dynamic in your business approach. With custom page layouts helping your employees acquire personalized data and develop workflow accordingly to custom buttons and shortcuts, it lets you customize everything and be seamless with your functions. Moreover, Zoho CRM integration helps you in streamlining your business. Zoho allows you to integrate 3rd party applications with your CRM.
Keeps your business safe through high-end security features
Security is a critical criterion for keeping your business data safe. Zoho CRM has some rich, inbuilt features which not only protects your customer's confidential data but also gives your employees the freedom to get their work done seamlessly. From its IP restriction feature limiting unauthorized access, two-factor authentication, impeccable password policies to high-end data centers to host your data, Zoho makes sure to keep your data safe, secure and intact from any malicious attack. This is one of the major reason of 844 websites in the US incorporating Zoho CRM in their business. In addition, Indian businesses are also extensively including Zoho CRM with around 169 websites already using it.
No doubt, the rich features of Zoho has definitely made it the future of CRM which is helping businesses across the globe excel and carve their unique niche in the market.
Hire Zoho Consultants!
Got inspired by the Zoho CRM? Want to get in touch with Zoho consultants to develop such an intuitive and excellent CRM solution? We at Signity Solutions work extensively to understand your vision and expectations. Our IT Outsourcing Services team come up with the best of functions for your business through our dedicated Zoho consultants. For any queries or discussion, feel free to reach out to us and we will get right back to you.