Features of a Board & Committee Management Platform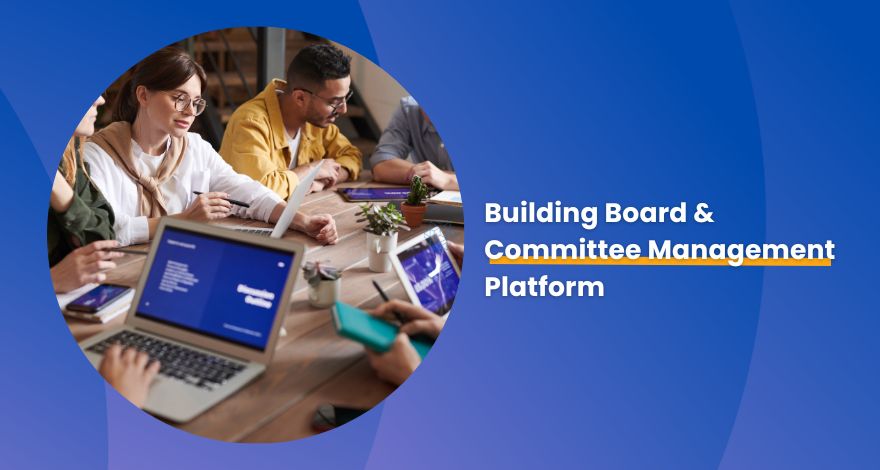 In an era marked by rapid technological advancement and dynamic regulatory requirements, the ability to seamlessly oversee internal committees, streamline operations, and ensure compliance is imperative for banks.
Our dedicated team built a robust, secure, and user-friendly web application for reshaping board & committee management processes that can be used by banks.
The Global Board Management Software market is anticipated to rise at a considerable rate during the forecast period, between 2023 and 2030.
Board Management Software Market size is projected to reach Multimillion USD by 2030.
A Board Management Platform Offers
Data Security Strengthening

Implements robust security measures, including SSL encryption, to safeguard sensitive information.
What Features Do You Get in a Board Management Platform?
The proposed web app boasts an extensive set of features to address the bank's specific needs.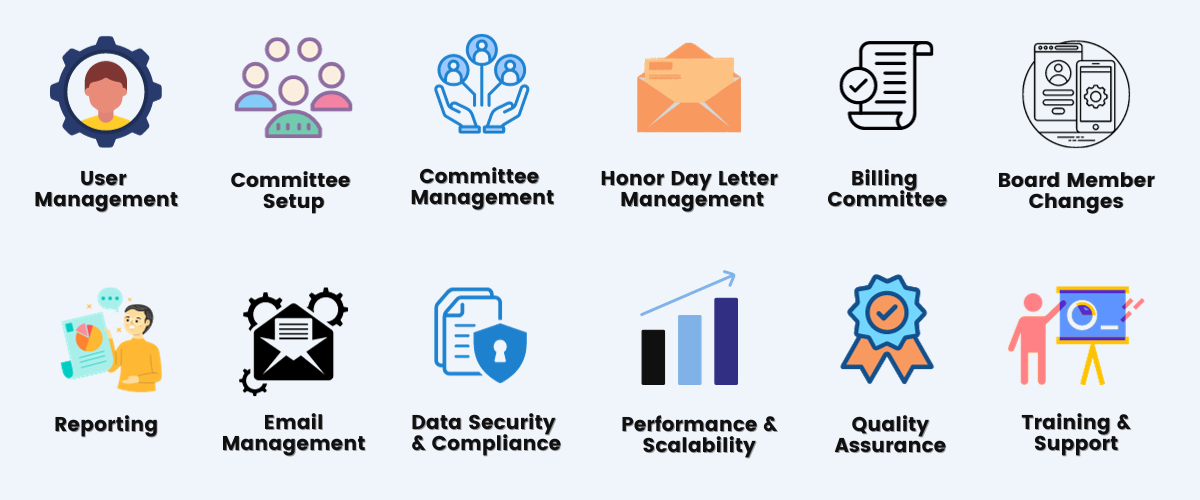 Users will benefit from the following functionalities
User Management: Admins can efficiently manage user roles, including adding, viewing, updating, deleting, publishing, and unpublishing users. They can also assign roles and permissions as needed.

Committee Setup Management: Admins will have the ability to create and configure committees, manage roles within committees, and oversee fee-related tasks. Additionally, they can maintain a historical record of committees and streamline committee searches.

Organization & Committee Management: Users can define various organizational elements, including organizations, boards, descriptions, and committee-related details. This provides a comprehensive view of the organizational structure and committee data.

Honor Day Letter Management: Managing recipients for honor day letters, ensuring accuracy and consistency.

Billing Committee Member: Users associated with committees, such as board members, can access reports and fee-related information, promoting financial transparency.

Board Member Changes Management: Admins can efficiently handle changes to board members, including retirement, role changes, and historical data preservation.

Reporting: The system supports the generation of a variety of reports, including mandate overviews, people lists, committee details, and customizable reports based on user-defined fields.

Email Management: A dedicated module allows authorized users to create and send emails to specific committees and users, simplifying communication within the system.

Data Security and Compliance: The web application is designed to meet the highest standards of data security, ensuring compliance with protection laws. It also addresses various security aspects, such as SSL protection and SQL injection prevention.

Performance and Scalability: The application can efficiently handle a considerable number of concurrent users, and scalability is achievable through load balancer functionality.

Quality Assurance: A comprehensive quality assurance methodology will be employed to ensure the product meets all requirements and standards.

Training and Support: Upon project completion, we will provide functional training and continued support to ensure seamless system operation.
Why do Banks Prefer Board and Committee Management Software?
Why Choose Signity Solutions?
At Signity Solutions, we don't just develop software; we craft solutions that transform businesses. We bring a wealth of experience to the table in crafting bespoke custom web app development solutions. When it comes to board management, our expertise goes beyond the conventional.
Here's why choosing us is your best decision
1. Tailored Solutions: We understand that every organization is unique. Our team customizes solutions to fit your specific committee management requirements, ensuring a perfect fit for your workflow.
2. Expertise and Experience: With years of experience in developing secure, scalable, and intuitive web applications, we bring a wealth of expertise to your project. Our skilled developers stay updated with the latest technologies to deliver cutting-edge solutions.
3. Data Security: Handling sensitive data demands the highest level of security. We implement robust security measures, including SSL encryption and secure data access protocols, to safeguard your committee-related information.
4. User-Centric Design: A user-friendly interface is at the heart of our designs. We create intuitive, easy-to-navigate platforms, ensuring that every user, regardless of technical expertise, can seamlessly interact with the system.
5. Agile Development: We follow agile development methodologies, ensuring swift iterations, constant feedback incorporation, and rapid response to changes. This agile approach guarantees that your committee management system evolves efficiently with your organization's needs.
6. Dedicated Support: Our commitment doesn't end with the launch. We offer dedicated post-deployment support, ensuring that your committee management system runs smoothly and you receive timely assistance whenever needed.

Grow 2X Business with Our Custom Web App Development Services
We specialize in delivering interactive, enterprise-grade custom web application development services, meticulously tailored to maximize your business value and elevate the user experience.
Signity Solutions stands at the forefront of innovation, ready to empower your financial institution with innovative web applications.
Our commitment to excellence, data security, and compliance ensures that you can rely on us as your trusted technology partner. Together, we can navigate the complexities of the banking landscape with ease and precision.
Don't just keep up with change; lead the way with Signity Solutions. Contact us today to embark on this transformative journey towards redefining technical operations in the banking sector.