Building Seamless Radio App through Mobile Development: Top Features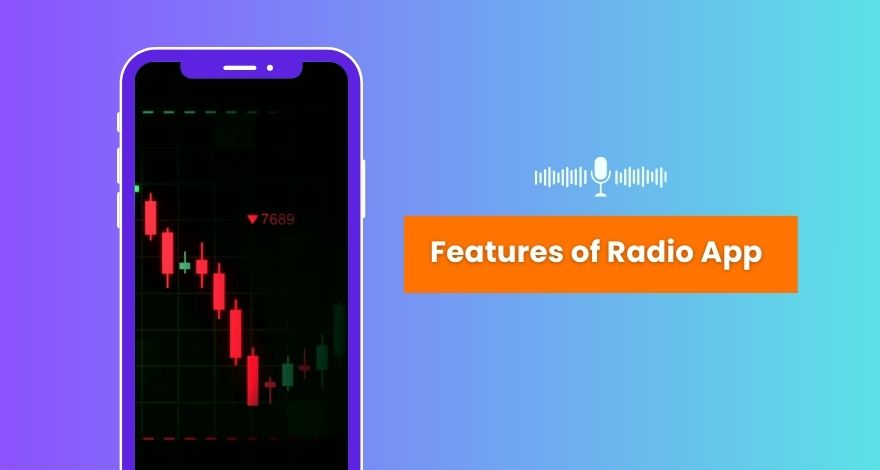 In the ever-evolving digital environment, mobile applications have become the cornerstone of modern business strategies. As consumers increasingly rely on smartphones and tablets to fulfill their needs, businesses must adapt to this mobile-first paradigm.
With a passion for innovation and a commitment to excellence, Signity Solutions stands as a beacon in the realm of mobile app development.
We will explore how Signity Solutions seamlessly integrates creativity with technical proficiency, delivering custom web application solutions that captivate users and empower businesses.
In this blog, we focus on a recent project that exemplifies our team's dedication to crafting seamless, user-centric applications.
About the Platform: Radio Application
The Radio App serves as a comprehensive hub, offering an array of services within a unified platform. Users can immerse themselves in diverse entertainment experiences, including music, podcasts, interviews, and various engaging programs. Furthermore, users can also avail the latest offers and discounts from different brands and outlets in their vicinity.
Features of the Radio Application
User Type: Consumer (Android & iOS app)
Splash Screen: Engage users with an initial overview, setting the tone for their experience.
Sign Up: Seamlessly capture user details, including name, email, and password for a personalized journey.
Login: Enable login options via Google, Facebook, or email/phone number, ensuring convenient access.
Forgot Password: Implement a user-friendly password recovery system for enhanced user convenience.
My Profile: Allow users to personalize their profiles with images, email IDs, birthdates, genders, and usernames.
Settings: Provide customizable settings for language, streaming quality, notifications, and location preferences.
Home Page: Curate a dynamic home screen featuring the latest podcasts, interviews, stories, songs, events, and discounts for an engaging user experience.
Radio, Podcasts, and Music: Enable seamless navigation through various media types, allowing users to play, like, share, and discover content effortlessly.
Subscription Management: Implement subscription features, enabling users to explore, upgrade, cancel, and manage payments conveniently.
Notifications: Utilize in-app notifications to inform users about new podcasts, interviews, music releases, and other relevant events.
Logout: Offer a smooth logout process for user convenience and security.
User Type: Admin (Web Panel)
Login and Dashboard: Provide secure login and an intuitive dashboard offering a comprehensive overview of all activities.
Content Management: Allow admins to manage genre lists, radio stations, music, podcasts, and interviews effectively.
Feedback and Issue Reporting: Implement dedicated sections for customer feedback and reported streaming issues, ensuring prompt response and resolution.
Push Notifications: Empower admins to send targeted push notifications with or without images to enhance user engagement.
Analytics and Reporting: Enable admins to view reports on the most played radio stations, user behavior, and other vital metrics for data-driven decision-making.
Search and Add Functionality: Admins can search for specific radio stations or genres and add new ones seamlessly.
Subscription Management: Provide tools to manage customer data, subscriptions, payments, and invoices efficiently.
User Access Control: Offer options for single or multiple admins and sub-admins, ensuring streamlined management of the platform.
Promotions and Offers: Enable admins to create and manage discounts, coupons, and special promotions to enhance user engagement and loyalty.

How can Signity Helps to Build Mobile App Solution like Radio?
Choosing the right partner is pivotal to the success of your digital venture. Signity Solutions emerges as a frontrunner, not just because of their technical proficiency but also due to their unwavering commitment to client satisfaction and innovative excellence.
Signity Solutions rises above the competition as the premier mobile app development company due to their proven expertise and unwavering commitment to tailored solutions.
Our team utilizes cutting-edge technologies and frameworks, ensuring your mobile app is not just of the highest quality today but also future-ready. Their expertise in platforms like Flutter/Dart and Angular/Node.js guarantees a smooth, scalable, and high-performing application.
Don't just settle for an app; choose Signity Solutions and embark on a transformative digital journey tailored to your unique business goals. Your vision, our expertise—it's a partnership that creates remarkable mobile experiences.