14 Reasons Why You Shouldn't Ignore Salesforce Integration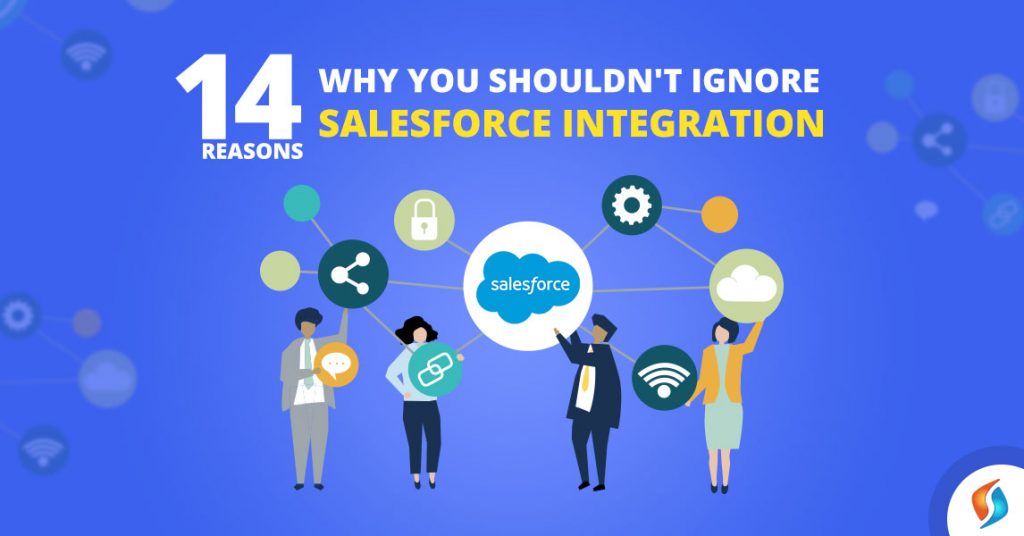 Traits for a successful business are its running for a long time and consistent profits. And this requires company leaders always to keep consumer satisfaction at the top. A satisfied customer will suggest others to try the service at least once. But an angry customer will make sure none of its acquaintance even seeks to invest in the service. In the case of a low-key company, customer care is not much of a great deal. But in the case of multi-national corporations, neglecting it can be catastrophic. The brand value is at stake for as little as for late delivery of the consignment. In such cases, the company chooses to go for Salesforce integration, as this helps to get hold of that last dis-satisfied customer. As at times, issues might be a trifle, but their effects might be long-lasting. Somewhat like "butterfly effect." But it is not possible to assign an entire human resource for a single customer.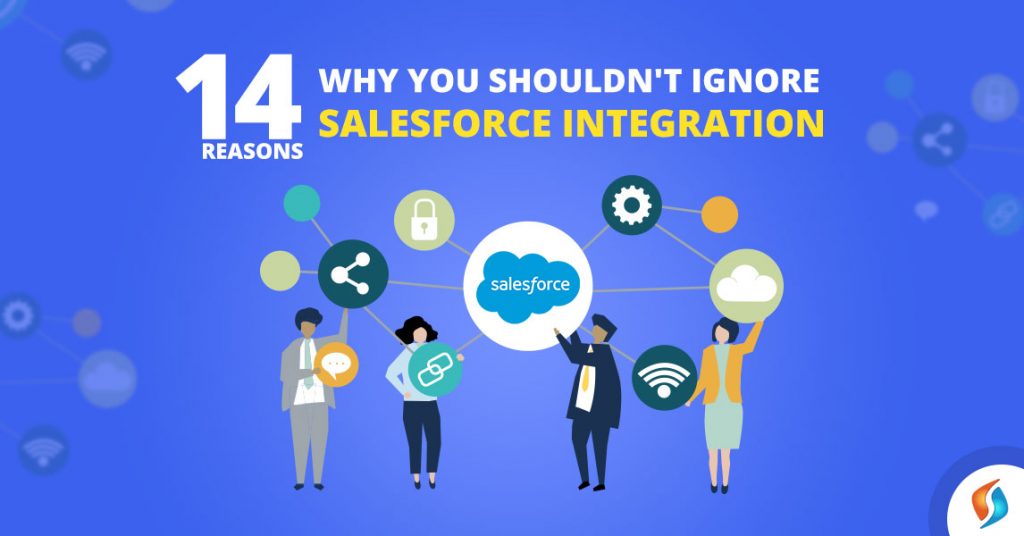 There are many online CRM development service providers. They are offering a professional service at a reasonable price. At this moment, the organization needs to make a course-changing decision. It needs to consider the best among the rest with the budget being a secondary factor as quality wins over quantity at any hour of the day.
One must consider Salesforce CRM service for quality services in a business organization. Though, it warrants a consideration in mind that Salesforce is not inexpensive. Also, its price is quite high in comparison with other CRM software available in the market. Salesforce came to the market when the concept of CRM was not cool. Salesforce gambled first to launch a CRM on the cloud, and it has been the leader in the Cloud CRM space since then. People still choose Salesforce consulting services due to its varied spectrum of functions. It is preferable for everyone despite its high price.
Following are the reasons supporting the Salesforce Integration
1. Easy Usage
Any service, despite its varied areas of application, remains insignificant if the users find the interface confusing. With Salesforce all sales representatives can track the behavior of their customers. Then there are opportunities for increasing sales. All tasks are available to them under the same tab with a click of a button. Such functions help the managers to take important decisions. They also help secure the consignment much faster. Even, in case of any help, colleagues can come together and do the job.
2. Varied functions
Several functions and applications have made Salesforce an instant hit. Thus, it has been the market leader for some time now. The system administrator can offer suggestions. He can also tell the representatives to rectify mistakes during the implementation process. He can also help adapt the data suited to the business requirements.
3. Customizable Experience
Majority of CRM services are not customizable. Thus, users have to adapt their operation as per the software. But Salesforce allows the user to adjust the service as per the business needs as there might be an event where the provided features might fall short. In such a case, the administrator can change the existing features. Else, look for Salesforce consulting and services for help in customizing the feature. The administrator can also hire a mobility service provider. It can help to develop apps to run on the software, to add an extra edge to the user experience.
4. Cloud-based PaaS Model
Salesforce established a cloud-based service model. This model could compete with real-life challenges of existing business models. The charging scheme of Salesforce might be higher, but it is reasonable for every edition. Salesforce offers four versions such as:
The charge for each edition is chargeable on a per-user basis and paid for an annual basis. There is a particular function which offers the users to rise or scale down the version as per requirements. Hence the budget flexibility of users has also gotten consideration.
5. Visual help in the Management
The service provides a graphical overview of potentials in customer applicability. Along with all the possible steps that can be taken in each step. This feature thus helps the sales representatives to secure a successful deal. They are thereby ensuring the highest probability.
6. Reports
Every representative can create their job report. It helps them analyze the points that might have gone unnoticed. For example, a possible opportunity for a client or an unfinished account journal. This way the Salesforce CRM development services can help the representative to focus on personal improvement. And this will lead to a gradual increase in performance.
7. AppExchange
The need for building or modifying an existing application is always going to be there. And this helps the app to suit better for the growing demand of the market. Salesforce came up with an AppStore like feature called AppExchange. This includes business apps (both free and paid) like MailChimp and Adobe sign. It is thus, helping users to customize parts or entire features of the app to adapt to their needs.
8. Observing Customer
Various opportunities are often lost due to lack of insight about consumer demands. And the proper track of consumer spending can only overcome it. With all such data, a generalized prediction can be made on the need of the customer. They are thereby delivering more to-the-point consignments and deals. It will boost up company sales.
9. Scope of Improvement
Salesforce has garnered such high reputation for a couple of reasons. That being hearing out to customer suggestions and acting over customer complaints. Also, the developers at Salesforce work with other CRM development firm across all countries. This helps to adapt the program to a specific region. The developers thus, better understand the business needs of the user. This is why there is always a scope of betterment for the software. It gets timely updates and security patches to aid the working.
10. Software that never ages
When a company invests in software development solutions that help it explore the entire avenue of customer growth and relationships, then it won't be considering buying another one any soon. Hence a software once brought must be adaptable to growing business changes. It is a piece of cake for Salesforce given its customizable user-interface. This opens it up for advancements.
11. Used in training modules
Users can be self-trained using the training mechanism of Salesforce with their queries answered at any moment and any day. Also, Salesforce has a unique video-walk facility to solve queries in face-to-face interaction. After all, if the users are not confident about the company and services, how can they convince the customer!
12. Effect of marketing investment
Often business leaders don't emphasize on the correct expenditure on marketing strategy. A brilliant marketing technique might help the company to rope the highest yield without even spending a dime. On a practical front, Salesforce can help the company to check every place where the money has been spent and check on the thrift.
13. Better leads for representatives
Salesforce is currently working with Google AdWords. The aim is to help business organizations to generate better leads. So that appropriate action can be taken for converting them into good results. The integration of both these giants helps the representatives to focus on the stream of new customers. This includes their possible fields of interests and an approximate revenue stat to determine whether the lead is worth acting upon or not. Such information is beneficial in increasing the output for the amount invested in marketing.
Suggested Read: Acquire New Customers and More Profit with Certified Salesforce Consultants
14. Same experience for all Customers
Irrespective of the edition chosen by the user, every user on the ecosystem experiences the same interface all over. This makes the interface operable despite a downgrade or an upgrade. Due to this design, updates seem like a dream, and they are much faster than any other CRM.
Conclusion
Various benefits of Salesforce integration have led to the emergence of several cloud service providers in India. Are you looking to avail the benefits of Salesforce for your business? Then, we will love to be your partners. At Signity Solutions, we are one of the most famous Salesforce consulting and development service providers in the world. Our team has extensive experience in this field and can deliver the best results in quick time. Think on outsourcing to India and contact us now to take your business to greater heights.