How CRM is Helping SMBs in Leveraging Their Growth?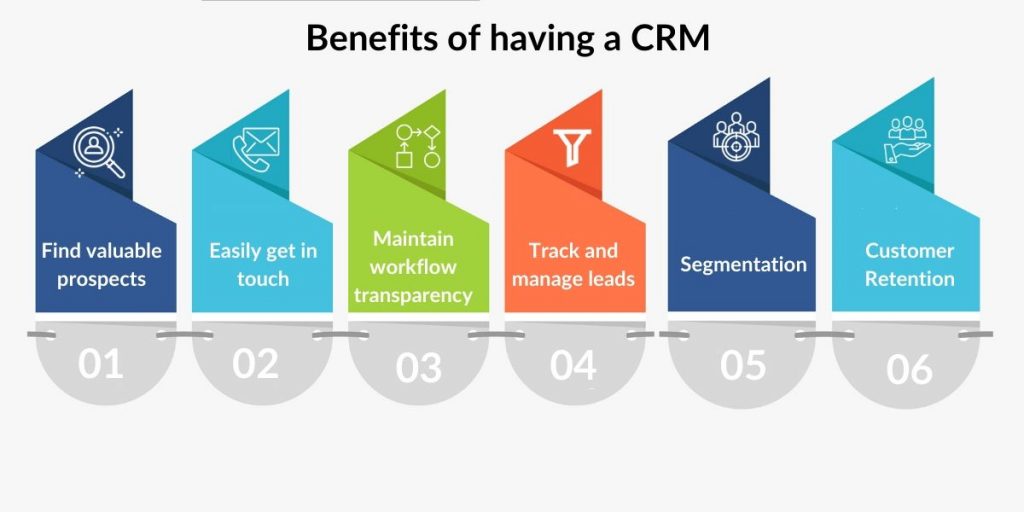 According to the stats by Grand View Research:
By the year 2025, the CRM software market is expected to grow by 600%. This makes it one of the fastest-growing industries at present.
Large enterprises understand this very well. That's why they are actively using CRMs to increase productivity, convert more leads, and bring more revenue. CRM system, however, is not so popular among small businesses (SMBs). Many of these SMBs still believe that they don't need a CRM unless they achieve a massive customer base. And that's where they are wrong. Small companies can't even imagine how cloud CRM solutions can help their business grow.
Business Benefits of having a CRM: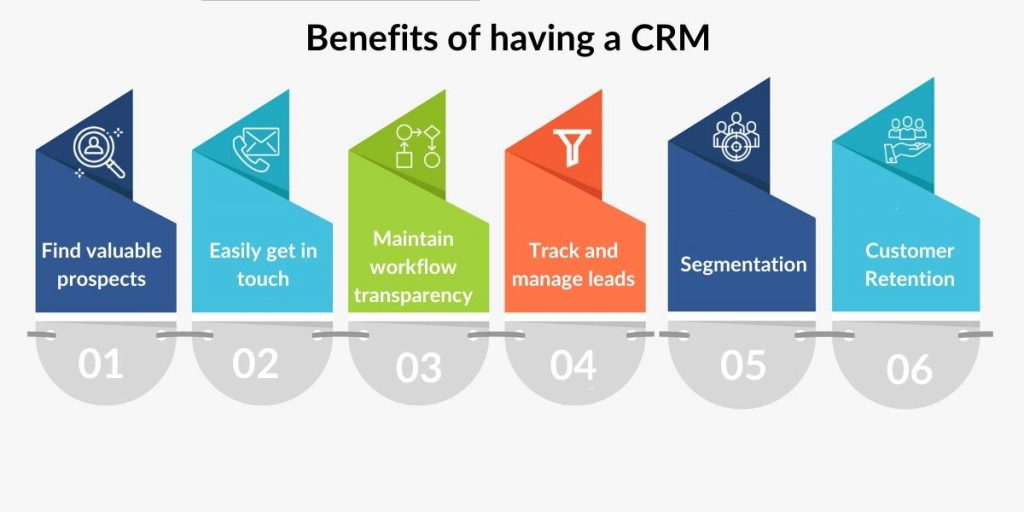 1. Find valuable prospects
Every single prospect matters in business. However, there is no use of investing time and resources on a potential customer who will never buy a product or service. Instead, SMBs must focus on the ones that can easily convert.
With the help of CRM, a small business can easily search and filter out such leads so that they can save their time, resources, and become more productive.
2. Easily get in touch
Communication is the key when it comes to successfully converting leads. Not only the SMBs have to reach potential customers, but also remain in constant touch with them. For this, they need effective media of communication which all CRMs offer.
Most of these CRMs come with features like email, chat, and audio/video calls. Using these features SMBs can easily talk to prospects and ensure they are constantly in contact until the lead has been successfully nurtured.
3. Maintain workflow transparency among team members
Most businesses suffer productivity setback due to the lack of transparency among team members. That's why it's important for them to ensure that every person is contributing to the team and is completing his/her tasks on time. This matters the most in small businesses when resources are limited.
CRMs help these small businesses maintain much-needed transparency among team members. With the help of features like task assignment and activity board in the CRM, small businesses can have complete control over what their employees are up to. This way the productivity also doesn't suffer.
4. Track and manage leads pipeline like a pro
Keeping track of every single lead, along with its status, is not a simple task. Unless someone is maintaining a record, it might take hours to find the status of a particular lead.
CRMs can make the process of tracking and managing leads very simple, however. They let you organize the entire data in the form of a pipeline from where you can see whether the lead is in the initial stage or the final one. You can even know which team member is working on that lead and ask him about the progress. In short, you have total control over your leads.
Show us the stats
The companies that use a CRM system have an average return of $8.71 for each dollar spent on technology investment.
Businesses that are using CRM system have their sales increased by 29%, sales productivity increased by 34%, and sales forecast accuracy increased by 42%.
A CRM can increase the conversion rate of an SMB by 300%.
So, having a CRM system is a bliss that can take your business to greater heights.
5. Segmentation
CRM system helps in better segmentations of your business audience. It breaks down data by categories and criteria making it easy to target the potential audience. Segmentation allows you to run specific customer marketing campaigns and analyze your sales process and lead pool.
6
.
Customer Retention
Along with finding potential customers and nurturing, CRM can work as a great tool for keeping the existing customers happy. The system helps in reminding about all the appointments and schedules. CRM can also prompt you to reach out to those customers who have not been contacted in while, and perhaps feel neglected. It can also help you schedule all your marketing activities, such as send email campaigns, free trial offers or post-purchase customer surveys, and a lot more, all at the same time.
The CRM maintains a great relationship with the customers, by treating everyone individually, not forgetting about them, and being there when they need you.
Implementing a CRM in an organization, however, isn't that easy
Small businesses who don't have any idea of what a CRM might confuse the action of acknowledgment with the action of implementation, and might end up thinking too much. Most of them might even jump to the conclusion that just purchasing an expensive CRM will get the job done.
This approach is wrong because SMBs will end up missing a lot of things this way, and the CRM implementation will never be successful. So, what to do?
What to keep in mind?
First, remember this:
CRM is not software; it's a core philosophy.
CRM is not about purchasing and deploying an expensive software, and then expecting your team to bring results. It's about understanding the basics and knowing how a CRM can reshape the customer journey.
So, you don't have to jump into purchasing an expensive CRM right away. Instead, first, educate your team members about what CRM is and how it will change the way they were working till now.
One more thing: There's no right CRM for your business.
Some might find Zoho CRM integration to be a perfect fit, while others might believe that Salesforce is the best. Instead, you must choose the CRM that fits your needs and brings you results.
Here is what you can do
Talk to CRM and cloud consultants. They will help you with choosing the right CRM for your business.
Also, try different free CRM versions to see which one works best for you. Once you have selected an appropriate CRM, hire an outsourcing team of developers, and have the CRM customized according to your requirements.
Finally, after the CRM is ready and has been designed the way it suits the needs of your SMB, deploy it in your organization. Only then you can expect some success. In case you need any guidance, you can reach out to us. Being India's leading cloud service providers, Zoho consultants and Salesforce consulting service providers, along with other cloud-based CRM solutions; we can help you out for sure.