Trends and Challenges for SMBs in 2020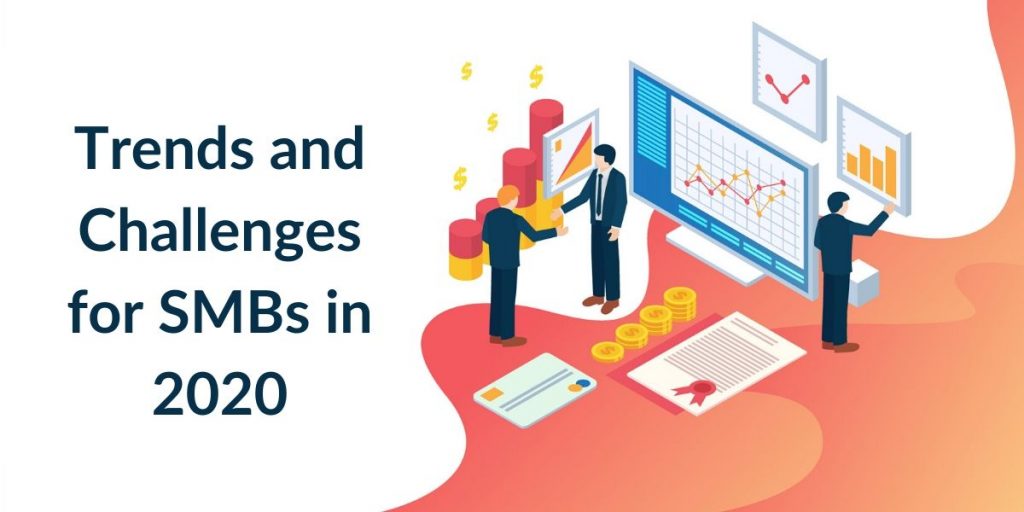 We are almost at the end of 2019, a time when you might be wondering what you achieved last year, how you could perform better, and, most importantly, what opportunities you can gather in the upcoming year.
That's true! Just like every new year, 2020 will also bring a new set of opportunities to explore and new challenges to master. However, if you want to emerge victoriously, you will have to know what's in trend and what challenges you need to be prepared for. This blog will take you through 4 technology trends and challenges that every SMB should be prepared for.
4 Trends and Challenges for SMB
1. Customer Relationship Management (CRM) Solutions
The year 2020 will be all about customers and offering them an unmatched user experience. Having said that, CRM solutions are going to dominate the market this year as well.
Truth be told, they are already dominating the market in the previous year as well. According to stats, over 91% of companies with more than 11 employees are already using CRM solutions to meet their business goals. According to some stats, the CRM market will reach more than $80 billion in revenue by the year 2025.
Why are CRM solutions so popular?
The main reasons behind the popularity of CRMs are their easy accessibility, the culture of collaboration & teamwork they promote, and how easy they make it for organizations to stay in touch with customers and retain them. Apart from this, CRMs also promote learning and help you focus on customer touchpoints. This eventually helps you increase your business revenue.
What CRM trends to expect in the year 2020?
a) Mobile CRMs
Every business has struggled with getting their employees to adopt and use CRMs because they can't access them everywhere. But now, with the increasing use of mobile devices, they have come to understand that mobile CRMs can result in a higher adoption rate.
A mobile CRM not only results in a higher adoption rate but also increases the productivity of your team. According to the stats from Forester, over 50% of companies have seen increased productivity after the use of a mobile CRM.
Another interesting stat is from the nucleus research report, which states that over 65% of businesses are achieving their sales quota after the adoption of mobile CRMs. The figure is 22% for companies using non-mobile CRMs.
So, mobile CRMs are the new future of CRM solutions.
b) CRMs accessible from multiple devices
Even if we are going to witness a growth in mobile CRMs, most of the major CRM operating will still be performed on a desktop. This will give rise to the CRM solutions which are accessible for multiple devices. Over 81% of users are doing that, and hopefully, the numbers will keep on increasing in the future.
c) Cloud-based CRM Solutions
Since companies often need to access their apps from multiple devices and locations, Cloud-based CRM solutions are also in trend. While back in 12%, businesses were using cloud-based CRMs. But now the figure has increased to 87%.
This year we can also expect an equally rapid increase in cloud-based CRM solutions.
d) The Role of AI, automation, and analytics
This is 2019. Customers have grown smart, and it has become important for companies to tackle customers in a smart way. That's why there has been an increase in the use of artificial intelligence, automation, and analysis in CRM systems. The trend will go on this year too.
e) CRMs will continue to get more social
Social media will also become a focal point in CRM solutions. The main reason behind this is that social media channels allow companies to interact with customers in real-time and build brand reputation. It also enables them to offer close marketing and personal attention to customers crave.
f) Customers will be the center of user experience
Simplicity is what keeps most people hooked. CRM solution creators have started understanding this very well.
According to David Dozer, the CTO of Blaze IT LLC:
"The coming few years will bring about a renaissance of simplicity, where the focus shifts back to making things easy and simple to use."
We believe the same. CRM solutions will continue to be more user-friendly.
What challenges to look for?
a) Defining Clear Objectives
Many organizations still don't know what they want to achieve from the CRM. Even if they know what they want to achieve, they lack a proper strategy, and this is what results in a lot of resource and time wastage. So as an SMB, it will be crucial for you to define clear objects and have a full-proof strategy to success.
b) Choosing The Right System
Not every CRM is designed to meet your business requirements. Hence, like a CRM, it's crucial to choose the right CRM that meets your business needs. Doing so, however, is another big challenge that you have to master.
c) User Adoption
Another big challenge that SMBs often face is the level of acceptance. Usually, people are resistant to a new change, and it might take some time for your employees to get used to it. Not only this, as an SMB, you also have to see if your employees are capable of working on the CRM or they need training.
d) Integrating CRM With Existing Systems
A CRM solution can't work effectively unless we are integrating it with our existing applications. However, it will be a problem if the CRM we are going to choose doesn't support the existing applications. So, we also have to see that the existing CRM supports the integration with existing systems.
e) Training
Your team will not be able to benefit properly from the CRM unless they know how to use it efficiently. For this, you will have to provide them with training which might result in some costs.
f) Finding The Right Partner
There are over one dozen CRM solution providers in the market who claim that their CRM solution is more efficient than anyone else in the market. However, choosing the right partner that will value your time & money, helps you in effective CRM implementation, and offer frequent consultation with future insights is challenging.
g) Solution
Before purchasing a CRM solution, ensure that you are clear with your objectives, and your team members are ready for it. Last but not least, do thorough research on all the existing CRMs in the market so that you choose what works best for you.
2. Cloud-based and Subscription-based Services
Long gone are the days when companies used to install software from different companies. 2019 is the era of cloud-based and subscription-based services like Zoho Development Services and Salesforce Consulting services. The trend will continue in the upcoming year as well.
Why Cloud-based and Subscription-based services?
We all know how hectic it was to install software from different vendors and struggle with perpetual licensing agreements. These licenses were expensive. So, most of the SMBs used to rely on the legacy and cracked versions of the software. There were even times when a particular software didn't support a particular system. This often resulted in performance degrade and security vulnerabilities. Also, in case you later felt that you were not satisfied with the software services, the payment you had paid would've gone in vain.
However, cloud-based and subscription-based services are easily affordable. All you have to pay is a monthly fee, which is far less than the one-time fee companies used to pay for lifetime agreement. Also, in case you want to change your mind later, you can simply unsubscribe. That's why cloud-based and subscription-based services are so popular.
Also, cloud services offer multi-user options. Rather than purchasing and installing the software separately for each system, SMBs can buy and distribute licenses across multiple computers.
What to expect in 2020?
More and more SMBs will opt for cloud-based subscription-based services: According to stats, over 94% of companies are already using Cloud services like Office 365, which includes many SMBs. Seeing how easy the trend is simplifying the workflow of organizations and making them more productive, we can expect more increase in the upcoming year. If figures are to be believed, over 83% of the entire workload will be on the cloud by next year.
The Cloud-service vendors will come with more service offerings: Zoho and Salesforce are already dominating the cloud-based services marketing with a long list of product offerings that are helping organizations become more productive. But these organizations are not going to stop here. They will come up with more products that will help companies smoothly run their business.
Bundled apps will be in trend: Zoho already has a cloud-based and subscription-based service called Zoho One, which is a bundle of 40 highest-performing enterprise apps. Not only this edition is easily affordable compared to other competitors like Salesforce, but it also offers a wide range of services.
What challenges to look for?
While the cloud-based and subscription-based services might seem like a real deal for small businesses, choosing the right partner can be a big challenge. While some of the products from the Zoho Development Service suite might appear more compelling, there are also chances that you might also like product offerings from the Salesforce development stack.
So as an SMB, you will have to see what you really need and what services can help you achieve the best results. Then, you can choose the cloud-based and subscription-based services accordingly.
3. Custom Web & Mobile Application Development Solutions
Web and mobile application development continue to be in trend. The only difference is that with passing years, it has become more user-centric and will continue to be the same in the upcoming year.
Why is custom web & mobile application development trending?
Customers have grown smarter over time. They are no longer satisfied with apps & websites that have the same features, and why would they be? There are millions of websites and apps on the Internet. Why would they choose something interesting that offers the same features anyone else is offering?
Instead, clients are looking for an app or a website that is customized the way they want. They want features that stand out, and this has led to the increasing popularity of the custom web development services.
What can we expect in the year 2020?
The increasing role of artificial intelligence in mobile apps and websites: Since customers are getting more and more demanding with time and they are looking for a custom web & mobile experiences, the role of AI will increase.
Voice experiences will be integrated: We can expect to see more mobile apps and websites integrated with voice, thus making their functionality even better.
Customers will still be the center of attention: Customer experience still matters, and small businesses who understand this will rule the world.
Hybrid application development will continue to dominate: React Native is still going to be a great choice as it simplifies the process of creating hybrid apps to a whole new extent.
What challenges can SMBs face?
While custom web and mobile app development solutions are going to be a revolutionary trend, you will not be able to benefit from it unless, as an SMB, you are prepared for it. You need to have access to the latest technology stack, and you need to hire people who specialize in custom mobile and web development. Only then, you can reap all the benefits from it.
4. Cybersecurity
Security continues to be an important concern this year. It always has been. Although since the last few years, cybersecurity has gathered a lot of buzzes.
Why?
With time, businesses have grown in size, and so have the cyber threats. Even the losses are not small when your system gets breached. Millions are on stake. Hence, it's important for companies to remain prepared and protect them from cyber threats in the best way possible. That's why cybersecurity holds so much importance.
What can we expect in the year 2020?
Proactive measures for detection and elimination: Enterprises who are smart enough to know how critical is every second in business will go for proactive measures and prepare themselves to face a threat rather than trying to fix it at the time threat occurs.
The increasing role of AI consulting solutions: To detect threats in advance, SMBs will rely on artificial intelligence algorithms and deep analysis.
New kinds of cyberthreats will emerge: As cybersecurity will get more advanced and new kinds of protective measures will evolve, cyber terrorists will take more advanced measures to find loopholes in systems. This will result in more advanced cyber threats.
What challenges can SMBs face?
Like mentioned earlier, SMBs can expect new kinds of cyber threats in the year 2020. Dealing with them will be a big challenge. Also, they have to make sure they are spending a good amount of budget on hiring cybersecurity experts and managing the infrastructure.
Since now you know about all the four trends, it's time to adopt them and brace yourself for the change. In case you need any guidance, feel free to contact us.