5 Latest Strategies to Optimize your App Store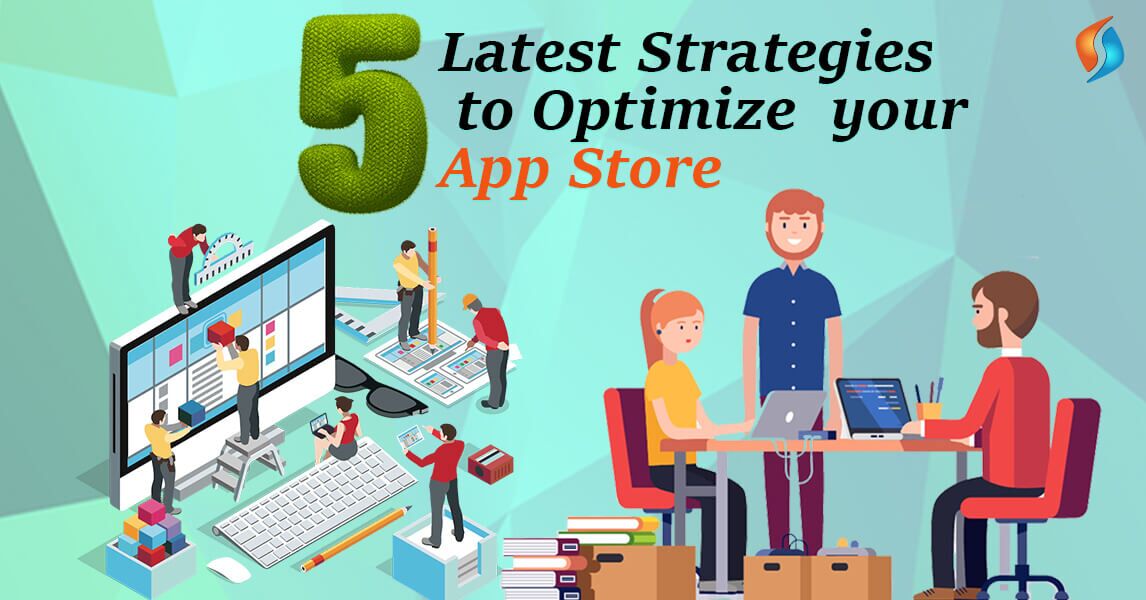 It has been almost a decade since Google and Apple launched their respective app stores. Since then, both these leading marketplaces have seen an explosion in the number of apps. As on 30.09.2018, the total number of apps on Google Play Store and Apple App Store has crossed the level of 2 million each. The mobile application development market has become one of the leading industries nowadays. Millions of businesses are launching and updating their mobile apps regularly. This has significantly improved the demand for an efficient and experienced mobile application development company.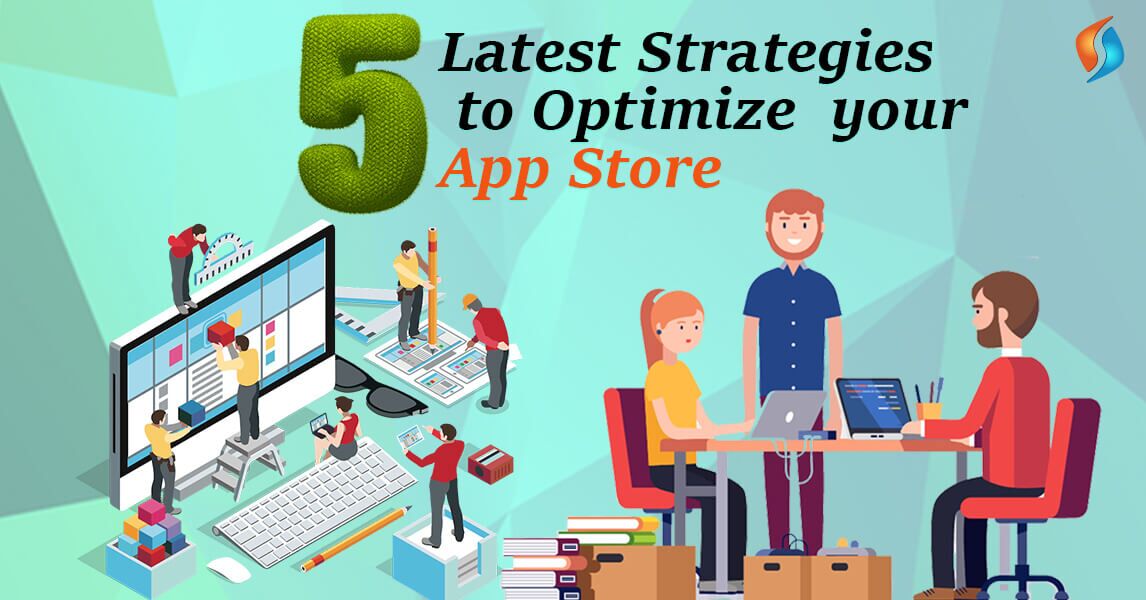 From their launch, app stores and smartphones have undergone a complete evolution. The number of users is rising at an incredible rate. As per the latest report by Statista, the total number of active smartphone users will cross 5 billion by 2019. This offers an excellent opportunity for businesses all over the world. They can avail the services of a reputed mobile application development company to create a compelling app. It gives them a chance to reach a global audience and enhance their profitability.
But this opportunity is not that easy to avail. There are more than two million apps on both Google Play and the Apple App Store. This presents a challenge to businesses to make their app visible to target customers. In such a situation, it becomes imperative for companies to undertake the App Store Optimisation (ASO).
What is ASO and why is it important
ASO can be defined as the process of optimizing mobile apps to rank higher in an app store's search results. The higher an app ranking in the search results, the better are its chances to be more visible to the customers. This, in turn, increases the visits to the app page in the app store as well as its opportunities to download.
As per a recent report by Forrester, customers discover more than 63% of apps through search. Making it the most popular method of finding out and downloading new apps. When there are thousands of other apps for every category, ASO ensures the visibility of an app. It helps an app appear prominently in search results. This is a primary reason that businesses avail mobile application development services from professionals for their ASO. Some of the significant advantages of ASO are: –
Improvement in discoverability of an app.

Enhancement in the number of organic installation of the app, i.e., free of cost.

Improvement in Installation rate

Steady revenue generation from apps.

Lower customer acquisition costs when compared to paid marketing campaigns.
Various Factors of ASO
Two factors affect the ASO process of an app significantly. They are: –
Keywords


It is essential to know the keywords that the customers are using to search for apps in a particular category. Thorough and effective

big data analytics services

can help meet the objective here.
Title


The title should contain a keyword that is most popular amongst the customers. Title finalization must be done after due research as changing it could be detrimental.
Latest Strategies to optimize an App for the App Store
ASO is an organic strategy to improve an apps ranking, visibility, and conversion in an app store. It takes persistent efforts and proper planning to obtain the desired results for an App in the app store. Here are five latest strategies that can help improve the performance of an app in quick time.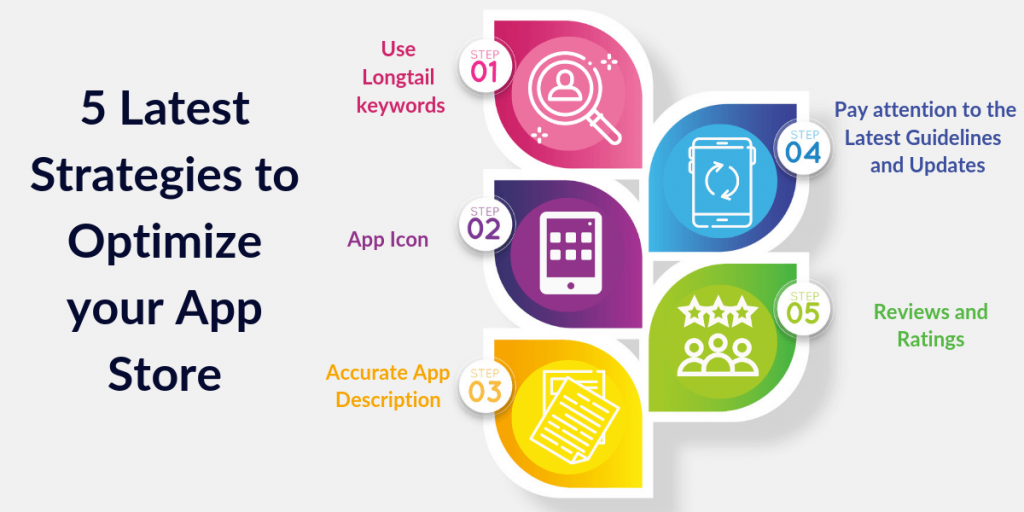 1. Use Long Tail keywords
Keywords form an integral part of every ASO strategy. The keywords chosen must be popular amongst the users. Keywords need inclusion in the app title to explain to the customers about the purpose of the app. It will also help the app store understand the contents of the app. Two considerations must be taken care of while choosing the keywords, and they are relevancy and competition. A long tail keyword which faces less competition is more straightforward to rank for as compared to broad keywords. The best set of Android and iPhone application development services will essentially focus on such keywords to ensure results for the business.
2. Pay attention to the Guidelines
Introduction of a large number of mobile apps every day has led the app stores to change their guidelines accordingly. This also includes algorithm updates. One must pay close attention to the latest updates, and then those changes must be included in the app. As a result of this, search results will get better for the app.
3. Pick the Right App Name and Title
Before keeping the name of your app it is important that you do thorough keyword research and identify the most relevant keyword according to your app, so you can now optimize your app title. This is one of the major factors when people are browsing for apps in the store. To help your app store optimization, your keyword should be in the title.
4. Add Screenshot for Visual App Optimization
Visuals are important for App Store Optimization because images and screenshot pursue a user to download the app. This is because when you look at the App Store, you can see that screenshots are more dominant in how Apple lays out its app product pages.
For visual optimization, it is important that you upload a maximum of five images, even though the App Store is going to view only three of them. In fact, your first three screenshots are going to be the most important for ASO, and act as your visual selling points to customers.
Tip: So showcase your most significant screenshots first, then follow with secondary ones
5. Accurate Description
Users do not have the time to read through the entire description of the app. One must include only a brief and to-the-point summary of the app. It is imperative that the simple and easy to understand language is used by the mobile application development company as only this shall encourage users to read all of it.
6. Icon
A creatively designed icon adds to the reputation and trustworthiness of the brand. Mobility service providers need to ensure that the icon oozes professionalism and relates to the brand. Establishing a brand presence on the mobile screen of a customer is possible only through a creative icon.
7. Reviews and Ratings
Getting high ranking and positive ratings in the app store can do wonders for the ASO efforts. Though the mobile application development company has no control over it, yet certain steps can certainly get you positive reviews such as: –
a) Offering full version for free for a certain period

b) Offering freebies and discounts for reviews

c) Allowing users to give feedback on beta versions
Hire Mobile Application Development Company!
With the competition intensifying in the app stores, your app needs to stand out from the others. At Signity, we can help you accomplish your app goals. We are leading name in the field of mobile application development in India. Our team has been helping businesses from around the world to develop the most amazing mobile apps. We have an in-house team of expert coders, programmers and developers to handle any app development requirements. Get in touch with our IT outsourcing services now and let us take your business to new heights. Contact us now.