Top 5 Benefits of Robotic Process Automation in Retail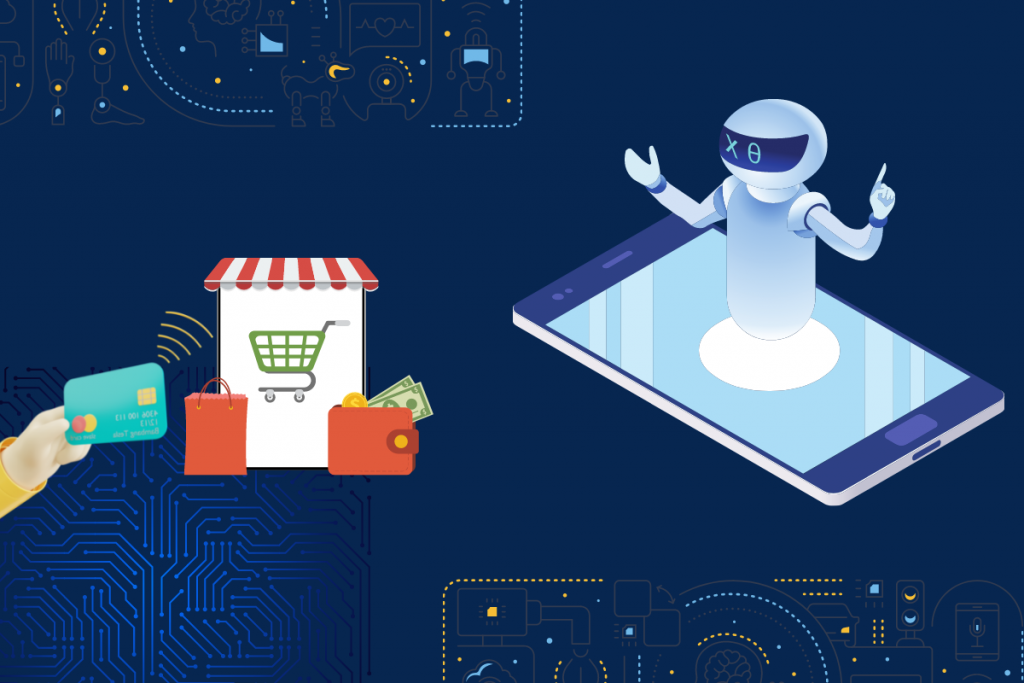 Retailers across the globe are searching for the perfect digital transformation setup. They are undertaking significant initiatives to modernize their legacy systems, keep the lights on, and enhance their digital quotient. A huge part of navigating through these initiatives is understanding and capitalizing on rising opportunities of improving suffocated business processes using Robotic Process Automation capabilities.
Robotic Process Automation is a form of software technology that outsources human-dependent and mundane tasks to machines or bots. With a certain set of pre-defined rules, engineers develop programs that instruct machines/bots to do a particular function. Filing invoices, data migration, inventory management, and answering first-level customer queries are some of the tasks that you can easily automate through RPA.
Recent research by Forrester suggests that the combined market of RPA Software and Services will reach an impressive $25 billion by 2025.
Today, RPA capabilities are helping retailers to improve workforce productivity, accelerate modernization programs, optimize inventories, reduce costs, and support overarching digital transformation programs. This article will do a detailed rundown of five significant benefits of RPA for retailers.
The RPA Imperative for Retailers
Top 5 Benefits of Robotic Process Automation in Retail
Your RPA Journey – The Secret Sauce
Why is RPA Imperative for Retailers?
RPA supports retailers across multiple processes, like staff recruitment, payroll, health, safety, etc. It can help the different departments to optimize their activities by automating the tasks. It reduces human errors across business workflows.
A critical task for retailers is to ensure that customers have a seamless experience across all touchpoints. As businesses move towards this goal, they are faced with several interlinked processes that can affect the outcome. Some of the problems that they face could be:
Manual processes
Unstructured silos of data
Unconnected knowledge hubs
Clerical errors
RPA technologies improve productivity across the chain of operations and mitigate the risks mentioned above. Some of the common use cases of RPA in the retail industry include:
Sales Planning: Comprehensive analytics of enormous data volume requires intensive effort by the employees. Automated analytics help provide real-time insights to maximize opportunities.
Store planning: RPA can help understand customer expectations against ongoing market trends. It can help the employees customize merchandise placements to increase revenue.
Order processing: RPA can automate the ordering process against pre-set thresholds. It can avoid delays in carrying out orders and help meet occasional demand spikes.
Benefits of Robotic Process Automation in Retail
RPA has opened the door to a wealth of possibilities. It is becoming the main driver and technology that enables unleashing the real potential of human intellect while outsourcing mundane and repetitive tasks to machines.
Efficient Inventory Management
Retailers have invested millions of dollars in managing their inventory levels, predicting demand and supply, and preparing their IT and warehouse infrastructure to avoid inventory wastages. But, they have failed miserably. While disparate systems are in place, they are not enough to manage inventories and have become an additional cost for retailers.
RPA can be used in various ways to manage inventory, such as the automatic update of inventories in the systems, alerting concerned product departments for product replenishments, bettering demand planning and forecasting, suggesting fast-moving slow-moving products, and managing inventory discrepancies.
This results in using the inventory data to fine-tune the customer experience, understand the demand and supply pattern, and get a complete inventory profile to ensure minimal losses due to stock-outs or inventory wastage.
Streamlined Logistics and Supply Chain Management
Customer expectations are rising every minute, and they are spoiled for choices. They seek Same-day delivery and end-to-end visibility of their orders. Retailers need to add more layers of efficiency to ensure a transparent and robust supply chain. The industry faces several bottlenecks due to the semi-automatic processes and the sheer volume of data that must be analyzed.
Supply chains are the most complex piece for retailers. Supply chains must achieve data and decision velocity from manufacturing in one corner of the world to distribution in retail stores and online websites across the globe.
But how?
RPA technologies can help streamline the supply chain and logistics by automating time-consuming tasks like copying and pasting data from one system to another, manually raising purchase orders, selecting suppliers, generating NDAs, and orders management.
By leveraging Robotic Process Automation, retailers can drastically improve their supply chain.
It can help reduce shipping delays, optimize logistic routes and fleets, train employees to work alongside their digital workers, and increase employee productivity which ultimately translates to customer delight. RPA systems deliver the long-term benefits of building intelligent and self-learning systems to make smarter decisions.
Improved Customer Support
Ensuring five-star customer service 24*7*365 can be cumbersome and overwhelming for human agents. Customers expect immediate resolution of queries, zero waiting times, and personalized treatment. These processes are highly tedious and prone to human forgetfulness and errors. With limited memory power and continuous customer support tickets, the human workforce can easily face burnout impacting the performance of a customer service department.
That's why RPA can enhance the overall functioning of the customer service department, avoiding workforce burnouts and mitigating the risks of average or poor star ratings for any customer service department.
Customers are connected to the brand via many channels, and they need a contextual understanding of their queries across channels. It's not an alien scenario where customers have to repeat their order numbers, mobile numbers, and other details to multiple customer service agents. Retailers can utilize chatbots to be available for customer queries 24 by 7, beating the long waiting queues and retrieving the right information within a few minutes.
Customer service departments also hold a large amount of data that one can use for improving customer satisfaction rates. You can analyze user intent and behavior and provide feedback to the product departments about the product features and quality.
The retail industry is changing so fast, making it crucial for retail organizations to be able to think and act ahead as per the changing customer expectations. A well-implemented RPA practice eliminates human intervention for first-level customer queries enabling faster customer service and a centralized knowledge hub.
Increases Workforce Productivity
RPA helps in automating repetitive tasks that benefit both customers and employees. When RPA is implemented as a complementary feature to the existing workforce abilities, human intellect can focus on more productive, fulfilling, and engaging tasks leading to higher happiness quotient, productivity, and job satisfaction. Customers are looking for faster resolution of their queries, and RPA makes it easy for both businesses and customers.
We are already at a talent dearth in technical and business skills. As RPA takes over the manual processes and frees up human counterparts, retailers can identify reskilling and up-skilling opportunities for their workforce.
Retailers investing in RPA models are also creating an advanced and liquid human workforce that can stay ahead of the rapid pace of tech advancements, constantly upskilling themselves, and work with well-defined boundaries alongside robots to boost productivity.
The face of retail is changing at lightning speed, and retailers must have RPA as part of their digital strategy to enhance the value of their existing workforce and build a next-generation human workforce. It helps them prepare a unified and connected workforce ready to innovate and improve continuously.
Transforming Cost Optimization with RPA
The ongoing digital transformation in the industry is forcing retailers to reassess their customer-centric and digitization strategies to build agile and scalable businesses. This also puts pressure on balancing operational and technological costs to build new technical capabilities and manage the talent life cycle. Retailers can no longer just think about one-time cost implications but need to invest in technologies that offer progressive savings over the years.
Robotic Process Automation helps to spread inventory distribution across various channels and stores, cut workforce costs, and optimize demand and supply planning with better decisions. While these seem like first-hand cost savings opportunities, RPA builds the base to start intelligent automation and self-learning retail operations resulting in the forming of futuristic retail operations.
Your RPA Journey – The Secret Sauce
RPA implementations can be tricky. Modern retailers need scalable pilot RPA solutions that can replicate across departments with departmental data and processes. Retailers must pick the right RPA consulting partner to derive timely investment returns from their RPA projects.
Signity Solutions offers end-to-end RPA services ranging from advisory, design, development, licensing, training and workshops. With over a decade of combined experience, we deploy failproof and robust RPA solutions across industries. Our extensive RPA adoption support has helped many clients drive the necessary culture change and adopt RPA practices completely in their organizations.
If you are looking to experience the above-mentioned benefits of RPA, feel free to drop a quick message at sales@signitysolutions.com. Our RPA experts will get in touch with you to explore the limitless possibilities of RPA solutions for your retail business.