Tips for Choosing the Right Custom Web Development Company in 2023
Checking for strong competencies from planning to development when selecting the right web development company is a crucial factor. Look how well they understand your requirement, are they ready to go beyond lines of code? Here's a list of everything you should know to choose the best tech partner to create a custom website.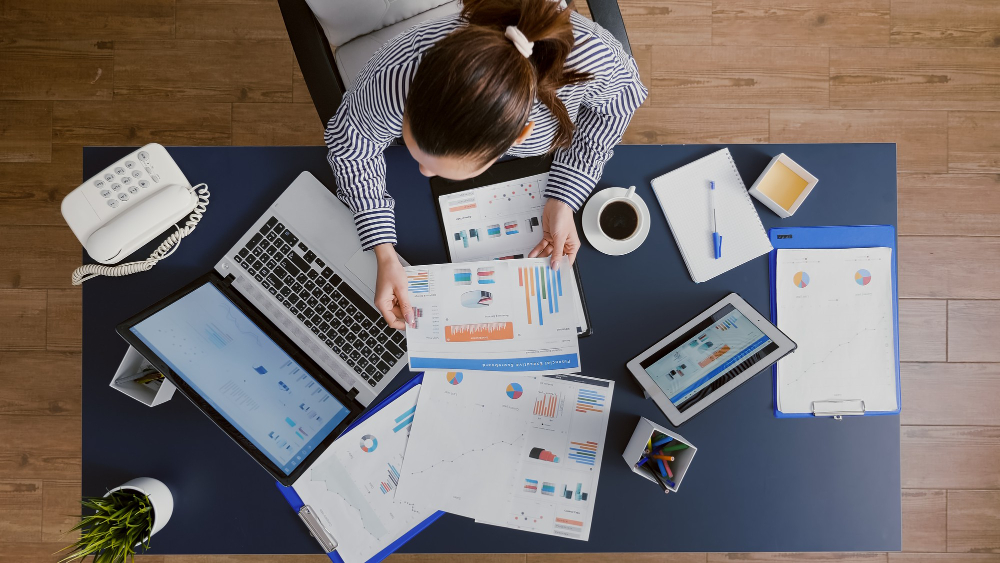 As a decision maker, one decision that makes the difference in shaping your organization's future is - picking a competent web development company that can be entrusted to optimize your brand and drive growth.
And, to ensure your company's reputation and legacy, the web development company you choose should have strong competencies in everything needed for creating a successful website build, likeability, and experience in:
Research
Planning
Strategizing
Development
Launch
"Your company must have a compelling, well-defined and functional website to maximize your potential for growth and recognition."
What You'll Learn Here!
Six valuable pointers to identify the right web development company.

Element to consider when designing a custom web design.

The right development methodology for your business - agile, waterfall, or hybrid.

Your cheat sheet to hire a competent web development company
Here are six of the most crucial factors to consider when selecting a web development company.
Finally, this is how you build your legacy!
Tips for Choosing the Right Custom Web Development Company
Define Your Goals and Roadmap to Achieve Them
Before you search for a company to be your potential partner, ensure you have a well-defined idea about your goal and what your company needs. The agency you are going to outsource will be working on all your overall online presence. Nobody knows your company better than you, so it is best for you to identify a firm that goes with your brand ideology.
We know the design agencies are an expert at what they do, but will it jell with your brand? e.g., What should you convey in your advertisement? Will basic and minimalist work? Let's say your brand is of caskets; then happy people in your ads won't look good. Where should your ads be placed? Who will be your target audience? These are just some basic things that you should have a clear idea about.
Before you go out looking for a firm to work on your project, make sure you know what the project is all about and what you expect them to achieve.
To understand better, follow these points:
1. Make a Plan
But, first answer these questions:
-Who are you? Established business or need a business plan?
-What do you need? Brand awareness or launch plan?
Once you have an answer to these questions, it'll help you segregate the agencies that will suit your needs. Keep in mind; people need to find your website; make sure they have the means to do so. A great website without any traffic is useless. Have an inbound marketing strategy to target the first 500 users to have an idea about the type of audience your brand attracts.
2. Have a Budget
Identify your budget and the goal you wish to achieve with it. This budget is for design and development, not maintaining it. It can be a set amount or a long-term forecast based on a break-even analysis. This step should help you set your market entry point and hone your business objectives at the same point.
The budget has a way of grounding everyone, but without the idea of cost, you won't be able to decipher what you will get at what cost. You should have a good understanding of trade-offs between price quality and schedule. Small budgets will get the job done, but you are more likely to adjust on quality; the same goes for a tight timeline.
3. Consider Running Costs
After your website is live and running- what's the plan after that?
There are n number of things that you might go wrong or want to modify/make a few changes. You need to understand how things will go after development clearly. So, keep running costs in mind.
4. Understand the Digital Roadmaps
All projects need planning before development; this is the basic rule. Project planning is not a functional requirement for your project; it can be seen as the technical requirements broken down into tasks with time frames. Think of it as a blueprint for a house; no builder will risk building a house without it, then why should you?
You need to have accurate planning done at the initial stage to minimize issues. Don't go for options or companies that spend little time planning or building a road map; it is far too risky.
A professional development firm will always conduct a project plan or roadmap to calculate scope, cost, and timeline before they proceed. This reduces the risk by a big margin. Some companies charge extra for a roadmap as they make sure that they have dedicated resources that work on it.
Whatever the case, maybe you need to make sure that you ask for a roadmap before starting your project. It will ensure the process is smooth and will likely save you from a ton of trouble you might face in the future.
If you are confident that there is a market for your website and you have a plan with a budget, then you need to follow the following steps:
Define user personas.
Define detailed use cases.
Sketch the rough layout.
Be confident; it will help you find the right web agency to work with.
Find the Custom Web Design Firm to Work With
The next step is finding a custom web design firm you can work with. There are a number of ways to partner with them, e.g., via referrals.
However, checking a company's portfolio is always a good idea. You get to see what they have worked on, what is their ideology, approach, and so on. But you can never know the technical aspects of their business from a portfolio. E.g., software development and database management, which can never be really seen through a portfolio.
This implies that you must combine multiple approaches to find and finalize a firm that meets your needs or can cater to your custom requirements. But the question is, what exactly do you look for in a web design firm? You need to look for signs to find a reliable partner that can work with you and understand your approach.
Like an impressive portfolio with consistent quality, check their sample work to set expectations. Talk to the designers and behind the scene resources to get a better understanding of how they work. Finding companies with experience in your niche is always a plus.
If your plan is long-term, look for companies providing long-term services rather than changing firms every quarter. It is a great idea to associate yourself with an interactive firm that has clients from different geographics and demographics.
It will help you enjoy and follow a more global approach in terms of marketing. It might even give you ideas to expand your business in new countries and cities that have a similar clientele.
Do they offer a turnkey solution?

When you are launching a business, there are a lot of aspects to it. It's not just technical stuff like software development. Marketing, sales, inventory, you need a support team and a good infrastructure that will become your core business point.
You need a company that provides a turnkey solution. A turnkey solution includes everything in the development pipeline for making a custom website. The hired agency will provide everything from hosting, planning, UI/UX, SSL certificates, branding, design, development, user testing, SEO, copywriting, Maintenance, and support.
Some companies and developers don't provide maintenance; they just make the first or initial structure within the timeline and say goodbye. It's not good enough, with the Internet, things are constantly changing.
For the desktop application, you might get away with an unsupported one-off project, but nothing else is static. Be sure you have a full package, or you might miss crucial costs in your planning. It will up your budget and your worries in the future.
Ask the Right Questions
Once you've funneled down your list of potential vendors, you can approach them and start by asking some questions. Here, you need to know exactly what questions to ask and what kind of answers you want to hear.
Here's your list of questions and possible answers you should look up to:
How do you meet deadlines?
The service provider should guarantee timely delivery of the product. Of course, some unexpected challenges might cause some fluctuations, but good planning and project management make it possible to cater even to strict timelines.
How do you ensure code quality?
A reliable vendor has quality assurance experts on their team. These are the people who run tests and check the software for any possible flaws and bugs. They allow developers to improve the quality of the product on the go.
How long will you support the product?
A trusted service provider will support the product for as long as you need that support. We provide support and maintenance services to all our clients and keep their products up to date for as long as they need.
How do you minimize software security risks?
The service provider offers secure-by-design solutions. Basically, they would integrate your software with all the crucial security measures like firewalls.
How do you report your work?
Often, developers split projects into sprints and give project reports at the end of each sprint. These reports can be easily documented or even communicated to you verbally.
Here, you can easily choose what floats your boat.
Ask for the Development Methodology
Three types of development methodologies are followed in technology projects:

a) Agile
b) Waterfall
c) Hybrid.

a. Agile-
When the developer adapts and evolves their approach according to the ongoing nature of the project, it comes under Agile. This approach helps to improve continuously because every part of the build is up for iteration and improvement at any stage. However, it can be a bit inefficient while working on large-scale projects with multiple parties. If these parties are only partially involved or invested, they'll still have full control to make go-ahead or halt decisions.
This approach is followed chiefly in startups, and sprint lengths range from weeks to months. Following a continuous improvement model allows them to adapt to new changes.
b. Waterfall-
This method is more traditional, where the developer functions like a factory. Here the project moves forward in a set of lock-step increments, and modifications are a bit difficult. If you have a proper roadmap for things you want, this methodology is most suitable for you and will go well with your fixed goals. Conservative organizations with a detailed plan of action follow this approach.
Along with these organizations, bureaucratic, low-competition sectors and shareholder bodies of public companies are also comfortable with this approach. They are very stringent with how and when things will work. Revoking or adding new steps to the plan is a big No, so they understand this traditional style very well.
c. Hybrid-
This is more of a combination. Both Agile and waterfall model mechanisms are used, but a window of the feedback loop is kept. The decisions depend on the company and the teams involved. They have to reach a mutual understanding of the timeline and aspects that can be modified and a few that can not be changed.
Request a Proposal
Custom web development company should ideally send proposals for you that you can evaluate before you the deal is finalized. However, if you have not received one, you only have to request one.
Don't forget to specify that the proposal must include a general overview of your requirements and all the things both parties agreed upon, along with the issues you might face and the proposed solutions. It will help you understand and determine if the custom web design agency understood all your requirements or not.
Price quotes and a description of the development and implementation process should also be included for different site marketing project aspects. It will give you an idea of what the web development firm expects of you.
The Cue: Your Cheat Sheet
If you have completed the above tasks, then you might have a good bundle of candidates.
Working with freelancers to improve your business's website is risky and time-consuming. So to save you and their time, make sure you ask the right questions. Probe the development company as much as possible to get all the information before signing any deal. We have compiled a list of must-ask questions that will assist you in minimizing risk and finding the right offshore development company.
Will they provide a fixed price quote for development upfront?
What technology stack do they use?
Is it a time and materials contract?
What project management software do they use?
How often will they provide status reports during development?
Do they practice continuous deployment?
What maintenance and support costs are, after that, development?
Finally! Sign-Up with a Trusted Web Development Company
The web development company in India you are going to hire will be responsible for creating your company's image on the Internet across millions of users and in the real world. It can really make or break your business. So make sure that the firm is reliable before sealing a deal with a custom web design and development firm. Evaluate the quickness and efficiency of the firm in terms of services and communication.
Sign a deal with them once you are satisfied with the proposal and cost. The agreement should have detailed information on all the key and little aspects of services that the custom website design will provide. It should not leave anything. Ask them to include the number of pages, the design scope, maintenance, costs, payment, and the trajectory until project completion.
If, along with development services, you are also availing of marketing services, then the types of marketing solutions, tools, channels, and approaches should also be shared. Don't forget the cost involved.
The hired custom web design firm will be responsible for making your business more profitable. However, it doesn't mean that you'll hand over everything to them. Although you have outsourced this aspect of your business, it is your company, and nobody knows it better than you.
Ensure all the processes and solutions follow your brand language, aspirations, and ideology. The fierce competition and technology are vast, which makes the price and quality vary.
So, find the partner that aligns with your objectives while considering your budget. We can not stress enough how important it is to choose the right custom development firm to take care of all your e-business and digital marketing needs.
In the End…
Picking a web developer or a web development company may initially seem perplexing. However, it's a critical one-time investment that ensures your business handholds the right online presence and makes you sound like a dollar for clients and customers.
With that said, if you're still searching for a trusted and experienced web development company, we are here to help!
We build nothing less than the best. Our wide range of services goes far and beyond to ensure your website is functional and aesthetically pleasing.
Contact us today if you want to pace up your business with evolving technology.
Frequently Asked Questions
Have a question in mind? We are here to answer.
What are the benefits of working with a custom web development company?

There are many benefits to working with a custom web development company, including:
Expertise: Custom web development companies have the expertise to create a website that meets your specific needs and requirements.
Experience: Custom web development companies have the experience to deliver high-quality websites that meet your expectations.
Communication: Custom web development companies are typically very good at communicating with their clients, which can help to ensure that the project is completed on time and within budget.
Flexibility: Custom web development companies are typically more flexible than off-the-shelf solutions, which can allow you to get the exact website that you need.
What are some factors to consider when choosing a custom web development company?

There are a number of factors to consider when choosing a custom web development company, including:
The company's experience: How long has the company been in business? What kind of experience do they have with projects similar to yours?
The company's portfolio: What kind of websites has the company created in the past? Do their websites meet your standards?
The company's communication style: How well does the company communicate with its clients? Are they responsive to your questions and concerns?
The company's pricing: How much does the company charge for its services? Is their pricing competitive?
The company's reputation: What kind of reputation does the company have? Are they reliable and trustworthy?
How can I get started with the process of choosing a custom web development company?

The first step is to do your research. This includes reading online reviews, comparing quotes, and interviewing potential companies. Once you have a few companies in mind, you can start the process of narrowing down your options.
Here are some specific steps you can take to get started:
Define your needs: What do you need your website to do? What are your goals for the website?
Create a budget: How much are you willing to spend on your website?
Start your research: Read online reviews, compare quotes, and interview potential companies.
Narrow down your options: Once you have a few companies in mind, start narrowing down your options based on your needs and budget.
Schedule interviews: Schedule interviews with the companies you are considering. This will give you a chance to meet with the team and ask questions.
Make a decision: After you have interviewed all of the companies, make a decision about which one is the best fit for you.
What are some common mistakes to avoid when choosing a custom web development company?

There are a few common mistakes to avoid when choosing a custom web development company, including:
Not doing your research: This is one of the most common mistakes people make. It is important to do your research and compare quotes before you make a decision.
Going with the cheapest option: The cheapest option is not always the best option. It is important to consider the company's experience, portfolio, and communication style as well as their pricing.
Not asking enough questions: This is another common mistake. It is important to ask the company questions about its process, its timeline, and its pricing.
Not getting everything in writing: It is important to get everything in writing, including the scope of work, the timeline, and the pricing. This will help to avoid any misunderstandings down the road.