8 Tips for Choosing the Right Custom Web Development Company providing a Turnkey Solution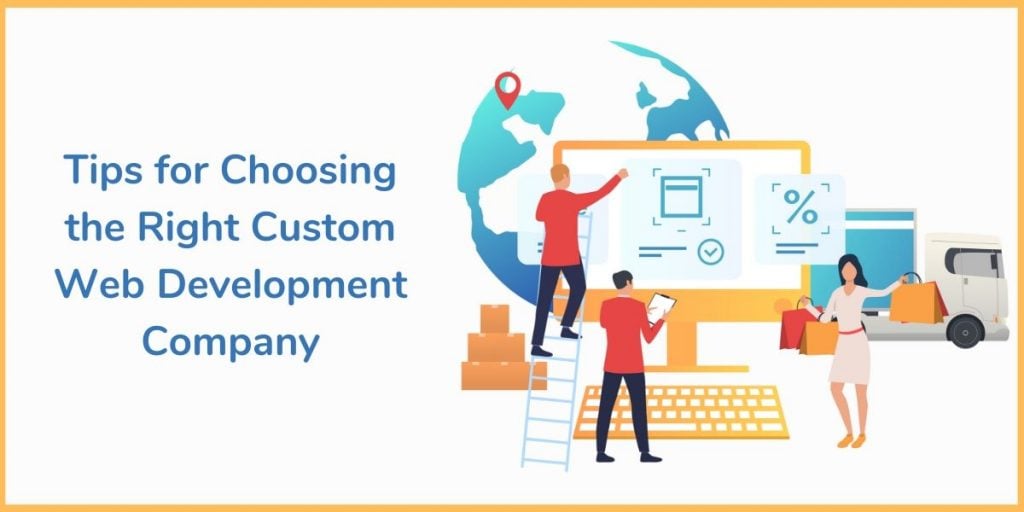 The world has become highly globalized, all thanks to the Internet. All organizations now are present online; this has opened doors for unlimited new opportunities. However, the internet world is competitive, in order to survive and stand out in the digital world, all companies and brands need a solid digital strategy.
Ideas are everywhere, but finding that one particular idea that can go viral or become your brand tagline is very difficult. Handling online marketing in-house can be too much; you need expertise and experience to carry out a successful campaign. This is the reason many companies hire custom website development services that can handle their eCommerce as well as other marketing needs. From software development and integration to CMS platform knowledge, SEO, and SMO, there are n number of skills and techniques required to launch a campaign successfully.
You should keep some points in mind if you are planning to launch your business online. These will help if even if you need a web development agency to work on your online presence and increase your brand value there. However, you need to make sure that the web design firm can handle all your marketing objectives as they will have a direct impact on your marketing strategy.
Tips for Choosing the Right Custom Web Development Company
1. Know your goals and how you want to achieve them
Before you start looking for a firm to help you out, make sure that you are clear about your goal and what your company needs. The agency you are going to outsource will be working on all your overall web images. Nobody knows your company better than you, so it is best for you to identify a firm that goes with your brand ideology.
The design agencies are going to an expert at what they do, but will it go with your brand? e.g., What should you convey in your advertisement? Will basic and minimalist work? Let's say your brand is of caskets, then happy people on your ads won't look good. Where should your ads be placed? Who will be your target audience? There are just some basic things that you should have a clear idea about. Before you go out looking for a firm to work on your project, make sure you know what the project is and what you expect them to achieve. To understand better, follow these points:
a) Make a plan
Answer these questions:
-Who are you? Established business or need a business plan?
-What do you need? Brand awareness or launch plan?
Once you have an answer to these questions, it'll help you segregate the agencies that will suit your needs. Keep in mind; people need to find your website; make sure they have the means to do so. A great website without any traffic is useless. Have an inbound marketing strategy to target the first 500 users to have an idea about the type of audience your brand attracts.
b) Have a budget
Identify your budget and the goal you wish to achieve with it. This budget is for design and development, not maintaining it. It can be a set amount or a long term forecast based on break-even analysis. This step should help you set your market entry point and hone your business objectives at the same point. The budget has a way of grounding everyone, but without the idea of cost, you won't be able to decipher what you will get at what cost. You should have a good understanding of trade-offs between price quality and schedule. Small budgets will get the job done, but you are more likely to adjust on quality; the same goes for a tight timeline.
Related Post: Cost For Custom Website Development
c) Consider running costs
After your website is live and running- what's the plan after that? There are n number of things that you might go wrong, or you might want to modify/make a few changes. You need to have a clear idea about how things will go after development. Keep running costs in mind.
d) Know about digital roadmaps
All projects need planning before development; this is the basic rule. Project planning is not a functional requirement for your project; it can be seen as the technical requirements broken down as tasks with time frames. Think of it as a blueprint for a house; no builder will risk building a house without it, then why you should?
You need to have accurate planning done at the initial stage to minimize issues. Don't go for options or companies that spend very little time on planning or building a road map; it is far too risky. A professional development firm will always conduct a project plan or roadmap to calculate scope, cost, and timeline before they proceed. This reduces the risk by a big margin. Some companies charge extra for a roadmap as they make sure that they have dedicated resources that work on it. Whatever the case, maybe you need to make sure that you ask for a roadmap prior to starting your project. It will make sure that the process is smooth and will likely save you from a ton of trouble that you might face in the future.
If you are confident that there is a market for your website and you have a plan with budget, Then you need to follow the following steps :
Define user personas.

Define detailed use cases.

Sketch the rough layout.
Trust us; it will help a lot in finding the right web agency to work with.
2. Find the custom web design firm to work with
The next step is to find the custom web design firm you can actually work with. There are a number of ways to partner with them, e.g., via referrals. However, checking a company's portfolio is always a good idea. You get to see what they have worked on, what is their ideology, approach, and so on. But you can never know the technical aspects of their business from a portfolio. E.g., software development and database management, which can never be really seen through a portfolio. This implies that it's really necessary that you combine multiple approaches to find and finalize a firm that meets your needs or can cater to your custom requirements. But the question is, what exactly do you look for in a web design firm? To find a reliable partner that can work with you and understand your approach, you need to look for signs.
Like an impressive portfolio with consistent quality, check their sample work to set expectations. Talk to the designers and behind the scene resources to get a better understanding of how they work. Finding companies with experience in your niche is always a plus. If your plan is long term, then look for companies that provide long term services rather than changing firms every quarter. It is a great idea to associate yourself with an interactive firm that has clients from different geographics and demographics. It will help you enjoy and follow a more global approach in terms of marketing. Might even give you ideas to expand your business in new countries and cities that have a similar clientele.
3. Development methodology
There are three types of development methodologies that are followed in technology projects :
a) Agile
b) Waterfall
c) Hybrid.
a) Agile-
When the developer adapts and evolves their approach according to the ongoing nature of the project, it comes under Agile. This approach helps to improve continuously because every part of the build is up for iteration and improvement at any stage. However, it can be a bit inefficient while working on large scale projects with multiple parties. If these parties are only partially involved or invested, they'll still have full control to make goahead or halt decisions. This approach is mostly followed in startups, and sprint lengths range from a couple of weeks to a month. It allows them to adapt to new changes by following a continuous improvement model.
b) Waterfall-
This method is more traditional, where the developer functions like a factory. Here the project moves forward in a set of lock-step increments, and modifications are a bit difficult. If you have a proper roadmap for things you want, then this type of methodology is most suitable for and will go well with your fixed goals. Conservative organizations with a detailed plan of action follow this approach. Along with these organizations, bureaucratic, low competition sectors, and shareholder bodies of public companies are also comfortable with this approach. They are very stringent with how and when things will work. Revoking or adding new steps to the plan is a big No, so they understand this traditional style very well.
c) Hybrid-
This is more of a combination. Both Agile and waterfall model mechanisms are used, but a window of the feedback loop is kept. The decisions depend on the company and the teams involved. They have to reach a mutual understanding of the timeline and aspects that can be modified and a few aspects that can not be changed at all.
Related Post: Web Development Life Cycle
4. Do they offer a turnkey solution?
When you are launching a business, there are a lot of aspects to it. It's not just technical stuff like software development. Marketing, sales, inventory, you need a support team and a good infrastructure that will become your core business point.
You need a company that provides a turnkey solution. A turnkey solution includes everything in the development pipeline for making a custom website. The hired agency will provide everything from hosting, planning, UI/UX, SSL certificates, branding, design, development, user testing, SEO, copywriting, Maintenance, and support.
Some companies and developers don't provide maintenance; they just make the first or initial structure within the timeline and say goodbye. It's not good enough, with the Internet, things are constantly changing. For the desktop application, you might get away with an unsupported one-off project, but nothing else is static. BE sure you have a full package, or you might miss crucial costs in your planning. It will up your budget and your worries in the future.
5. Request a proposal
Custom web design firms should ideally send proposals for you that you can evaluate before you the deal is finalized. However, if you have not received one, then all you have to do is request one. Don't forget to specify that the proposal must include a general overview of your requirements and all the things both parties agreed upon along with the issues you might face and the proposed solutions. It will help you understand and determine if the custom web design agency understood all your requirements or not.
Price quotes and a description of the development and implementation process should also be included for different site marketing project aspects. It will give you an idea of what is expected of you by the web development firm.
6. Finalize the contract with a trusted web development company
The web development company in India, you are going to hire will be responsible for creating your company's image on the Internet across millions of users and in the real world. It can really make or break your business. So make sure that the firm is reliable before sealing a deal with a custom web design and development firm. Evaluate the quickness and efficiency of the firm in terms of services and communication.
Once you are satisfied with the proposal and cost, sign a deal with them. The agreement should have detailed information on all the key and little aspects of services that the custom website design will provide. It should not leave anything. Ask them to include the number of pages, the scope of the design, maintenance, costs, payment, and the trajectory till project completion. If, along with development services, you are also availing of marketing services, then the types of marketing solutions, tools, channels, and approaches should also be shared. Don't forget the cost involved.
The hired custom web design firm will be responsible for making your business more profitable. However, it doesn't mean that you'll handover everything to the. Although you have outsourced this aspect of your business, it is your company, and nobody knows it better than you.
Make sure all the processes and solutions are in accordance with your brand language, aspirations, and ideology. The competition is fierce, technology is vast, and the price and quality will vary. So, find the partner that aligns with your objectives best while keeping your budget in mind. We can not stress enough on how important it is to choose the right custom development form that will take care of all your e-business and digital marketing needs.
7. Raising capital
Investors expect you have a clear vision of your business. If you have a roadmap or project plan, then it will be beneficial if you need quotes to raise capital for your project. A web development agency that understands your brand requirements will be able to make a roadmap with a pitch that will help lure investors. It doesn't matter if you have to pay a little, you'll get ten times the amount and effort for quality work.
8. The shortlist
If you have completed the above tasks, then you might have a good bundle of candidates.
Working with freelancers to improve your business's website is risky and time-consuming. So to save your and their time, make sure you ask the right questions. Probe the development company as much as possible to get all the information prior to signing any deal. We have compiled a list of must-ask questions that will assist you in minimizing risk and finding the right offshore development company.
1. Will they provide a fixed price quote for development upfront?
2. What technology stack do they use?
3. Is it a time and materials contract?
4. What project management software do they use?
5. How often will they provide status reports during development?
6. Do they practice continuous deployment?
7. What maintenance and support costs are, thereafter, development?
Conclusion:
All we have to say is, take your time. Think, shortlist, decide and then contact the best custom website developers. Turnkey solutions are important because it's not about making a website or the initial project stage. You need to maintain your website in order to stand out. All the best.