Zoho vs. Salesforce: Which CRM to Choose for your Business?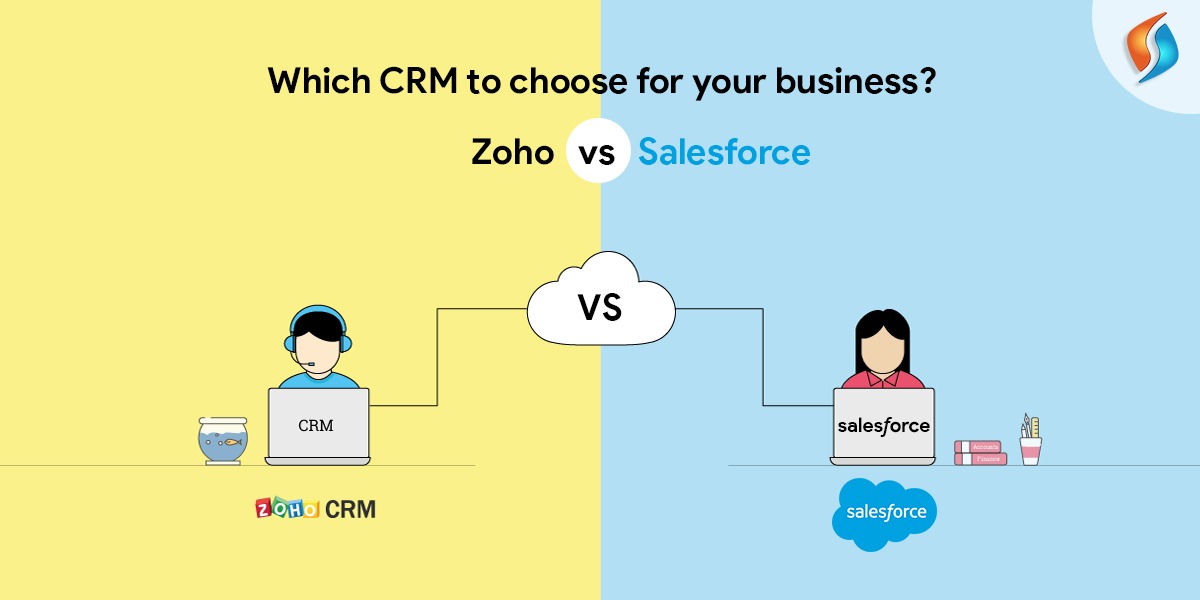 If you are running a business, be it big or small, you must have come across the term Customer Relationship Management (CRM). Business and CRM go hand in hand as CRMs constitute the backbone of the data storage and backup.
CRM software, as the term goes, helps a business enterprise to grow and build a better business striving relationship. Furthermore, CRM solutions play a very crucial role when it comes to achieving a better benevolence source.
Typically known is the fact that a better customer relationship assists any business in jumping leagues without any hassle.
Alongside this, electing the right CRM is a crucial aspect. Which CRM software is the best fit for a business?
Zoho and Salesforce are two comprehensive CRM Softwares that have data management features like store customer data, track sales & service activities, forecast revenue, and measure the efficiency of the marketing programs.
Zoho vs Salesforce CRM Solutions
Your business needs the appropriate and fundamental CRM support system that matches its needs in the desired direction.
So, if you are in the dilemma of choosing the final pick for your Zoho vs. Salesforce CRM solution concern, this article will help you reach out to a conclusion.
Why choosing the most suitable CRM software is important?
Choosing the right software development company to get CRM support is quintessential. It is one of the few important business tools that can affect your business in a whole lot of diverse manner.
With the term CRM, the first thing that pops out is the name of Salesforce.
Salesforce is a well-known CRM and is trusted by many, but it is not the only option when it comes to professional services.
There are several alternatives to Salesforce such as;
SugarCRM
Zoho
Infusionsoft
Microsoft Dynamics and many other brands that are growing at a promising rate.
One of the most favored CRM solutions is Zoho. This CRM solution is leading the market for a while now and, proficient enough to gain a nice spot on your wish list.
But is it the better choice which you must consider over Salesforce integration? This is something that you have to determine. You will, therefore, definitely come up with an answer by the end of this article, to this. We are going to compare these two top guns when it comes to selecting the best cloud CRM solutions.
Zoho vs Salesforce: A Comparison Between Two of the Best Cloud CRM Solutions
We must lay aground on what points we are going to judge these two. As these are software that is used to handle a huge amount of data and user effectiveness.
We will be judging these based on how their pricing and how effective they are storing and backing up the data information whenever it is required. But first lets us dig run a company's background check.
1. Zoho vs Salesforce CRM: Company overview
Salesforce is the number one CRM solution provider available in the market. And, was founded in the year 1999, and since then, Salesforce is leading the charge as one of the best software as a service (SaaS) vendors.
With an initial public offering of $110 million and the stock symbol "CRM," Salesforce was destined for enormous growth. Furthermore, Salesforce CRM customers include Coca-Cola, ADP, Delta Air Lines, and the American Red Cross.
Zoho CRM was founded in 1996 by Sridhar Vembu and Tony Thomas in Pleasanton, California as an IT service provider called AdventNet Inc. They initially focused on enterprise customers and didn't launch the Zoho web suite we know and love until the SaaS boom of 2005.
At this moment, Zoho is still a privately-held company. They are globally headquartered in Chennai, India, Pleasanton.
Furthermore, Zoho, a company which is a head to head rival with Google Docs. After gaining huge success with their Zoho Docs software, Zoho Developers & creators decided to jump into the field of CRM software.
With a valiant effort, they were able to make excellent and efficient CRM software. The software became popular in the nick of time due to its simplicity and attractive pricing.
2. Zoho vs Salesforce CRM: Pricing and Features
When it comes to features, Zoho lacks the spark as Salesforce consulting services come with a complete package of features. Although, Salesforce has its price plans set up a lot more expensive than Zoho.
Zoho offers monthly billing, unlike an annual subscription scheme that Salesforce works upon. The two are far apart in terms of pricing because of Zoho being about 90% cheaper than Salesforce.
3. Zoho vs Salesforce CRM: Database Management
This is one of the most essential aspects when it comes to comparing the CRM giants. This aspect refers to the concept of how effective and deep the software can dig the database.
With Zoho consulting partners, you can get the information from various platforms quickly. It has an in-built, highly optimized CRM features. With this, you can easily pull data from platforms like Facebook, Twitter, Google+, and other third-party applications.
Salesforce integration offers you a more in-depth database with a wide variety of customer information like recent activities, search history, etc. It covers a more significant amount of data results when compared to Zoho consultants.
4. Zoho vs Salesforce CRM: Pros and Cons
Apart from these In-depth details, here are some Pros and Cons collecting key points as of how these two CRM Software stack up to each other.
Zoho CRM services
Pros
Its free version allows the data usage up to 3 users.
User-friendly and straightforward start-up procedure.
It includes much-needed marketing and service tools.
Cons
Free plans do not offer much functionality
The software contains some third-party assimilation.
Salesforce CRM services
Pros
The leader in the field of CRM software and services.
The storage facility of data and customer information is unparalleled and brilliantly optimized.
The software carries an easy to use Interface.
Cons
A large variety of features leading to a complete confusion for a new user.
The training model of the software is not very useful.
Zoho or Salesforce CRM: What's the best fit for your business?
When it comes down to choosing the right CRM solutions for your company, the first and foremost focus should be on the budget, workflow, and needs of your business. If you are new to CRM and want an easy to use cloud CRM solution, then, the best pick for you is Zoho. They offer attractive pricing and are a lot cheaper than Salesforce.
In case you have hefty usage and need advanced CRM software with loads of features, Salesforce is the better option for you. But Zoho is not that far behind. It offers enough features to assist you with your CRM needs.
As everyone is not a pro in technology, thus having easy-to-use CRM software is nothing less than a blessing. Thus, with all the due points and a bird's eye comparison, we come up with the final verdict. Zoho implementation partner is a better choice over the Salesforce unless you are looking for a ton of complicated features.