The Evolving Future of Marketing Automation for Businesses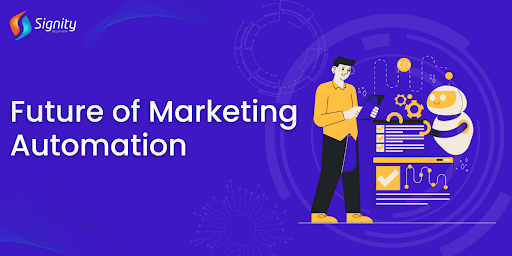 Undoubtedly the past few years have been a significant challenge for most businesses.
When it's about ensuring customers perceive the company as strong, stable, and reliable through difficult times, C-suite executives rely on the experience and expertise of their marketing team. And, with the economy absorbing and rebounding from the repercussions of unexpected downturns, a marketer's job becomes more crucial in defining the success of the business they are a part of.
So, how to succeed in a world where unprecedented has become the new common?
To help you answer that, HubSpot asked leading marketing executives the same question. Here are their top challenges: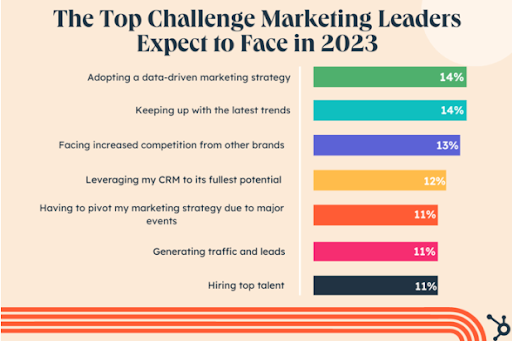 These stats clearly define that - Marketing Leaders need to get the most out of their technology and data to match up with bottleneck competition and adapt to global instability.
The solution - Marketers establish or expand their marketing automation strategy.
But, What is Marketing Automation?
Here's a quick rundown!
"Marketing Automation is all about using software to automate and simplify marketing tasks like email marketing, social media posting, retargeting ads and even running ad campaigns.
From business owners, executives, and marketers' viewpoints the greatest benefit of marketing automation is saving time at 49%.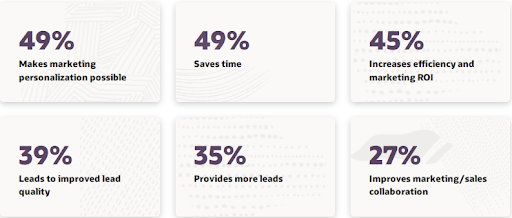 In fact, for every dollar spent, marketing automation returns $5.44, on average, over the first three years with a payback period of under six months. In a recent study by Emailmonday, 56% of companies on average are using marketing automation in 2022 with 96% of marketers having already implemented a marketing automation platform for their organizations.
Why now?
Why is Marketing Automation the Future?
Marketers realize that to win a successful digital marketing campaign, they should implement four crucial steps:
Attract: It's about creating the right content to grab the target audience's attention.
Convert: It's the procedure of converting an attracted audience into leads.
Close: The process of closing the deals (specifically a sales team mission☺️)
Delight: This part is about satisfying the customer.
But, ignoring the automation process to implement the above steps will result in bad outcomes. Simply put, expert marketers should think about: Automatic attraction, automatic conversion, and automatic satisfaction.
Besides, the marketing automation segment is predicted to grow from $5.2 billion in 2022 to $$9.5 billion by 2027. So, to future-proof your strategic goals and success, it's essential to stay ahead of marketing automation trends!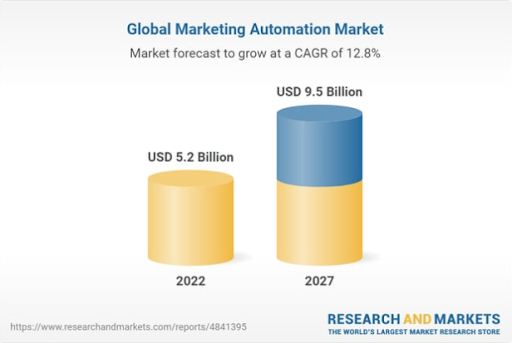 Let's get started and dive into marketing automation strategies.
How Do Marketing Automation Strategies Promote Growth for Businesses?
Marketing automation is an integrated approach - everything can be managed from one place.
Here, we'll uncover how marketing automation delivers the result you want for your business.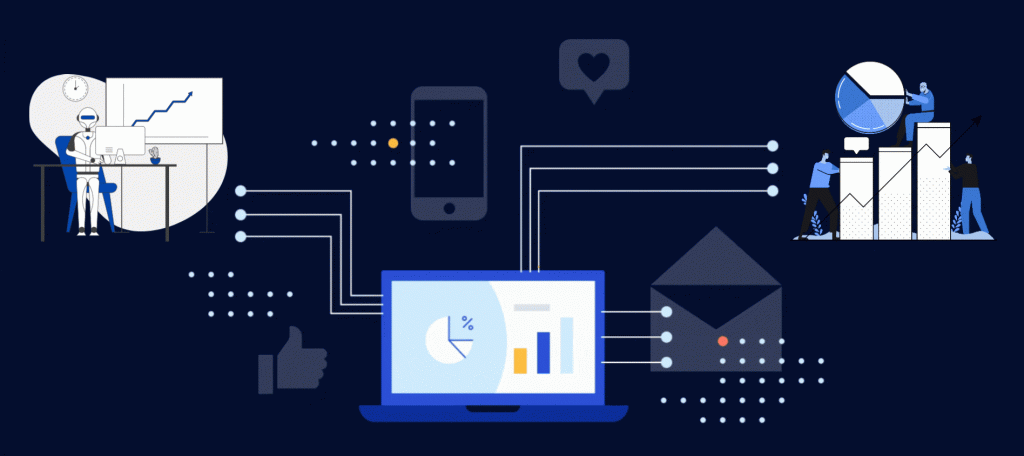 Establish an Omni-Channel Personalization Strategy
There's no denying a holistic approach is a must-have to create a data-driven marketing strategy that impacts revenue growth. This clearly highlights the importance of understanding who they are and how they interact with your brand across different channels and devices.
According to Forrester's 2023 Planning Report, investing in relatable and reliable customer data improves your audience targeting strategy. Also, prioritize investments that centralize data from different systems and sources for a complete view of your customers. The core objective of this approach is to have a comprehensive, 360-degree view of every customer in one place by connecting CRM to all channels, systems, and applications clients and teams use for engagement.
"Personalized Messaging - Right Time, Right Place, Right Person"
So, with omnichannel marketing automation platforms like HubSpot, you can easily track how your customers engage with your brand - whether reading an email, browsing your website, or interacting with social media content. These insights will eventually help you deliver a more personalized experience and improve customer retention rates.
A Tip: Use marketing automation to symphonize Omni channel campaigns that deliver a constant message across different channels to build a strong brand and customer loyalty.
Automated Workflows Paves Accelerated Lead Generation & Personalized Customer Experience
Reminding you of the importance of high-quality leads for marketing success is optional. But, with numerous marketing touchpoints, it can take a lot of work to understand where to start.
Lead generation may sound daunting at first, but it can be efficient and effective with the right marketing automation strategy. Besides, by automating repetitive tasks, you can free up your team to focus on more crucial tasks - like building relationships with prospects.
HubSpot workflows Tools allow the team to:
Lead Nurturing with Targeted Audience:

Workflows automatically send prospects the personalized information they require at each stage of the buyer's journey.
Automate Repetitive Tasks: You can automate marketing tasks like email campaigns, social media postings, and lead nurturing. This eventually frees up your team's time to focus on more important tasks like - building relations with prospects. Also with automated DMARC reports, you can proactively monitor and enhance your email authentication, ensuring a higher level of trust and deliverability for your communications.

Keep It Organized:

Automated workflows keep track of your leads and avoid losing touch with a potential lead.
Score and Prioritize Leads:

It h

elps you understand how engaged a prospect is, based on which you can prioritize follow-ups and increase the probability of closing a deal.
A Tip: With marketing automation, you can automate lead nurturing processes to move leads through the sales funnel.
Moreover, trust and credibility are two unskippable elements of delivering personalized content, which eventually closes more deals and helps your business grow.
Here, marketing automation comes into the picture to offer a unique yet personalized customer experience. Want to know how?
It Connects You with New Fans…
Suppose a user expresses interest in what you are offering and enters their email address on the subscriber pop-up form on your website. In that case, you can easily send them a welcome email to introduce yourself - and give them a reason to stick around.
Yes, You Sell More Stuff!
You sell products and services to your customers, but with automation, you can sell without sending lots of promotional emails. And with the growth of digital businesses, you can learn how to sell online and expand your reach to buying customers.
Interesting, right?
Let's consider the contact that signed up through the pop-up form on your site. When a contact starts to make a purchase, like putting stuff in their cart without checking out, you can automate email, so they receive an abandoned cart email from you.
Meanwhile, you can send occasional emails to customers who haven't interacted with you. Retargeting emails, for instance, remind people about the awesome things they saw on your website. The probability is at least a handful of them are still interested and will purchase if you reach out to them.
It Nurtures a 2-way Trusted Bond
When you provide the right content to your customers, you show them that you care about them.
In simpler terms, the more you target your communications, the more they trust you to offer high-quality products or services. You can use automation to send coupons or related discounts to customers who meet specific criteria for loyalty or spending.
Automated Campaigns Make Strategy More Adaptable
Presently, it's more crucial than ever to have an adaptable marketing strategy.
Automated campaigns lend you a hand in pivoting your marketing efforts in response to changes in the market. Furthermore, with marketing automation, you can create campaigns in advance and launch them with a button. Following this approach, you can easily adjust your campaigns to leverage the advantage of new opportunities in the market.
Automated email campaigns help you scale your marketing efforts to reach prospects and customers. After all, with the capability to personalize messages at scale, you can improve your conversion rates and grow your business.
For instance, HubSpot's email marketing automation offers you to:
Reach a targeted audience with your personalized message

Customize your message for every new lead

Set up triggers to start campaign-specific workflows

Automatically follow up with non-responders

A/B test different messages and visuals, etc
Use Path Attribution Reporting To Refine Your Strategy
Tracking leads and conversions are not all - you should understand the complete customer journey.
Thanks to marketing automation, you get a comprehensive view of your prospects' interactions with your brand while tracking and measuring your results. For example, full path attribution reporting presents a customer's complete journey, from their first touchpoint to the final conversion.
With this data, you can easily see which marketing channels are most effective at generating leads and customers. Mounting on that, you can use marketing automation to measure the ROI of marketing campaigns. This will help you understand which campaigns bring value to your business.
A Tip: Complete attribution reporting provides you valuable insights to make necessary changes for improved results.
HubSpot reporting tools allow you to track:
Lead nurturing progress, like email opening and clicks

Top-of-funnel activity, like website visits and form submissions

Sales pipeline activity, like closed and won deals

Revenue attribution
With HubSpot's custom report builder, it's easy to create reports that specifically track marketing activities.
Be Creative with Your Marketing Automation Stack
Marketing automation platforms are continuously evolving. With every new feature and integration released, you need to make sure that they make a valuable contribution to your business.
For example, HubSpot recently rolled out a new, Conversations feature that allows you to have real-time two-way conversations with your website visitors. The conversation feature will enable you to quickly answer questions, resolve concerns and build relationships with your website visitors.
Though Marketing Hub has been a flagship HubSpot product for quite a long now, many new advancements have enabled teams to drive crucial strategies pocketed here. To add, here are the key advanced features your team should leverage:
Workflow Builder

: It automates your marketing efforts across different channels to save time and ensure consistency.
Customer Report Builder

: This helps generate reports that track your marketing activities and results.
Campaign Tool

: It allows you to easily create and manage campaigns at scale and orchestrate your marketing activities in one place.
Ads Optimization Events

: You can improve your results with insights from a trusted ads optimization tool.
Dynamic Customization

: With marketing automation, you can easily craft better experiences by personalizing messages for every user.
Web Traffic Analytics

: This helps you understand how users interact with your website by analyzing traffic to identify trends and patterns.
So, considering all this, you can ensure that you're using the best marketing automation tools to bring results to your business.
Invest In Your Marketing Automation Strategy To Be On Top
Regardless of your industry, it's easy to set up marketing automation for any situation. And once you have defined your objectives, created your messaging, and chosen the criteria that will power your workflow, you start cultivating relationships with your customers.
If you're still thinking about whether you should try marketing automation -do it; believe us, now is the best time to invest in it. Discuss with our marketing automation experts, that are well-versed in everything you need to get started. After all, automation is becoming a must, not an optional activity.
Whether it's automated workflows, campaign management, or dynamic personalization, you can take your marketing game to the next level, even amidst unprecedented change.