7 Marketing Automation Tools To Increase Your Revenue By 10X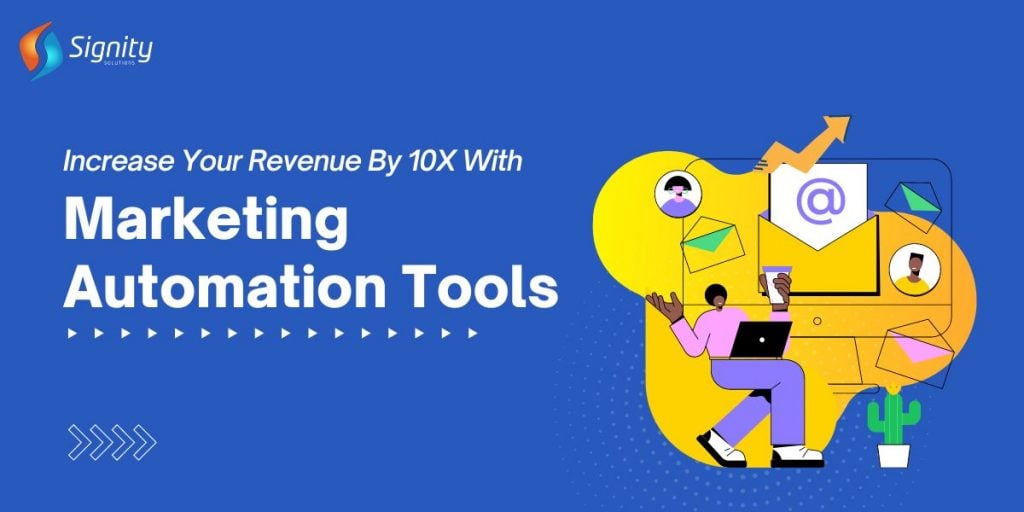 Marketing is just unskippable to your business.
But you can't invest all of your time in marketing. What if there is a quick fix to simplify? Or automate all those voluminous and repetitive tasks altogether?
With marketing automation tools, you can save a ton of time and help you scale your marketing strategy so you grow more quickly. After all,
"Marketing is no longer big beating SMALL, but the fast beating the slow."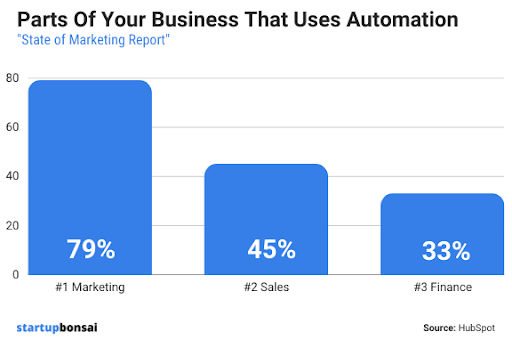 Numerous tools available for you make it easy to automate your marketing strategy… but all of them are not what it is cracked up to be. Indeed, it's a must to have an insight into the tool that will actually work for YOUR business.
With the best marketing automation tools, you can JUST DO THAT! Take a free trial with handpicked top recommendations and start automating your marketing strategy soon.
This entire review vet the strengths and weaknesses of all the top picks; marketing automation is an inevitable part of business nowadays. But before we dive into the list of top marketing tools, we must ensure we're on the same page with a simple marketing automation definition.
Marketing Automation is Software that Handles Repetitive Marketing Tasks like email marketing, tracking, ad campaigns, etc., Without the Need for Human Action.
Therefore, it's rightly said, "Marketing Automation is not a nice-to-have strategy; it's The New Standard." Especially if you want to stay ahead, marketing automation is a must-have. after all, it's high time to…
Listen To Your Customers, Not Your Competitors
That's not all!
With 8 top recommended marketing automation tools, you can save time and money and help improve your marketing strategy.
Here's a handful of pocketed ways to add it to your strategy.
1. Sendinblue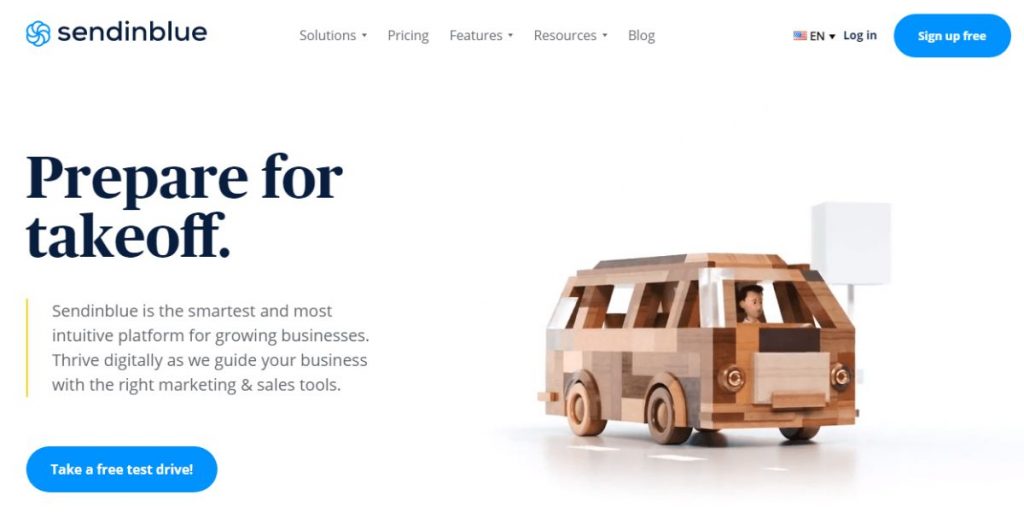 Sendinblue helps you bridge the gaps that let sales opportunities slip through your grasp.
The best part is - "It's easy to set up, and it's powerful automation capabilities."
You can build your own automation workflows and eight useful, prebuilt options for eCommerce. And, in minutes, you can have automation set up to reap sales from situations you may not have been able to capitalize on earlier.
Sendinblue provides automation on every plan, which (of course) includes their free forever package, but their tier will limit you to targeting up to 2,000 contacts. So, try out Sendinblue's free plan and witness how easily it helps you leverage e-commerce opportunities through automation.
Sendinblue offers a free plan, including their free forever package, but the tiers below Premium will limit you to targeting up to 2,000 contacts.
2. Hubspot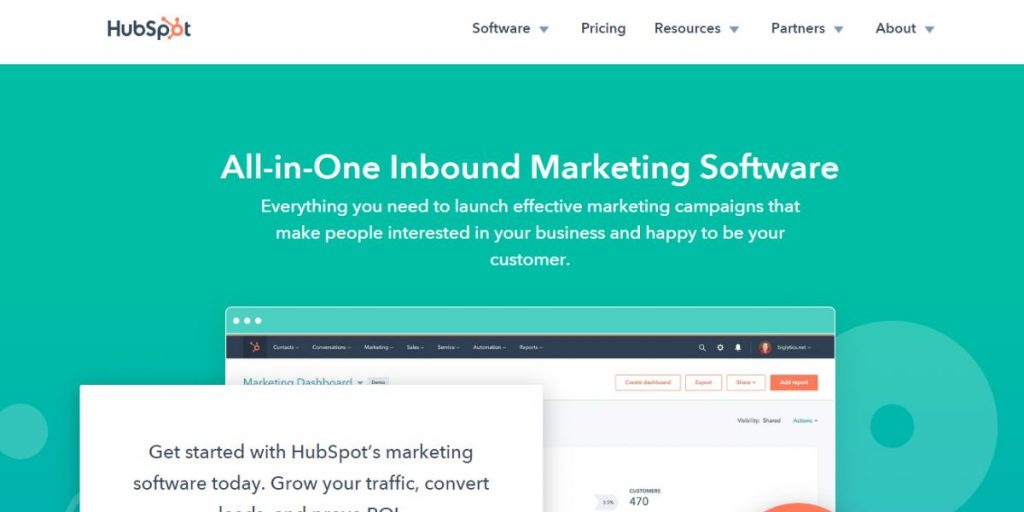 Hubspot is a popular inbound marketing tool to convert outbound leads into inbound ones.
Simply put, Hubspot is the epitome of content marketing.
Their starter package is $45/month for all the free tools added with simple automation, conversation routing, task queues, and email support. Plus, their professional plan starts at $450/ month, which offers everything from the starter pack, plus marketing automation, custom workflows, and goal-based nurturing. You can also check HubSpot alternatives if you have any budget constraints.
Also, you get Salesforce integration, smart content, user roles, attribution reporting, A/B testing for Call To Actions (CTA's), and emails. These features are included in Enterprise pricing, which starts from $1,200, ai.e., revenue reporting, custom-event reportings, custom-event automation triggers, predictive-lead scoring, contacts and company reporting, and event-based segmentation.
3. Acoustic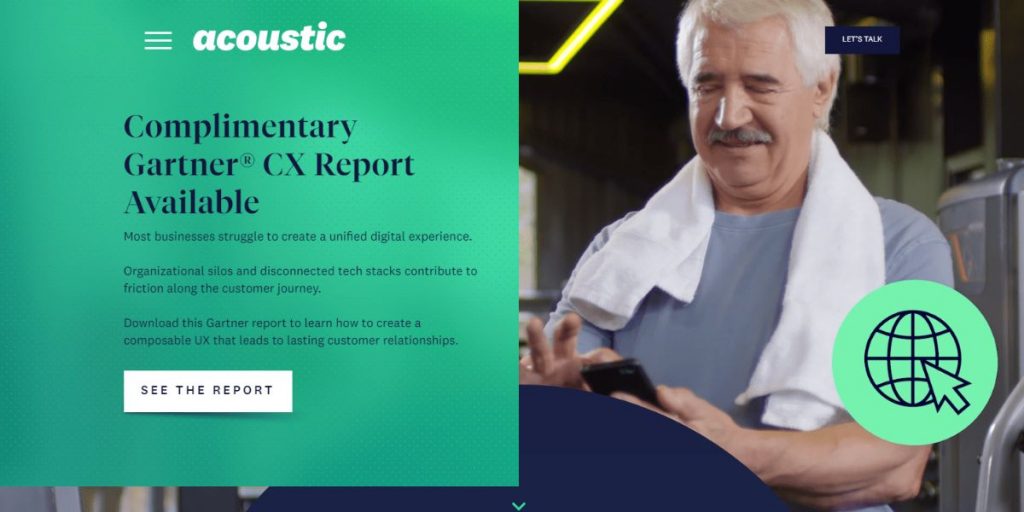 As known, "Acoustic" is an independent marketing cloud platform. It offers the industry's leading open marketing ecosystem consisting of intuitive, AI-powered products purposely built for marketers. Some bespoke features are lead scoring, segmentation, landing pages, progressive profiling, CRM integrations, web tracking, and more.
Besides, Acoustic allows clients to utilize an available technology ecosystem that easily connects their data and offers a comprehensive understanding of their customers. Transcending the ordinary, Acoustic AI-powered products are designed to eliminate friction and offer a more constituent experience to the market while thriving the competition and protecting the privacy customers want.
Its essential package offers everything at $0.0 for marketers who want to take customer engagement to the next level. The premium package is for marketers who wish to maximize Return On Investment (ROI) and scale exponentially.
4. Marketo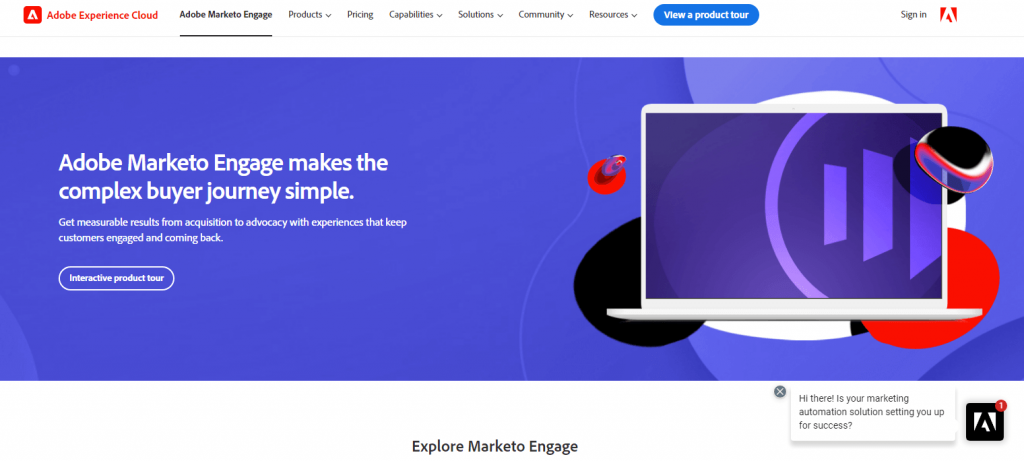 This marketing automation software allows you to drive revenue with lead management, content management, mobile marketing, etc.
Marketo is a cloud-based tool for companies, irrespective of their choice, that helps build customer relationships but also helps you thrive in them. Also, there are no set-up fees, and the tool comes with a free trial, so you don't have to commit until you're sure it's an ideal choice. Though Marketo doesn't reinvent the wheel, it's a comprehensive platform that grows with your enterprise.
In 2006, they launched their first product, "Lead Management," Soon after, the company grew tremendously and now offers a wide variety of features.
5. Pardot By Salesforce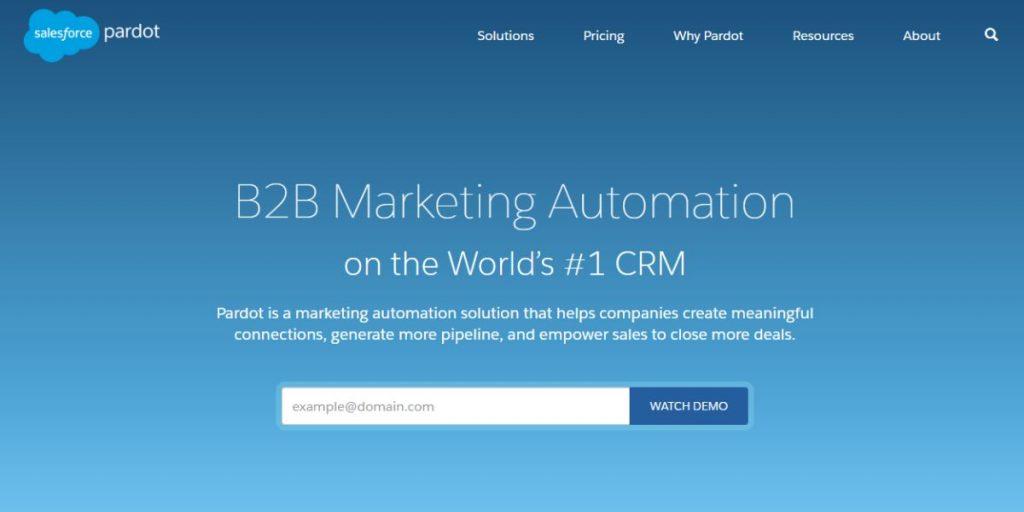 "Pardot," a Salesforce company, is a marketing automation suite ideal for boosting revenue. In addition, it amps up your engagement with CRM integration, email marketing, lead scoring, lead nurturing, and ROI reporting.
In simple terms, Pardot is a perfect choice for helping the sales team shorten the sales cycle. Their Growth pricing plan is $1,250/month, and features include email marketing, lead nurturing, in-depth prospect tracking, and lead scoring and grading.
Furthermore, you also get ROI reporting, standard CRM integration, forms, and landing pages. Their Plus plan is $2,500 monthly and includes all standard features, advanced email analytics, email-rendering preview, and spam analysis. You also get API access, multiple scoring categories, social profiles, and an integrated marketing calendar.
Considering the Advanced pricing package, $4,000 per month pro feature as well as customer-user roles, custom-object integration, and API access for up to 100,000 calls daily. Also, it includes a dedicated IP address and phone support.
6. Constant Contact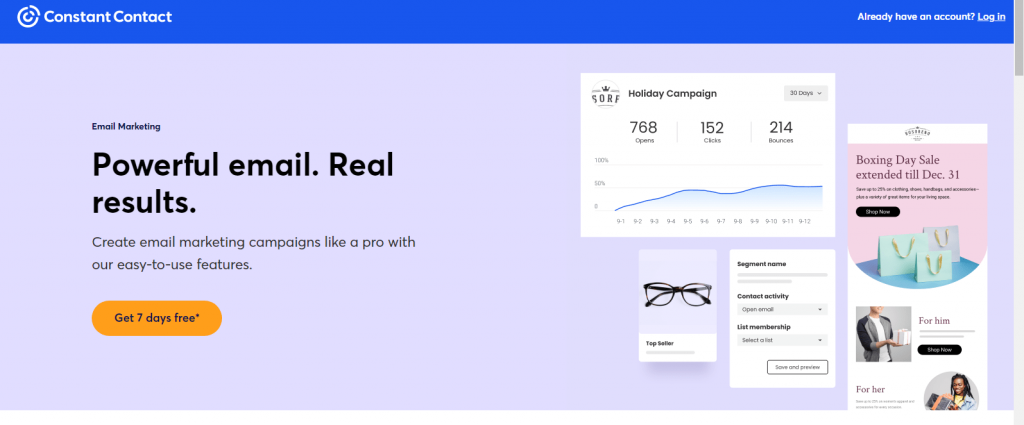 Constant Contact is an exceptionally useful email marketing automation tool that has powerful automation potential to help you make big marketing leaps.
The autoresponder part is just amazing. You can create welcome sequences, drip campaigns, and other automated email campaigns with precise customization. Moreover, it allows you to quickly integrate custom forms on your landing pages.
Craft it as granular and precise as you want. Define long-tail, automated campaigns for each type and relax; let Constant Contact do the hard work for you. All you have to do is keep an eye on reports and finger on the right pulse.
You'll require Constant Contact's Plus plan to leverage the platform's email automation benefits. The plan starts at $45 for 500 contacts in your list and gets higher at intervals of $25-$30 for each additional 2,500 contacts you need to accommodate.
7. ActiveCampaign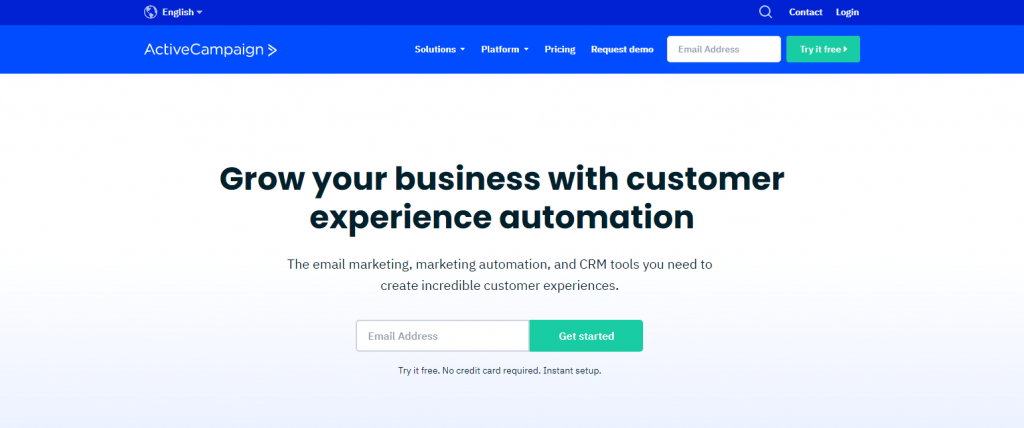 ActiveCampaign offers you powerful marketing automation, email marketing, and CRM for small businesses. Precisely, ActiveCampaign' core strength is its efficient and versatile integration of marketing automation. And this is one of the widest choices available on the market.
Often, it's not suitable for beginners to those with no technical skills. Even learning graphs is a little complex in terms of time and energy. Its key features include the site, event, and goal tracking, powerful attribution tools to track conversions, professional test split test, and drag-and-drop automation map.
8. Drip

Drip is actually a marketing automation tool for eCommerce websites. It lets you automate customized marketing campaigns for every step of the customer journey.
To be precise, Drip is a Customer Relationship Management software for online businesses and stores. It collects customer data and allows you to create an automated marketing strategy that actually works. Furthermore, you can easily track every action of your subscriber on your website and customize your email marketing according to the actions taken.
Not to forget, Drip also connects with other eCommerce marketing tools to get even more insight into your customers.
Finally…
"Good Marketing" has the potential to set you apart from the competition.
Though, it gets a little daunting to keep up with what marketing strategies work and which ones don't. And, even if you do, it's still difficult to focus on all of them at once. You don't have the bandwidth to do it, either.
Fortunately, marketing automation tools are here to make marketing easier for you and your team.

After all, by automating, you can focus on other important crucial tasks that will increase your company's success. So pick the best marketing automation tool that fits your needs and finances, and skyrocket.