Top 7 Features of HubSpot CMS
With HubSpot CMS, you can create, manage, modify and publish content in a user-friendly interface. Interesting, Right? Let's learn how HubSpot CMS helps you increase the revenue of your business.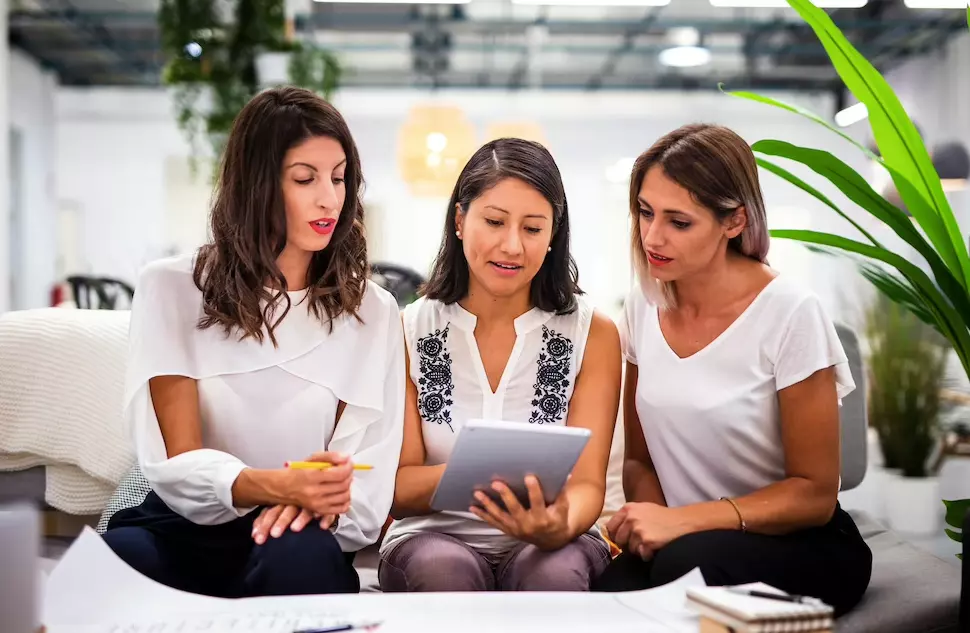 Marketers, content creators, and developers can relate to the uproar faced in maintaining a website that is optimized for content and is safe and easy for users to navigate and scroll through.
So, whether you are making crucial changes in the website, or updating a blog, it involves a lot of back and forth, challenges and roadblocks. And, when it's about inbound marketing, the need for an easy-to-use CMS is inescapable.
We are big fans of content! To manage, analyze, and customize content in one unified system, HubSpot comes to your rescue with its latest offering - CMS Hub.
In simple terms, this integrated content management system looks to unite different teams, including marketing, IT and developers, on one platform, making content and web page management a lot easier.
Stay with us as we break down what exactly HubSpot CMS is and what features it includes.
What is HubSpot CMS?
There are untold acronyms in the business world to keep it straight.
CMS is particularly crucial, considering that more than 68 million websites are built with it. So what is the hype about?
A CMS aka Content Management System, is a software system that allows users to create and manage a website without having to code it from scratch.
And, who knows this may be the solution you are looking for to create a dynamic website with limited technical expertise and resources.
A CMS allows you to create, manage, alter, and publish content in a user-friendly interface. Plus, you can personalize the design and functionality of your website by merely downloading templates and extensions, instead of coding.
What's Different About HubSpot CMS Hub?
The HubSpot CMS is different from numerous CMS platforms available in the market.
How?
It's a scalable, flexible, and interactive website CMS, but that's not all, at least not by a long shot. It's an incredibly dynamic, feature-rich integrated sales and marketing tool that operates as a sole game player alongside your site or as the website itself.
Moreover, the HubSpot CMS is an aspect of the HubSpot Growth Platform, a suite of CRM tools or hubs that are crafted to facilitate the integration of the inbound marketing methodology, offering integrated management of the sales process to help you attract, convert, close and delight more customers.
In synopsis, HubSpot CMS offers businesses more power, greater efficiency and a competitive advantage over other sales and marketing tools, which are easy to use. Also, developers can easily build using flexible themes and marketers can easily edit and create pages that offer customers a personalized and secure experience.
With HubSpot CMS, Everyone Wins!
💡 Key Takeaways
When developing content, try to envision a playground rather than a narrow path. Not all content is created for the same purpose.
Send more - not a few emails that include elements like personalized tokens, call to action, blogs, photos, etc.
All of your team - from marketing to sales to customer success, can work out of one, central inbox.
Top 7 Features of HubSpot CMS
You must be thinking what's impressive about HubSpot CMS?
The best part about HubSpot functionality is how smoothly it all works together and the value added by each function to the overall efficiency of the sales and marketing effort.
We personally believe HubSpot features are worth shouting about, but a handful of them are astounding. Here are the HubSpot CMS features that we think are paramount for their value and impact:
1. Smart Content
"Dynamic Customization of Your Web Experience"
Smart content feature is the capability for websites to cater different content in designated page areas depending on the visitors.
In essence, you can instruct your website to understand or recognize each visitor and personalize the content to meet their specific requirements.
So, aligning your numerous content with different personas in the HubSpot marketing system, you leverage the power to customize the experience of your web visitors at scale, based on your established personas, place in the buying journey or what you already know about them in their last visits.
All in all, this enriches their experience, maximizes retention and improves conversion.
2. Adaptive Testing
There's no doubt, the conversion rate is the metric encompassing all the other performance metrics to deliver performance analysis.
Besides, there are third-party tools that can be integrated into websites to offer this, but they are often a hassle to use and plus, attract additional fees.
But with HubSpot CMS, you can easily create an added variant of a page in the intuitive content management system, and let the CMS weigh the two variants against each other. Plus, having this functionality built-in and always optimizing can ensure the conversion of traffic on the landing pages is monitored constantly for the best results.
The CMS provides clear reporting on the results of the testing so that learnings are visible and replicable throughout the website.
3. SEO (Search Engine Optimization) Strategy Tools
HubSpot CMS consist of SEO strategy tools that help in content structuring around the core topics. These in-built tools help you research, plan and execute the right topic clusters and respective pillar pages for the target audience, whilst offering topic-based reporting to keep track of how content is performing.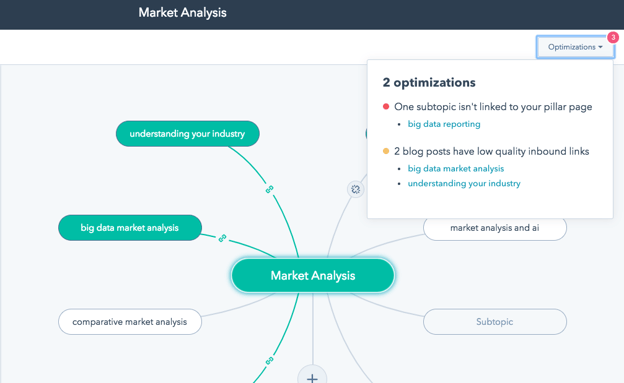 This feature is inescapable for making sure that resource is being invested in creating the content that your audience actually wants, and that converts. It provides topic recommendations based on relevance, competition, and popularity letting you make content decisions based on real insights as well as answer questions that your potential customers want. Notably, these insights allow you to portray your service as the solution your target audience needs.
4. Accurate Reporting
Accessible and flexible reporting features are one of the excerpts of the HubSpot suite.
However, in the HubSpot CMS, the reporting functionality provides comprehensive insights into the performance of each page, blog, email, workflow and form. Plus, they can be analyzed independently, or collectively as contributing elements of a campaign, with an automated dashboard that assembles and presents data in numerous accessible formats.
This reporting feature offers users exceptional insight from the top level down, into each element's performance enabling precise and efficient optimisation.
5. Drag and Drop Editor
There's no doubt, HubSpot's simple and intuitive interface and the CMS's user-friendly and easy-to-navigate style have been the talk of the town.
Simply put, you don't need to be a front-end developer or dwell with technical expertise to create visually appealing, attractive and effective landing pages. Simply, use existing templates and modules, or shed onus on your development team to create them, then use an interactive drag-and-drop interface to create amazing, on-brand pages really quickly.
Hint: We are good at this, so why not ask us?
6. Landing Pages
HubSpot can also be used for creating a website or campaign-related landing pages.
What's more crucial to know is that your website doesn't need to be dependent on the HubSpot CMS to leverage landing page functionality. Indeed, HubSpot CMS can be used as a standalone platform providing an invaluable toolkit for your sales and marketing teams.
Considering the free CRM upwards, the HubSpot platform consists of the tools to create stand-alone landing pages which can be easily optimized for search or used for dedicated social, PPC or email campaigns.
Eventually, this provides marketers with the flexibility to create, test and adapt their landing pages without the constraint of development time and the hassle of interfering with the basic website. Primarily, the landing page includes the A/B testing functionality, making it an ideal choice for conversion rate tests.
7. Security
Connecting websites through HubSpot CMS automatically integrates numerous strategies to make sure that you as well as your visitors stay safe.
Here, HubSpot CMS comes into the picture because of its CDN (Content Delivery Network), which ensures that web pages load quickly, irrespective of where you are. Nearly 47% of visitors expect to wait for 2 seconds for a website to load. So, a fast yet secure loading website is favoured from an SEO perspective and prevents your visitors from dropping midway.
Finally
All these fabulous features, and more that are constantly coming up, add to make HubSpot an ever-efficient platform for all marketing, sales and customer-oriented activities.
So, now you know the amazing things HubSpot can do for your business, and what features will supplement your business growth, it's time to make the best use of HubSpot. To find out how why not check our HubSpot Page?
Alternatively, you can skip the queue with our chatbot (bottom right) if that charms you.
Frequently Asked Questions
Have a question in mind? We are here to answer.
What is HubSpot CMS Hub?

HubSpot CMS Hub, as known is a cloud-based content management system (CMS) that helps businesses create, manage, and optimize their websites. Basically, it is a part of HubSpot's CRM platform, which means that it integrates with other HubSpot products, such as HubSpot Marketing Hub and HubSpot Sales Hub effortlessly.
Why is choosing the right CMS important for my business?

Choosing the right CMS is important for your business because it can help you, create a professional and interactive website, manage your content easily, track your website traffic, scale your business, and make your website mobile-friendly
How does HubSpot CMS Hub help with content management and organization?

HubSpot CMS Hub is a dynamic and versatile CMS that help businesses of all sizes create, manage, and organize their websites.
Is HubSpot CMS Hub scalable for businesses of all sizes?

Yes, HubSpot CMS Hub is scalable for businesses of different sizes. It offers a variety of pricing plans that are customized to cater all businesses. The plans varies from free to enterprise, and they offer different features and functionality.