Getting Started with HubSpot CMS: A Comprehensive Guide
With HubSpot CMS, businesses got the opportunity to start their online journey cost-effectively, that too on a secured platform. Amazing, right? This article includes everything you need to know to have a good start with HubSpot CMS.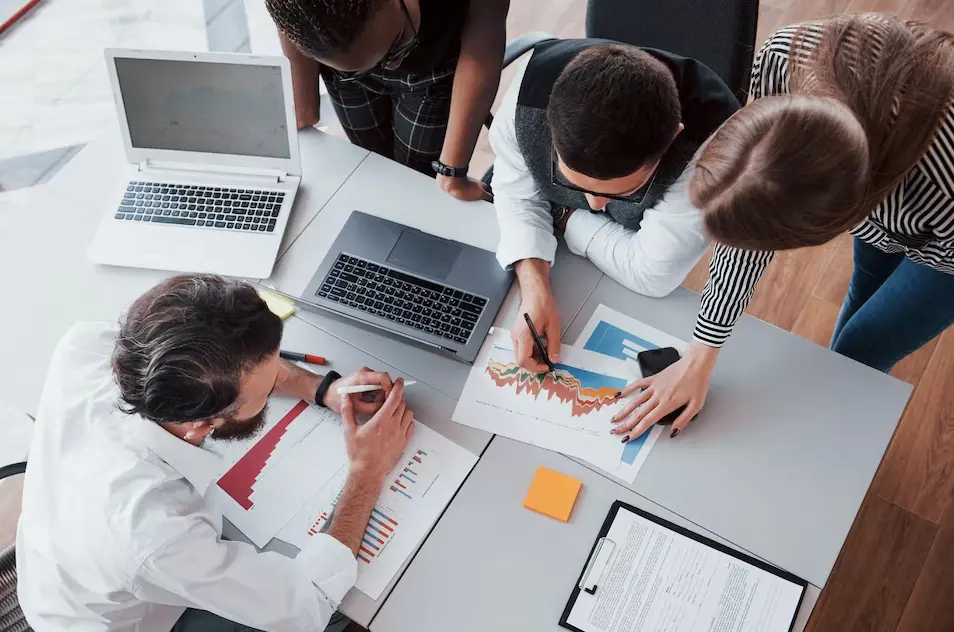 Have you just started in the development world? Well, that's amazing!
Then, you might have a rough idea about CMS, right?
Don't worry, if not! Here, you'll get all the answers to your questions. This handy guide will help you enhance your knowledge and hone your skills for all you need to connect marketing, sales, content management and customer service.
Let's dive deep and understand what CMS actually is.
CMS, popularly known as Content Management System is an application that helps you create, manage and optimize your content on the website or the internet. Besides, it allows you to easily add, edit or delete any content that is live on your website.
Sounds interesting?
Also, you can directly save images, and documents and collect numerous information sources using a CMS tool.
💡Key Takeaways
HubSpot CMS is a cost-effective and secure platform for businesses to start their online journey.
CMS (Content Management System) helps create, manage, and optimize website content easily. Plus, manages websites and offers comprehensive marketing features.
HubSpot CMS offers complete integration with HubSpot Marketing Hub and is not just for website management.
HubSpot CMS is recommended over WordPress for features like on-page SEO, content management, security, and responsive design.
In today's business and marketing landscape, organizations use numerous tools to manifold their productivity and generate revenue. Right? Presently, you might be working with one of the tools for managing content and nurturing a deeper relationship with the customers.
There are several CMS platforms like WordPress, Joomla, and HubSpot, that make organizations top picks. But, for the past many years, my choice is HubSpot CMS to manage everything from managing content to marketing the service and product.
Are you still perplexed about CMS?
Here's a comprehensive guide to help understand the Content Management System better.
Chapter 1: An Introduction to HubSpot CMS?
Do you want a website that can be easily optimized from any device?
HubSpot CMS is your quick fix to cater to all your desires and navigate your business on top.
"HubSpot CMS is a completely integrated and comprehensive content management system or a web marketing platform to help you manage a website without having to code it from scratch".
After all, HubSpot CMS eclipses numerous tools to help you manage all your website assets quickly and efficiently. Moreover, organizations prefer HubSpot CMS for two primary reasons:
First, it gives complete integration with HubSpot Marketing Hub.
Another reason is its comprehensive platform.
To your surprise, HubSpot CMS is not just used for managing and building your website. Rather, you can uphold your web marketing platform with HubSpot CMS.
💡 Related Read: 10 Reasons Why You Should Choose HubSpot CMS for Your Business
We all know about inbound marketing? It's a dynamic strategy to weigh the performance of the website and generate more traffic by understanding the audience's interests.
And to cater audience's interest, HubSpot coined a CMS tool to access user information quickly, convert potential users into leads, and boost sales productivity. Thus, it's right to say - "HubSpot is a tool when you need more than a website".
Hope you have a clear understanding of HubSpot CMS. If you are still curious head and want to read more about HubSpot, we invite you to explore our informative blog here:

Chapter 2: HubSpot vs. WordPress
I know you would be thinking - "Why only WordPress" when there are several other CMS platforms available in the market?
Because of all the CMS tools except HubSpot, WordPress is the most used CMS. And, if you are at square one where you have to go for one, I would suggest you bet on HubSpot CMS for creating and managing the website simultaneously.
Let's compare and visualize WordPress and HubSpot.
| | | |
| --- | --- | --- |
| Features | HubSpot | WordPress |
| Definition | HubSpot CMS is an all-in-one platform that helps in website creation, and personalised customer journey, provide closed-loop reporting, and helps in managing website. | WordPress is an open-source platform used as blogging software. Besides, it helps create and manage content, but if you want to attract, engage and gratify audiences using WordPress, it's important to choose new integrations. |
| SEO | HubSpot offers on-page SEO tools to create, optimise and update content for search engines. | WordPress doesn't have in-built SEO functionality but offers numerous plugins. |
| Content Management | HubSpot CMS offers an interface to help create, analyze and publish content all in one place. You don't need add-on plugins to evaluate and optimise the content through search engines. | In WordPress, you need an extra plugin to optimise content for search engines. |
| Security | HubSpot CMS is hosted on a SaaS platform. Therefore, more secure. | WordPress is open-source software, often less secure. |
| Websites | HubSpot CMS lets you change the page layout directly with drag-and-drop templates. | WordPress creates text pages quickly. But, to edit webpages additional resources are needed. |
| Landing Pages | With HubSpot CMS, you can directly customise, optimise and publish pages. | In WordPress, you need added text or images to create the blog. |
Hope, now you know why I was recommending HubSpot CMS rather than WordPress. Plus, by evaluating the above difference you can easily get on the decision of choosing HubSpot CMS.
Chapter 3: How HubSpot CMS Will Customize & Optimize Your Content
Have you faced any roadblocks in achieving your business goals and objectives?
Or your core motive is to customize and optimize your content?
HubSpot CMS is your one-stop solution. It leads you to accomplish your goals with its myriad features and tools.
Are you ready to recognize the dynamic features of HubSpot CMS? Of course, who won't? Everyone wants to manage their content easily to create an optimized website.
So, let's take a look at a handful of the dynamic features of HubSpot CMS.
Chapter 4: Dynamic Features of HubSpot CMS You Shouldn't Miss
Do you know?
With HubSpot CMS you can easily personalize and streamline the content while managing your websites.
If you want to upscale your website, then HubSpot CMS features are a must.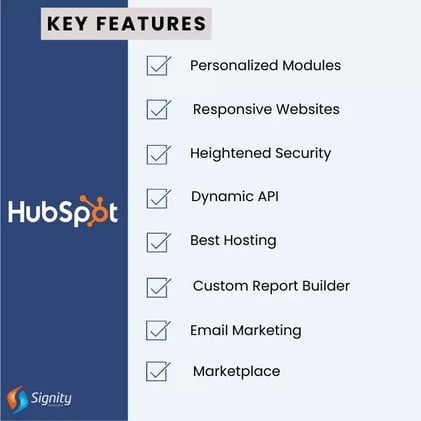 Let's get started!
Getting acknowledged with this feature helps you easily set up a new and efficient website by reusing the design elements.
Once your website is designed successfully, you can easily edit the modules according to your requirements. In addition, you can easily create the HTML structure through JavaScript, CSS, HubL as per your needs.
The best part! You can insert the built structure into a template to craft a website.
With HubSpot CMS everything is getting smarter. Also, it helps you achieve the website goals within your budget bracket and minimum time.
HubSpot CMS provides the feature of making smart CTA's which are easy to personalize. You can also customize website experience as per the visitors. Not to forget, the smart field HubSpot feature helps you collect information about your visitors and leads, thereby keeping your form simple and short.
HubSpot CMS has Bootstrap, which is integrated into its core, and helps you make a responsive website.
Besides, have you heard about responsive emails?
HubSpot CMS provides built-in response-ready emails for unparalleled UX. Even if you face any issue while uploading an email, HubSpot CMS will resolve it automatically.
The secret is out!
HubSpot will host your website on the same platform as their website. This means there won't be any security challenges. Therefore, HubSpot CMS offer security features to protect their services like web application firewalls, etc.
Ranking your website on the top is of uttermost importance. Agree?
So, use HubSpot CMS because it has the feature of a Content Delivery Network. Regardless of what your website is about, it will help you put your website on the high-ranking list.
Trusted Integration and Dynamic API
HubSpot CMS is a dynamic tool to support numerous web app tools like Survey, Monkey, etc.
If you are using any of the above-mentioned tools (that hardly makes much difference), you can easily connect with HubSpot by using Zapier. Moreover, you can create personalized integrations with different applications.
SEO Analysis with Page Performance
We all know the essence of SEO in the marketing space.
In some scenarios, you might spend more time evaluating which and how Google uses the algorithm. So, using the page performance tool, you can evaluate which page of your website is primarily preferred and which page needs your attention.
Sending emails may seem delusive at first because you cannot see how your emails will look without sending them, right?
Don't worry! HubSpot CMS got you covered - it has a feature of email preview.
By using this feature, you can directly preview all your emails before sending them to the client. Also, it minimizes the chances of getting broken emails and maximizes the number of clicks, eventually generating more traffic to the site.
Set Website's Navigation Menu Automatically
Are you among those who spend more time and effort in adding or removing a page when generating a new site map?
It's time to abide "Goodbye"!
HubSpot CMS offers the feature to generate a website's navigation menu automatically. With this, you can easily blend website creation and hosting with HubSpot CMS to customize contacts, deliver web analytics reports and properly align sales and marketing efforts.
Chapter 5: HubSpot CMS Tools and Features
Will you continue using a tool if there is no room for improvement?
Of course not! Everyone looks up to some new updates to perform the task more concisely and efficiently.
If you wish the same, HubSpot offers CMS tools to help you enhance your marketing and website development efforts expeditiously.
So, let's take a quick rundown of the most dynamic tools of HubSpot CMS.
File Manager
Custom Report Builder
Landing and Website Pages
Domain Manager
Design Tools
SEO
Marketplace
Blog Maker
CTA
Pop-Up Forms
Reporting
Conversation Platforms
Multi-Language Content Creation
Besides these tools, HubSpot CMS allows easy access to manage your contacts and nurture a good relationship with them. Eventually, managing all the data in one place with HubSpot, allows you to leverage information to customize visitor's experiences directly.
Let's dive a little deep and understand HubSpot CMS tools.
File Manager
"File Manager", as the name suggests, has something related to managing the files.
With the help of this tool, you can easily organize and store numerous documents and assets quickly and effectively, like PDF files, videos, images, etc.
To upload files or create a new files folder:
Navigate to Marketing
Files and templates
Click files
By clicking on the upload files button, you can directly store data from the desktop on the HubSpot platform. Also, you can easily create a new folder to manage additional documents or files as per the need.
Custom Report Builder
This HubSpot CMS tool breaks down data silos and allows you to see how your website collaborates with marketing, sales and service teams to drive results for your business.
In layman's terms, the custom report builder tool makes it easy and accessible to understand how your website impacts customer behaviour, nurtures new leads and much more.
Landing and Website Pages
All you want is an amazing and engaging website for your online presence, right?
To achieve this, it's important to add interactive landing and website pages.
Now, you must be thinking about how to create landing and website pages in HubSpot. Simple, navigate to Marketing Website Landing pages or Website Pages.
By clicking on the Landing pages button, you can easily create a landing page by making mere changes in the given template. The same is with website pages; all you have to do is select the template and edit the content and information according to your needs.
All in all, this HubSpot CMS tool saves exponentially on time and effort needed for publishing a website and landing pages.
Domain Manager
HubSpot CMS tool - "Domain Manager" helps you connect your website domain and HubSpot platform to make your website live.
Besides, with this tool, you can easily redirect your website to the primary or secondary name with minimal clicks. Plus, you can create a new domain by choosing the domain type.
Design Tools
HubSpot offers an array of designing tools to help you create email templates, page templates, and blog templates that are easy to use - just Drag and Drop.
To use design tools, select Marketing Files and Templates of design tools. Furthermore, you have access to add or edit page templates through a module group meeting your requirements.
SEO
There's no denying the importance of inbound marketing in the business world. Marketers use this approach to bring more traffic towards your website by adding good-quality content.
To leverage the benefit of inbound marketing, it's important to map your content strategy before the HubSpot CMS integration. Here, the SEO tool of HubSpot CMS comes to your rescue to create an effective content strategy with topic clusters.
So, by navigating to Marketing Planning and Strategy SEO, it's easy to create topic clusters and view topic analytics to scale website ranking.
Marketplace
The marketplace is another crucial tool of HubSpot CMS. It helps to easily download and browse pre-made templates and modules.
Besides, you can easily brainstorm new ideas to craft an interactive website.
Are you among the ones who buy templates for emails, website pages, etc to save on development efforts?
If YES, then start using the HubSpot CMS marketplace tool in Marketing Files and Templates.
In this, you can search the categories for several templates and modules. Plus, it saves your time and effort by just editing the content or adding a simple smart field HubSpot in the template.
Blog Maker
Making last moment changes in the uploaded blogs is a thing of the past now.
So, if you are still following the conventional approach, it's high time to pace up with HubSpot CMS and resolve all your queries. HubSpot CMS Blog Maker tool helps you create and publish blogs easily. Also, it allows you to edit the published blog with a click of a button.
CTA's & Pop-Up Forms
The main objective of organizations and businesses behind developing a website is to generate more leads by increasing the clicks on the website.
Are you ready to capture more leads for your business?
By using HubSpot CMS, you can craft intuitive CTAs (Call-To-Action) and Pop-Up forms. Plus, you can accurately track user analytics through HubSpot cm.
Conversation Platforms
Team emails, Facebook Messenger, live chat and easy-to-use chatbot builder integrations with HubSpot offers you an array of messaging tools and content to have unlimited, customized conversations with prospects and clients at scale.
Multi-Language Content Creation
With the HubSpot Multi-Language Content Creation tool, you can effortlessly manage several language domains and optimize each one for SEO. Besides, it allows users to toggle between different languages.
Alright! Now you are ready to customize your website.
Chapter 6: Getting Started With HubSpot CMS
It goes without saying, HubSpot CMS starter is an all-in-one platform that is pocket-friendly, making it an ideal choice for small businesses to go online. Besides its 15 pages limitation and starting cost of $25/month, it offers you behemoth value for your buck.
The interesting part is - Our experience portrays that HubSpot users get their websites up and running in a minimal time of a week.
No more waiting! Let's drive straight to the destination.
Step 1: Start with Theme Settings
Click on your website editor and choose the design tab. Next, select edit theme settings. This is the place where you can edit the content. In simple terms, you can define style rules once and all, and they will be automatically applied to every existing content and also to the pages to be posted in future.
This is what we call time-saving!
Step 2: Preview the Style Guide Page
Select the style guide page under the view on the menu.
In this, you'll see how any changes made to your site will appear in real time. Sounds exciting!
Tip: Ensure to define styles for your forms too!
Step 3: Draft Your First Page
Probably you would have created the site map.
So, choose one of those as your must-have pages to start. While, in HubSpot site editor, click the create dropdown, and choose the Website page. Pick up a theme you like to use, followed by choosing the page template.
Now, you are all set to play with fun modules in the drag-and-drop editor. Though, there's untold possibilities, if you want to see how it's done, watch this video.
Step 4: Set Up Your Navigation
If your main objective is related to landing pages and thank you pages, then you can consider skipping this step for now. Else, to develop your site navigation, go to your contents tab and select the header.
Here, you'll be navigated to your content editor, where you can add your navigation elements. Then, choose to create a new menu, and add individual menu items or link pages you need.
Reminder: Only live pages will show up as menu items. If in case you've linked to a page that is still in draft, chances are it may not appear.
In addition to your main navigation menu, you can personalize the header hat menu - the thin navigation bar above your main navigation. This sounds beneficial if you need to display additional links, but if your website is minimal, you can quickly toggle this under the START HERE tab in your page editor.
Step 5: Test Your Forms
Check your opt-in offers and lead generation forms to ensure they'll fill in the right information in your CRM or mailing list. Remember to keep track of the hard-earned traffic.
Step 6: Hit Publish
Congo! Your new page is live. But, there's more to it!
Step 7: Collect User Data
Define a couple of dashboards to manage page traffic, conversations, and sales to constantly improve and customize your site.
And, You're Done!
Chapter 7: HubSpot CMS: Migration Services
HubSpot is not merely used as a content management system, but also acts as a content optimization solution.
Want to…
Scale your website search ranking opportunity, handhold FREE standard SSL, host your website with an experienced 24-hours customer support team, and build a website without coding.
So, it's high time to leverage the advantage of HubSpot CMS Migration Service.
Let's swoop in the knowledge about migration services, their types, and their importance.
Migration Services and its kind
Whenever we hear about Migration, we often imagine something is related to shifting data from one place to another.
Right!
So, whenever you are considering website recreation, the first and foremost thing that comes to your mind is HubSpot CMS migration services.
Primarily, it's the process which is performed to shift your website from one platform to another. So, when you migrate, all your internal documents are shifted to a new web host. Here, HubSpot migration services help you address ever-evolving business needs and ensure your first campaign with a success.
Furthermore, HubSpot gives the best solution and services to help you get more resources and recraft your existing website systematically. So, by leveraging HubSpot migration services, you can easily migrate all your content to one central hub optimizing your marketing efforts and bringing more power to your sales.


| | |
| --- | --- |
| Type Name | Description |
| Blog Migration | HubSpot Blog Migration services offer ready-to-use blog templates to help you match the design of your present blog, outline system template and pages akin to your website. |
| Template Setup | Template Setup Migration offers a set up of templates related to your website. All you need to do is drag-and-drop to offer a seamless viewing experience to visitors. |
| Website Migration | It helps to redraft your website with the HubSpot platform, including an array of global groups, templates, and coded files. In addition, you can create URL mapping to make some changes to the URL by preserving SEO credit pages. |
| CRM Migration | HubSpot migration services help organisations to migrate their data and get the right assistance from experts throughout the journey. With this service, you can export, upload, edit and review files catering to evolving business needs. |
| Email Template Rebuild | HubSpot offers email templates to improve the existing email template with drag and drop feature to create an attractive branded email quickly. |
Chapter 8: Why Migrate from Other Alternatives to HubSpot
Here are some more reasons to advocate "Why you should definitely migrate to HubSpot from other alternatives".

Take a look at top-6 advantages of HubSpot website migration:
HubSpot is an all-in-one platform catering for everything from content management to customer relationship management.
Provides cost-efficient and quick services.
Migrate to have SSL certification for FREE.
Gives 24-hour support for website management
Easy access to technical consultants to improve and optimize websites accurately.
Migrate to create a legible and responsive website.
So, if you are planning to leverage HubSpot CMS Migration services, follow these 5 steps to migrate successfully:
Understand the need to migrate
Review the website you want to migrate
Customize and integrate the changes
Check all the migrated website pages
Choosing the Perfect HubSpot Partner: Your Roadmap to Success
With an untold number of service providers out there, how to choose the right one for you?
First and foremost, identify the purpose of your company's website and goals, and find the right solution and partner.
What is Your Renewed Website Ultimate Goal?
Is it to improve user experience?
Is there a technical challenge that needs to be addressed?
Is it to bring more leads and convert visitors?
Is it to make it easier for your teams to manage the website?
The Solution
We at Signity, pride ourselves on offering unparalleled support to scaling businesses like yours.

The following are a handful of advantages we offer:
Constant support from technical geeks.
An experienced project manager to assist you throughout the development journey.
Dedication to accountability with a strong desire to help you leverage maximum benefits.
An agile, non-hierarchical company that works to help you achieve your business goals.
Frequently Asked Questions
Have a question in mind? We are here to answer.
What is HubSpot CMS, and how does it differ from other CMS platforms?

HubSpot CMS is a cloud-based content management system (CMS) that helps businesses in creating and managing their websites. In addition, it is a dynamic and flexible platform that offers a wide range of features, like, Drag-and-drop website builder, built-in SEO tools, marketing integration, mobile-friendly interface, etc.
Does HubSpot CMS offer SEO optimization tools and features?

Yes, HubSpot CMS offers an exquisite array of SEO optimization tools and features, like, SEO recommendations, SEO tools, Integration with Google Search Console, Training, etc.
Can I integrate HubSpot CMS with other HubSpot tools like the CRM and Marketing Hub?

Yes, you can easily and quickly integrate HubSpot CMS with other HubSpot tools like the CRM and Marketing Hub.
How can I track and measure website performance using HubSpot CMS analytics?

To track and measure website performance using HubSpot CMS analytics, first create a HubSpot account and add your website to your account. And, once your website is added, you can easily start tracking website traffic, engagement, conversions, and insights.
Can I create personalized content and targeted CTAs with HubSpot CMS?

Yes, you can quickly and easily create personalized content and targeted CTAs with HubSpot CMS.