What is Enterprise Marketing Automation?
Enterprise marketing automation is an advanced way to drive business growth. Opt for HubSpot automation tools to channelize personalized marketing and strategic techniques to streamline business processes, customer engagement, and increase ROI today!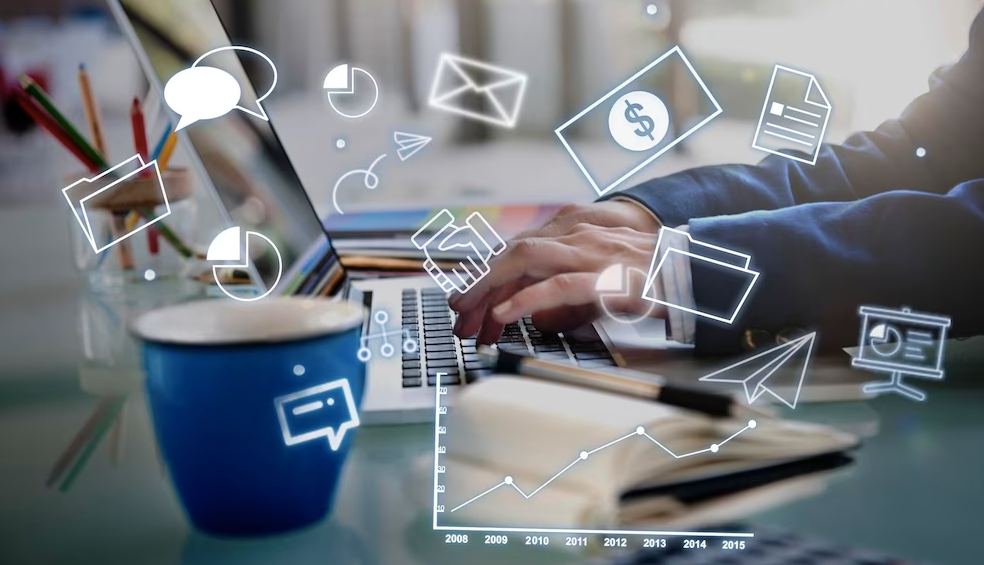 In today's digital world, enterprise marketing automation holds significant importance in revolutionizing the growth of industries worldwide. Playing a vital role as a strategic tool, it helps large-scale organizations to effectively nurture customer relationships, manage their marketing tasks or processes, and drive business growth to maintain a competitive edge in the marketplace.
From E-commerce to finance, healthcare to technology, manufacturing to hospitality, automotive to education, and telecommunications to real estate, marketing automation embraces different industries looking to enhance customer engagement to a great extent.
What is Marketing Automation for Enterprises?
Enterprise marketing automation is the practice of using software or technology for automating, organizing, and optimizing several marketing-related operations, tasks, or activities at the enterprise level.
Generally speaking, it is a simple and best way to reduce and replace the manual inputs in the marketing processes with automation and increase the overall productivity and efficiency at different ends.
Functions of Enterprise Marketing Automation
Automation is a familiar word to every industry, and knowing the actual definition of enterprise marketing automation and its functions becomes extremely important to use the technology and software optimally.
Automated Email Marketing
A statistical report states automated emails yield 320% more revenue than manually executed marketing emails.
With enterprise marketing platforms such as HubSpot, you can step ahead to scale up your across-the-board marketing efforts. There is no need to jump profoundly and put much effort when automation can help to facilitate triggered emails, scheduled messages, personalized communication, email group segmentation, and performance tracking processes.
Automated Lead Management
Lead management is as crucial as lead generation, and HubSpot's marketing automation platform can help you effectively manage all business leads and prevent them from falling through a time gap.
Giving a boost to your communication, the automation platform helps streamline different steps in the lead management process, lead information consolidation, and lead analytics improvement.
Interface and Integration
Getting an app with a highly intuitive interface and easy setup aligns with the best ways to make efficient workflows and reduce staff training time. Additionally, businesses can easily sync their essential data from other marketing tools and third-party integration processes for easy organizational task management.
Multi-Channel Campaign Management
There are many channels to communicate with customers and clients. With enterprise marketing automation, it becomes easy to seamlessly orchestrate several campaigns across social media, emails, and websites.
Automated Segmentation
Lead segmentation is a necessary process that directly impacts the time and financial resource management to increase business ROI. Businesses leveraging automation to trigger and segment leads have been effectively promoting personalized communication and a significant increase in lead conversions.
Advanced Analytics
Enterprise marketing automation has robust analytics capabilities that provide valuable insights into engagement patterns, customer behaviour, and marketing campaign performance. With the analytical and data-driven approach, companies can significantly focus on refining strategies to increase ROI to a great extent.
Customization
When it comes to personalization or setting up preferences, there is no match for enterprise automation which enables businesses to generate highly targeted and personalized content based on customer behavior, preferences, and demographics.
Data Protection
Business data security is crucial at both the customer and client end. Enterprise marketing automation tools and software come up with data privacy features and regulations that help protect the important information at different user ends.
Lead Scoring and Nurturing
Marketing automation tools allow various enterprises to determine and score productive leads based on their interactions with the brand. It also helps in prioritizing leads and tailoring nurturing strategies accordingly.
Workflow Automation
Marketing workflows involving multiple teams or departments can be easily automated, ensuring great collaboration and eliminating manual handoffs at different ends.

Enterprise Marketing Automation Tools Categories
With the increasing number of marketing platforms coming up every year, choosing the best software that fits your business's needs becomes difficult.
Before choosing the tool, you should know all business processes or systems that need automation. Let's have a look at the prime categories of enterprise automation platforms:
Email Marketing
According to a statistical report, automated emails have 70.5% higher open rates and 152% higher click-through rates than generic emails. Enterprise email marketing platforms offer the best ways to segment your target audience, create personalized campaigns, and help to keep connected with the target audience. The automation tools generally help sync your emails with the customer buying cycle.
CRM Platforms
Enterprise CRM automation platforms are web-based or cloud-hosted tools to provide effective solutions for highly integrated processes. Enterprises can easily opt for CRM integrations to streamline, scale, and optimize their marketing efforts by aligning their focus on sales, marketing, and service activities.
SEO Tools
With marketing automation, enterprises can plan a strategic SEO plan to drive organic growth in the marketplace. Along with this, these tools and software also help automate different processes like data segment and site monitoring regularly.
Customer Support and Chatbot Software
Integrating chatbots on websites is one of the best ways to attain the business queries of customers. At the same time, it also helps reduce the costs and workloads of different support operations for a better customer experience.
Event and Calendar Management Tools
Organizations with enterprise automation tools can streamline their business processes with a booking system, point of payment, and event calendar. These tools allow the accounting team to build, optimize and measure all essential functions on one platform.
Automated Sales and Marketing Software
Handling marketing and sales workflows such as behavioural targeting, email campaigns, personalized communication, and lead prioritization is one of the main parts of business growth. With automation, you can easily handle all these tasks in one dashboard, providing the best ways to collaborate with the marketing and sales team.
Social Media Management Software
Automation tools and software allow businesses to increase social media publication, management, and engagement to a great extent. Reducing manual labour helps streamline customer services and generates valuable analytical reports to optimize the upcoming process accordingly.
SME Tools
Campaign automation with personalization focuses on customer service, engagement, and logic-based functions, to target a higher return on investment; with SME tools, businesses can work on effective marketing strategies to ensure relevance, performance, and personalized communication.
Benefits of Enterprise Marketing Automation
Customer Data Alignment
With automation, enterprises can easily integrate all customer and third-party data across multiple systems within the organization.
Sales Cycle Automation
Enterprise marketing automation helps to accelerate customer research, quote creation, lead assignment, rules, and regulations.
Customer Engagement
With automation, the marketing team can capture and integrate business data from various sources to attain greater campaign accuracy and customized sales interactions.
Employee Productivity
Automation tools and software enable team members to do more in less time by automating repetitive tasks.
Pipeline Performance
With enterprise automation tools, the sales and marketing teams can easily automate lead qualification and trigger nurturing or required actions to increase lead conversions consistently.
Sales and marketing reporting
Aggregating data from multiple sources into a single view becomes easy and fast with automation tools, resulting in better insights and decision-making processes.

Wrapping-up
In today's fast-paced world, enterprise-level marketing automation, its utility, features, and business benefits are vital to know about the processes to streamline business operations in many ways.
Enterprises can harness its power to optimize marketing strategies and overall productivity to drive success at different ends.