Should You Consider Integrating Social Media While Mobile App Development?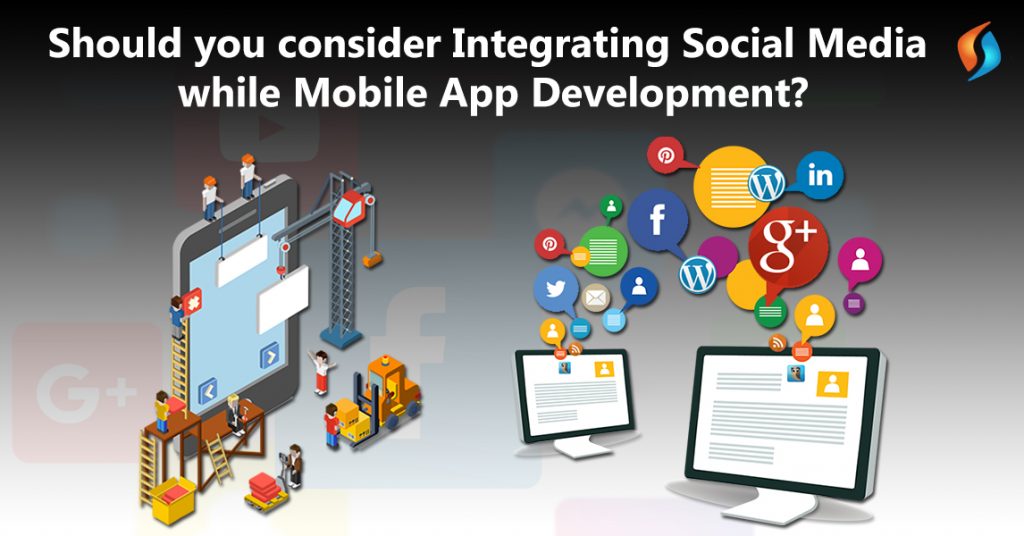 Mobile Apps are the latest trend that is sweeping the markets. Mobile app development in India and around the world is at its peak. It plays a crucial role in informing, educating, and engaging your customers. It is a game changer that has given businesses, new possibilities, and tremendous opportunities.
The mobile app development industry is constantly evolving and social media integration is the new paradigm. So, you must be wondering whether you should integrate social media while developing your mobile app or not. Let us say, if you do not have a social media button in your app, you are missing out. It can help you connect and engage with your potential customers, effectively and efficiently, and it is a huge marketing opportunity that you just cannot ignore.
But before we move on to discuss all the reasons why you should integrate social media in your mobile app, lets us see what exactly is social media integration.
What is Social Media Integration?
Social media platforms have become a significant part of our lives. We spend hours and hours browsing through Facebook, Instagram, Twitter, and more. These platforms have become a crucial channel for interaction, collaboration, and sharing various contents. Its efficiency and innovative features have made it an essential marketing tool in the digital marketing space. And that is what social media integration is all about. It is using these features and opportunities, to market your content and brand name.
Social Media Integration basically gives your mobile app easy access to various social media platforms. The users can easily upload and share the app content on their respective social media accounts. It not only allows them to share the information but also markets your brand to a crowd of new and potential users. In view of this, you get the opportunity to convert new users into loyal and frequent visitors. It is a marketing gold and an opportunity that just cannot be missed. Until now, mobile application development companies in India couldn't emphasize enough on the importance of social media integration for your mobile app, but now things are changing for good.
Reasons you need to integrate social media while developing your mobile app
Want to know more? To enumerate, here are some reasons why you need to integrate social media during mobile app development.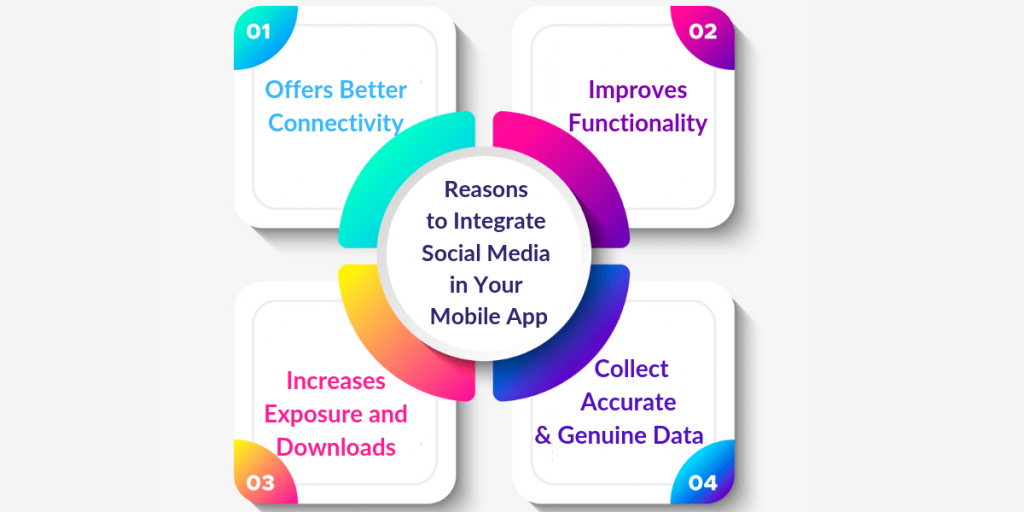 1. Offers better connectivity
There is no denying that social media is a crucial part of our everyday lives. Social Media platforms like Facebook, Instagram, Twitter, Snapchat, and more have millions and millions of users daily. And for this reason, integrating social media into your mobile apps offer you the opportunity to avail this enhanced connectivity. You can utilize this platform and advertise your app to them all. Because today distance is no barrier, and you can connect, interact, and engage potential users from all across the globe. It gives your app-enhanced exposure and visibility, which is essential in this competitive market. The top Android and iPhone app development services understand the potential that social media integration has. And this is why they are utilizing this feature to create efficient, responsive, and scalable mobile applications for their customers.
2. Improves Functionality
One of the most significant effects of social media integration within your app is improved functionality. A typical example is Instagram. It is a photo editing/sharing app that has evolved itself to be more. It allows users to log in through Facebook and avoid wasting their precious time registering and creating a new account. You can even share your Instagram-filtered images on Facebook, quickly and effortlessly. On one hand, it improves the app's efficiency while on the other hand also enables numerous other features including wish lists, favorites, recommendations, and more. Users can even check to see if any of their social media friends use the app and its services. All in all, it goes a long way providing credibility to the app and its services. This is just one of the reasons why enterprise mobility solutions are integrating social media in their creations.
3. Increases exposure and downloads
To point out, people nowadays spend hours and hours on these social media platforms just browsing mindlessly. If these social media sites are expertly intertwined with your app, there is a good chance that they will stumble upon your app's link. It might be one of their friends sharing your app's content or just an app suggestion. But they will get exposed to your app's download link. If you can market exciting and captivating content, it will force them to download your app. You get higher member conversion and validation that is hard to replace. Get your mobility service provider to integrate this feature to enjoy enhanced exposure and downloads.
4. Allows you to collect accurate and genuine data
If you want to develop a competent and proficient mobile app, you need to know what the users want. Analyzing their needs, and social behavior is what will help you avail better solutions. Social media platforms offer you to the opportunity to gain this crucial data. You can analyze their social behavior and activity from such platforms. This data can be used in conducting market research, identifying target groups, collecting customer details, and much more. It ultimately helps your app offer better and more customized solutions.

How to Integrate Social media platforms into Mobile Applications?
Now that you know all about the benefits of integrating social media in mobile app development, what do you do? How do you integrate the social media platform into your mobile application?
The process can be quite complicated as there is much to do. You need to add clear and visible click-to-add social media buttons so that users can sync their account with the app. You also need to allow people to register/login using their social media accounts for fast and effortless navigation.
It is crucial to integrate your mobile app with social media platforms effectively to avoid any unnecessary glitches. The best thing you can do is hire an outsourcing team. Get the best mobile app development agency to handle the situation. They can take care of the technical process while you create interesting and appealing content to captivate the audience. Social media integration is the future, and you do not want your mobile app to miss this opportunity.