Why Your Website So Needs Social Login Integration for Better User Engagement?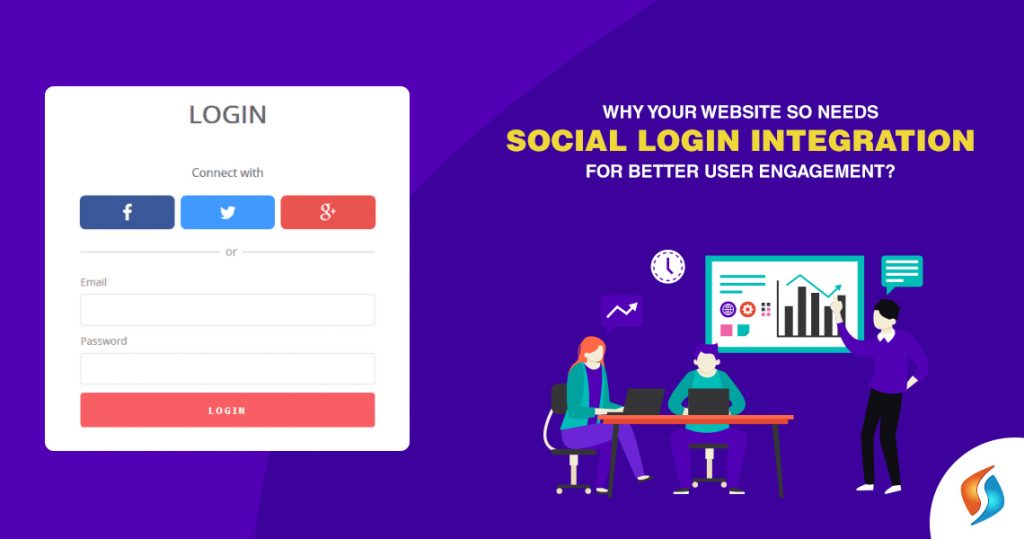 The 2 years old Social Customer Engagement Index highlighted the growing significance of social media tools in supporting sales and service strategies and its impact in the approaching years and true that! Most organizations today pursue an active social media strategy to tap user experience, promote user participation in sales campaigns and get vital feedback on the performance of their product or service. Integrating your website with social media networks is an effective means of ensuring customer engagement and strengthening their association with your brand.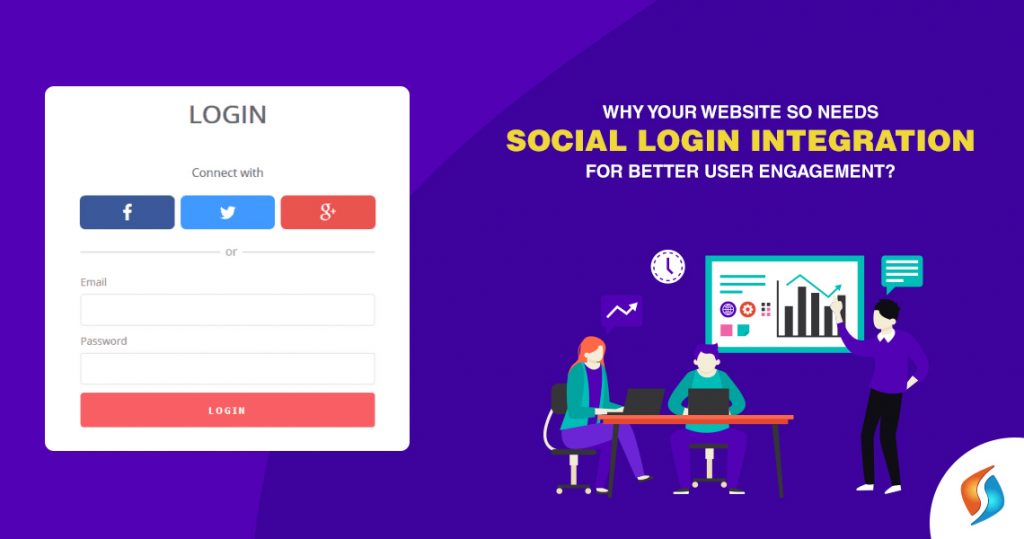 What is Social Login?
In very simple terms social login allows the users to register to online services offered by websites through their social accounts. The personal information available in their social networking profile is used by the website to verify users.
It has been observed that nearly 75 percent of the users hesitate in filling out registration forms on websites.
Time constraints and reluctance to share personal details are some of the key factors preventing users from filling out these forms and thus, entering the user-base. The creation of another unique username and password for registering is another important aspect that prevents users from registering on websites. In such cases, integrating your website with social login features provides an effective means of ensuring that users register to your online services.
Why do we need a social login?
The social media provides a huge repository of customer behavior related data that can help your business customize solutions, improve the scope and quality of services delivered and build customer relationships through active participation in sales campaigns. Enterprises today use various engagement techniques to link the social media platforms with their websites to access vital customer related data and encourage user participation in the online services offered by the business. Social login enables easy registration to your business services while capturing vital customer related data that facilitates accurate predictions in terms identifying potential leads and business opportunities.
What are the social login engagement techniques?
The engagement techniques adopted by enterprises today involve the use of social share buttons, blogs and social login options that add to customer experience and their level of engagement with the business. What is interesting to note in this context is that while most users refrain from signing up the registration form on the company website, they are more than willing to register to company services using social login options. Social login provides the users with a convenient means of registering without the hassle of filling registration forms and entering several personal details. The social networking credentials of the users are effectively used to verify users and provide them with access to the online services.
How does Social Login Integration help your business?
Social login provides businesses with access to personal details of the user that includes their location, preferences, and their interests in personal and professional lives. This information enables enterprises to provide customized information that matches the user profiles which provides an effective means of acquiring new customers and encouraging repeat visits.
An effective means of leveraging your social media strategy is to integrate your website with various social media channels. Social media apps have evolved as an exciting platform for users who share news, views, concerns and experiences in context to their association with specific product or services. Access relevant details and information related to customer behavior using these social media platforms and explore new business opportunities through the insights available from this data.
The importance of the social media channels for marketing firms is evident in terms of its potentials to explore customer perceptions and their attitudes towards the business. Social login integration allows your business to develop close connections with your customer and at the same time access vital information related to customer behavior, preferences, attitudes and concerns that have a significant bearing on their perceptions about your product or services.
Social media is an exciting platform that allows users to engage actively in promoting their positive experience with specific brands, deliver feedback on product performance, evaluate after sales services and query for further information on products or services.
The huge repository of user data available on the social media networking sites can provide deeper insights into your customer expectations and how you can align your business to improve the marketing performance of your product or service.
Social login integration can hence provide your business with several additional benefits that support your marketing and sales objectives. For further information and assistance on how to integrate your website with social login for better user engagement, contact us or drop in a line at info@signitysolutions.com.