10 Interesting RPA Stats That You Can't Miss!
Robotic Process Automation (RPA) drives growth, cuts costs, and enhances productivity. With an $8B market projected in 2023, RPA saves time, improves customer service, and spans industries. Read out more in this blog post!
The Robotic Process Automation market has grown since our last forecast, driven by digital business demands as organizations look for 'straight-through' processing," -Fabrizio Biscotti, research vice president at Gartner.
Technological advancements have shown that businesses have overcome new challenges arising from increasing consumer demands. RPA has been seen to be adopted by small and medium-sized businesses and even large enterprises to automate and make their tasks productive.
RPA Stats you need to know:
1. The need for RPA
Robotic process automation is known for introducing automation and digital transformation in businesses. The entire point of implementing RPA in business operations is to reduce costs by automating manual repetitive tasks.
According to a report by Gartner, organizations can successfully lower their operational costs by 30 percent by combining hyper-automation technologies with redesigned operational processes.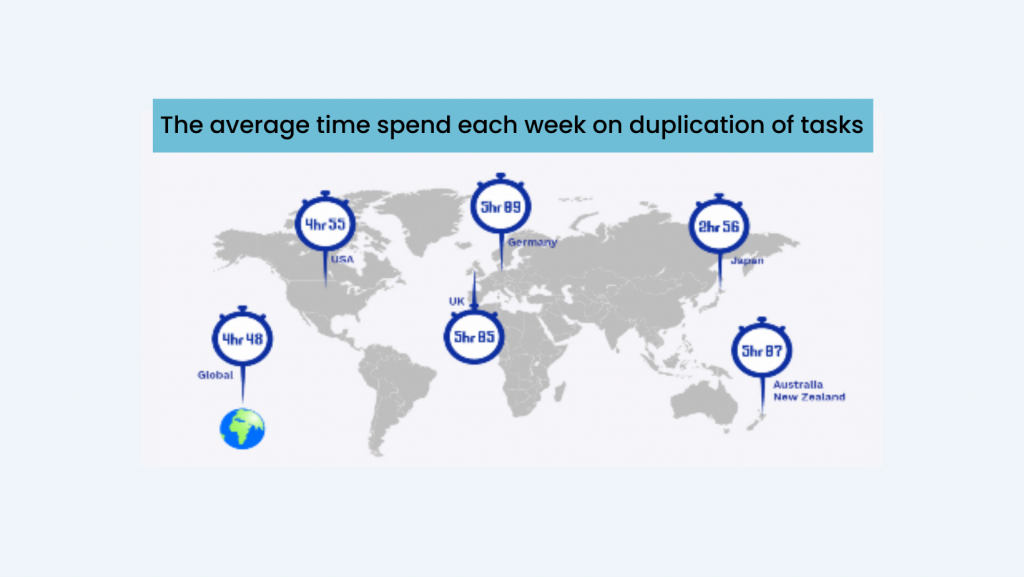 The average time spent by the human workforce on duplication of tasks ranges between 5-6 hours average. RPA works faster than humans, which means better turn-around times during customer services along with increased efficiency for overall operations.
2. The importance of RPA in business
Besides reducing turnaround time and operational cost, RPA also helps improve productivity and efficiency of processes. According to Teplar, organizations can save up to 2 FTE hours a day which amounts to approx 34944 USD on an annual basis.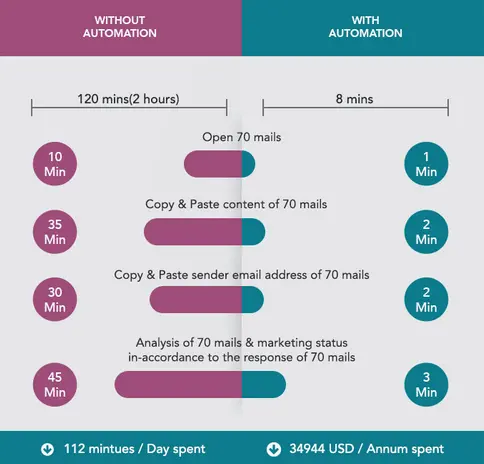 Furthermore, the Deloitte Global RPA Survey states that more than 28 percent of those implementing and scaling RPA are also implementing cognitive automation.
RPA applications while taking over the redundant work frees up employees to work on tasks that are on priority and require more attention.
3. RPA Market Size
With companies actively adopting robotic process automation solutions to offer enhanced services to their clients and customers, the demand for consulting services in RPA will grow significantly over the upcoming years.
As the numbers depict, the RPA market size witnessed a growth of 800 million USD in 2017 to 4 billion USD in 2021, which is further anticipated to grow up to 8 billion USD in 2023.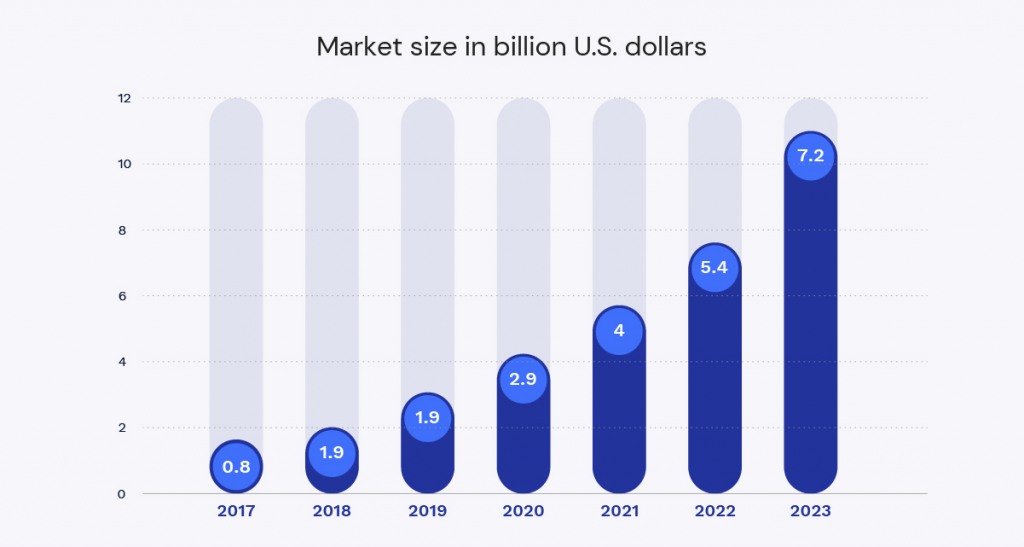 The increased demand for automation of business processes is one of the greatest factors that is increasing the adoption of RPA. Organizations across several verticals are deploying RPA and AI to increase productivity and efficiency.
4. Revenue Growth from RPA
As per the Gartner report, the revenue for RPA software globally is expected to increase by 20 percent to reach 1,888.1 million USD for a period between 2021 to 2028. RPA revenue growth was immune to the economic pressure caused by COVID-19, and the growth witnessed after the pandemic is almost double through 2020.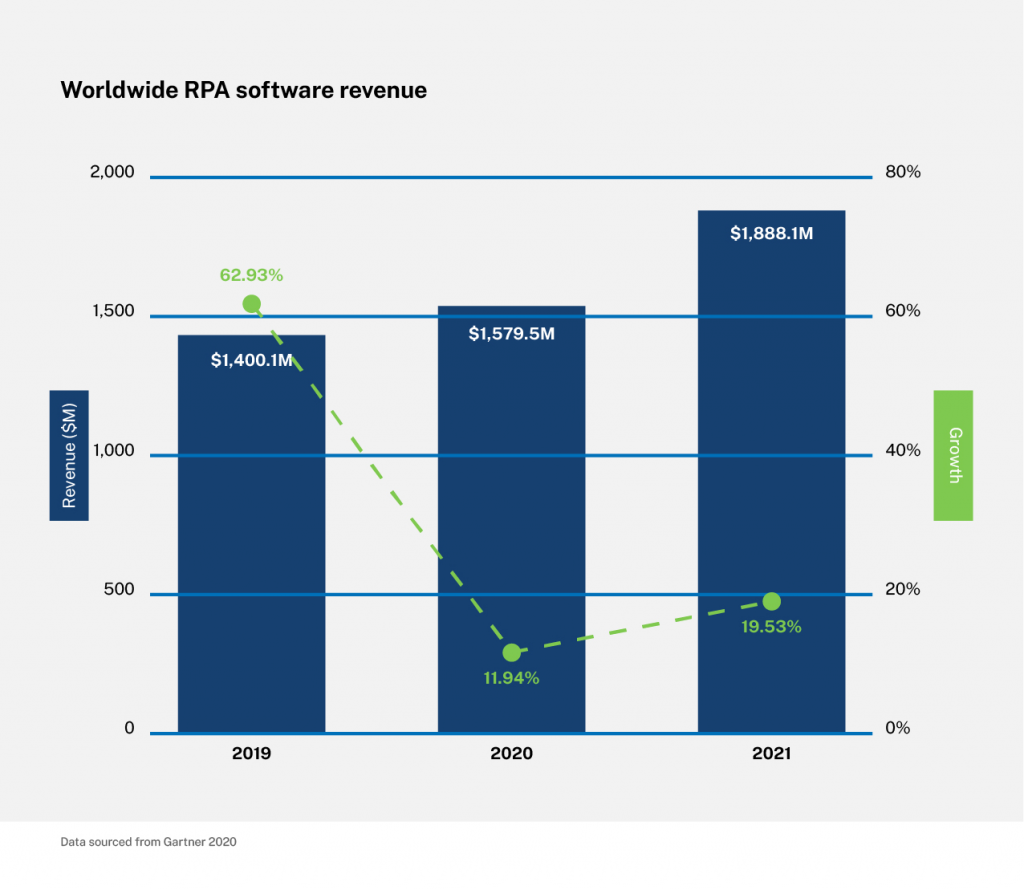 The major drivers for a rapid increase in RPA adoption & revenue generation are its ability to improve the operations' quality, speed, and productivity.
5. Challenges in RPA implementation
As beneficial as RPA is for the business, its implementation is not as easy. According to (Deloitte Global RPA Survey), organizations tend to underestimate the time and costs of delivering RPA. 63% said it did not meet their expectations of implementation time, and 37% said it did not meet their expectations of implementation cost.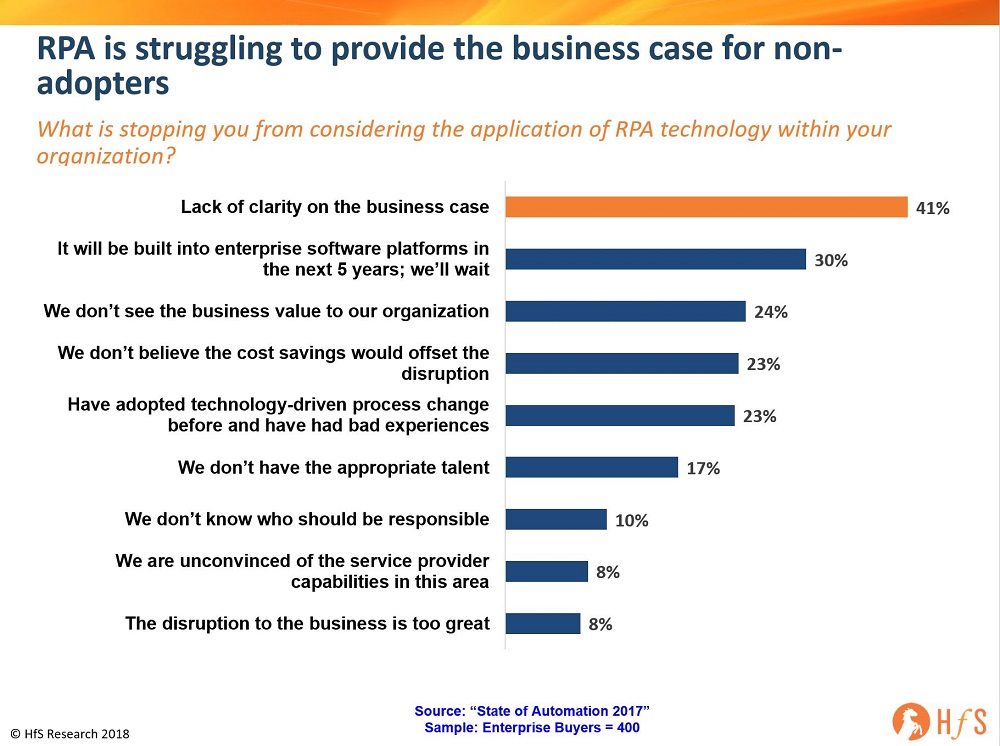 From lack of clarity on the business case to lack of appropriate talent, many organizations face an array of RPA implementation challenges. Many executives are of the view that their enterprises lack the necessary data science, machine learning, and other AI cognitive skills for automation.
6. Benefits of RPA in various industries
Integrating RPA services in the organization system offers the major benefit of no human intervention. This allows employees to focus on more creative & productive tasks that involve executive & strategic decision-making. RPA offers great benefits to a wide array of industries ranging from utility to telecom.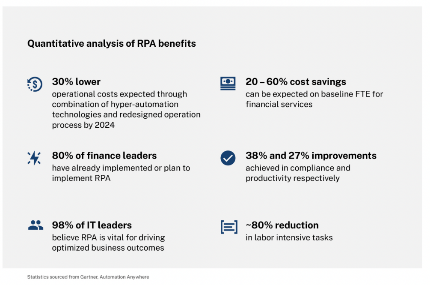 According to the analysis of RPA benefits done by Automation Anywhere, RPA helps reduce operational costs and labor-intensive tasks. Businesses can save up to 60 percent on costs of financial services.
7. Uses of RPA in Various Industries
RPA can be segregated into three phases i.e. consulting, implementation, and training. RPA Consulting was recorded to be at its peak in 2019 due to the growing awareness in the market and organizations.
And the RPA consulting service providers are offering customer-centric solutions. Insurance, healthcare, retail, hospitality, energy, and utilities are some of the industries with great use-cases of RPA solutions.
Source: www.horsesforsources.com
8. Trends in RPA Implementation
In the previous section, we came across the use-cases of RPA in various industries. In this section, we will learn about RPA implementation across the business operations.
46% of IT management leaders employ RPA, and 38% of marketing leaders are dependent on RPA to improve their daily operations.
The Robotic Process Automation market can be divided into SMEs and large enterprises, and according to reports, large enterprises are the biggest accommodator in terms of market share.
With enhanced regulatory compliance, along with already discussed benefits such as improved efficiency and reduced human errors, large enterprises are investing in the adoption of Robotic Process Automation.
9. Vendor Fundings in RPA
Vendor funding for RPA is at an all-time high due to the underlying benefits of business automation. The total revenue share generated by RPA vendors is close to 39.6 percent of the total market share. This reflects the fact that clients are looking for automation of core processes and hence process improvement.
According to Crunchbase,
Automation Anywhere, an RPA business leader, raised $1.2 billion in 6 rounds of funding.
Uipath raised $1.2 billion in funding in 6 funding rounds. (Crunchbase)
Blue Prism Group raised $182 million in funding in 5 funding rounds. (Crunchbase)
Workfusion $180 million funding in 6 rounds. (Crunchbase)
10. Productivity Growth from RPA
According to Deloitte, 95% of organizations using robotic process automation (RPA) say that it has improved productivity. The study also found that 93% of those believe it has improved compliance, 81% say it has reduced costs, and 77% claim it has provided better management information.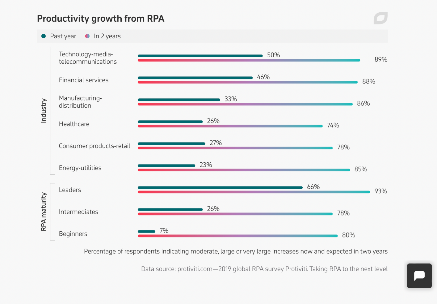 The Future of RPA
While the SMEs have noticed the highest CAGR over the forecast period. With the implementation of RPA, SMEs have improved their productivity and also have gained a competitive edge.
Recently, there has been increased awareness regarding the benefits of using RPA automation among SMEs. And hence the higher adoption of RPA, especially in the telecom sector, is expected to provide growth avenues in the emerging economies.
The additional impact of RPA in the Market shows that;
RPA tools accounted to be the leading sector in the growing market, valued at USD 6.54 Billion in 2018.
North America has the largest area with a share of 32.84 percent due to the higher adoption of Artificial Intelligence and RPA in different industries.
Managed services area is the fastest growing at a CAGR of 20.4 percent due to the need to focus on core business activities.
Europe is expected to account for 27. 17 p% of the global market due to the increasing demand for automation and Robotic Process Automation in European countries such as the U.K., France, and Germany.
Banking, Financial Services, and Insurance are the end-user to account for the largest market size by 2026. Banking companies are gradually implementing automation and some more technology-driven approaches for customer experience and cost savings.
Even though RPA solutions cannot completely eliminate the requirements of business management or enterprise application integration, they can offer a channel to automate complex and costly operations and expedite back office and middle office tasks.
Furthermore, RPA enables a quick digital transformation of centralized management processes to leverage agility and growth in business services.