How to Make your Websites User-friendly with Custom Web Development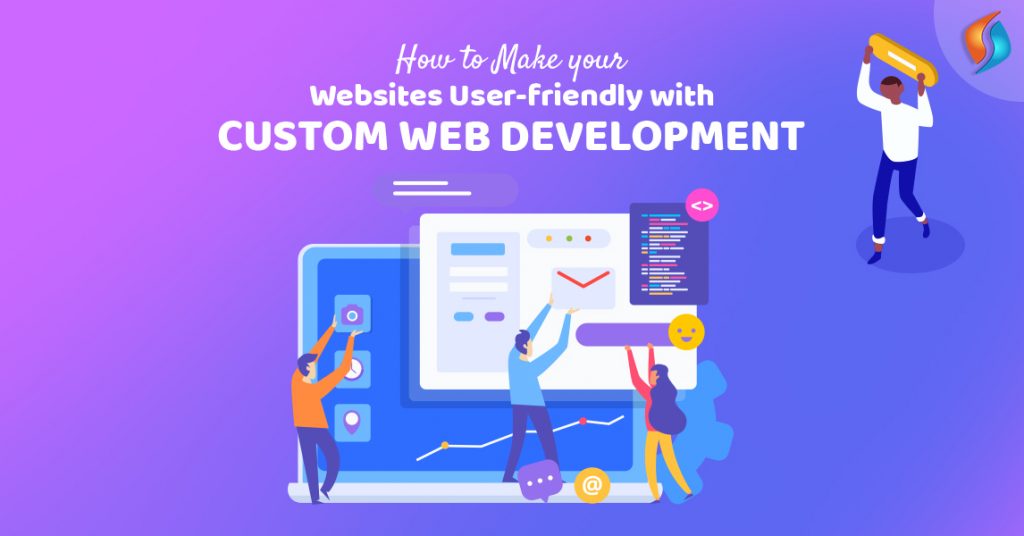 Website development is something that every website owner and someone massive in IT, will have a perfect context about. Websites play a very major role in the interaction between you and your customers. That's right; websites are the bridge with which a successful business enterprise will be in your reach. The usage of internet is increasing with every passing day and there is no stopping to its growth. With this rise, it's the perfect time for your business website to get an upgrade. Yes, we are talking about custom website development company and their effectiveness for your business.
Custom Web development is something that is much underrated and despite being so useful, isn't getting proper reach. It is something that is known by many, but not all of us are aware of its benefits. For a website owner, it is not news that how important the optimization of their web page is. But many of us out there with Web pages ignore this, and it becomes the cause of a downfall in business. Custom web development solutions open the pathway towards limitless reach and customer base. With the Digital India campaign and cheap data pricing, India is currently enjoying an outburst of internet users. This is the perfect time to get a hold onto this vast market base. This is not just opportunity, it is an open invitation for companies to get the best out of their investments
What is Custom Web Development?
Remember those days when Web pages were hard to get, and we had to pay a significant amount of money to get it running. Well! with custom web development services into the game, these problems have come to an end. These services help both the new and existing website owners. To term it implies, custom web development is the need of the hour, and no one can deny this. The Internet is a land of vast opportunities, and web development offers you a path to reach your goals. Custom web development comprises of many factors and when all the aspects come into proportion, it forms a more significant and beautiful picture out of it.
How Can Custom website development company help your business?
Business and its website are two things that cannot be separated. If you run a business, getting a website for the same is quintessential. One might wonder as of how a site can make a change in the growth and scale of the business. A lot of advantages come into play when you own a website for your business. One of which is your reach towards your customers. Reaching out to the customers is always the hard part for any business enterprise. But with a custom built website, this task becomes very easy. Sites create a bridge which has you on the one end and success over the other. But there's a catch; there are several roadblocks in between. Poor optimization, unrelated color scheme, and less device compatibility are some of them.
These things cause trouble for customers who are visiting the website to learn more about you and your services. Custom web development solutions are the key to overcome these roadblocks and make your site user-friendly. The term speaks for itself; if something is user-friendly, it is definite that it will become popular among masses. But how do offshore software developers help you and your business with their assistance? The following points will help you create a better understanding of this topic:
1. Easy navigation:
The custom website is easy to use, and customers can navigate through them with any hassle. This is very helpful for those website owners who deal with a huge line-up of products. Navigation plays a great role in enhancing the user experience. It is must to have a website that is easy to move around for customers.
2. Compatibility:
One important thing that comes with a customized web page development is the vast range of compatible devices. It is very crucial for any business to have a website that is compatible over all the platforms. There are several cases with old sites that show the issue of being incompatible over platforms now and then. With custom website development company, you can get this kind of problems fixed at almost no price. Once your website becomes compatible on all the platforms (Android, IOS, Windows, and MAC, etc.), it gains popularity in no time.
3. User-Interface:
Getting your website update from a good web development company can do wonders. You might think it as not being such a significant change. But, a regular and an attractive interface is all that change the course of traffic on your website. A better user-interface is a direct and straightforward approach to gain customers. No one wants to go to a website where they have to look around the formatting of the late '90s. If this is the case for your website too then, you should get your website re-built by an expert.
4. Easier gateway payout:
Customers have one criterion that will never come to an end i.e., the security of their payment. This is important for a website owner to make sure that the backlinks and the service providers are legit. This is because no one comes back to a website where they lose money during transactions. Custom web development makes it sure that all the gateways are well intact and are secure for payment. More comfortable and safe payouts are the key to building trust and better customer relations.
5. Easy to access:
Accessibility can become a huge issue sometimes for a business website. There are many cases of improper optimization that had lead to accessibility issues for many sites. Custom web designing and development will add the latest patches to your website. This will make sure that your website will get proper accessibility through out the globe. Also, this will result in better SEO response, and you'll be ranking on the #1 page in no time.
Hire the best Custom Web Development Company!
Keeping all these above points in mind, you should hire an outsourcing team who can provide the best web development solutions. Signity solutions, a leading website, and mobile app development company in India, has of a group of experts who not only build a customized website for the business but also guide you through setting your site up for search engine success.