Smart Business Strategy Using END to END Mobile Phone Integration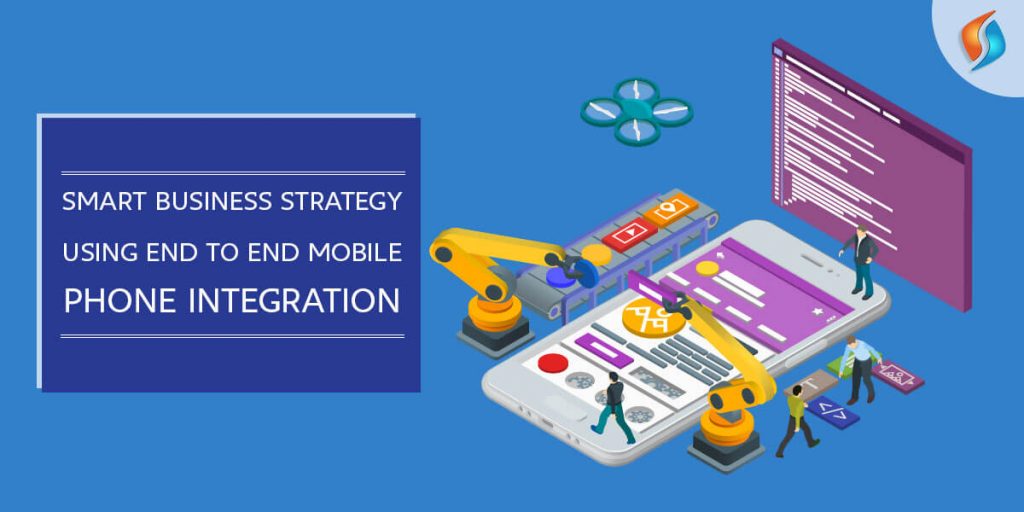 What is mobile phone integration all about? What does mobile enterprise applications do for your business? How can enterprise mobility solutions change your business strategy? These are some of the common questions that business owners, organizations across the globe ask. If you are also looking for answers to such questions, this blog shall help you get the right answers!
Defining Enterprise Mobility Solutions
"Mobility is here to stay. It will only grow bigger with time and become more connected."
Before moving ahead, it is vital to understand what is enterprise mobility management. Consider your workplace, there you will find plenty of workers using smartphones and tablets. Also, the wireless network deployed in your company runs which runs on mobile computing.
Now with enterprise mobility solutions, you can integrate all these components. The links established between these components reinforce the business goals of the employees and use them for activities related to the business.
All in all, It is a well-planned structure that holds solutions of the existing problems. Let's make it more clear and easier to understand by splitting it into the following three parts. Enterprise mobility solutions:
Help in structuring and delivering the information where and when it is required.

Assist in integrating various processes, technologies, and people to the different business units present within the organization for effective as well as competent delivery of the primary business functions.

Aim at contributing solutions to several existing problems of the organization. The issues are mostly related to the development as well as delivery of mobile apps, along with implementing timely responsiveness to users.
A study was conducted to examine how employees of a company use their smartphones and tablets. Check the following stats to understand the changing trends of enterprise mobility.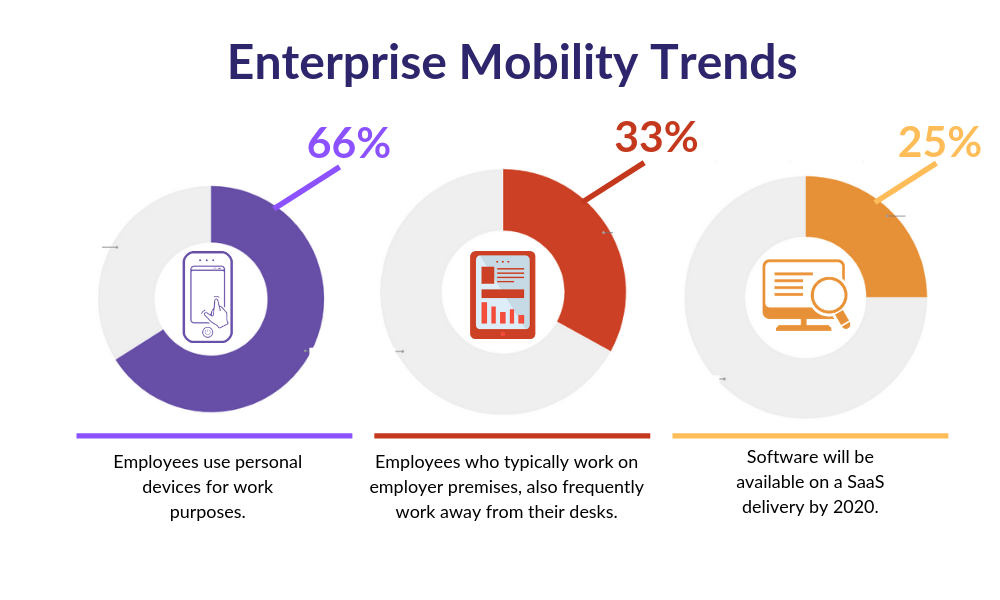 With such a huge number of devices at work, the report has revealed that productivity has gone up by 34% – with employees giving companies 240 hours of extra work annually. Moreover, 53% of these employees believe that including mobility solutions have made work easier for them.
The businesses witnessed remarkable growth rate and other benefits, and now the reports anticipate that companies will invest $61 billion in getting mobile app development services to enhance their connectivity and further narrow down the technological gap between the employee as well as the employer. However, with enterprise mobility solutions, the new-age companies can look for a promising platform both in terms of productivity and collaboration.
The 4 Main Phases of Enterprise Mobility
Enterprise mobility solutions are necessary for building a relationship between the various elements of the organization. Let understand the 4 main phases of EMS for the businesses.
1. Target User
:
The most crucial factor that needs your consideration is the accurate profile of the targeted user and understanding the probability of getting business from them. The user's profile should be as per the industry standards as well as objectives. Also, it is necessary to keep the nature of the business in mind to achieve the target through enterprise mobility Solutions.
2. Goals to be Accomplished
:
You need to do the complete research of the places where enterprise mobility solutions can be inculcated. Before executing their mobility solution strategies, the businesses should set their pre-objectives to define the goals they need to achieve.
3. Approach:
To meet the actual objectives of the business, the operational tactics should be accredited to implement the goals of the businesses in order to align with the targeted audience.
4. Technology:
It is essential to choose the right technology for mobility initiatives. If you are unable to choose the one by yourself, you can contact mobile app development companies in India. With their expertise, they can help you in choosing the appropriate platform as well as mobile devices.
Advantages of Enterprise Mobile Applications
In today's era, the smart business strategy using end to end mobile phone integration is possible only with the help of enterprise mobility solutions. The physical assets matter less as compared to mobility integration coupled with the latest technology.
It requires no special data to believe in services that enterprise mobile applications offers. The role of mobile in the success of businesses is evident. One thing that stands out in the end to end mobile integration is the way it helps companies to go beyond the bounds of geographical borders.
The benefits you reap with enterprise mobility services do not end there. It offers help in other aspects of the business as well. From catching the potential customers for your services and products to increasing the sales potential, enterprise mobility solutions help you achieve these goals easily.
Some of the most common benefits that businesses get by implementing enterprise mobility solutions are as under:
1. Mobile-driven Business Activities:
Whether you want to notify a particular employee, or your complete team; or your employee wants to access the cloud through his own smartphone. Either you want to share a business report or new business plan, you can do it smoothly without any extra time or effort by simply deploying enterprise mobility management.
2. Increased Productivity and Creativity:
Mobility offers employees the freedom to access data on their own. What mobility service provider does is that it gives them chances to grow creatively, which is good for the company as they provide you with new business insights. It not only increases productivity and profitability, but also gives shape to work culture within your company.
3. Efficient Customer Care:
It makes the customer care service much easier, transparent and efficient because you have everything in contact, which is important especially when it comes to understanding customer complaints and issues.
Future Trends of Enterprise Mobility Solutions
a) Chatbots:
With the increased popularity of chatbots, it will not be wrong to say that they are about to rule the industry. They have become utmost important for customer satisfaction, and companies are integrating them into their businesses. For now, they are just interacting with customers.
However, in the coming years, Chatbots will be seen as a mode of inter-departmental communication between multiple teams within an organization. Thus, improving the productivity of the projects. To inculcate this trend into your business, you can look for a professional chatbot development company and get a chatbot build according to your requirements.
b) Bring-Your-Own-Device:
Many businesses are encouraging the trend of "Bring-Your-Own-Device" in the workplace. This culture has helped businesses to achieve a growth in the performance of the employees, thus improving their business productivity. Moreover, in the coming years, this trend will be seen being widely used among various startups.
c) Internet of Things:
The implementation of IoT in various parts of entreprises will soon transcend the era of Smartphones. In the forthcoming years, it is being considered that the IoT connected devices will include other electronic devices such as Smartphones, laptops, desktop, and smartwatches through a Wi-Fi connection.
d) Artificial Intelligence:
Business giants like Apple, Amazon, and Google are shifting their focus towards the implementation of AI technology. SMEs are considering AI consulting services from the professionals in this industry. However, for startups, AI-based security is becoming a game-changer for building a secure environment for companies.
Final Words
The emergence of innovative technologies are offering businesses new strategies to enhance their business productivity and operations in order to boost their revenues.
Are you a startup looking to simplify your business process and revenue structure? Get in touch with our business experts! We will guide you and make your decision of outsourcing to India successful.