Top 10 Custom Web Design & Development Companies [Updated List 2023]
Handpicked leading website development companies and website design experts for startups, B2B, SMB, enterprise, SaaS and small businesses. These verified web development agencies globally help businesses reinvent themselves in the digital world.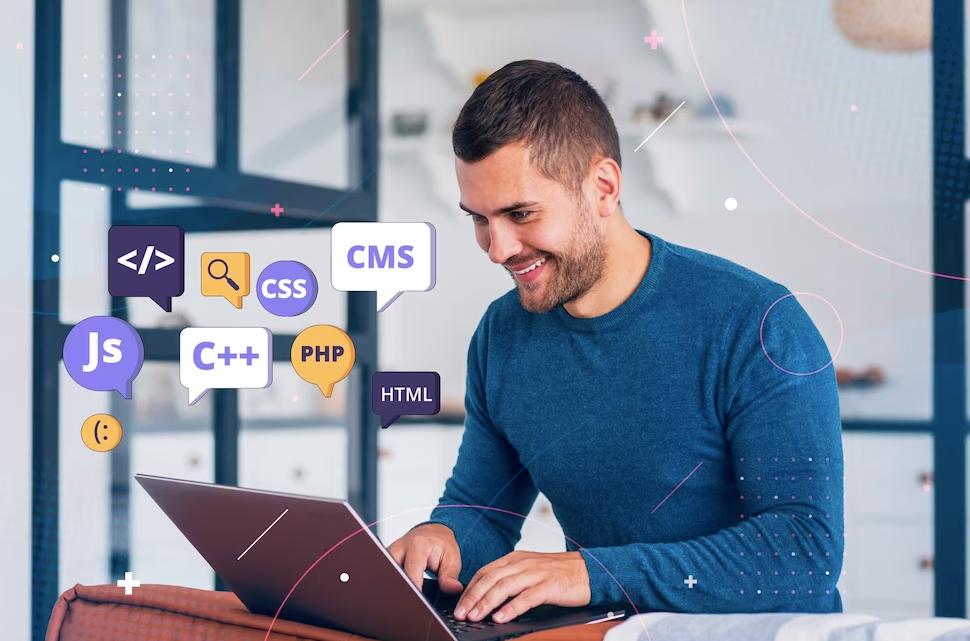 Does slim pickings in profits of your online business leave you wondering what's not right? Or are you thinking of transforming your business with a revolutionary digital experience? Look no further!
A reliable custom web design and development company can help you turn things around. Especially for a website that drives success for your business, you pour extra effort into engaging customers.
To do so, you need to take care of two basic things. One of these is an irresistible web design, as the first impression is the last impression (here it's your website design). Another is a seamless user experience, as customers prefer to shop from a competitor's website after a poor user experience.
But how to make sure these two things are executed correctly? Well, by hiring the right web development company if you want to get exactly what you envisioned.
Here's a handpicked list of the top 10 web design and development companies that truly understand your vision, dwell with the technical experience and knowledge needed to bring it to life, and are dedicated to delivering nothing less than the best.
So, let's start!
Here's List of the Top 10 Web Design & Development Companies in 2023
Signity Solutions
Your Team In India (YTII)
AllianceTek
Experion Technologies
Savas Labs
Tech Alchemy
APADMI
Crest Coder
Experion Technologies
ValueAppz
We weighed Clutch and G2 for the ranking since both these B2B platforms help businesses find the best service provider for their requirements.
They provide verified client reviews and ratings, as well as in-depth analysis of companies in several different fields, like web app design and development, marketing, mobile app development, etc. These companies' primary objective is to help businesses select service providers based on validated information and credibility.
Evaluating Web Design and Development Companies Features
Here's what you should not miss when choosing a web design and development company:
Established Year (Years on the Market)
Development Cost
Development Time
Security
Team Size
Tech Stack
Top Clients
Attitude to Delivering Solutions
Approach to Cooperation and Partnership
Consultancy Attitude - Sharing Knowledge and Experience
Your website will be a great success if your potential partner will be following all the parameters, especially the "consultancy attitude".
Top Web Development Companies in 2023
1. Signity Software Solutions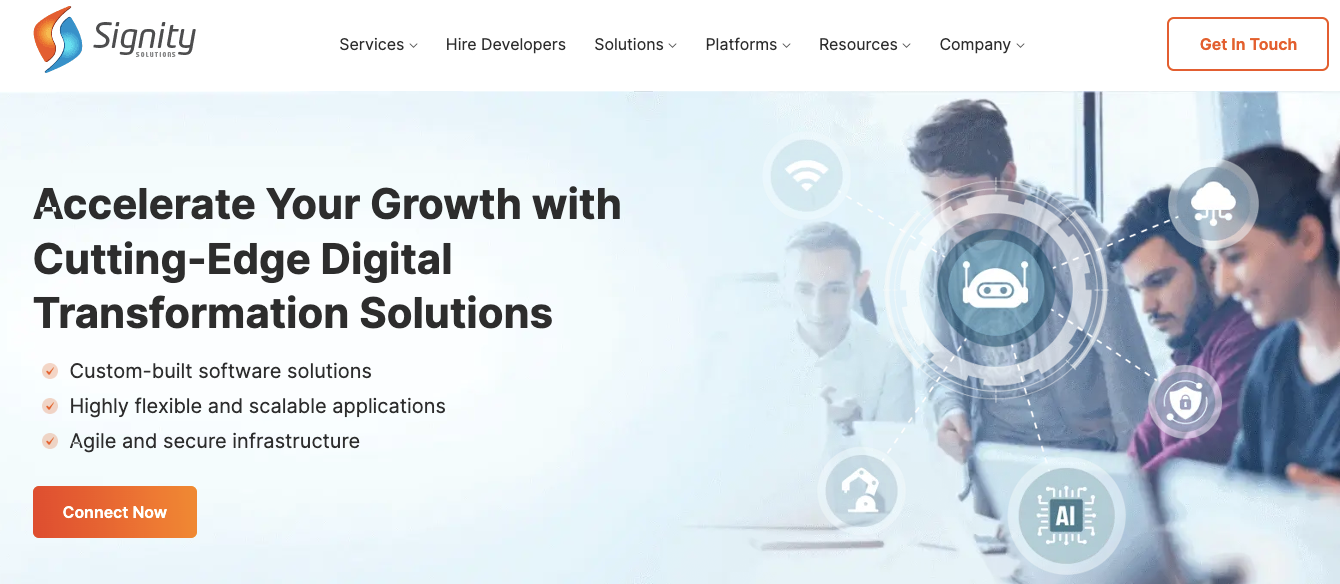 Established In: 2010
Team Size: 50-200
Location: USA
Cost/hour: $25-49/hr
Signity Solutions is an excerpt of web design and development rooted in the USA, offering you the best and unparalleled digital solutions. Their team of technical architects and experienced developers dwells with an extensive technical background in developing and deploying innovative and industry-oriented solutions, curating themselves as the hottest pick for a zillion clients across the globe.
Since 2010, Signity's adherence to helping businesses become resilient, agile, and future-ready yearns them to stay at the top in the instantly changing era when looking to hire a dedicated team.
Services:
Custom Software Development, Generative AI, Intelligent Automation, AWS Clouds, Web Design and Development, Testing Automation, Mobility Solutions, AWS Development Services, HubSpot Development Services.
Ready to Explore More About Our Solutions?
Supercharge your business with our custom web app development services. Reach out to our experts today!
Technologies:
UiPath RPA, OpenSource RPA, Large Language Model, OpenAI, ChatGPT, Generative AI, LangChain, Azure, AWS, Tensor Flow, Kubernetes.
Key Clients:
Samsung, Grupio, Sacred Rides, The Cash Back App, Wealth Words, Oak Job, Evolve Tour, GoHire, GETTRX, PWC, Tele Cloud.
Review: 4.9 Stars on Clutch
2. Your Team in India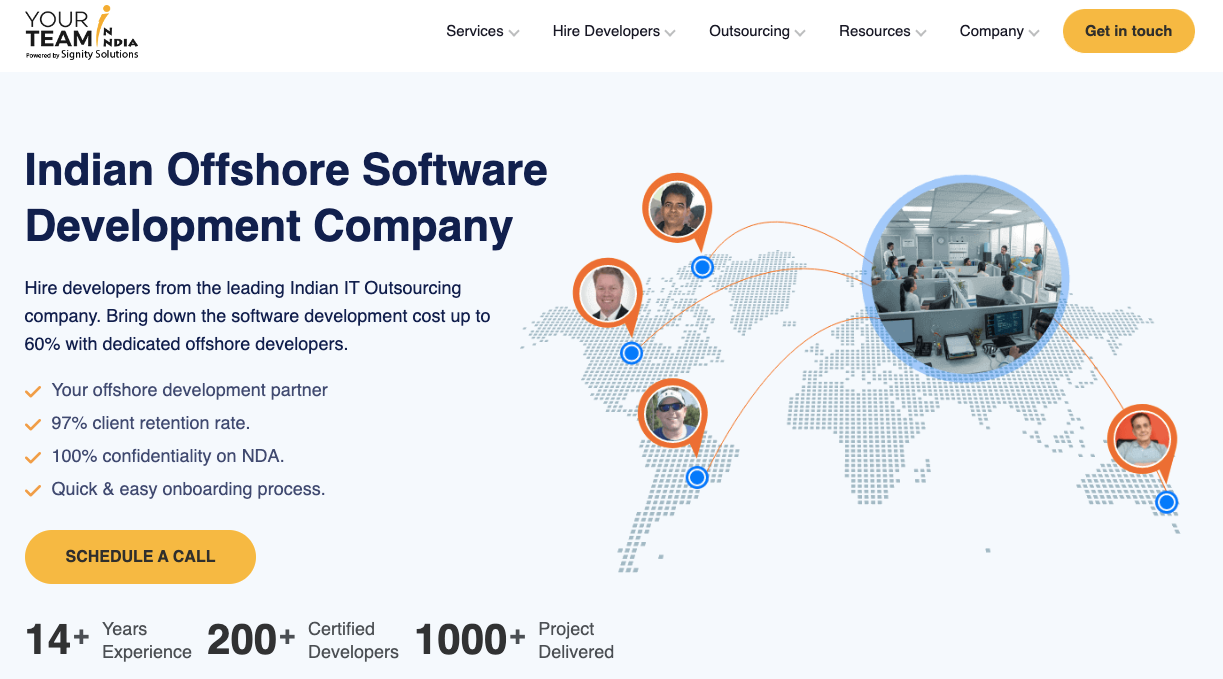 Established In: 2008
Team Size: 200+
Location: India
Cost/hour: $25-49/hr
YTII (Your Team In India) is a forward-thinking, entrusted, and experienced offshore development company based in India. With over 14+ years of software development experience (with their in-house development team), they plan, implement and deliver successful new apps.
YTII extends beyond desktop, web, and mobile app development. They cherish being a one-stop solution for industry innovation, having completed over 1000+ successful client projects worldwide.
Services:
Product Engineering Team, Software Product Development, POC Development Services, Product Enhancement Services, App Management and Web Services, MVP App Development, Cross-Platform Development, IT Staff Augmentation, Technology Migration, Offshore Development Services
Technologies:
Angular, .NET, React, Python, Java, Node, Flutter, iOS, Android, MEAN Stack, MERN Stack, Azure, AI/ML, Bot Engine, Tensor Flow, Dialog Flow.
Key Clients:
Sony, Vodafone, PWC, Ericsson.
Review: 4.7 stars on Clutch
3. AllianceTek

Established In: 2004
Team Size: 50-249
Location: India
Cost/Hour: $50-99/hr
Established in 2004, AllianceTek offers you a comprehensive array of software development services. Plus, they offer custom solutions from designing to marketing and maintenance with emerging technologies, tools and processes.
Their professionals have years of expertise delivering enterprise-class and business software solutions globally and work hard to cater to high expectations. They strategize and find the ideal solution for your needs with your input. Notably, they rely on customer referrals.
Services:
Application Development, Application UI & UX Design, Application Integration, Support & Maintenance, Website Development, Power Apps Development
Technologies:
Sharepoint, Mobile, Salesforce, .NET, Open-Source, Cloud, Business Intelligence, SAP Development, HTML5, e-Learning
Key Clients:
Royal Bank of Canada, National Football League, Pacific Life Global, Cox Communications, Saint Gobain, GENPACT, Johnson & Johnson.
Review: 4.8 Stars on Clutch
4. Experion Technologies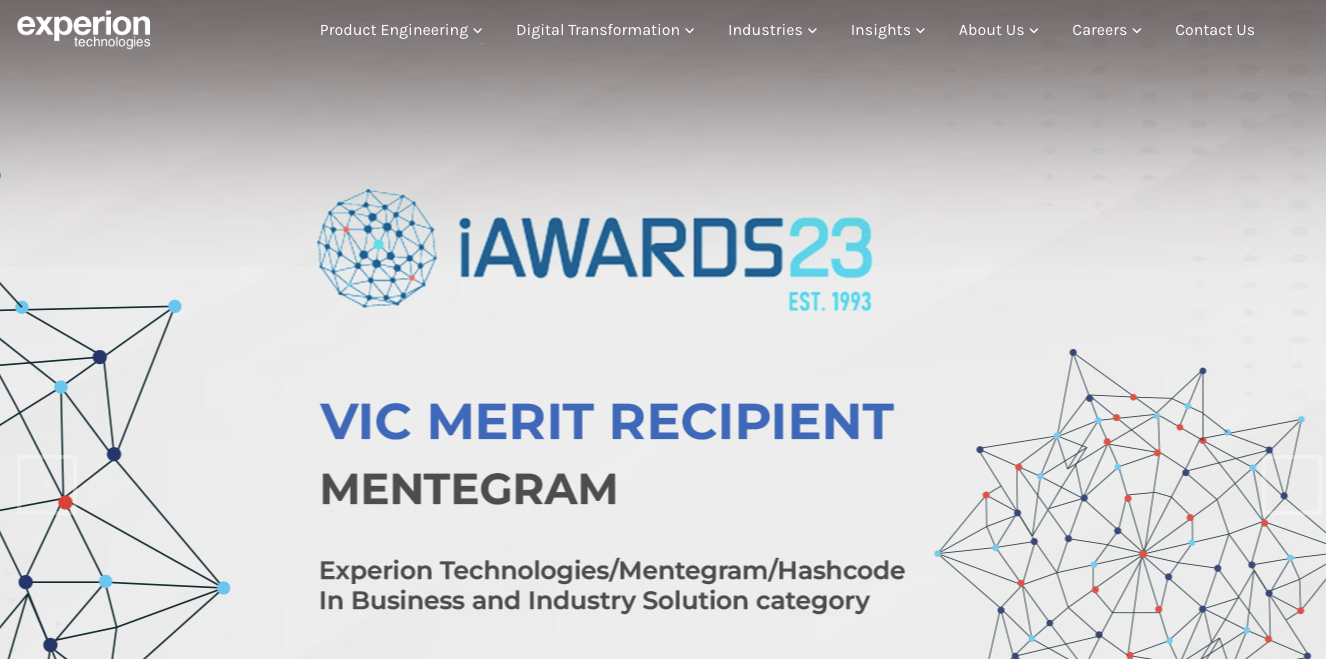 Established In: 2006
Team Size: 1000+
Location: India
Cost/hour: <49/hr
Established in 2006, Experion Technologies is a global product engineering service firm offering enterprises future-ready and transformative digital solutions. They are known to bring expertise in the latest technology while creating excellent product experiences, using Data and AI, Cognitive Computing, Experience Design Capabilities and DevSecOps in several domains.
The company brings new revenue streams, makes business processes digital, and helps in improving the bottom line of businesses.
Services:
Product Engineering, Enterprise Services, Digital Transformation Services, Startup Software Solutions and Services, Strategy & Consulting,
Technologies:
Cloud Engineering, DevSecOps, Platform Engineering, Embedded Engineering, UI/UX, Modernization, Cloud Engineering, Digital strategy and Consulting
Key Clients: N/A
Reviews: 4.7 Stars on Clutch
5. Savas Labs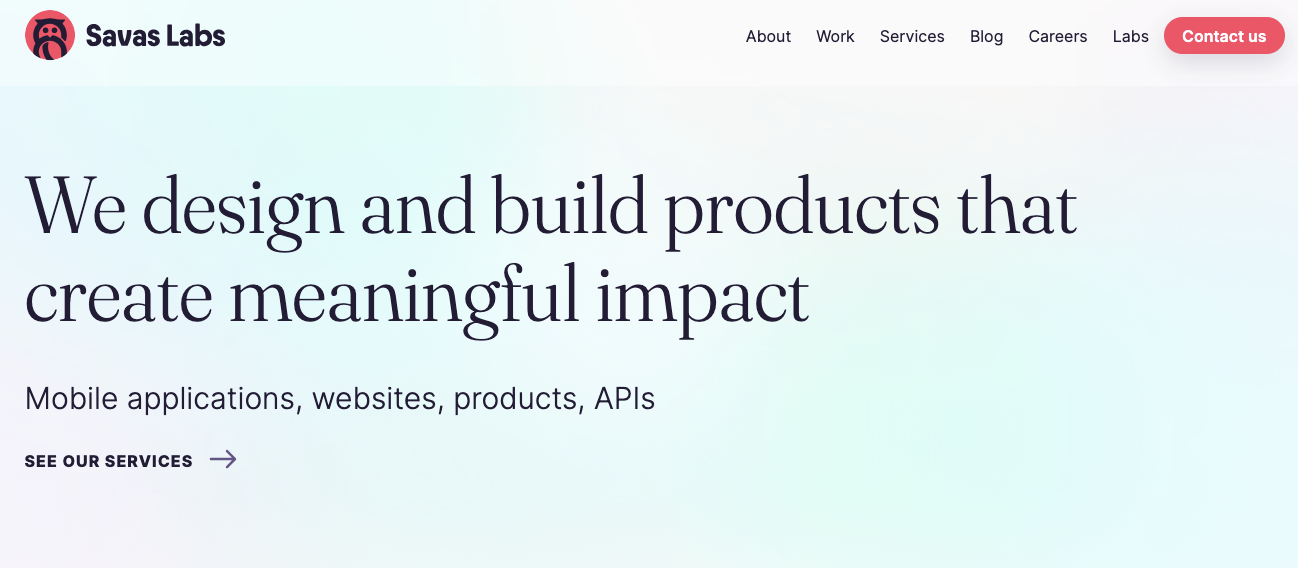 Established In: 2013
Team Size: 10-49
Location: USA, NC
Cost/hour: $150-199/hr
Savas Labs is a Raleigh-based strategy, design and development firm. Their in-house team is known to assist you with everything from strategic thinking to integrating complex web solutions.
Services:
API Development, Integrations, Mobile Application Development, Website Design and Development, Product Design, Website Development, E-Commerce Development, Web Application Development
Technologies:
Python, Django, PHP, Drupal, React Native, Flutter, .NET, Ruby on Rails, Java, BigCommerce.
Key Clients:
MIT, Duke, Hunter Boots, Sazerac, Harvard Medical School, National Public Media, Omega Institute
Reviews: 4.8 Stars on Clutch
6. Tech Alchemy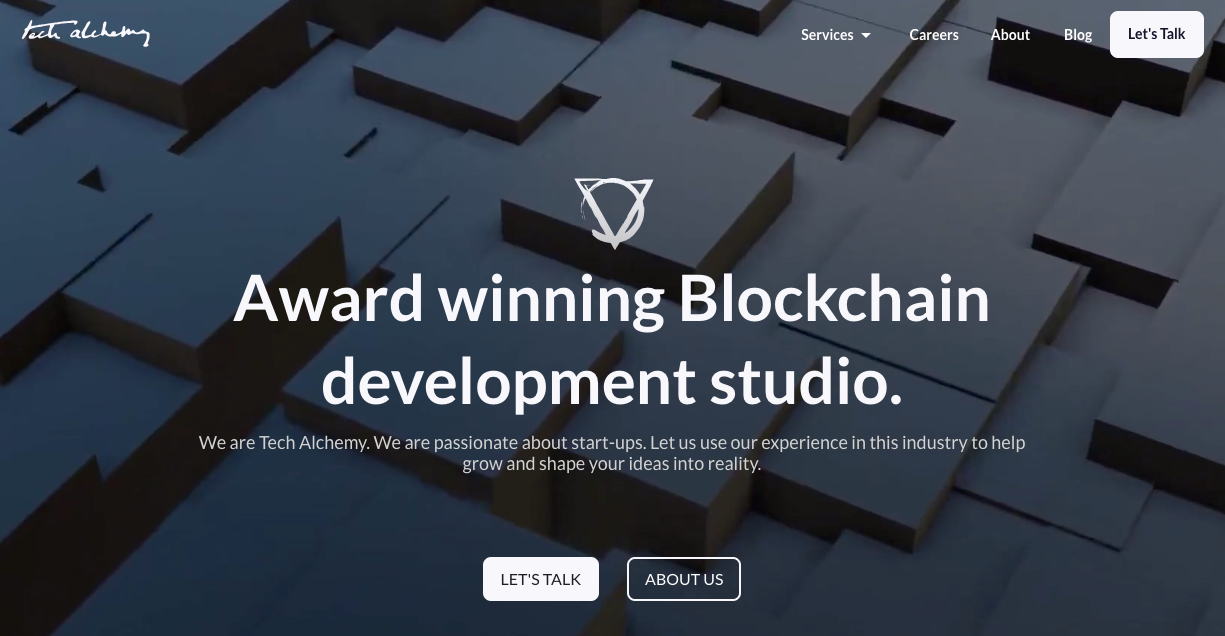 Established In: 2016
Team Size: 50+
Location: India
Cost/hour: $25-49/hr
Tech Alchemy is not just a development company, it's much more than that. Their development experts are involved in your product development as a CTO would be. Plus, they understand the requirements, especially startups. They've worked on them, created them on their own, and successfully sold and delivered them.
Notably, they have been through it all before and have learned a lot in the way.
Services:
Web Design and Development, Mobile App Development, Moderation, Blockchain
Technology:
Tezos, Cardano, Solana, Flutter, Angular, React JS
Key Clients:
Ocean Bottle, TOAD, MyBricks, Moviecoin, Mercore, House of Crops, Holofy, Are You In, Bando
Reviews: 4.8 Stars on Clutch
7. APADMI
Established In: 2009
Team Size: 50-249
Location: United Kingdom
Cost/hour: $300/hr
Apadmi develops technologies to propel leading enterprises and their consumers forward. They accomplish this by developing digital products that solve difficult problems and provide meaningful experiences for individuals on the go via mobile, online, and digital platforms.
Services:
Technology strategy, Product Strategy, Digital Transformation, Innovation, App audit, User research, Mobile app development, Complex system integrations, Website development, UX design, Ul design, Data science and analytics, Monitor, support and maintenance, Product optimisation and conversion.
Technologies:
System Integrations, Cloud, java, Flutter, Swift, Objective C, Internet of Things, Data science and Analytics
Key Clients:
Dominos, BBC, Argos, Lexus, Range Rover, NHS, Chelsea FC, SailGP, Co-op, The Guardian, United Utilities, and HSS.
Reviews: 4.8 Stars on Clutch
8. Crest Coder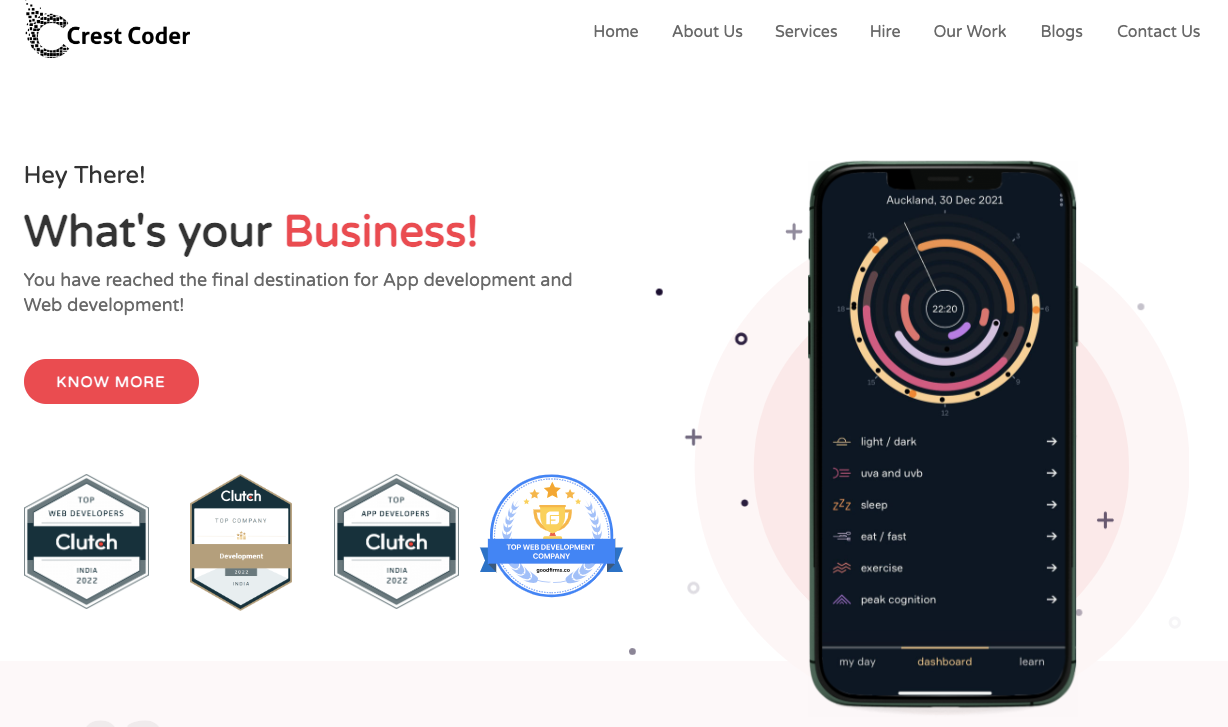 Established In: 2017
Team Size: 10-24
Location: India
Cost/hour: <$25/hr
Crest Coder is among the leading IT companies, known for its incredible expertise in creating cutting-edge mobile and web apps. They consider coding as an exceptionally potent means of addressing complicated issues and strive to harness its complete potential to build solutions that mark the difference.
Their team of highly skilled and experienced professionals brings an unparalleled level of technical mastery and creativity to each project they work on.
Services:
Web Development, Mobile App Development, Ecommerce, Cloud Service
Technologies:
Angular JS, Vue JS, React JS, Javascript, Python, PHP, Laravel, Node JS, Java, .NET, WordPress, Flutter, Swift, Kotlin, React Native, Magento, Shopify, Big Commerce, WooCommerce, Amazon Web Services (AWS), HTML
Key Clients:
ZegoFit, FinsKol, DipDap, Compass Lingo
Reviews: 4.7 Stars on Clutch
9. Emergent Software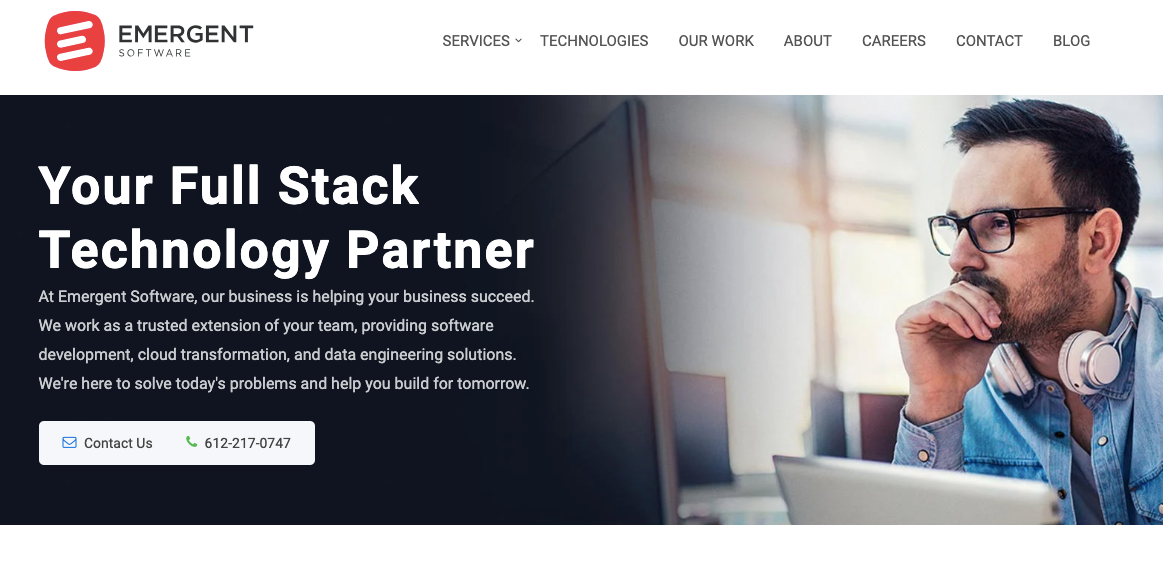 Established In: 2015
Team Size: 50-249
Location: MN
Cost/hour: $150-$199/hr
Emergent Software offers full-stack technology solutions focusing on the Microsoft ecosystem. Besides, their array of services like Custom software, data engineering, and cloud transformation help companies modernize corporate operations. Their core objective is to become a long-term technology partner for their clients by offering quality customized solutions that cater to business requirements.
Services:
Website Development Services, Custom Software Development, Database and analytics Services, Azure Cloud Services, DevOps Services
Technologies:
Javascript 5, HTML 5, CSS 3, React, Blazor, Bootstrap, Angular, Vue.js, Query, Azure, Cloudflare, Sitecore, Umbraco, WordPress, Xamarin, React Native, iOS, Android, Microsoft SQL Server, Power BI, Snowflake.
Key Clients:
Philips, TORO, Aqua Finance, Compeer Financial, Sun Country Airlines, The Tile Shop
Reviews: 4.8 Stars on Clutch
10. ValueAppz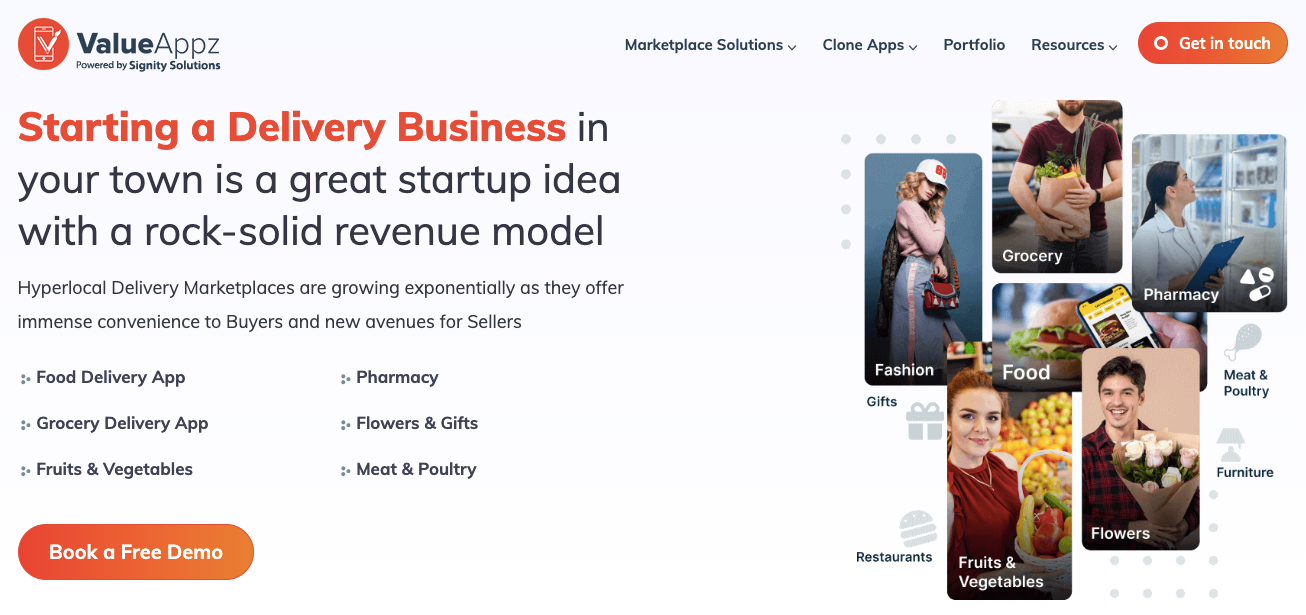 Established In: 2013
Team Size: 50-249
Location: India
Cost/hour: $25-$49/hr
ValueAppz is a SaaS-driven on-demand app & marketplace solution provider for local businesses. It provides clone apps & websites for businesses, B2B/B2C marketplace, compliance management, e-commerce development, retail chain stores, and more.
ValueAppz experts aim to improve the client's online presence by building interactive and ready-to-use websites and mobile apps. Their experts craft unique digital solutions to attract success to their clients regardless of their business nature and size.
Services:
Custom Software Development, Mobile App Development, E-commerce Development, Marketplace Solutions, On-Demand Apps,
Technologies:
Flutter, Angular, PHP, Swift
Key Clients:
Aagyo, Daily Grocery, My Digi Salon, Foodys, Price LLC, Hotel Tirumala Grand, Veg Organics, Intajuna
Finally… here's the Ice Breaker
Picking the right web development company is unskippable to your online success.
It would be best to make an informed choice that caters to your project requirements and business objectives by analyzing development cost and speed, experience with technologies, team size, product delivery approach, and partnership and cooperation.
Plus, consider their consultancy approach, client retention ratio and portfolio to nurture a successful relationship. A good web development company will create great websites and help your business succeed by leaps and bounds.
Be confident, start a partnership and ride the bandwagon.