Signity Solutions Proud to be a Five Star IT Consulting Firm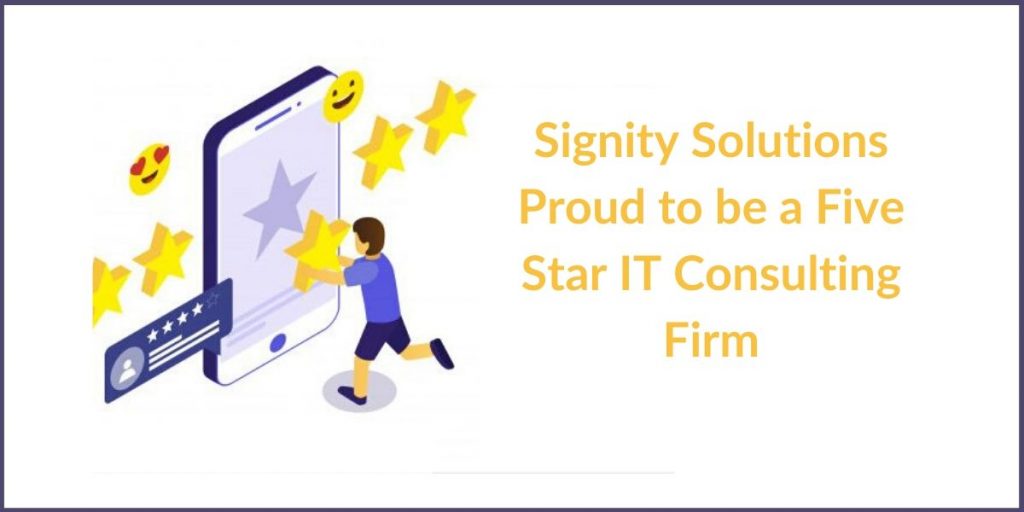 Here at Signity Solutions, we know it can be tricky to balance the management of your top priority business challenges while also providing top IT services for your internal staff's convenience and your external stakeholders' amazement. That's why we specialize in delivering world-class digital marketing services and mobile app development services to our clients. Our work gives you high-quality solutions to operate with, while also freeing up your schedule. So that you can focus on other pertinent revenue-building operations.
In light of our impact and achievement thus far, we've been named a top IT consulting firm by Clutch, a B2B market research firm. Their platform serves as a marketplace where qualified vendors can connect with buyers to start new projects. They employ a unique review-based rating methodology that helps compare and contrast leaders across various service sectors.
We recently received a five-star review on our Clutch profile from A.S.K. Stringer, one of our Australian software development clients. We're currently working with them to deliver an ERP system on Microsoft Azure, and they've appreciated both our technical prowess and the collaborative energy we bring to the engagement. Please take a look at their review below: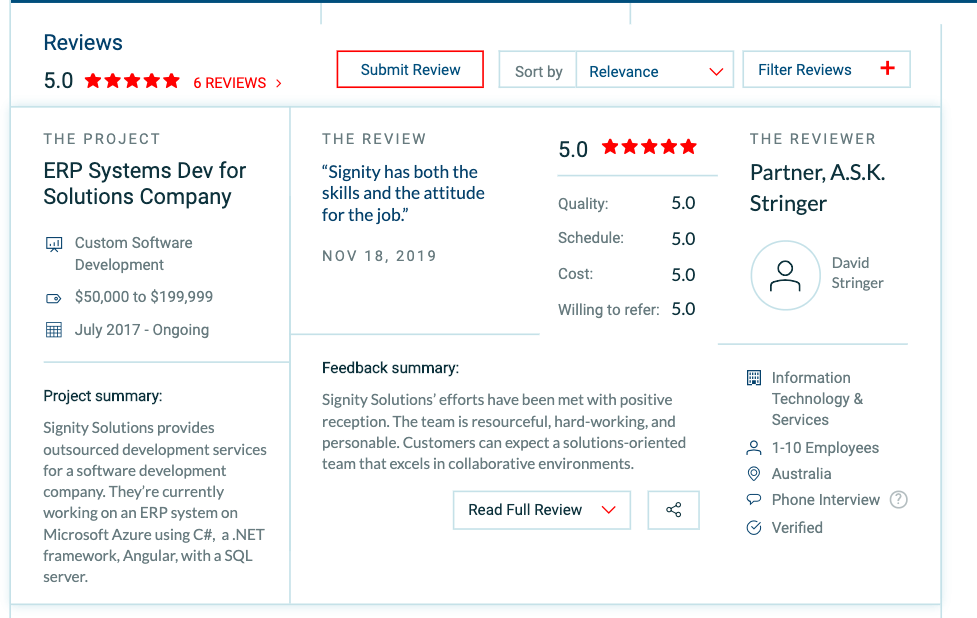 We love receiving feedback from our clients:
Feedbacks help us develop and improve our processes for the future. We especially appreciate feedback in the form of reviews on our Clutch profile. They give us the full picture in terms of in-depth details on how well we've performed during an engagement and what we need to improve on going forward. Currently, we've maintained a perfect five-star rating on our profile, and we couldn't be more happy with the feedback.
Aside from Clutch, we've also been featured by The Manifest and Visual Objects. The Manifest, a platform that creates business relationships and provides how-to segments, names us on their list of top IT firms. Similarly, Visual Objects, a site that increases brand awareness through company portfolios, names us a leading consulting firm as well.
Thank you one and all for making this recognition possible! Please drop us a line if you'd like to work with Signity Solutions on a project soon.