10 Things to Consider When Outsourcing Software Development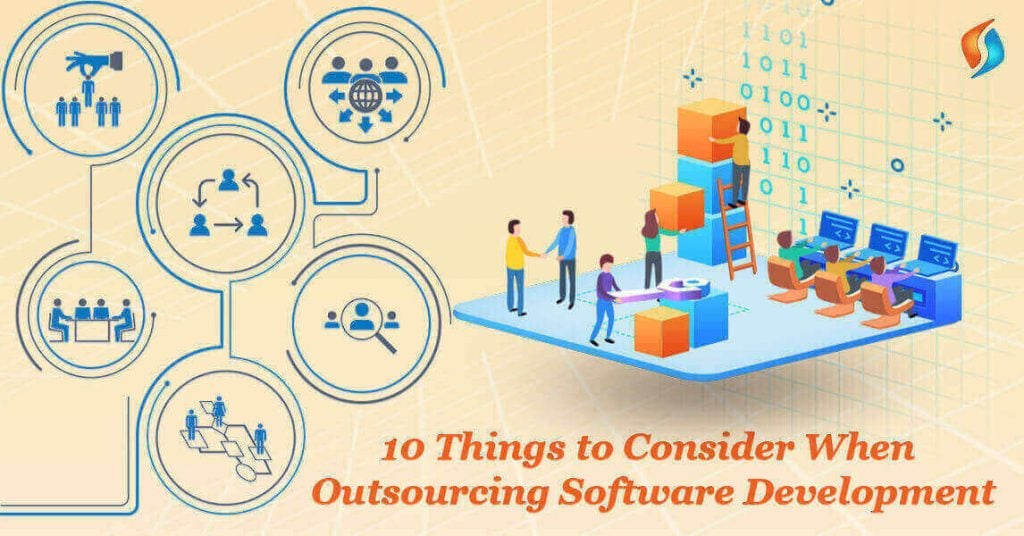 There has been an unprecedented growth in the outsourcing software development industry in the past few years. It can easily be comprehended from the fact that the global outsourcing market comprises of a whopping $76.9 billion. 65% of the firms who have successfully outsourced previously are looking forward to outsourcing more and more of their IT and software services. So, if you want to jump too into the bandwagon for your software development, it's high time you do it.
However, there are certain aspects that you must consider while outsourcing software services. Here's everything you need to know to sail through your outsourcing journey successfully. Take a look:
1. Be precise about your project's goals and objectives.
The first and foremost thing before IT outsourcing to India is to define your project's goals and objectives in a clear way. You must know what do you want and how you want it to be done. In this context, being precise about the project's scope and scalability is very important. This wouldn't only help you get a clear insight about your project but, also assist the hired outsourcing company to understand your expectations clearly.
2. Plan everything according to budget.
Once you have defined the goals and objectives, the next step is having a proper budget for your project. You can do a thorough analysis and research, carry out discussions with your team and come out with a realistic estimate for project investment. This would help you seamlessly carry your project with sufficient cash flow. However, while preparing your budget, keep in mind that not everything that comes cheap is good. The same goes for outsourcing too. So, hire an outsourcing team for the services they offer and not for the price they are charging.
3. Get hold of proper Project management tool.
Communication is the key to any outsourcing endeavor. In fact, in software development, being in constant touch is critical. This is where project management tools come handy. It doesn't only help you check the progress of the project but, also makes sure that your project is in sync with your time. Also, it even gives you the option to update your outsourcing company with new objectives and goals while making your project better.
4. Research well before you hires.
The ever-growing software outsourcing services have a lot to offer. There is stiff competition between the various outsourcing industry. Everyone claims to provide you with the best of services. So, how would you know which outsourcing company suits your project needs the best? Well, research is the only way. You can do this by preparing a list of the shortlisted outsourcing companies and comparing their pros and cons. A company might be right in some areas but lack skills in some other field. So, make sure you choose the one that can seamlessly handle your project.
5. Do a thorough analysis of the hired outsourcing company.
Your work doesn't end with the hiring. It begins there. If you want to get the best in software, web or mobile app development services, make sure to have active involvement throughout the whole development process. So, hand your software project to any outsourcing company only when you are sure about its competency. From asking about their industry reputation to getting hold of first-hand customer experience, you should know the company in and out before you trust them for your project completion.
6. Set a realistic deadline.
We all know how deadlines are necessary for the timely completion of any work or project. However, the periods should always be practical. Never set unachievable deadlines. It will hamper your project quality in the long run. It wouldn't only stress you but, also demotivate your software outsourcing company. Therefore, take into account the challenges and limitations that come with your project. And set a deadline that's achievable and feasible for both the parties.
7. Make sure to sign an NDA.
Software development comes with a lot of confidential data and information. So, before you share any of these high-end data with your outsourcing company, make sure to sign a non-disclosure agreement (NDA) with them. It will safeguard your critical data from any fraud or theft. You can either take help from your legal department for preparing an NDA or ask your outsourcing company to send an NDA. Once you have reviewed the NDA and done the necessary edits (if needed), you can go ahead and sign it.
8. Be ready to handle critical situations.
No matter how smooth your project development is happening or how good your outsourcing company is, there are going to be times when unexpected things might happen. From critical project changes to lay off of team members, a lot of unfavorable situations can pop up during the whole process. So, it is better to get ready for it beforehand. The best way of doing this by keeping in touch with a business stakeholder. They don't only have a common point of touch with the outsourcing software development company. But are also well aware of your software product and the business domain.
9. Keep the technical details handy.
Whether it is a software or a chatbot development, it requires to cater to a lot of technical information. Hence, to make the development process smoothly, prepare a technical document regarding it. The technical report should contain all the technical specifications and cost. It will help you get an estimate of your project budget and give your project an edge over competitors.
10. Be actively involved in the development process.
Sure your outsourcing team will give you the best of results but, you still need to take active participation in the whole development process. From the state of the project to consistent discussions, make your presence felt everywhere. This would give you the results exactly as you wanted.
We are India's best outsourcing software development Company
In short, there is a plethora of outsourcing company to choose from. So the points mentioned above are going to help you extract the most out of their software outsourcing services. Signity Solutions is a leading offshore software development and mobility service provider company in India. Hire our IT outsourcing services, and see how we give excellent results. Want to know more? Contact us now, and we will revert at the earliest.