5 Reasons Why Your CRM is The Most Valuable Asset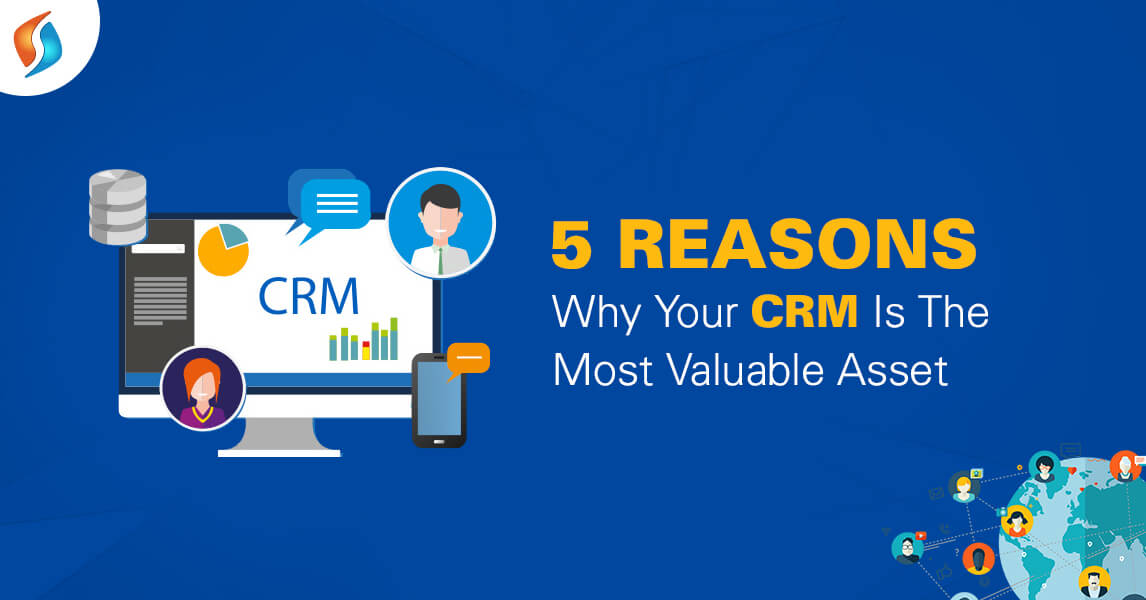 These days businesses are evolving rapidly and becoming more complex. The competition across all categories is increasing. Hence, it has become imperative for businesses to focus on their most valuable asset, i.e., Customers. Success and failure of every business venture depend on how it handles the customers. As such, businesses are now investing in Customer Relationship Management (CRM). CRM development has always been a critical focus area for businesses but has now become more crucial. It is not possible to overstate the importance of CRM. Businesses have been looking for ways to handle their CRM. Thus, it has led to the rise in popularity of CRM software. CRM software has now become the most significant software market in the world. The total revenue generation from the CRM industry will surpass $80 billion by 2025.
This growth is not without reason. The benefits on offer by CRM have made them an indispensable part of modern day businesses. CRM software help businesses keep track of customer data and interactions. This information is ideal to improve customer service relations. Therefore, ensuring retention of existing customers and acquisition of new customers.
About CRM Software
CRM software is those programs that help a company manage its various customer related activities. These programs present all the customer related information at one place. This helps the decision makers draw inferences and chart their future course. The main focus of CRM is customer retention and driving sales growth. Another emerging trend in CRM is cloud-based CRM solutions. These programs allow users to access the application through a web browser from anywhere. This also ensures access to real-time information and enhances the effectiveness of decisions taken. That's why most of the business owners are looking for CRM development in their organizations.
Effective implementation of CRM is paramount to a company's success. Implementation of popular CRM such as Zoho and Salesforce needs expert skills. This is the reason why professional help such as salesforce consulting services is sought after.
Importance of CRM Development
In the present times, all business decisions are data-driven. The more accurate and up to date your data is, the better your decisions are going to be. A CRM platform performs this function. Moreover, there are several reasons which make CRM your most valuable asset, such as: -
1. Help in understanding customers:
CRM helps your company understand your customers in a better way. Collection of data through CRM software offers valuable insights such as: -
- Who are your customers
- Which products they like
- Why the like your products
- Trends in purchasing
When you can understand your customers in a better way, there are several advantages to offer. Also, you can have a better understanding of their requirements and fulfill them. Effective CRM development in your organization offers you a strategic edge over your competitors. It also enhances the efficiency of your marketing efforts.
2. Helps improve customer service:
As per a recent study, only 37% of businesses follow-up on their leads within an hour. Thus, many businesses are losing out on the opportunity to covert the leads. Reaching the customer and making a good first impression is very important. It will help you gain an edge over your competition. With the help of CRM software, you can follow up on leads on a real-time basis. Constant reminders from CRM software will motivate the sales team to approach new clients. It will also help take care of existing clients. Thus, improving your customer service.
3. Streamlining Organisational Processes:
Having adequate information about customers is essential to organize your internal processes. Every interaction with customers should be noted. This will enhance the effectiveness of your customer satisfaction efforts. CRM software also assists with automation and streamlining of different aspects of your business.
However, in the present situation, only those businesses are thriving, which use effective CRM systems. A proper compilation of data from various organizational functions through CRM and cloud consulting help in the streamlining of services and products.
4. Enhancing Profitability:
It is a known fact that acquiring a new customer is six times more expensive than retaining an existing one. Customer retention is a vital part of every business plan. This is where CRM software come to your aid. It helps you build, maintain and keep active relationships with customers. It also helps you enhance your profitability by reducing your marketing expenses. Your expenses for promoting new products to existing customers are very less. CRM also help build new customer relationships and open ups new sales avenues for you.
5. Boost Brand Image:
It is no secret that having a loyal customer base is essential for the success of a business. An effective CRM system helps you establish strong relationships with existing customers. By sustaining relationships over a long-term, customers become loyal with your brand. It not only helps your business in present but also secures its future. A loyal customer base boosts your brand recognition. This also helps in boosting your brand image in front of new customers.
All in all, the importance of a robust CRM system cannot be overstated. It is thus essential to avail services of experts such as CRM consultant to ensure its seamless implementation. Once you integrate CRM with your business, the benefits will flow. If you are looking for cloud service providers in India for your CRM, then your quest ends with Signity. We are one of the leading software and CRM Development company in India. Our team has been helping clients from all around the world with their CRM requirements. We would love to partner you in taking your business to new heights with our cloud CRM solutions. Get in touch with our IT outsourcing services team now.