How to Boost your Company's Sales with Zoho CRM Integration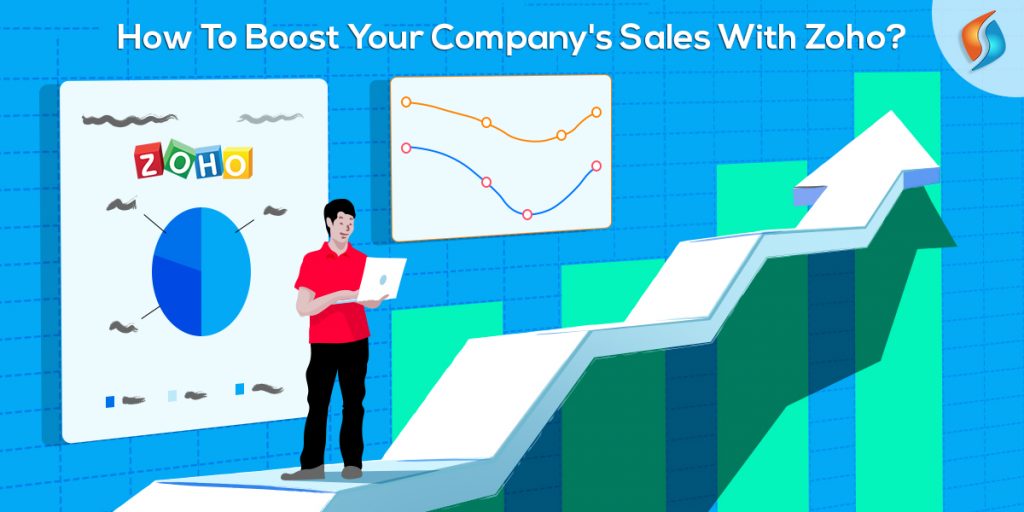 Humans have been engaging themselves in business since the stone-age. Exchanging stones and from there to the barter system and currency system. "Money makes the world go around!" and it has been doing it since it was not cool! The idea is to provide service in exchange for money and make a little bit of profit while doing it. Any company dealing in whatsoever commodity has the basic aim of generating profits. This is only achievable with increasing sales. Many software development companies provide consultancy services to business organizations. Zoho is one such leading CRM platform. Zoho works a lot like our Microsoft Office Suite; the only difference being it is online. Zoho CRM integration provides a lot of features which come handy in running a business organization. These features are processing services, spreadsheets, notes, web conferencing etc.
Zoho is a CRM suite with many applications embedded into one. Zoho CRM is the acronym for Zoho Customer Relationship Management. It is available in different editions. These editions are customizable for different clientele and different needs. This caters to genuine needs of the prospective business. But it comes with a price (of course!), as there are no free lunches in this world!
How to boost company sales with Zoho CRM Integration
Coming straight to the point, increasing sales with Zoho can be easy with simple rules: -
Business is all about professionalism and promptness. Any query or suggestion from the customer or client requires instant attention. But if it is not up to the mark, the quickness goes down the drain. Once someone has enrolled in Zoho program, they need to make use of all the tools that Zoho CRM integration provides. So that those sales tools don't become a show-piece. The customization is possible to give real-time notifications about customer activity. It can give a handy-context to the interaction. So that the customer doesn't feel unimportant after the necessary interaction. In this situation, Zoho implementation partners come into play. As they are in direct contact with the entities using Zoho CRM. These partners are present all across India and are accessible from anywhere. The best part being, they provide real-time services. They also help out the employees with regular interactions.
We talked about different editions of Zoho CRM programme and one such in them is the Plus edition. It includes a special feature called 'SalesSignals', which gives real-time customer notifications. The advantage of such notifications can be brought under professional guidance immediately. Dissatisfied customers are approachable, and quick resolution of their issues is possible. Zoho CRM consultants can guide any team leader on how to track such grievances. And act on them immediately as 'a lead left unattended is a customer lost.'
Explore best options first
Zoho CRM offers you the power of rating, qualifying and scrutinizing all the options at your disposal. This cloud based CRM solution works like an online portal where different leads are given a rating based on the prospects of their conversion. Higher is the probability of a lead being converted, higher would be its rating. This option helps with continuity in the sales efforts as the entire team can check the rating and consistently strive to convert the lead.
Yes, it is not possible for every prospective client to become a high-priority lead. Once somebody reaches that place, a special team of sales representatives takes care of the rest of the process. This increases the chances of the client awarding the business with the final order. The rating system brings in more transparency within the sales process and increases its efficiency manifolds. By adding the element of cohesiveness to sales efforts, it helps boost the profitability also.
Standardize Sales Process
'Change is the rule of nature.' And those who didn't, they perished and sublimed. Charles Darwin remarked this entire mankind to be the 'survival of fittest!'. Traditional methods might be accurate, but they can't stand in front of modern methods in an era of speed. Many sales teams go by the book and rely on old manuscripts. There's nothing wrong in following old methods only if you don't have any ambition of earning. These methods cause miscommunication and disrupted sale processes as other companies have already adapted themselves to achieve business process automation. It leads to quick disintegration of company morale. And an incorrect data calculation at the end of the fiscal year.
The Zoho CRM provides a feature called Blueprint. The main feature of this app is that it tracks all the offline sale activities which might become too confusing and blurry for a person. Such offline sales processes can be recorded on the CRM with a simple drag-and-drop visual editor. Using which you can control and track a task as simple as that of assigning responsibility. And the approach with which he must pitch the idea to the client.
At times the business holds a new perspective which requires a new approach in every stage. Be it, customer care, marketing, sales or services. A new business means it needs a new idea to manage the workload. It might occur to someone that the apps provided by Zoho do not fit with the company. It is then that the leader may decide on outsourcing to India for Zoho Development services. The person needs to explain his need to the developer. Only then the app will perform better with the business operations.
Get the best Zoho CRM services
Are you looking for Zoho CRM integration? Then, Signity Solutions is the best option for you. We have a team of Zoho CRM experts with several years of experience. Whatever may be your Zoho CRM requirements, we can handle them with ease. Contact us now and let us help you realize the full potential of Zoho CRM.
Also read: Is Outsourcing CRM software services an effective strategy?