How can Small Businesses Grow Faster While Working with Salesforce Essentials?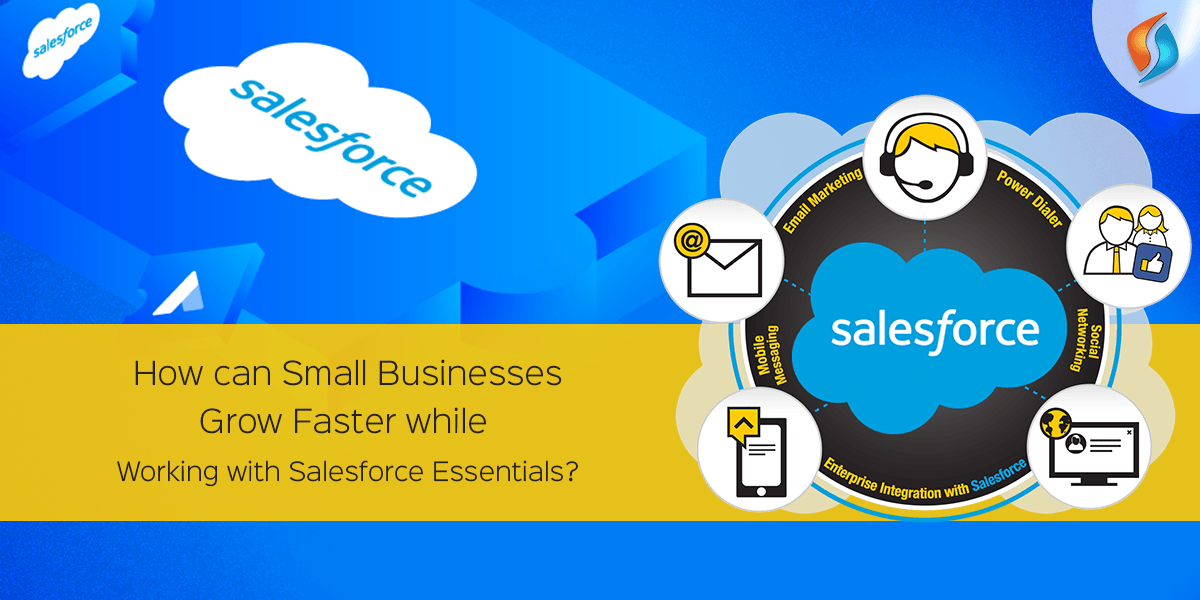 Being a small business owner has its own set of challenges. With limited resources, competing with large corporations and conglomerates is a difficult task. But, with technology becoming affordable, the things are changing for good. Today, small businesses are growing at a rapid pace in India. A recent survey highlights the impact they have had on our economy. According to it, with 51 million small enterprises, they contribute up to 7% of the national GDP. Look at the stat and imagine the way small businesses are shaping our economy.
How Salesforce Essentials can change the face of small businesses?
In other words, technology has opened new doors for small businesses. But, still, there's a lot they can achieve in the coming times. With new technological products entering the market, they can give bigwigs a run for their money. One such product that can help small enterprises grow faster is "Salesforce Essentials". It's a CRM that's tailored to suit the needs of small businesses. With a flexible app based structure, it is very fast and intuitive. Sounds exciting, doesn't it? Want to know more about Salesforce consulting services and its essentials? Let's have a look at, how it can change the face of small businesses. Here we go:
1. Quick and Easy Implementation -
Why mall businesses avoid CRM's is their complexity. With a small budget, it's not realistic and feasible for them. But, with Salesforce essentials, the implementation process of cloud CRM solutions becomes very easy. The company provides their users with access to Trailhead, a quick online learning platform. This allows small enterprises to use Salesforce essentials without the need of an IT expert.
2. Cost Effective -
A major constraint for small business setups are their limited budget. They cannot afford to spend a huge sum of money on high priced CRM software. Here, Salesforce essentials can help you out. Its cost is very reasonable for a small startup or an enterprise. The pricing is $25 per user per month. This will give you access to Sales Cloud Essentials for up to 10 users.
3. Smart Features -
Salesforce essentials provide unique features designed for small businesses. Sales cloud essentials are one such feature. It's designed keeping in mind a small sales team. Also, there is another feature called Service cloud essentials. It helps small enterprises provide an improved customer experience.
4. Seamless Integration -
You can integrate Salesforce essentials with Google Cloud G Suite in an easy way. It will allow you to connect your email, calendar, data etc. with the CRM software. Also, small businesses can use AppExchange to plug in different systems. It will allow them to customize the functions of Salesforce essentials.
5. AI Enhancement -
Manual inputting of data is a big problem that small enterprises face. Salesforce essentials let you tackle such issues with ease. It's built with an artificial intelligence technology named Einstein. This smart technology will allow you to keep your customer records data up-to-date. Also, you can process such information in a short span of time. Going this way, small businesses can close deals faster and generate new opportunities.
To summarize, Salesforce essentials is one of the best CRMs available in the market right now. It offers a range of features that can change the face of small businesses for good. We at Signity Solutions have years of experience working on Salesforce essentials. So, if you also wish to integrate CRM into your business, we are there to help you out. Hire our outsourcing team of expert developers. Feel free to reach us. We will revert at the earliest.