How Business Process Automation Solves Common Business Challenges?
Bot Revolution: Transforming Workplaces with Business Process Automation. Discover how virtual bots replicate human tasks, revolutionize processes, and solve challenges. Embrace automation for efficiency and growth.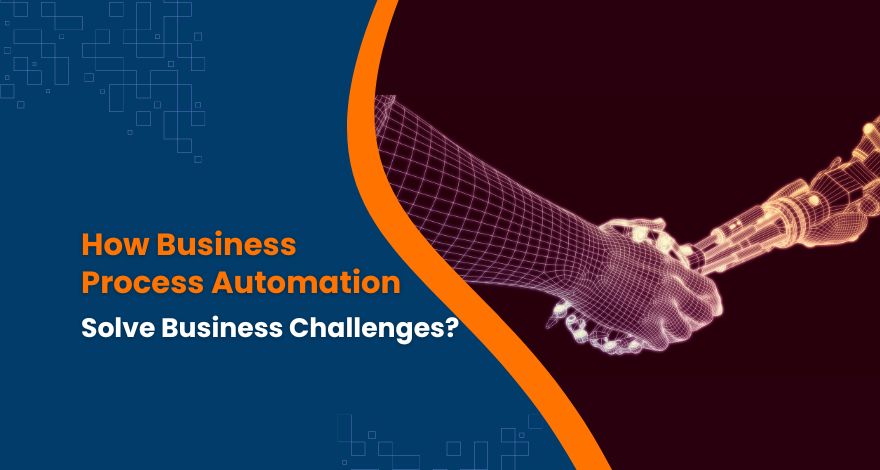 Bots are transforming today's workplace as mightily as the machines of the Industrial Revolution transformed the factory floor.
You must have read some fantastic futuristic books in school, seen them in the movies… and now it's here - "Bots Doing Human Tasks".
However, there is a buzz circumscribing how bots are transforming business processes. For quite a long, we have been sharing words about robots - the droids imitating humans in a factory -but now we are at the edge of seeing bots replicating human brains instead of only arms and legs.
Just like how their cousins transformed manufacturing, these "virtual" bots will likely revolutionize how you run business processes. After all, "Automation is For World of Business Challenges"
You must be wondering why you need robots to run business processes in the first place. Well, to start with, businesses like yours improve productivity and accelerate value, save on cost, leverage competitive advantage, and the list just goes on.
Let's take the first essential step in the transformation journey and understand the "What & Why" of Business Process Automation.
Business Process Automation - What and Why?
Business Process Automation, aka BPA, uses software to automate voluminous, repetitive, multi-step business transactions with minimal human interventions. A little different from other automation, BPA solutions are complex, bridged to multiple enterprise information technology (IT) systems, and customized to organization requirements.
Different Ways to the Same End
For organizations, it's essential to integrate BPA as part of their digital transformation journey, to streamline their workflows and operate seamlessly.
Breaking Through the Hype - 5 Big Challenges BPA Help Solve
#Challenge 1: Solving a Bad Process
Business Process Automation (BPA) holds great potential for your business, such as driving new efficiencies, saving costs, and freeing your resources to focus more on high-value work. The only thing it's not able to achieve is to make a broken process work any better than it does without automation. Broken processes require a completely different type of intervention.
It would be best to focus your automation efforts on mature processes with defined rules and ready-to-use data inputs - especially those that don't need excess coordination between different teams and departments. This way, you'll be able to deliver flexible results in a minimal timeframe.
# BPA Tip 1: Map Out Processes Wisely
Define your processes precisely. Before introducing BPA in your business process, outline a clear picture of each step and identify any potential red flags.
#Challenge 2: When, success is Left Undefined
It's easy to cherish the benefits of business process automation. Plus, it's easier to dive into the implementation stage without defining what success metrics would look like. So, even if a project seems to be going well and your people are witnessing the positive impression of automation, a lack of robust success metrics will make it difficult to present ROI to business forerunners - or handhold support for future automation projects.
#BPA Tip 2: Outline Specific Measurements of Success
Define measurements of success, like maximized productivity, zero risk, significant cost savings, customer satisfaction, etc., and simultaneously aim to quantify the business value of low-code process automation technology.
#Challenge 3: Consolidating All the Process Within Organization
One of the significant advantages of business process automation is that it helps consolidate all the processes within your organization and reengineering them into one overarching solution. And, as your organization scales in size and new technologies are integrated, the complexity also grows.
#BPA Tip 3: BPA Uses Point-to-Point Integration
With Business Process Automation, you can use point-to-point integration to make all applications are working together seamlessly. Plus, the more processes you have within, the more time you need to integrate them. All thanks to business process automation tools, it's easy to automate the complete integration process - whether it's legacy systems, on-premise apps, or cloud-based solutions.
#Challenge 4: Time-Drained in Manual Reporting
It's essential to ensure your organization runs smoothly and you can make informed business decisions. To achieve this, you only need access to precise reports extracted from voluminous data.
But, compiling data manually and creating reports is a tedious and time-consuming task. Moreover, it maximizes the chances of errors.
#BPA Tip 4: BPA Create Accurate Reports Automatically
By implementing business process automation in your business, you can automatically create precise reports that can be easily updated in real-time whenever the data related to it is altered. And getting rid of manual reporting portrays that your team will have more time to focus on crucial business tasks.
Challenge 5: Adhering to Necessary Compliance
What industry your business is a part of clearly defines the importance of complying with the regulations. Often, adherence to these regulations puts a strain on IT resources.
Instead, you can streamline the processes of giving auditors information about your company through business process automation tools. For instance, if your company is required to stay in line with data security and protection regulations, then you can encrypt data at all company levels through automation.
#BPA Tip 5: BPA Provides Information to Auditors
Don't sleep over it!
You can easily streamline the processes involving auditors with the information through the help of business process automation tools. For example, if your business needs to adhere to data security and protection regulations, then you encrypt data at all levels of the company through automation.
Simultaneously, business automation also creates transparency and stops the blame game as you see who exactly approved what step of the process.
Dip Your Toe… or Dive In? Look Before You Leap!
Nowadays, businesses are not only synonyms for burdensome. But, somehow, that's still the case.
If you feel tired of everyday office tasks facing constant confusion, choose business process automation.
If you feel tired of the most minor job needing the most considerable effort or the most tedious filler steps, choose business process automation.
If you are a C-suite executive trying to look proactive and purposeful, choose business process automation.
In layman's terms, start automating your business today to make it fit for tomorrow. We help you make the transformation journey easier for you; we aim to help you run the business - not be run by it.
Automate your traditional processes and empower your people through configurable workflows and easy-to-manage content that will up your game. Leverage the benefits of BPA with a free personalized demo and see how different tomorrow can be.