Benefits, Risks, & Challenges Associated with IT Outsourcing in 2020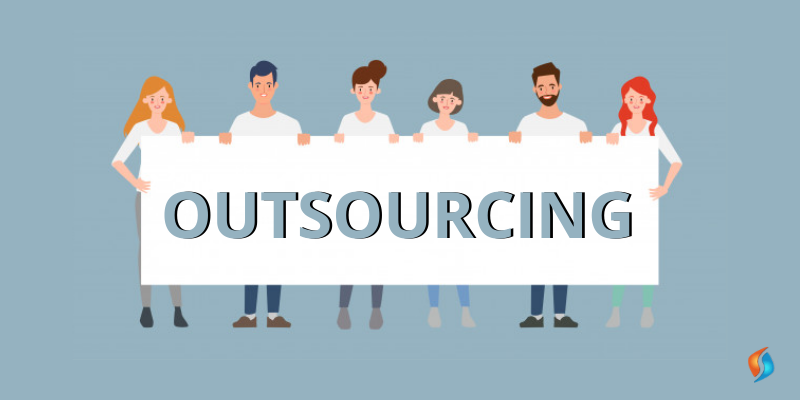 IT Outsourcing is on the rise and brings a myriad of benefits for your business; but that neither eliminates nor mitigates the risks associated with outsourcing business.
Outsourcing business functions is a common practice for enterprises spread across different mediums.
A recent study highlights the fact that at least 300,000 jobs are currently outsourced in the US alone. And this number is only to rise.
In this article, we'd explore;
What is IT Outsourcing?

Types of IT Outsourcing

Why Do Companies Choose to Outsource?

Most Popular IT Outsourcing Services

Benefits of IT Outsourcing

Potential Risks of IT Outsourcing And How To Mitigate Them

IT Outsourcing Challenges

Conclusion: Reap the Benefits of IT Outsourcing
IT Outsourcing services does promise real benefits, however, it tags in some not so obvious risks and challenges. Considering, and evaluating all three of them is quintessential to the success of your IT outsourcing.
Every organization exists to fulfill a select market niche but to meet with the demands of the changing times, cloud adoption, and support digital transformation - outsourcing IT is a natural solution!
That said, let's start with answering the basic question - What is IT Outsourcing?
What is IT Outsourcing?
IT Outsourcing, in its basic essence, is a business practice where specific tasks are contracted to third parties.
IT Outsourcing is a service initiation with a technology provider, wherein the provider tends to a range of operations.
These operations could either form the IT functions in its entirety or tend to discrete, individual IT components.
Types of IT Outsourcing
To promote cost-effectiveness, IT services are traditionally outsourced to offshore and nearshore technology providers.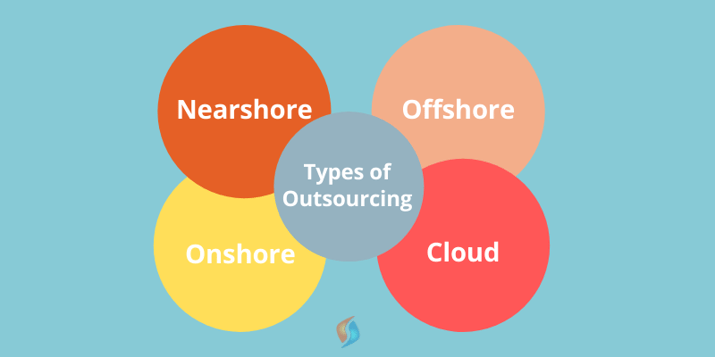 1. Nearshore Outsourcing
This refers to outsourcing to technology partners in a country that's geographically close to your business' headquarters.
2. Offshore Outsourcing
refers to working with remote technology partners in a country that's geographically far from your business' location; preferably one with a different time zone.
3. Onshore Outsourcing
This involves contracting an external service provider, located in the same country as you, to do IT-related work, on-site, or remotely.
4. Cloud Computing
Contracting a third-party service provider to provide IT-related services over the internet, such as Infrastructure-as-a-Service, Platform-as-a-Service, App-as-a-Service, and Software-as-a-Service.
Why Do Companies Choose to Outsource?
Outsourcing IT functions is a viable option for the digital transformation of your business because:
It's economical,

Promotes growth,

Boosts brand visibility,

Enables access to global resources,

Helps with controlling operational cost,

Increase efficiency for time-consuming tasks,

Better risk distribution,

Accommodates peak loads,

And makes room to strategically implement new services.
According to a recent report, The total contract value of the IT outsourcing market will grow to over USD $409 billion by 2022.
Most Popular IT Outsourcing Services
Mobile App Development
Software Development
Website Development or Hosting
Digital Marketing
Application Management or Support
Technical Support or Help Desks
Database Development & management
Telecommunications
Infrastructure – Software, Hardware, Network Installation, and Support
Communications and Networking
Data Center Management
Security – virus, spam, and other online threat protection
Benefits and Risks of IT Outsourcing
Now that you know what IT outsourcing is, its types, what kind of services can be outsourced, and are keen on implementing the same for your business, it'd be a wise choice to evaluate and carefully access the benefits, risks, and challenges.
Doing so would enable you to plan for possible measures to attenuate to the associated risks, and provide for in-house resources to supplement IT outsourcing.
The Benefits of IT Outsourcing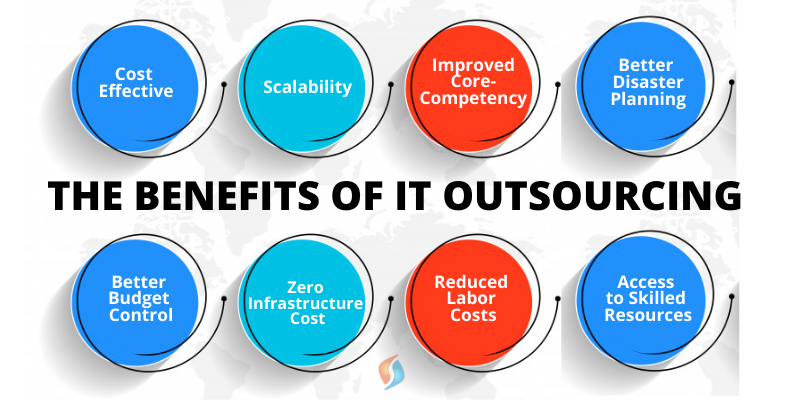 Outsourcing benefits vary by businesses and corresponding situations, but the benefits of IT outsourcing often encompasses one or more of the following:
1. Cost-Effectiveness
In a thorough study conducted by Deloitte, it was highlighted that 59% of people outsource tasks and functions to reduce costs.
Outsourcing your company's IT needs and infrastructure serves as a viable cost-effective solution.
Here's how:
Outsourcing removes the need for expensive training,
Promotes saving on capital outlays for IT Resources,

And gives you the liberty to hire people on a project basis.
2. Scalability

When it comes to IT infrastructure, companies generally factor in the current IT needs whilst considering the small nuances in terms of growth factors.
But it's nearly impossible to predict and account for things that change rapidly and exponentially whenever a company grows.
With growth, 'n' number of new problems need to be addressed, and adding new IT infrastructure isn't always feasible.
However, when outsourcing to a quality data center, these issues cease to exist. Technology partners generally have the resources in place to handle rapid and exponential growth, hence, promoting scalability.
3. Improved Core-Competency
Outsourcing IT services enables your business to utilize the free time and resources to focus on the core products, services, and growth objectives.
If these IT services are performed in-house, the same time and resources are distributed between activities that relate to prospective customers and core operations, leaving less to no time for working towards achieving core objectives.
4. Better Disaster Planning
Murphy's law states- 'Anything that could go wrong, will go wrong'. The law is apt when it comes to businesses dealing with digital solutions.
In the case of a digital disaster, you could get up and running in no time provided you've outsourced your company's IT infrastructure to a reliable managed IT services provider.
These data centers have the required hardware architecture, planning, and expertise in place, for they tend to not one but several businesses simultaneously.
5. Better Budget Control
Businesses have to maintain a capital reserve for unforeseen computing problems. If such problems do arise, more money than anticipated gets spent in most case scenarios.
Technology outsourcing offers the benefit of better budget predictability. This is achieved by paying a fixed monthly compensation that covers maximum IT functionality and security for your business.
6. Zero Infrastructure Cost
IT Outsourcing eliminates the need for investment in infrastructure as the outsourcing partner takes the responsibility of the business processes and so develops infrastructure for the same.
7. Reduced Labor Costs
There is no need to invest in recruiting and training expensive resources for your business. Outsourcing lets you focus your human resources where you need them most.
8. Access to Skilled Resources
If you're not an IT expert, how do you ensure an employee is qualified? Certifications like Microsoft Certified Systems Engineer are important, but so is experience. You can choose from a wide range of skilled resources for your project or service. All you need to do is some research.
Potential Risks of IT Outsourcing And How To Mitigate Them
IT Outsourcing promises real benefits but trusting your vital business IT processes with third-party technology partners isn't risk-free either.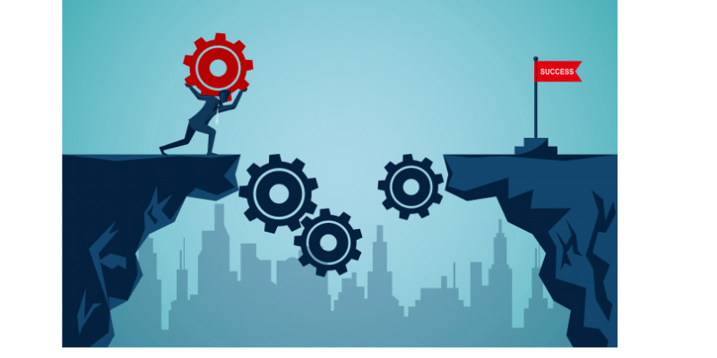 Here are a few risks that you're like to encounter when initiating an outsourcing relationship:
1. The Trust Issue
If you are considering whether outsourcing business processes is a good idea, and how you can trust someone sitting thousands of miles away has also probably crossed your mind.
Solution:
Do risk analysis and choose the company based on the following:
The maturity of the organization: for how long is the company presented on the market, the average project size, the total number of the employees, etc.
The number of long-term projects and the number of successful projects.
Company's official website, portfolio pages, client reviews.
Company's social media activity. An IT provider's will to share its knowledge and its inner life with society is always a good sign.
Take a look at the company's ranking on independent review platforms such as Clutch.co, Google my Business, etc.
2. Lack of Control
If you're outsourcing to third-party technology partners, you'll experience a subtle lack of control.
Wonder Why?
Well, lack of control for your business IT infrastructure would be relying on a third-party IT provider's expertise, resources, infrastructure, and skill.
Ideally, this works out for all businesses. But if things go south, you need to do a lot more than finding a new vendor and starting from scratch. This demands for time, and other valuable business resources.
Solution:
The ideal way to step past this potential obstacle is to establish clear communication stating the level of control with your IT outsourcing partner, and your business. You get to have the upper hand when outsourcing your business' IT needs. Choose the Dedicated Development Team outsourcing model for long term projects. You will be able to directly manage and control every employee.
3. Falsified Quality Standards
Falsified quality standards plague the outsourcing industry and many businesses fall prey to these "Standards".
Though, your business can avoid falling for these quality standards by performing thorough due diligence on the part of the service contractor.
Solution:
Here's a quick due diligence checklist to mark off the rights from wrongs.
Cross-check the vendors' self-proclaimed reputation,
Check vendor's history- the delivery rate, projects taken, and successful deliveries,
Review vendor's current market share,
Also, check for the vendor's data-centers, their location, and server uptime,
Check for vendor's experience and bandwidth for your current and future technological implementations,
And check for their current partnerships and associations in your respective industry.
4. Security Issues
To promote scalability and cut costs, cloud computing services are often shared by multiple businesses. That said, multiple companies' data is stored and accessed on the same servers and associated devices.
Sharing cloud space with other companies, though economical, raises some serious security issues. These issues need to be addressed and planned for in advance, especially if your company has strict compliance requirements.
Solution:
IT Outsourcing vendors should use technical protection such as protocols for access to data, physical safeguards to prevent unauthorized entry into premises, and administrative safeguards for regulating operations and employees' conduct.
At Signity, we value your privacy and deliver IT solutions tailored to your business. We'd be happy to assist you with your queries on privacy and security concerns in IT Outsourcing.
5. Lack of Flexibility
Different businesses have different requirements. Outsourcing your IT needs to a wrong partner might require you to work with a propriety software, or stick to and comply with an existing legacy system.
This problem is likely to arise only if you haven't done your due diligence and documented the work of the service providers.
Solution:
Check for your requirements, ask the right questions, test the networks, and only then select a quality managed IT provider for your business.
6. Loss of Productivity
Relying on a third-party IT service provider adds to the possibility of downtime. In case of sudden system failure, your business is likely to face a loss of productivity.
Attending your business' problems could sometimes take days, leaving other resources idle. This will cost hundreds and thousands of dollars in lost revenue.
Solution:
To overcome this obstacle you can establish regular reporting, i.e. daily or weekly, depending on the complexity of your project.
At Signity, we deal with these issues differently. When you choose us as your technology outsourcing partner, we keep your business on priority - for your success is our success.
To stay relevant in today's dynamic business environment, it's preeminent to be competitive, effective, and proactive in terms of deliverability. Several factors including the learning curve, advantage to scale, and adding new services forces a business to consider IT outsourcing.

But today, times are different. The world is hit by a pandemic and businesses- whether small or big- are paying for the price.
How can outsourcing help during this tough time?
Is Outsourcing even an option to consider amidst the coronavirus crisis?
Well, questions like these are quite natural. Let's dig a little deeper and understand the IT outsourcing challenges faced by businesses in today's time.
The COVID-19 crisis has changed the way we live. Not long before anyone would have thought things could change to this extent, but they inevitably did.
IT Outsourcing Challenges
2020 Global Managed Services report by NTT even highlights that 45% of Global organizations will spend more on IT outsourcing in the next 18 months.
Businesses - both globally acclaimed and new-gen startups- are exposed to new risks, obstacles, and rules to abide by. Whilst some companies had been able to sustain themselves, others have absolved completely from the market.
One common obstacle that businesses are facing is to work from home. While IT service providers are somewhat accustomed to this style of work, others are not. It's an entirely new ball game that businesses are yet to master.
Amidst these crises, finding a strong IT outsourcing service provider can be a game-changer.
Since we've discussed the benefits and risks of IT outsourcing, having brief knowledge of the IT outsourcing challenges would be an added benefit.
1. Real Outsourcing Cost
You don't just pay for the service. There are other additional charges which add to your cost but are seldom ignored.
For example:
If and when you schedule an appointment with your outsourcing IT partner, you'd be charged for the server space, drive time, and back.
There are plenty of additional charges which you must identify to figure out the real cost and cut corners, wherever necessary.
Though, you don't have to undergo such tedious and unnecessary tasks when outsourcing with Signity. Valuing your time, and limited resources, we quote our prices upfront, barred from any hidden charges.
2. Time Constraints
When you encounter an emergency, which you would- you'd have to wait and abandon other resources until your outsourced IT department can get someone to help with your case.
Also, your managed IT service provider isn't just bound to your needs. Many unforeseen factors can delay your emergency, causing you heavy loss in lost revenue and downtime.
That said, when outsourcing your business' IT needs to a managed IT service provider, explicitly mention your requirements, the level of business operations, and problems thereof.
3. Ignoring Non-Core Operations
It might not be in your best interest to outsource all the non-core operations to your managed IT partner and let them take care of it independently.
Plus, even if your organization has delegated non-essential tasks, you must stay proactive and be ready to deal with the requirements at your end.
Conclusion
Reap the Benefits of IT Outsourcing
In this article, we've briefly touched-up on the benefits and risks of it outsourcing, and challenges that you might encounter. Though needless to say, the benefits surpass the associated risks and challenges.
But Why Do IT Outsourcing Supplement Organizations Well?
To conclude,
First, it helps with the efficient delegation and your in-house team can focus on crucial, more object-oriented tasks.
Second, you save thousands of dollars in operational costs.
And lastly, your business grows as IT outsourcing helps with scalability and new services.
Whether you've doubts regarding our services; the specifics of IT outsourcing; or questions like- 'how do benefits translate to your business?' Our team of experts would happily assist you.
Planning to outsource your company's IT requirements?
Book a free consultation and speak with our IT professionals to understand the rewards, and risks of outsourcing IT.
At Signity, we don't rush through things. We work for your business' success and growth, and take time explaining the benefits and challenges of outsourcing IT for your business.
Rest assured, we'd tend to all your queries regarding IT outsourcing and deliver the best possible solution tailored to your requirements.