Multi-experience Development - A Must Have For Enterprises [Updated]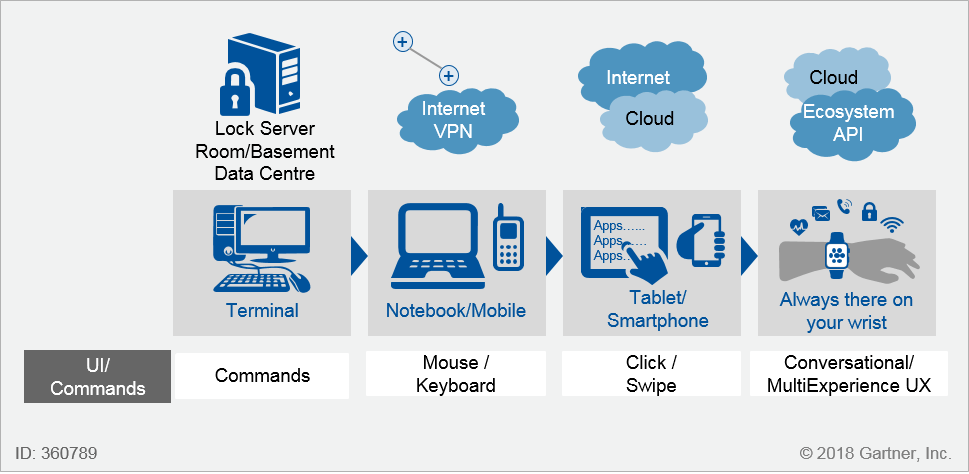 Future of App Development is Multi-experience: Gartner
Now, before you start thinking about Multi-experience Development. I want you to list out the brands that you feel more connected to.
Most probably you might have thought about the Biggies in the industry - Apple, Amazon, Samsung, Nintendo, Nike, and Sony. Now recollect the ways you interact with these brands. It might be through physical devices television, phones, tablets, and smartwatches. These physical devices serve a lot of digital experience flavors like - video, audio, or web-based.
User experiences that we have through these devices add to the perception of the brand.
---
And an edgy positive perception; makes a good brand reputation.
---
In a competitive market, brands make continuous modernization its priority. Because, if you are not trending, nobody is going to hold on to you. Even a single bad experience can cost tons to your name.
This is why enterprises that want to strengthen their digital experience are now looking for solutions to streamline their user's experience across multiple platforms.
Despite web browsers continuing to be the most popular touchpoint, an immersive range of devices that serves multi-experience like smartwatches, smartphones, and voice-driven devices permeate the industry. Claiming that the modes of interaction are expanding across the digital user journey.
Now jumping back to Multi-experience Development
What is Multi-experience Development?
Multi-experience development platforms (MXDPs) help enterprises to rapidly scale their applications across a range of devices and platforms. MXDPs can help you develop a single application that can be deployed on a variety of devices. This greatly shortens down your efforts and gives brands more control over their digital experiences.
Source: Gartner
MXDPs will be the new Mobile App Development Platforms (MADPs)
Buyers in the market are looking to address the challenge of building and delivering a sizable portfolio of mobile apps for customers, partners, and employees.
They now are looking for a complete user experience. It is no longer enough for them to simply interact with a mobile app or web application.
MADPs have enabled development for mobile, web, and desktop web.
Even hitting the minimum, brands are now including one more additional experience, which includes - chats, AR, and wearable. Consumers' desire for more has caused the evolution MXDPs that supports Multiple Experience.
Some of the top leveragers of MXDP
Source: Gartner
The Leaders and Visionaries of multi-experience development are working on some of their strengths and challenges.
MXDP simply means the Low Code platform integrating customized environmental experiences. The technology has gained massive traction because it comes with massive digital transformation.
Here are some more top reasons why enterprises are moving towards MXDPs -
1. Offer internal operational efficiencies
MXDPs help enterprises to support a large number of internal operations in a single space. With every process being present in one system, processes can be easily streamlined. MXDP enables organizations to create efficient, faster, and valuable digital experiences.
2. Reduce Time to Market for Mobile Apps
MXDPs can significantly improve development time by as much as 10 times. All because of the reusable code and streamlined design processes. And with faster releases, feedback cycles can also be shortened. This helps in creating and honing your digital experiences.
3. Better Control over Actual Deployment
It takes a week to conduct a single cloud-based deployment. But with the right MXDP, information can be directly sent to your cloud-based server provider, such as Amazon Web Services.
Plus, MXDPs are also going to provide a full-distributed environment on your behalf. Providing more efficiency by streamlining the deployment process.
4. Eliminate potential security Risk
With your application feeding on a single platform like MXDPs, you can get a 360 view of your software landscape. This can eliminate all the potential security risks like shadow IT that many organizations struggle with.
Barriers in Multi-experience Development
The biggest barrier in building a multi-experience development platform is aligning the IT and the business experience. And more than 45% have recognized the lack of the skills of developers to build a fine multi-experience is a major barrier to project completion.
"The skills gap with emerging technologies cannot be overstated when discussing inhibitors for scaling up digital initiatives, including the multi-experience development strategy," says Jason Wong, Vice President, Research, Gartner.
Diving Deeper into MXDP
According to Gartner's study, cloud-hosted artificial intelligence (AI) services such as AWS cloud solutions are the most widely used technology to support multi-experience application development (61 percent of respondents), followed by native iOS and Android development (48 percent) and mobile back-end services (45 percent).
Contrary to the perception that Mobile apps are declining, they are going to have the most impact on businesses by the year 2020. And following the mobile application comes to Augment Reality and Virtual Reality applications. Although the users indicate a high level of usage of chatbots and voice apps, very few thought that they are going to have a huge impact on the businesses by 2020.
Update by Gartner
"By 2023, more than 25% of the mobile apps, progressive web apps, and conversational apps at large enterprises will be built and/or run through a multi-experience development platform." - according to Gartner.
The difference between various development platforms has reduced a lot, and this is why delivering exceptional multi-experience has become a lot easier to come up with front-end interactions.
While keeping in mind that every interaction should be tailored according to the user's needs and requirements for an intuitive, efficient and engaging experience.
But supporting MXDP is not easy as not all platforms support multi-experience, low-code platforms have emerged to be an optimal way to address MXDPs set of needs and capabilities.

How Signity Solutions can help organizations enter the Multi-experience development market space?
To complete your vision of providing multi-experience to your audience we help in
Understanding your Market:

Understanding and developing strategies to address the needs of development teams and third-party developers to deliver a wide range of apps supporting a multi-experience strategy.

Developing a strong market strategy:

Creating strong brand recognition in the MXDP marketspace, thought-leading offerings messaging and outreach programs.

Powerful go-to-market strategy:

Strong selling strategy that works in the market.

Product Strategy:

We will keep in mind the needs of your enterprise be it web, mobile, conversational, or immersive apps.

Examining Business Model:

We build a strong partner ecosystem that amplifies the vendor's go-to-market strategy.

Multi-experience solutions according to vertical

: We have a specific go-to-market approach for specific industries, including industry-specific partnerships.

Innovation:

New technological advancements that support broader multi-experience development, and other capabilities.

Diverse customer deployments:

Diverse customer deployments across regions, delivery and reseller partner networks, and market.
What MXDP Holds For The Future?
Gartner surveyed, by 2023, more than 25% of the mobile apps, progressive web apps and conversational apps at large enterprises will be built and/or run through a multi-experience development platform.
Experiencing the Market
MXDP has the ability to create integrated software that can run across a range of devices to address the digital user journey. The multi-experience solution has the capability to full-fill the increase in apps, devices, and modes of interaction. It is important for the enterprises and midsize organizations to extend their service or product experience to their audience. And with the application market is also expected to accelerate the technologies like PWA and conversational and immersive apps.
If you are looking for a mobile app development company in the USA for an excellent multi-experience development then you can simply drop up an email at sales@signitysolutions.com and we will get back to you in an instant to discuss your requirements.