4 Technologies and Products to Improve your Workplace Productivity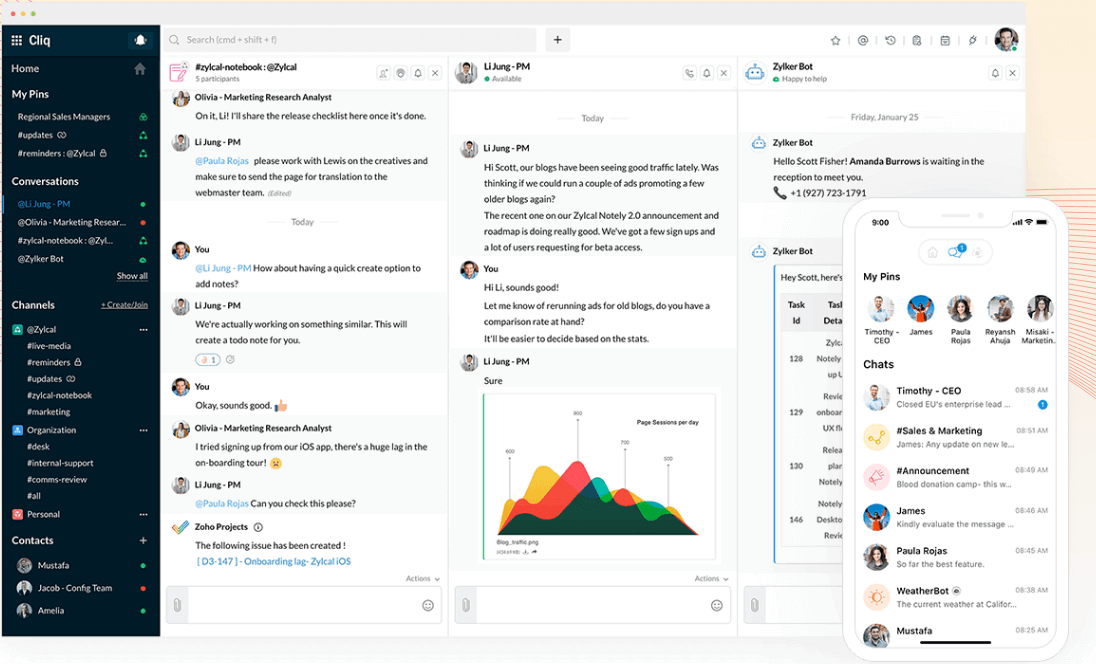 Workplace productivity is decreasing since 2007. It was the same year when mobile apps rose to prominence, becoming an extremely important aspect of our day-to-day life. While some consider new mobile application development and new smartphone manufacturing the cause of the productivity decline, there are other Technology Leaders that believe that disciplining the same tech can significantly make tasks simpler and faster.
In this article, we have listed some technologies and products that can help everyday employees to work more efficiently, increase their productivity, and ultimately achieve their business goals.
Bridging the Gap between Employees and their True Productivity
1. Boost Communication with Technology
Effective communication is important for every team's efficiency and especially if they have outsourced their services. But companies often avoid investing their time and capital into software that improves the team's communication. This results in losses for companies with an average capital of $ 420,000/annually because of miscommunication.
Fortunately, the market offers new technological solutions for businesses of all sizes that promote effective communication.
a) For in-house and external communication
It is one of the best team communication tools that help you in staying connected with the entire team no matter where you are. Additionally,
The platform is a cloud-based collaborative that allows the team to make audio calls, video calls, and share files.

The tool helps users create direct chat channels for handling different projects, topics, and interactions without creating long email threads.

Drag-and-drop file upload option lets users share images, files, and documents.

Cliq has unlimited storage for both files and messages.

Offers third-party integration - Mailchimp, Google Drive, Dropbox, Zoho Desk, and Zoho CRM.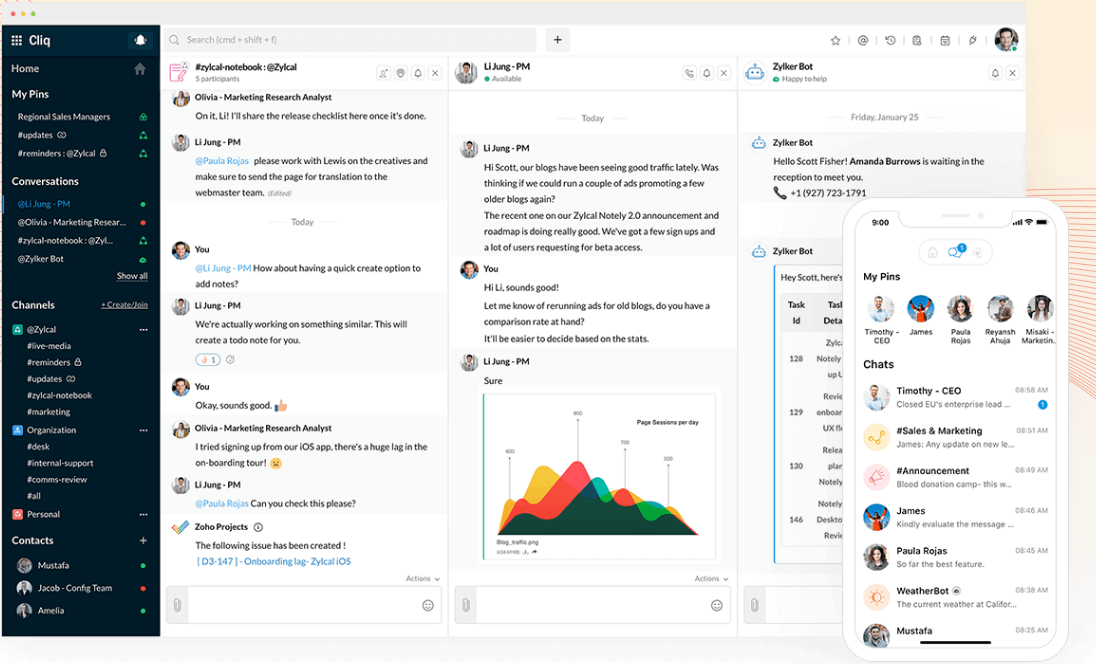 Source: Zoho Cliq
b) For internal communication
It can be a valuable asset for your internal communication as they enable the workforce to obtain information through messaging directly. From staff training, company policies, internal message distribution, to viewing payslips; chatbots can offer quick and effective communication.
Bot development companies can help you unify several backend operations in a single platform to make your processes uni-channel. This helps the new users understand and establish themselves on board easily.
Moreover, customer service chatbots have the capability to enhance your consumer experience by providing automated responses to general queries, assisting users during purchase, quickly solving a frustrating query, avoiding waiting time, and proving helpful information at real-time. These are just general ways of how chatbots can help enterprises. But, without us knowing many Big brands have already started leveraging AI/ML in superior ways to improve, facilitate, and manage growth hacking ways.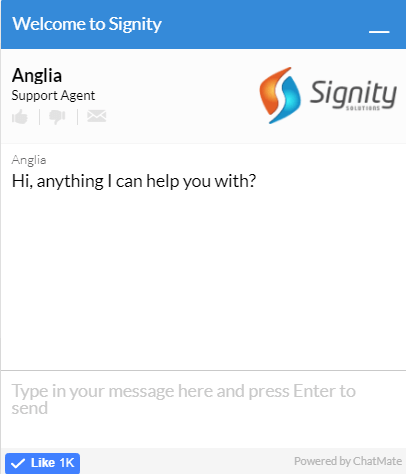 ---
4 Big Brands That Use AI & ML To Improve Customer Experience
---
2. Achieving your goals with Project management
There are times when projects timelines are extended because of a lost document, the laptop crashing, information unintentionally being deleted, or a resource stuck working offline.
Having all your projects information, assets and timelines regulated by the cloud will put every process in sync and easily accessible. Hence, improving the overall team performance.
So, no matter the size of your organization, project management tools can greatly enhance your team's productivity.
a) AWS Cloud Services
AWS offers cloud-based products that help in computing, analytics, networking, storage, database, management tools, and enterprise application. It addresses some of the most challenging requirements of project management -
AWS cloud solutions help in complete IT lifecycle management with a complete set of services to manage resources and applications. Amazon's cloud directory helps in managing multiple hierarchies of data. The added resources can define attributes for relationships and objects, set custom inheritance rules, and a lot more.
Seems, the right fit for your business? Then learn about AWS implementation, challenges, and benefits.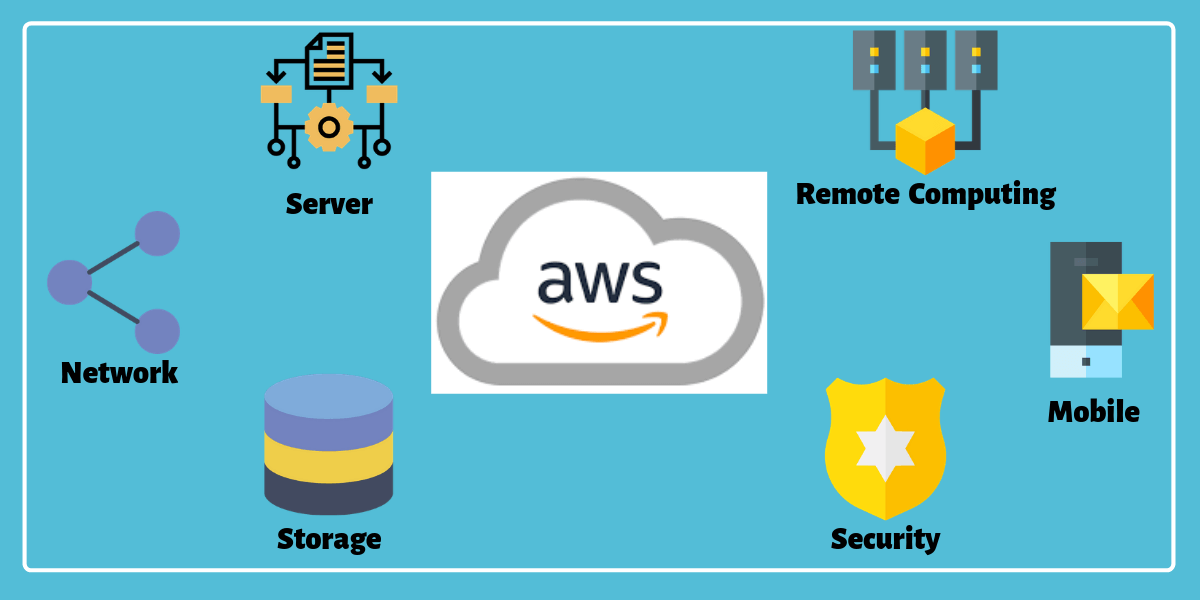 b) CRM Software For Streamlining Projects
CRM application can help in a lot of aspects of project management. It can assist in
Managing customer lifecycle in one system

Segregate teams collaborate on client initiatives and deliverables through unified task management

Build Project pipelines,

strategizes budgeting

Creates Reports

customer feedback and input with ongoing projects

Track Milestones in the ongoing projects

Projects can easily be broken down into simpler tasks when there are recurring programs

Assign Project Roles
And if you are still confused whether CRM technology is best suited for your business or not, you can get clarity in the blog - 10 Signs that your business needs CRM integration
3. Tidy your Digital Workspace
Digital workspace can directly impact the team's productivity. Cluttering your information and the clients' data and taking out hours to find the right information is a lot of capital loss of the company and efforts of an employee.
So, the major pain of an organization is to look for particular information at the peak of the time when it is required the most. And most of the organization misses out this point of not organizing, decluttering, and collaborating their digital workspace. And as we have stated earlier, "If an organization fails to choose or implement this system correctly, the data present will become a huge monster eating up the organization's productivity and profits." - from Definitive Guide To Enterprise Search Technology
So, to clear it all up we have a full proof solution -
a) Enterprise Search Technology implementation for your digital environment
Enterprise search helps in accessing the data quickly. It is an effective way to go through huge amounts of data which has been indexed as well as made search-friendly.

For external stakeholders, a search system can serve as a better quality of service.

By implementing an enterprise software solution, businesses can save on the time and effort that employees have to while looking for information.

Another great functionality of

search technology

- a search engine fetches relevant information into a window as the user types. For example, providing links to other similar technology tools that have the same functionality as the user is searching for.
---
To know more benefits you can read our CEOs Blog - 4 major benefits of enterprise search implementation
---
Empowering Productivity with Technology
Traditional working infrastructure h- 4 major benefits of enterprise search implementation as not only weakened our system's security but also has dramatically decreased our overall efficiency.
Waiting for a long period of time to carry simple tasks on PCs due to compatibility issues or lack of sufficient support are some of the common issues that employees face because of outdated IT systems. This is very frustrating for the employee as well who waits for 5 -15 mins thrice a day to work on a simple task.
Thus, improving productivity is only possible when the right kind of custom equipment web solutions, and tools are provided to your workforce.
---
In a nutshell: Deploying right and reliable tech is the first step towards increasing productivity.
---