Things to Look Forward to in Dreamforce 2017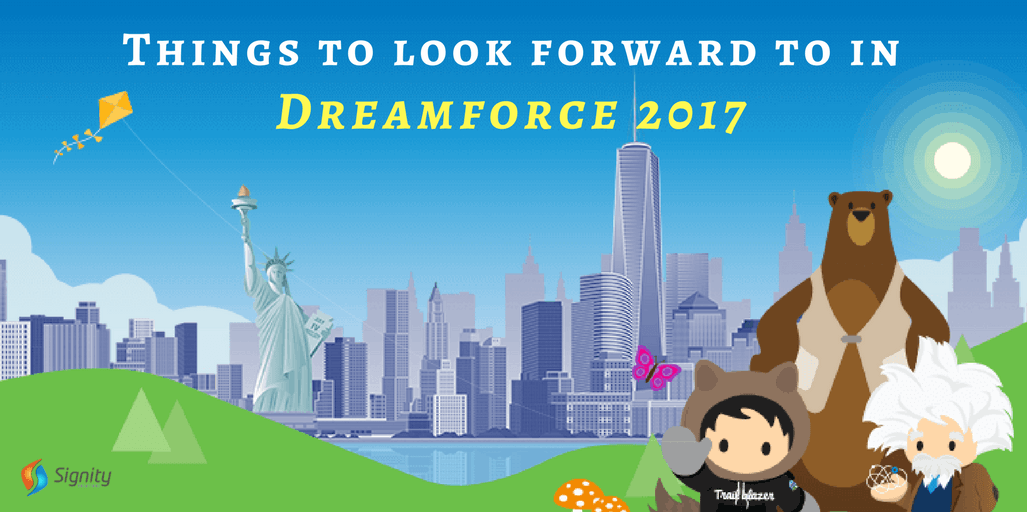 The biggest learning event of the year is just a couple of months away. We are talking about Dreamforce 2017. From November 6 – 9, 2017, San Francisco is going to host the much anticipated Dreamforce 2017. And, just like every year, there are so many things to look forward to for this year's event as well.
DreamForce Event:
We have managed to jot down a few of the major things from that list that you can expect to get this year at the event. Let us have a look at what those things are –
More than 2700 sessions and 170,000 trailblazers
This year Dreamforce event is going to get bigger and better than all the previous. With more than 2700 sessions expected to be carried out at the event and more than and 170,000 trailblazers to learn from at Dreamforce, there is no doubt that is something that technology lovers cannot afford to miss out on. These events are going to include training and certifications, keynotes, breakouts, and lot more. The 4-day event is going to be held at multiple venues in Downtown San Francisco.
You can take a look at the entire list of events and sessions that are going to be held at the event here https://www.salesforce.com/dreamforce/sessions/.
Philanthropy is going to be a key topic
Though there has been an official announcement of only a handful of names, it seems that this year's main center of the discussion is going to be philanthropy. The list of names that have been made official includes Marc Benioff, Michelle Obama, Jenna Bush Hager and Barbara Pierce Bush, Sylvia Acevedo.
A change in venue for Dreamiest
This year, Dreamfest is going to be shifted from its venue from last year where complete chaos struck during the event. This year's concert is going to be held at AT&T Park Baseball Park. This comes as great news, as the event saw some chaotic scenes after last year's performance by U2 at the Cow Palace in Daly City; after which the authorities had to rush them as it turned out from being a music concert to an anti-Trump rally.
Witness innovation taking place
Apart from all, like every other be certain to hear some of the latest innovations being made and announcements being declared at Dreamforce 2017. The event has been witness to some of the most innovative launches being made in the previous that includes stuff like Einstein, Quip, and Lightning. And, it won't come as a surprise if there are a few groundbreaking things being not just discussed, but brought forward to the world as well.
Related Post: All You Got To Know About Salesforce LoT Cloud And Thunder
If you are keen on learning new things in technology and are a trailblazer who is looking to make it big out there, then attending the event is certainly something you cannot afford to miss out on. You can register online and book your seat for the event. Don't wait up – the seats for the most anticipated technology event of the year won't be up for grabs for long. For any Salesforce related query, help or just a quick chat, drop us a line at info@signitysolutions.com and we'd love to get back. We're hardcore Salesforce Lovers too!