All you Need to Know About Zoho Conversational AI for Sales Teams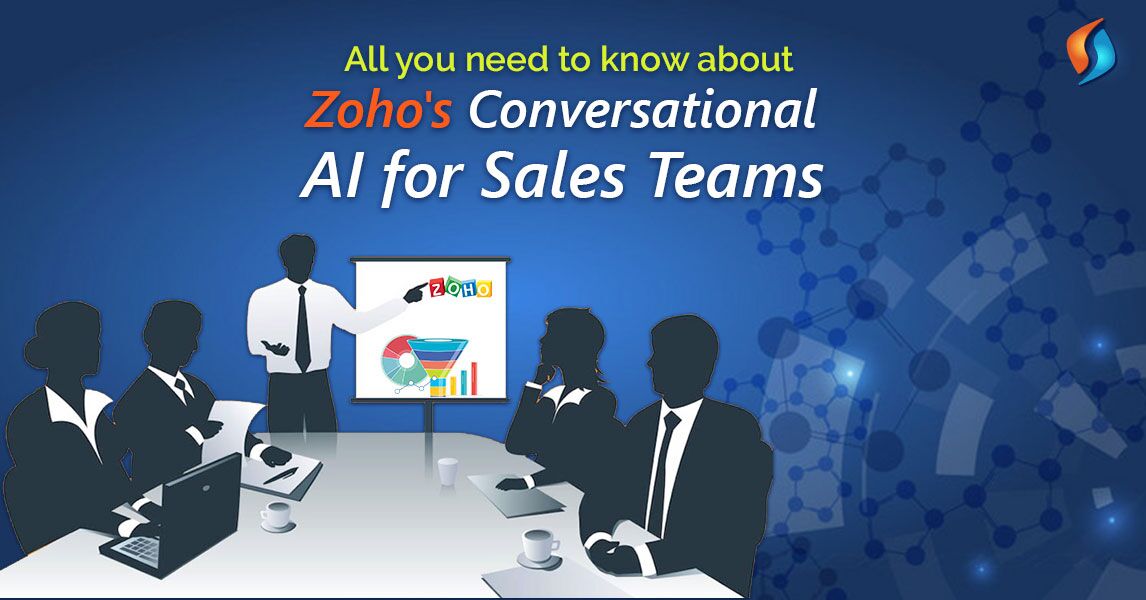 It's here, and it's there! Because it's everywhere! Wait! We are not talking about bugs. We are talking about Artificial intelligence and its integration almost everywhere. Business organizations treat the customer as one of the integral assets that need nurturing. Enters the CRM service in which you can trust nothing but best and that's when one should opt for Zoho CRM. The Zoho CRM service is full of features and details that at times it's too confusing to get to the right place. At this moment you look to hire an outsourcing team to help you out. This is where you need the services of a Zoho CRM consultant.
With Zoho conversational AI, Zia, the utility of this CRM has enhanced manifolds. She is the Miss Know-it-all of Zoho. You can ask anything, and everything to Zia and she will get back to you in seconds with records, stats, and details. You don't believe me, right? Well, see it yourself.
Benefits of hiring Zia: Zoho Conversational AI
Zia is talkative and friendly
During the sales process, every second is valuable. One must refrain from entering data into the CRM and must seek out support of Zoho CRM consultant. In fact, one can ask Zia to enter the data into CRM. You can even ask her about data details which she will even tell or text as per its discretion. It is also used to store new records and activities that need further checking before final filling.
The key to winning in business is to convert most leads into a successful deal. It often happens that the investment done in finding leads doesn't lead to any success. People always look into the future whether there could be a possibility or not! Well, Zia can predict the sales futures, which can help you plan your next step. It also lets you know whether the lead is worth communicating or not. It sorts each record according to different focus points. So that you can decide your course of action which can help you in achieving the highest conversion, it even helps to realize which deals are on the verge of losing, so that their handling is on priority.
Zia knows to find Irregularities in Sales
Zia studies the sales record and impressions made by the last activities. It predicts the sales outcome and also predicts the company's actual growth. It helps to check the CRM account activity that can alter the sales revenue. For example, an under-performing business asset or on track business dealings. When Zia detects any irregularity in the dealings, it notifies the sales representative — thereby giving them a proper chance to make up for the performance issue.
Activity Timeline Presence
There are cases when the meetings for business deals reduce, or the conversion rate for leads goes up. Zia handles such cases with activity timeline. It predicts the change in trend as per data and records stored on an online CRM system. It also predicts the necessary prospects from the data to improve irregularity in any said case
There can be a time when the actual deals are not closed or there has been a significant rise in this trend. But it is identifiable only after the sales report, right? Wrong, Zia spots irregularity according to their occurrence. It also predicts the chance of future occurrences, in case the proper rectification is not done. This feature can be used for any CRM field data and be used to spot field specific irregularity.
Unsatisfied Customers must be Satisfied
An angry customer is worth ten lost customers, and it requires the immediate attention of the respected department as a customer is the sole solid marketer for every company. It uses sentiment analysis and filters angry emails to identify the problem and solve it immediately.
Zia helps the user to know the mood of the customer through the e-mail of the customer even without opening it thereby giving an ample chance of preparation so that we can deal with the customer as per his mood. It can be positive/ negative, affirmative/commanding but the tone is difficult to understand without facial cues. Zia comes to the rescue and predicts the tone and thereby the chance of sale goes up if we can satisfy the customer with their query.
Better Work with Smart Automation
The sales representative performs their assigned jobs a few times a week that can be automated, but some of them don't know the procedure to do it nor the time to learn about it. Zia reads such trends and makes proper suggestions in Macro form to make automation easier and friendlier.
The suggestions are user specific and include various steps in it to take tasks for business process automation. It helps in finding the work efficiency by calculating the workflows and restrains from making silly mistakes.
Turn happy Emails into happy Customers
Happy feedback must be taken as a lead, and a sale must be made immediately. Such e-mails require immediate attention from sales representatives to convince them of buying the product/service as they were happy of the company. For such actions, Zia uses advanced filters to highlight such emails.
There are moments when the lead turns out to be out-of-date or insignificant. Zia collects details on the new and old leads, contacts and user accounts. It gives the user an opportunity to edit the information in case there has been an alteration to the detail provided. This ensures that the lead is not old by the time of checking. It does this by marking the last time of data update and performs a periodic check to keep the data fresh. Things like customer phone numbers, locations and requirements can be updated as per the lead. Zia takes the data to the relevant department by managing it orderly thereby helping to maintain a fresh record overall.
Since Zia is an AI, machine learning consulting is an integral part of its service module, and at times when she is wrong, she learns the trend and rectifies herself. We can this with a better response next time. Also, we can add the User data to the Zia engine so that we can make more personalized predictions.
Achievement of Revenue Targets
Zia sports an alert panel that contains all the predictions and suggestions. It keeps a record of all the targets that you may need to achieve in the given time and notifies in case the deviation from meeting the target is too high. A red notification from bottom means Zia has something to tell the user either for alerting or notifying regarding an unmet target.
Wrap Up
Are you looking for a professional Zoho implementation partner? Your search ends with Signity Solutions. We are leading Zoho creators and developers with many years of experience. We have been helping our clients with their Zoho implementation requirements. Contact our IT outsourcing services now and let us help with your Zoho related requirements.