How Chatbots Assists Service Industry Amidst the COVID-19?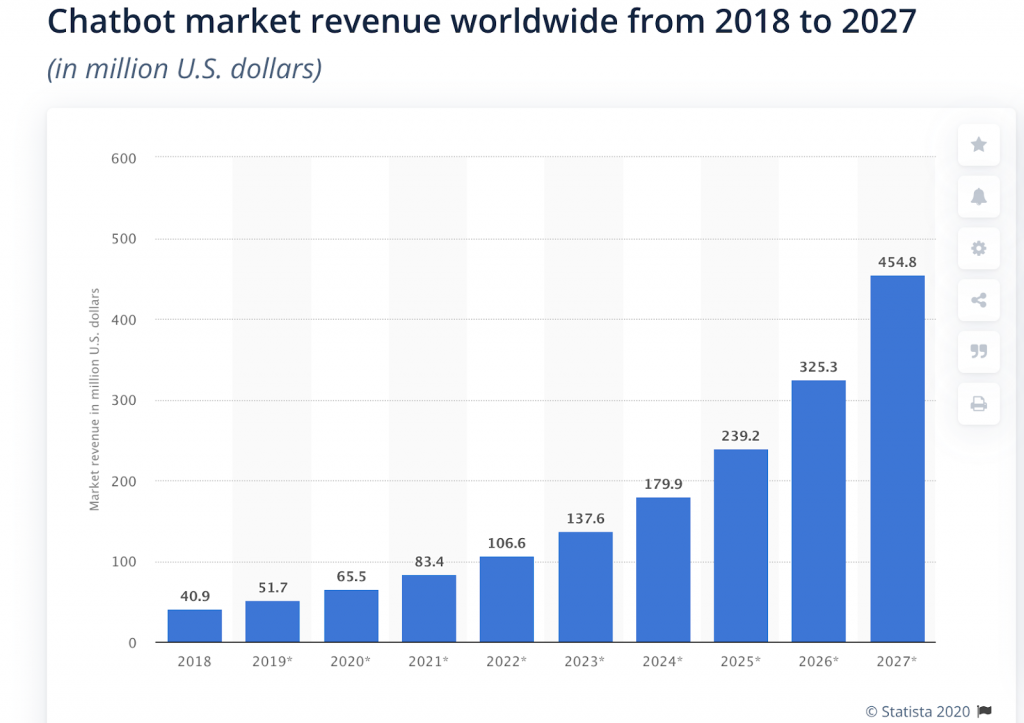 Communication with clienteles during COVID-19 – is it challenging?
The question is how many of 'em are relying on 'Chatbot Solutions.' After probing into the stats done by Oracle Survey, it can be said that almost 80% of marketers are planning to start using chatbot by 2020.
Do you know what is the 'Chatbot Market Size' worldwide during 2018-2027?
Well, believing the stats, it is being said that chatbot market revenue will amount to 454.8 million U.S. dollars.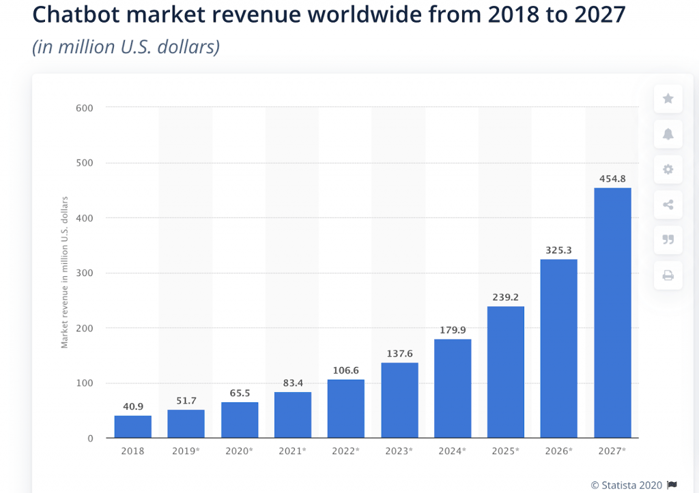 Source: Statista
AI is powerful – especially for the service industry – where the variability rate is crowning.
Fluctuations in the service industry? The credit goes to COVID-19 in 2020, and ahead.
Of course, this pandemic phase is not going anywhere any soon.
Chatbots created a big fuss in 2019 – it is here to stay – and probably the future too is about utilizing the technology to build a better service industry.
Chatbot cuts costs, accelerate profits, deliver higher customer satisfaction rate.
Doesn't that sound like a perfect deal?
Not really, though! Every coin has two sides to show – every technology has pros and cons to deliver.
The point is how efficiently does the technology responds to the business necessities – in this case, the service industry.
Limited responses for patrons, frustration amongst customers, technology costing too much, and non-suitability for different business types are some common hitches of Chatbots.
But, why is the world after Chatbots then? There is a reason, or shall we say reasons.
Let's delve deeper into the world of chatbots to know how the service industry can work meticulously with this technology for accelerated profits and revenue.
CHATBOTS – What's That?
Well, if you are not living under a rock, you would surely know what chatbots are.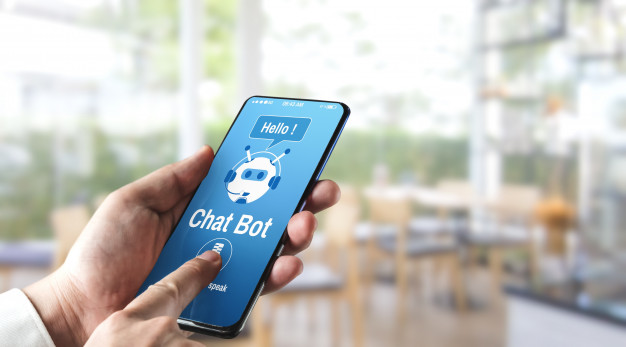 The technology is designed to interact with us (the humans) – via different platforms, including WhatsApp, Facebook Messenger, WeChat, Viber, and alike – using the text as a mode to communicate with the world.
CHATBOTS in SERVICE INDUSTRY – What's the Need?
Better communication. For satisfying the utmost need of humans - to communicate with machines like humans.
Chatbots help to send a message in a humanlike manner. Numerous sectors and industries are making the most of this technology, and now the service industry too.
The other source says that the estimated reach of the Chatbot industry would reach $1.25 billion by 2025. And, the CAGR is expected to be 24.3%.
These figures are huge, though.
How to Utilize CHATBOTS to GROW your Service-Based Business?
Entrepreneurs are intimidated by this very technology.
Wondering why? Well, the moguls either have to hire the professionals to control Chatbots or dive in themselves for operating this advanced tech.
For them, it sometimes becomes a bitter pill to swallow.
But they can't deny the amount of success, growth, and profits that this technology delivers.
For instance – customer retention, nowadays, relies majorly on social media and chat marketing. Can an entrepreneur really afford to stay away from this huge market, where businesses are now built and marketed?
Not at all, there are zilch chances of survival without these technologies, and that's a fact.
So, entrepreneurs have no option but to follow the path to get the best out of this technology for their service industry.
AI-Assisted Conversational CHATBOTS Boosts Better Business
Learning the Tips to Survive the Service industry
You don't have to try hard to invest major efforts if you play the game smartly. There are some points, which generally all service providers, misses out on.
1. Consumers want to Close the Sale – Be Accessible
There will be hordes inquiring about your service online. Do you know that these people are the easiest to close the sale on?
It is simple – identify the sources from where purchase questions are coming – and you will get your customers at that exact moment.
Why do you think top companies are crazy after Chatbots? It demands minimal efforts and delivers gigantic ROI. What else do these entrepreneurs want?
Chatbots is a robust solution for industries wanting to boost employee productivity and handle client inquiries better. Successful Chatbot implementation means sweeping off the impediments from the path to receiving maximum ROI.
Of course, patrons have higher expectations nowadays, but that doesn't mean they have disappeared, just for you to find them. They are always available, finding the answer to their queries – being a service deliverer, you have to work smart, with wide eyes opened.
Your patrons need quick, real-time interaction with customer support.
There steps in chatbots, which deliver extreme responsiveness to the customer – hence building better relationships and business.
2. Chatbots Delivers REAL-TIME Customer Solutions
What do you think does it take to engage your customers 24/7 or 365? Chatbots.
Irrespective of the business necessities, objectives, and lead generation, Chatbots delivers a competitive edge to service providers utilizing it.
How? Well, this technology helps them interact and answer consumer queries, no matter when it is asked or received.
Of course, you have a market full of competitors. Do you think you will be able to stand out or perform better if your service business is backed up by such robust technology?
Without a doubt – your business will outperform your competitors. They have real human answering to customer's queries, whereas you have automated replies sent by Chatbot (which sounds humanlike).
A smarter entrepreneur would rely on Chatbots, the advanced and powerful tool of AI for availing maximum profits and ROI.
3. Appropriate AI-Powered Customer Support
AI is powerful, and so are its tools. A chatbot is amongst those robust tools that most marketers have, at some point, misinterpreted.
They believe it just answers – frequently asked questions – asked by the customers. Well, that's not wrong that Chatbots does offer a suitable answer to the patron's queries, but it's not limited to just that.
In fact, support is just a tiny bit of the entire technology that delivers success.
How well Chatbots personalize the experience of each customer is simply incredible. It's friendly, effective, and contented.
Appropriate value-driven customer support is what one gets with the correct utilization of this robust AI-powered tool.
Chatbots:
Quickly answers queries

Deliver thorough answers with explanations

Offer swift Resolutions
So, be it just a normal day or one that suffers the severe downsides of COVID-19, this technology is indomitable.
Why is achieving 'Improved Customer Service' so Challenging - Aren't Service Providers Using CHATBOTS Anymore?
Undeniably, running a business is nothing less than getting into a mess.
But, once you comprehend the ins and outs, it is easy to land on your feet.
If you are one of those who have landed on their feet in the service industry, then you must know how crucial it is to deliver services to the customer about which you can really brag about to the world.
Impeccable products, extraordinary apps, and magnificent campaigns can help – but not as much as what Chatbots and timely customer support can do.
Customers are the king – they do have a choice when it comes to availing services and buying products – and the list of competitors is incessant.
So, how do you plan to survive in such 'high expectations customer zone?'
Chatbots can help here, here's how:
1. It Humanizes Brand's Voice
What makes you different? What separates you from other delivering the same service? How are you better than everyone else in the market supplying the same services?
You need to have answers for all these questions, to survive.
The customers are not looking for some robotic replies – which otherwise could be annoying. Customers want an experience where they feel like speaking to a real human.
Let your customers feel like they are having a conversation, where another person is willing to reply and conversate.
Plus, the conversation must be informative and understandable to avoid any cause of annoyance in the patrons.
You can even take benefit of the stored user information to turn a 'general conversation' into super interesting and personalized information that helps your customers connect with you easily.
Provide solutions as if you would have provided to your friends – and things will begin to improve for your service industry.
Not only will customized conversation enhance brand loyalty, but also customer satisfaction amongst your patrons. Hence, humanizing your brand is a must.
2. Deliver Custom Solutions and Recommendations
How would you assist a dear friend when he/she needs your recommendation or advice?
You would console them, offer the best solution, and be available to assist them again, in case the issue persists, right?
That's the similar approach you need to follow when you are solving the problems of your valued patrons.
If you customize your chatbots as per the customized needs of your customers, it would be a great assistance for them. Hence, they will not think twice to rely on you from the next time.
Now, another point to consider here is that not every customer is the same.
Just like your different pals would come up to you with different problems, chatbots should also offer custom solutions to every individual.
The reason?
Of course, no two persons can have the same problem. The probability of having the similar issue persists, though.
But generally, the former is the case.
In both the scenarios, you must be ready with apt solutions – train your chatbot for the same, or your service business is surely going to lack behind, somehow.
Besides, the focus should be similar for every customer; avoid biases. Of course, you being an expert, must not only deliver results but also recommend them some tips or ideas to maintain the quality of the services they are using.
Chatbots must also be trained to ask relevant questions about the style and preferences of the customers. When you have user data stored, there is no point wandering for the information. It is simple to utilize the stored data and utilize it to personalize user experience.
So, better user experience via stored data and custom solutions and recommendations.
3. Speed Wins – Focus on Quickening Up the Services
Customers are busy – finding the right solutions and services for themselves. Since they have numerous issues, it is obvious that they don't have time to wait for delayed services.
The quicker you respond to your patrons, the better. Besides, the patience level has certainly declined during COVID-19. Had it not been the scenario, the service industry might barely have understood the amplified needs of the AI and the tools.
Of course, you can't teach an old dog new tricks, but the COVID-19 has transformed the customer needs and the service industry's entire picture, to be precise.
So, the service industry can barely rely and survive on old-school methodologies to sustain customers.
The need of the hour is speedy services – offering apt solutions to the problems and concerns.
In case, you are busy relying on conventional technologies and solutions, probably, your patrons would never come back. In fact, they would even recommend a few others not to rely on your particular services.
Hence, relying on chatbots is an outstanding way to deliver your users real-time, 24/7, and timely support that helps in shifting the patrons through the sales funnel.
Your customers are expecting speedy services, and your responsibility is to deliver the same. Program and train your chatbot to look after your customers quickly.
Your staff is not available to chat with the customers? No problem! Train your chatbot for being there day and night.
Irrespective of the time your customers reach out to you for solutions, your chatbot services must be ready to deliver a quick reply – which is intelligent, descriptive, and solution-oriented.
Just imagine the contentment level of your patrons, when they will receive such a quick response from your end.
The Takeaway Message
We understand that you are trying hard to survive these trials and tribulations. During COVID-19, you might feel in between a rock and a hard place.
Fret not, this pandemic phase will not last long. So, if you are desiring to spice up your service industry via apt customer services, it is time to head towards the chatbots.
If you are using it aptly – expect better customer satisfaction, engagement, and higher profits that will make your service industry survive for many more years to come – even during COVID-19, and after that.
Hence, the service industry definitely needs chatbots.