Voice Search - The Future of Mobile Apps (How to be Alexa/Assistant Ready)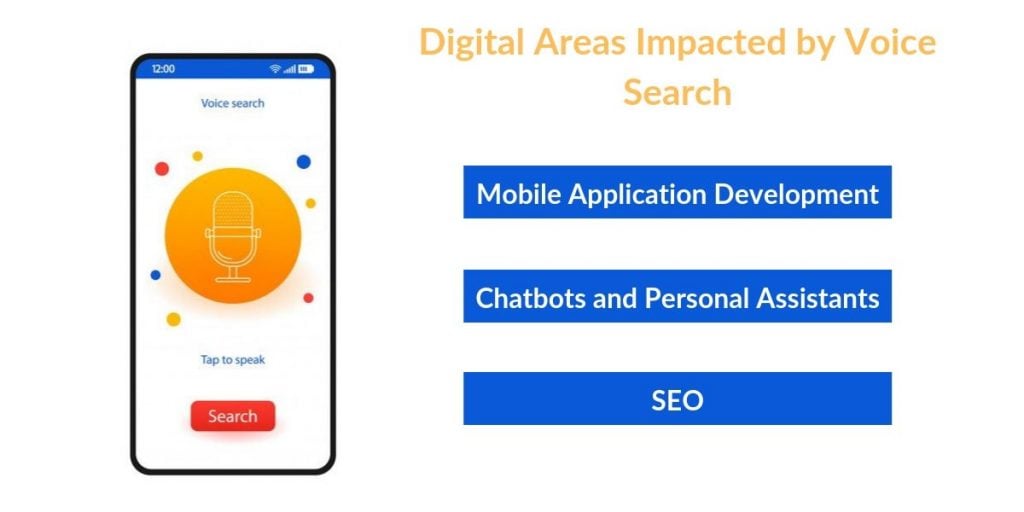 Tech enthusiasts all over the world are busy discussing the numerous future possibilities for making the web search easier and living in the digital world easier. One leading option is voice technology.
In the past few years, voice technology has displayed immense potential, especially in the form of better web search results, intelligent chatbots, and virtual assistants.
Many major tech firms have leveraged the power of voice technology in the form of their very own proprietary personal assistants. This includes Google Assistant, Amazon Alexa, Apple Siri, Microsoft Cortana, and Samsung Bixby.
Any mobile app development company in USA or elsewhere needs to be up on their toes to embracing any new disruptive tech, such as the voice search, to present a win-win situation for themselves and their customers.
In the context of voice technology, they need to be aware of how to use it for crafting profitable, intuitive mobile applications that can rank better in app store searches when searched using voice searches as well as include a powerful voice search ability to offer a superior user experience.
The Unquestionable Impact of Voice Search
Voice search has become one of the hottest trending technologies right now. So, it is only obvious that it has perceptible and imperceptible, effects on various aspects of the digital world.
Voice technology is a far superior means of searching the web than compared to textual or image-based searching. It has also revolutionized the way gadgets are being used, most notably smartphones and AI-powered devices. Today, almost every smartphone comes with a voice assistant, such as Siri for iPhones and Google Assistant for Android smartphones.
Three of the most important digital areas that the unprecedented development in voice technology had impacted greatly are: mobile application development, SEO, and personal assistant/virtual assistant technology. Each of them is explained as follows:
1. Mobile Application Development
About 1/4th of all the mobile users aged between 16 and 24 years use voice search. Over time, more and more smartphone users are relying on voice search instead of the traditional way of typing to find something over the web using a simple text search.
This is true when looking for something in mobile applications too. Today, most mobile applications come with a voice search feature that enables users to search or get to something that they need using a simplistic voice query rather than manually traversing the app.
Hence, it is important to consider voice search when developing a mobile application. In order to stay relevant in today's mobile app development market, each and every mobile application development agency needs to take advantage of voice technology.
2. Chatbots and Personal Assistants
Voice is probably the most important aspect of human communication. However, it has also become a more important aspect of human-machine interaction.
Today, voice technology has enabled a better form of communicating with a digital device using personal voice technology-powered assistants, such as Google Assistant and Apple Siri.
Next, it is used for making interaction with applications better, such as the ability to do a voice search in Google Search and asking Siri to search something over the web on an iPhone. The AI Chatbot technology is an outcome of the advancement made in the field of voice recognition and voice technology.
AI chatbots and personal assistants like Apple Siri and Google Assistant can be better understood as a personalized way of leveraging voice technology. A personal assistant is capable of doing so many things with just a simple voice command, including:
Making calls

Playing music

Preparing a to-do list

Starting an interesting conversation, and much more
3. SEO
Although the advent of voice search doesn't necessarily mean the death of text-based searches, it is an important factor that every digital marketer, every mobility service provider, and every other professional involved with the web needs to factor in.
This is because, with the rapid developments in voice technology, the SEO will transform into something new, something better. When devising a better voice search-friendly SEO strategy, you might find these 3 facts extremely useful:
a) Length of the Search Queries
A text-based search query contains 2 to 3 words on average. A voice search query, however, is completely different from its text-based counterpart in the way that it can contain as many as 10 words, and the average number of words is obviously more than 3.
b) Question-based Searches
Unlike the traditional text-based web search queries that aren't asked in the form of questions, voice searches typically take the shape of a question.
For example, one would typically search the web for "the impact of voice search on SEO" when typing but would ask, "how will voice search impact the SEO?" when doing so using a voice search. Hence, a modern SEO strategy needs to factor in this point to form a superior content strategy.
c) Queries with Clear Intent
Voice queries usually have a clear intent than text-based searches. For instance, if you type "voice search in 2019" in web search, it can have any context such as knowing the impact of voice search in 2019, the developments in voice search technology in 2019, and so on.
However, when you ask, "what is the impact of the voice search on SEO in 2019" you clearly present your intent to know about the influence caused by voice search on SEO in 2019, nothing more, nothing less.
Voice Search as a Complementary ASO Strategy
One reason for the voice search becoming extremely popular is that it aligns with the typical human behavior of sticking to easier ways of doing things that they already do. Doing a voice search is much, much easier than doing a text-based search.
App stores, such as the Google Play Store, recognizes this and has thus included the voice search feature. This makes optimizing an app for voice search an important factor to make it rank higher in the Play Store search results and top charts rankings. Hence, the ASO strategy for an app must align with voice search.
Even though if you're to hire an outsourcing team to do the heavy lifting for you, understanding the importance and impact of voice search on mobile apps and their ranking on the app store is important.
With more and more people picking up voice search over the text-based search, it is important to optimize your mobile app for voice search when devising a fitting ASO strategy. Three important points that will help you do better at the aforementioned are:
1. Micro-Moments
To put it simply, a micro-moment is a short period of time when a user turns to a device, typically a smartphone, to learn something, do something, watch something, buy something, or to simply discover something. Micro-moments are very important to consider from a marketing point of view.
Your voice search-based ASO strategy needs to find and focus on potential micro-moments for your app. Users involved with micro-moments need something fast, like really fast. If they don't find it in your app, they'll go somewhere.
Typically, a person in such a situation might be doing something more than merely searching for your app. Even if your app ranks higher in search results but lacks in terms of a thorough service explanation, you've missed it. Therefore always keep your voice search-based ASO updated to make hay from such situations.
2. Long-Tail Keywords
You need to invest more time in finding relevant long-tail keywords for your app. This is because a voice search contains more of them than a typical text search. For instance, one would type "online shopping" for finding apps to shop online on an app store.
However, when voice searching, the same one would be more specific like "best online shopping app for clothes" or "top online shopping app for buying groceries."
3. User Intention
You need to carefully study your audience and their intent to keep the inclusion of long-tail keywords under a certain limit. Using too many of them can harm your app's searchability on the app store rather than helping it.
Taking time to understand the intent of your targeted users will help you carefully choose relevant long-tail keywords. Also it help you save effort and time while making your ASO strategy better at the same time.
About Signity Solutions
We are a global enterprise mobility solutions provider trusted by clients from all over the globe. We also offer a wide range of other quality services, varying from AI/machine learning and CRM cloud services to developing scalable mobile app solutions for startups as well as enterprises.