Is Zoho the Future of Enterprise Software?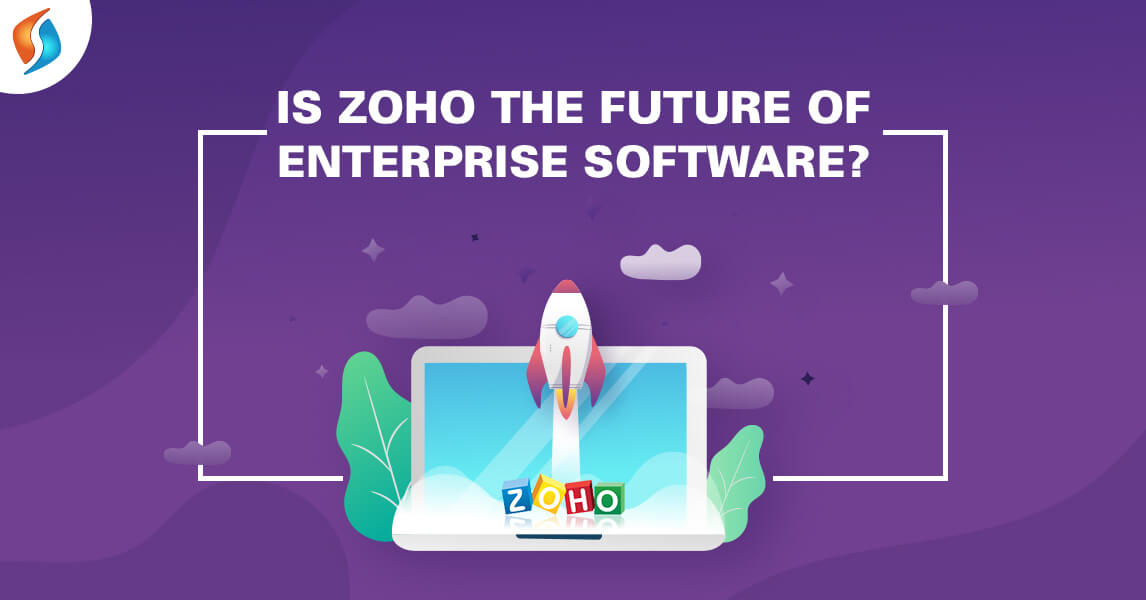 Zoho, an Indian software company, was once a lesser-known entity. It has been functioning for the last 18 years and is going from strength to strength. Its meteoric rise as a business software solutions provider has been fantastic. Many investors, venture capitalists have tried to woo it but have not been successful. Even one of the biggest cloud company of US, Salesforce, has tried to buy it. Zoho development has the quintessential success story. A small business that has managed to be successful against all expectations.
Zoho offers a wide variety of software as well as tools for small business. It works on the SaaS model, wherein users need to pay for only those features which they use. Thus, this model suits the requirements of small and medium businesses which are in the growth stage. These businesses avail services of Zoho implementation partners for their requirements. Recently, Zoho crossed the mark of ten million customers for its various offerings. After almost two decades of anonymity, Zoho has started running its media campaigns.
Moreover, things are looking strong for Zoho and expectations are that it is going to be the future of enterprise software.
About Zoho and its Products
Zoho is a software solutions provider that works on the SaaS model (software as service). At present, Zoho secures 50% of its business from US, 30% from the UK and rest from other countries in the world. However, Zoho is now working towards strengthening its position in India. India as a growing market with massive potential for SaaS services.
The recently launched Zoho CRM 2018, introduces a host of new enhancements. Zia Voice is the first conversational AI for Zoho CRM. It adds voice and text chat functionality to Zia, Zoho's AI assistant. Zia will produce an analysis which is data driven. It can also help automate other tasks, which helps the efforts of a salesperson.
Zoho development has been offering next-gen enterprise solutions which are affordable for small and medium businesses. This has been one of the biggest reasons behind its success. Companies all around the world are availing Zoho development services to enhance the effectiveness of their operations.
Future of Enterprise Software
Enterprise software solutions have seen a complete revolution in the last decade. Businesses are now demanding unique software solutions for every function. The main focus is on productivity, agility, mobility, and connectivity. All aspects of organizational functioning see automation for efficient outcomes. Sales, production, marketing, quality control, every aspect is being automated.
In the coming years, the dependence of businesses on software solutions is going to increase. This software will help enhance business functions and establish the position amidst competition. Moreover, the two upcoming trends that will define the future of enterprise software are: -
Artificial Intelligence (AI):
AI is the most significant innovation in the last decade. Programming a computer program to replace a human has substantial implications. Not only does it enhance the efficiency of operations, but it also cuts down on the costs involved. Businesses now have their human resources free to focus on other tasks. In the coming years, AI/Machine learning technology will evolve further and will be able to handle complex tasks.
Internet of Things (IoT):
Expectations are that by 2020, 95% of electronics will be IoT enabled. The amazing functional benefits of IoT will lead to enhancement in the number of sensors in new age digital products. Also, IoT will help companies enhance user experiences and attract more customers. Brands without IoT functionality will find it hard to survive in the market.
What is Zoho Planning for the Future
Zoho has emerged as the leading cloud CRM solutions provider in the last two decades. Their suite of products is popular with businesses across the world. Soon, Zoho is planning to expand its cloud operations. According to the company founder, Sridhar Vembu, on-premise software management vertical will shrink. Zoho development is going to focus on cloud services. Furthermore, expectations are that cloud would form 70% of Zoho's business and 30% would be from on-premise offerings.
However, Zoho is going to continue its global expansion plans. They will be opening their offices across several countries with local talent forming the majority of the workforce.
Zoho is now focusing on delivering integrated solutions. These solutions are going to reduce customer acquisition costs for businesses. Hence, it is defining the future of enterprise software. The Zoho One suite is being touted as the game changer. It offers all 35 Zoho applications for $1 per day per employee. It also allows users to integrate and manage all operations seamlessly. Companies will need not to pay for different software solutions. Everything is going to be available at a single price on a single platform. Thus, it presents an incredible growth opportunity for Zoho creator and developers. Businesses from all around the world are going to need their services.
Zoho Development and Implementation
Are you looking to hire an outsourcing team for implementation of Zoho CRM services with your business? Then, your search ends with Signity Solutions. We are amongst the best Zoho CRM consultants in India. Our team has been helping businesses from around the world integrate Zoho solutions with their operations. This has helped them reduce their expenses and enhance their profits. If you also have any requirements for Zoho software, we are more than happy to be your partners. Get in touch with our Zoho CRM developers now and let us take care of your requirements. Contact us now.