How to Enable the Google Search Console integration in HubSpot?
Unlock the power of seamless integration with HubSpot and Google Search Console! Enhance your SEO strategy and gain valuable insights into your website's performance with just a few clicks.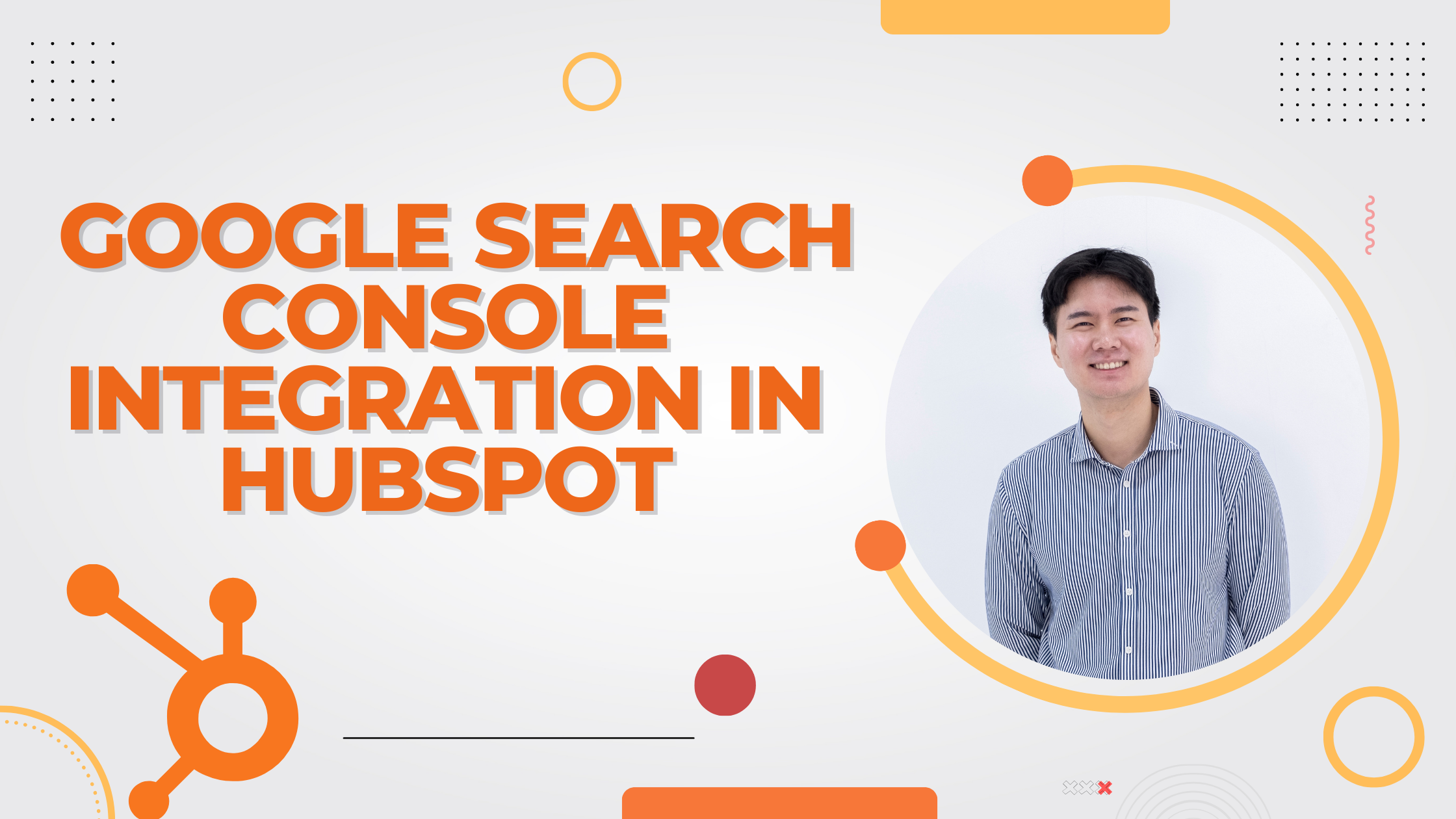 Unlock the power of HubSpot's seamless integration with Google Search Console, effortlessly merging valuable data from Google searches into your SEO toolkit. Google Search Console, a freely available tool accessible for any website within your Google account, becomes a treasure trove of insights through this integration.
Dive into essential metrics, including the precise count of views and clicks your website garners for specific search terms. Furthermore, gain a competitive edge by tracking the average position at which your website graces Google's search results pages.
Before you Get started
Set up Google Search Console in your own Google account
Before diving in, it's essential to ensure you have Google Search Console access within your Google account. If this valuable tool isn't already at your disposal, discover the step-by-step process of setting up Google Search Console for your website.
Verify site ownership with Google
Google requires a verification step to confirm you own your site.
HubSpot simplifies the verification process for all its hosted websites by automatically linking them with Google Search Console using an exclusive file verification technique. Every HubSpot-hosted site possesses a distinct file concealed solely for Google's site verification bot.
Consequently, once you've activated the Google Search Console integration, you're primed to access and explore this data within your HubSpot interface seamlessly.
Site ownership can be verified using URL-prefix properties and domain properties.
When opting for site ownership verification via domain properties, it's important to note that Google Search Console won't perform automatic verification. To establish ownership, we recommend following the outlined instructions provided in the verification process.
In the event that your website is situated on the HubSpot platform, utilizing either the file verification method or URL-prefix properties, and automatic verification with Google Search Console remains unaccomplished, we encourage you to reach out to HubSpot Support for prompt resolution and guidance.
3. If your website doesn't reside on HubSpot's hosting, collaborate with your web developer to facilitate the verification of your site ownership within Google Search Console.

Enable the Google Search Console integration in HubSpot
You can connect your Google Search Console to HubSpot's Content Management System (CMS) and Marketing Hub product. When you do this, HubSpot will be able to see and manage the websites and domains you control in HubSpot, along with the Search Console data for those sites.
To begin, access your HubSpot account, and from the main navigation bar, spot the Marketplace icon. Give it a click.
Once inside the Marketplace, employ the search bar to pinpoint the Google Search Console integration you're seeking swiftly.
In the upper-right corner, you'll spot the Install app button. Go ahead and give it a click.
A pop-up box will appear. Confirm your choice by clicking the Install app within this box.
Now, it's time to connect your Google account. Enter your Google credentials and finalize the process by clicking Allow, granting HubSpot the necessary permissions to link with your Google account.
Domains with content attached to your topics in the SEO tool will appear in Connected Sites in the Google Search Console integration. To view tracked domains:
Begin within your HubSpot account by navigating to the main navigation bar and clicking on the distinctive Marketplace icon. Once there, explore the Connected apps under the Manage section.
Focus your attention on Google Search Console and click on it to proceed.
If Google is not currently tracking any of your domains, take action by selecting the Add option next to the respective domain name. A pop-up box will appear, allowing you to choose the preferred GSC Property Type for domain verification. Click Add to confirm your choice.
In the case where a domain appears under the Connected Sites section but hasn't been verified, access the More menu and then select Verify to initiate the verification process.
When the Google Search Console integration is disconnected from HubSpot, any stored data within your HubSpot portal will be removed after a 90-day period.
View Google Search Console metrics in HubSpot
Once you've activated the Google Search Console integration, you'll find the following metrics in your SEO tool and the Optimization tab of your page or blog post details:
Average Position: This metric assigns a numerical value to your website's position on a Google search results page, with 1 being the highest position. It provides a broad overview of how well your website performs in search results related to your topic.
Keep in mind that the Average Position you see in your SEO tool may not precisely match the Google search results you observe for your chosen topic phrase. Dynamic factors like your location, search history, device type, and other variables can influence search results each time you perform a search.
Total Impressions: An impression is counted whenever your content appears in the search results for your chosen topic phrase. It reflects how often your content is displayed to users in search results.
Average Click: Through Rate (CTR): This metric calculates the average number of times individuals click on your content when it appears in Google search results. If someone clicks the same link multiple times, it's only counted once in this statistic.
Top Search Queries: These are the specific search terms where your content shows up in Google search results. You can conveniently access top search queries in the Optimization panel within the page or blog post editor, as well as in the Subtopic content details panel in your SEO tool.
Clicks: Clicks represent the total count of times users click on a search engine page result for a particular query, leading them to your webpage. This metric indicates how many visitors your page attracts from search engine results for specific queries.
To add Google Search Console metrics to your SEO dashboard:
In your HubSpot account, navigate to Marketing > Website > SEO.
Click Topics to view your Topics dashboard.
In the upper right, click Switch Columns.
In the dialog box, select the checkbox for the Google Search Console metrics you want to view on your dashboard, then click Save.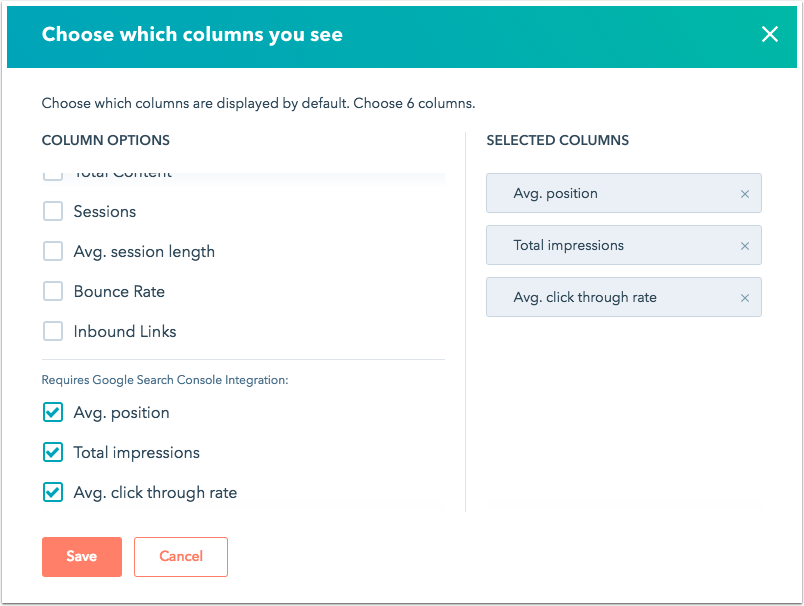 To see search queries and Google Search Console metrics for a specific page or blog post:
Go to your HubSpot account.
Find the page or blog post you wish to analyze and click its name.
Click on the "Optimize" tab.
On the left sidebar menu, select "Search Queries".
Adjust the date range for your metrics using the Date range dropdown menu.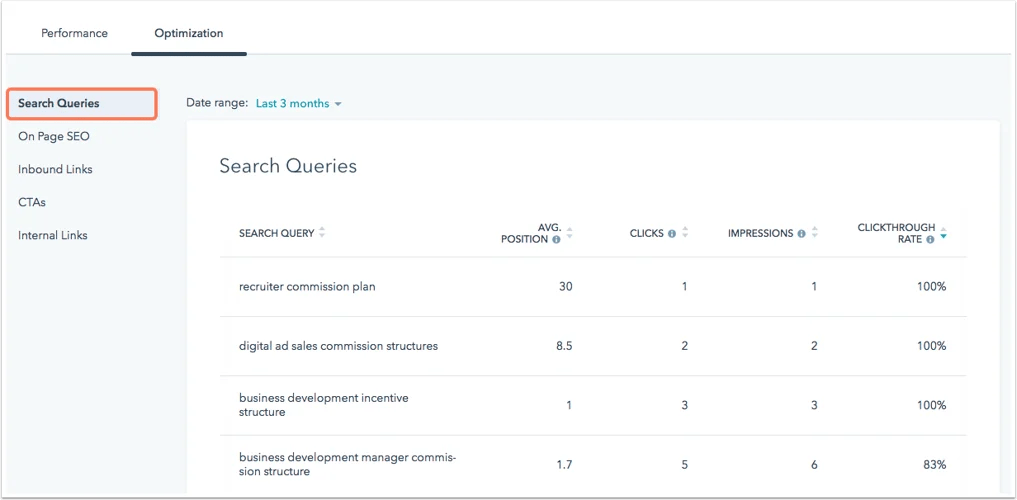 If you're using HubSpot's Marketing or CMS Hub Professional and Enterprise editions, you have the option to access SEO reports in your HubSpot account:
In your HubSpot account, navigate to Marketing > Website > SEO.
Click the Analyze tab to view the SEO reports. The reports display data from Google Search Console as well.