8 Benefits of HubSpot for Your Business
Why choose HubSpot? HubSpot is a great option for every growing business because of its variety of tools and features designed to generate leads to no-code customization to manage marketing efforts effortlessly. Read to discover the top 8 reasons why HubSpot is the best enablement for your business.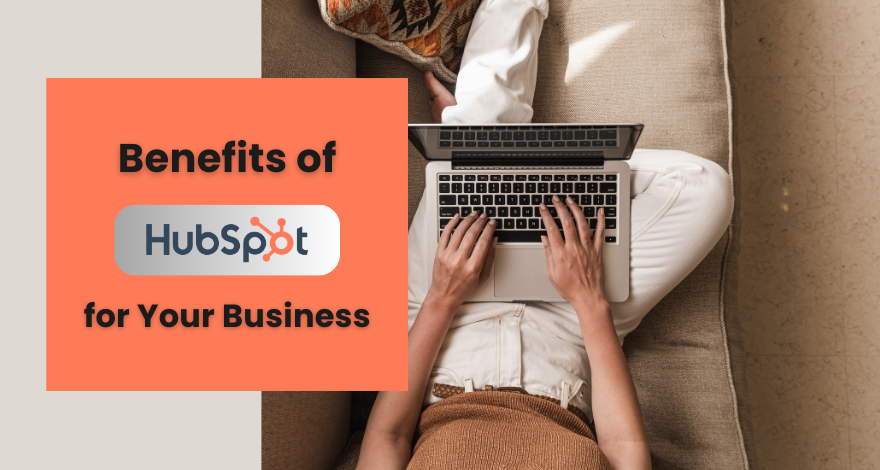 Hey! Did you know that according to HubSpot marketing statistics, "marketing automation" can grow sales productivity while minimizing marketing costs by 12.2%?
As a business owner or a C-suite executive, you're always on the lookout for ways to improve your business bottom line. Whether it's through the talent you hire, the strategy you implement, or the tech stack you choose, what all matters is to have the right people in the right places at the right time to implement your business strategy.
Effort, Perseverance, Time, Planning, and Innovative-Tools are Inescapable to Grow Your Business.
So, it's important to handhold the right people in the right seat to ensure they implement your strategy correctly. Often, picking the right technology is a sticking point as the options are boundless - Every decision-maker demurs!
Don't worry! This is where HubSpot comes in the big picture. HubSpot provides an all-in-one CRM platform that helps adopters upscale their sales, marketing, and customer service efforts.
With approximately 177,000 customers in over 120 countries, HubSpot has become a popular choice for businesses of all sizes. Herein, we'll focus on the unskippable benefits of HubSpot for your business and how they prove to be a boon to growth and scale.
So, whether you're a startup or an established enterprise, HubSpot has something for you…. Let's see what!
Here's 6 Reasons Why You Need To Start Using HubSpot Today!
Take Informed Decisions with HubSpot's Analytics and Reporting
HubSpot's analytics and reporting tools entitle your business to make data-driven decisions by offering valuable insights into every aspect of your marketing and sales efforts. By keeping track of the website traffic, lead generation, and sales performance, you can easily identify which segments of marketing are performing well and where there is room for improvement. This data also helps you optimize your marketing campaigns, assign resources effectively, and target specific customer segments.
Cobbled Tech Solutions Don't Do Wonders For Today's Customer Journey
Its potential to create custom reports and dashboards also allows the analytics and reporting to be personalized to your unique business needs. For instance, you can create reports that keep track of metrics like lead quality, website traffic, or sales performance. This tangibility lets you and your businesses stay focused on the metrics that matter the most to make informed decisions.
Time Saved and Efficiency Increase with HubSpot's Marketing Automation
The second big benefit HubSpot offers is saved time and increased efficiency with its marketing automation tools.
By automating repetitive and monotonous tasks, like sending bulk emails or posting on social media, you manifold the chances of prospects receiving the right message at the right time in the buyer's journey process. Also, you free up valuable resources so they can focus more on high-value strategies that drive business growth.
Another feather that HubSpot marketing automation adds to the hat is the ability to craft targeted and personalized campaigns that are customized to your specific audience needs. After all, with data-driven insights and analytics, you'll better understand your customer's behavior and preferences and build campaigns that are more likely to resonate with them.
Magnify Online Presence and User Experience with HubSpot's CMS
HubSpot brings a sigh of relief to everyone.
HubSpot makes website editing easy for everyone. Plus, integrate changes using the user-friendly CMS without any requirement to hire employees with an agency, web design, or development backdrop.
You can maintain your digital presence by building new or editing existing web pages seamlessly, adding modules to your layout, or creating content effortlessly.
Not to forget, one of the primary advantages of using HubSpot CMS development is that it circumscribes an exquisite array of templates, themes, and modules, giving you the ability to personalize websites to cater to the unique needs and brand identity of businesses without requiring technical expertise or web development knowledge.
This was just the tip of the iceberg! Here's the whole big one!
HubSpot's websites are also created to be SEO-friendly, meaning they are crafted to make sure that search engines can crawl and index the website's content effortlessly. This also helps improve search rankings and drive more organic traffic, eventually resulting in more prospects finding you.
Another unskippable feature of HubSpot's CMS tools is its integration with its CRM platform.
Sounds amazing, right?
This integration offers a complete view of your customer's journey, from when they first interacted with the website to being your repetitive customer. Armored with this information, you can better plan the website's content and messaging based on visitor's interests and behavior, creating a more personalized and interactive user experience.
Seamless Customer Interactions and Customization with a Centralized Customer Database
HubSpot offers one hub customer database that enables businesses to keep all their customer data in one place, often ensuring that everyone in the organization is working with updated and accurate information.
This is especially advantageous when it's about customer interactions and personalization. And, with a comprehensive view of the customer data, your business will better understand their requirements and preferences and be able to personalize the interaction accordingly. This paves the way for a more personalized and meaningful customer experience, which leads to upholding customer loyalty and satisfaction.
Besides, a centralized database also makes it easier to scale customer interactions across different channels like email, social media, and website visits, meaning you and your business will identify patterns and trends in customer behavior and use this information to make the needed changes for growth and success.
Reduced Workload and Boosted Sales with HubSpot's Sales Automation
HubSpot sales automation significantly impacts your business bottom line by increasing sales and minimizing workload. By automating the sales process, you can streamline your operations and simultaneously make sure your sales team is working more efficiently.
Furthermore, one of the unskippable features is lead management, which allows businesses to keep track of and manage their leads efficiently, thus allowing them to prioritize their efforts on the most promising prospects. Plus, you'll be easily able to segment your leads based on criteria like behavior, demographics, interests, groups, etc., making it easier to personalize your messaging and outreach efforts.
Another added benefit comes from the deal tracking feature. This offers you the capability to keep track of deals in real time - offering you valuable insights into your sales pipeline and prediction. With the help of this feature, you can identify potential challenges in your sales process and take protective measures before they turn into enormous challenges.
HubSpot Scales With Your Business, Your Business Never Outgrows It
HubSpot's scalability is among the exceptional benefits for your business, as it allows you to scale and grow your business without carrying the onus of marketing and sales infrastructure.
As your business evolves, it's in dire need of a marketing and sales platform that matches up with its ever-growing needs. Once again, HubSpot Services comes into the picture as its flexible and agile nature quickly adapts to any direction you may want to take your business and addresses customer demand and changes in the marketplace.
Lastly, HubSpot's platform can accommodate a growing traffic volume, leads, and customer interactions, ensuring your business can scale its sales, marketing, and operational tasks without any technical roadblocks. This clearly means you can focus more on growing your customer base and profit margins instead of being anxious about the infrastructure's capacity.

Finally
If any of these benefits sound appealing, don't think twice about getting in touch!
We personally choose HubSpot over other marketing tools in their class because there is no match. It's just HubSpot-hands-down, the Best solution for businesses seeking ways to organize, strategize their marketing campaigns, and scale their footprints online.
HubSpot has the potential to put your future vision - within the right audience at the right time. So, if you are a business looking to grow and thrive, consider connecting with experts.
It's a piece of cake to start with HubSpot.