How RPA Helped Businesses During Covid-19: Opinions Shared by Experts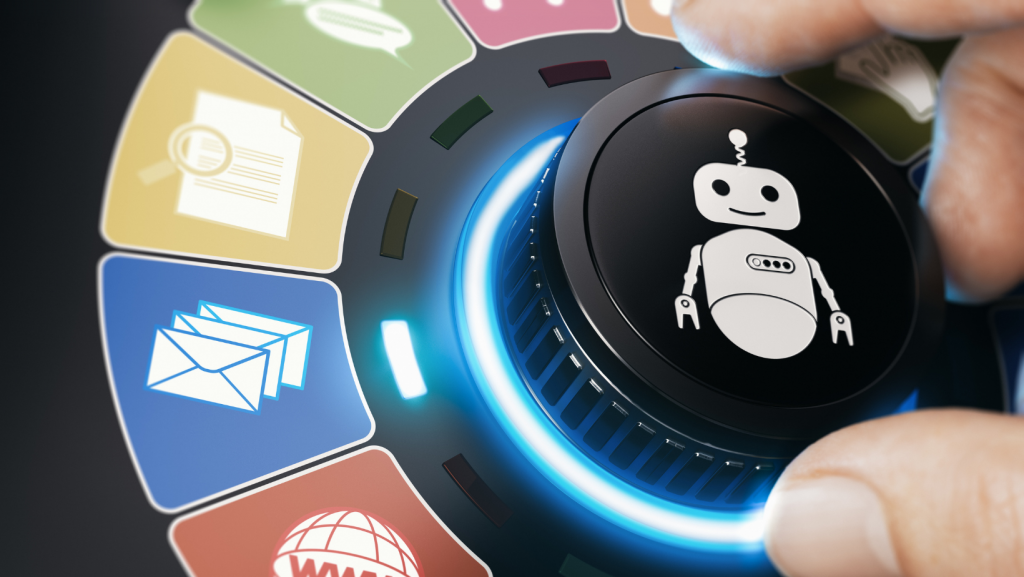 In the past few years, RPA (robotic process automation) has become one of the key factors contributing to the businesses that want to enhance their productivity for long-term success. RPA today serves as an introduction to the speed and convenience of businesses around the world to automate their workflow. The need for RPA scaled during the pandemic when bots replaced the traditional workflow with automated processes.
Let's see how RPA helped businesses during COVID-19.
1. Brad Cummins, Owner of Principal Agent of
Insurance Geek
RPA has been a significant help for many small businesses worldwide during the pandemic. Thanks to this technology, team productivity has been able to benefit. While team members were adjusting to remote work or handling other necessary tasks, RPA came in to ease the workload and handle minor tasks so team members could focus on other tasks needed to build the business.
Not to mention these companies also improved their customer success rate because their turnaround time was shorter due to less stress working on other tasks. RPA sounds a bit intimidating initially, but it is an asset that many businesses should take advantage of.
Actually during the Covid time, in what I have experienced with the people I worked with, was too much stress involved besides the natural hard feelings caused by the Pandemic itself.
To not a small number of people, dealing with Home Office, in many cases, a lot of resources limitations, such as a good Internet connection, proper Office Desk to work at home, whatever. Plus, every single task at home, had to be done, anyhow, good or bad, because the Business had to continue to run anyhow.
Here, I have seen RPA potentials, where it was already running, but much more where it was not done in time, then as mentioned at the beginning, Stress everywhere, but why? Because most of the Tasks to be done at home were Manual Tasks, perfect cases to be done with RPA, and so on.
For me, if we had more processes automated within Pandemic, people could, somehow, have less stress and put more focus on How, after the Pandemic, to prepare the way back to the new-normal life working again from Office, and not from the home anymore, and so on. Not going into deep details about numbers, etc. but what I have seen was more related to the health and feelings of the people that could be positively impacted with RPA during Covid time.
3. Amit Dua, CEO and Co-founder of
Signity Solution
The RPA has played a key role in navigating the uncertainty of the pandemic. Their ability to improve process quality, speed, and productivity has always been the key driver for our organizations.
For us, the use of RPA software to automate business tasks, specifically repetitive and mundane ones such as sending emails, processing transactions, and setting responses, was a game-changer.
We initially tried RPA (in 2019) to reduce cost, but in 2020 when the pandemic hit, we were amazed by its umpteen features, one being taking over the time-consuming tasks to boost employee productivity and increase operational efficiencies.
4. Nick Hodge

- Daily Profit Cycle
My understanding is that technology has played a critical role during the viral pandemic, which has been well documented. Consider how RPA has aided in the acceleration of 2019 novel coronavirus (COVID-19) testing, the automation of clinical trials for a viable vaccine, the centralization of employee health data, and the encouragement of expanded usage of contact centers.
In order to avoid disruption, robotic process automation can help firms stay linked across teams and systems, retain customer assistance, and provide stability during times of uncertainty. It helps you transform your company and identify possibilities to solve the new difficulties you're confronted with.
5.
Morshed Alam
, Founder & Editor at Savvy Programmer
"Robotic Process Automation (RPA) has already been playing a significant role in helping to manage the global spread of COVID-19"
Here are some of the ways that RPA is being used to help during this time of crisis:
RPA is being used to monitor and track the spread of COVID-19.

RPA is being used to help with contact tracing.

RPA is being used to assist with patient triage and management.

RPA is being used to help with laboratory specimen processing and tracking.

RPA is being used for data entry and other administrative tasks
During the COVID-19, different industries were hit hard, as their entire supply chain operations were disrupted. Employees had to manually handle all the back-end processes because adequate technology wasn't in place.
Individuals would no longer have to spend hours at a stretch performing data entry tasks, due to the existence of the RPA system. Once the RPA system is implemented, monotonous tasks such as copying and pasting information from one database to the other become much easier.
Through this measure, employees could focus on strategic and value-driven tasks. As these systems can be integrated with the current workflow it means that businesses wouldn't need to go out of their way, to implement this technology.
As RPA takes over, the lives of humans would become much easier, and an improvement would be seen in their productivity levels. Data security became a crucial issue and one that was difficult to tackle, especially for businesses that lack technical knowledge.
However, the solution lies in an RPA technology, which can help businesses secure their data from online hackers. This measure helps identify any potential threats coming internally or externally. Data security is an especially dire issue, as users access their workplace information through public WiFi, which could make the information susceptible to attack.
Businesses, through an RPA system, can set different authentication levels restricted to only C-level executives who can access or edit data. This control would minimize any risks of an attack on the company's confidential data files.
Hence the technology would help achieve compliance and seamless integration across different departments.
Last year, as business leaders were pressed to embrace automation or risk being left behind, many moved quickly to adapt. Now, the pandemic is reshaping how we approach both customer experience and employee experience, and leaders will need to focus on fine-tuning their automation strategy to keep pace with the change.
Here's how business leaders can utilize RPA to remain agile in this new phase of the pandemic:
Give employees the same experiences as customers

Use technology to become human-centric

Balance innovative projects with their efforts to reduce legacy debt
8. Max Benz

,

Founder and CEO at

BankingGeek
RPA helped during the COVID-19 pandemic by automating the process of data entry and handling requests for information from various departments.
This allowed hospitals and other health institutions to manage the influx of patients more efficiently and reduced the need for human labor, which was in short supply due to so many people being out of work. Automation also ensured that all processes were followed correctly and that no vital information was missed or lost in the shuffle.
9. Vasiliy Kiselev,
CEO & Founder at

Top 3D Shop Inc.
The COVID-19 pandemic happened just at the time of breakthroughs in robotics and artificial intelligence (AI) and the robotics market just surged as labor shortage hit many industries.
The cost of hiring, engaging, adapting, training, improving competencies, and retaining staff have significantly increased as inflation kept growing near the two-digit number and all of these factors ultimately boosted hesitated manufacturers to automate.
In general, robotics automation helps to achieve:
up to 300% improved productivity

up to 40% increased warehouse capacity

up to 1.9 years ROI
But despite the clear value, the robotics industry has had to fight with its "job killer" reputation to prove that robots could replace people only where it is necessary and create new workplaces with just different and more creative responsibilities.
10. Muddu Sudhakar,

CEO of

Aisera
During the pandemic, companies quickly learned that they could design solutions to automate the small tasks that were overflowing in a remote or hybrid environment. For example, when schools went remote, IT help desks were inundated with requests from students or administrative employees.
Aisera helped Dartmouth design the DartBot to eliminate the IT service desk stress and ease their transition to remote learning.
RPA workflows are a core piece to a project like this, capable of understanding over five billion+ user intents and phrases, and unsupervised AI learning to eliminate scripted customer service conversations. It was able to successfully service 10,000 requests a day in response to the COVID-19 demands. That enabled a 60% improvement in auto-resolution of support requests and saved Dartmouth over $1 million in annual service desk costs.
11.
Gautam Ijoor,
CEO of Alpha Omega Integration
After the COVID-19 outbreak, Congress tasked the HRSA with managing the COVID-19 payments that are due to providers. To access these payments, health care providers submitted their tax forms, revenue documents, and other information – often exceeding a thousand pages per application. This was a highly manual process that required considerable time, with a high potential for errors. These errors, even if minor, could lead to over or underpayment, fraud, or other issues with the potential impact of millions of dollars of payments being approved or rejected incorrectly.
We deployed several software robots in support of internal controls A-123 testing to automate processes, reduce labor hours, and improve throughput and quality for the Provider Relief Fund (PRF) payment validation process.
Our solution bot was able to process ALL the applications (not just the selected few as was currently the situation), eliminated errors due to manual processing, and freed up critical resources to work on other tasks. The RPA bot provided accountability of tax-payer funds as 100% of the applications can now be processed and validated. This opened up the possibility to validate every future grant application before funding was disbursed. The new Bot can process the average document in one to three minutes enabling it to complete up to 1440 documents per day.
12.

Jason Warrelmann,

Global Director of Healthcare and Life Sciences at

UiPath

Healthcare organizations like Mater Hospital in Ireland and the Cleveland Clinic have leveraged automation to streamline processes around testing
Nurses from

Mater Hospital

saved three hours a day by using automation to disseminate COVID test results during the height of the pandemic – time they could then dedicate to patient care

At Cleveland Clinic, automation accelerates drive-thru COVID testing by analyzing patient data, registering the patient if needed, and correctly selecting the right printer for label creation. Since implementing UiPath, they can expedite this process to 14-16 seconds

Automation can offset the ongoing labor shortage across the healthcare industry by allowing those who are still in their roles to be agile and efficient when it comes to diagnosing – and treating – those that are impacted by COVID
13.

Joy Somogyi's,

Senior Director, Product Marketing of Omnicell

During the pandemic, cloud-based data intelligence delivered by automated pharmacy systems played a key role in ensuring providers maintained appropriate stock levels of the 75 medications most commonly used to treat COVID-19.

Pharmacists leveraged benchmarking data generated by automated medication management solutions to gain holistic inventory visibility across their health systems - and assess when they were at risk of stockouts or medications needed to be shifted from one facility to another to meet projected demands.
14. Dr. Stefan Sigg,

CPO at

Software AG
COVID-19 caused workflow-reliant companies to see RPA as a missing piece in their transformation efforts. In the height of the pandemic, companies were forced to innovate – and do so quickly – to continue operations and serve customers. 97 percent of global IT professionals agreed they went through some sort of digital transformation in 2020, with 3 out of 5 saying they went through a "large amount" of change.
As companies prioritized technology investments that benefited customers, many turned to Robotic Process Automation (RPA) – or intelligent process automation – to improve customer service, and in doing so, they shocked transformation back into action.
As global professionals expect to continue transformation efforts, RPA will continue to play an important role.
15. Banwari Agarwal,

CEO of BFSI at

Sutherland
.
COVID-19 magnifies the necessity for Full-Cycle Automation using RPA & AI and small and medium-sized companies have witnessed an immediate & efficient outcome to their process automation journey.
Today, more and more companies are recognizing the enormous potential of Robotic Process Automation (RPA) and are investing in this forward-looking digital working method – during the COVID-19 crisis too.
By using RPA, small and medium-sized companies, in particular, can confront the effects of the global pandemic and ensure that their business processes operate continuously. As a result, organizations can increase their productivity and the level of customer and employee satisfaction and successfully cope with the crisis.
The COVID-19 crisis has confronted many companies with enormous challenges. Both small, medium-sized, and even large firms are feeling the significant drop in demand and face the challenges of maintaining their capacity to act and demonstrating their resilience.
Some companies have been closed for almost over a year, short-time work has been introduced, employees are working from home, and income has shrunk. This is a global pandemic that is subjecting all those involved to extreme levels of pressure.
However, the crisis has provided opportunities and has been a catalyst for the process of digital transformation. Digital solutions and intelligent technologies have become much more important in this new normal world.
Robotic Process Automation (RPA) in particular has become a focal element for many companies during the last few months. It is helping companies meet changed requirements and maintain their business operations, even in times of crisis.
Although RPA has already been playing an increasingly important role in digitalization at companies before the pandemic, this intelligent technology has attracted new levels of attention because of the COVID-19 crisis and the weak points that have emerged in business processes.
16. Tim Dickemann,
Chief Business Officer Germany and Austria,
Roboyo
Can Robots catch Covid-19? No! But they can help to overcome it.
At the beginning of the Coronavirus crisis, a lot of things changed for companies. Employees who have been working in the office day to day were now asked to work from home and in many cases were not even able to work due to illness or did not have remote work opportunities.
At the same time, the workload had grown exponentially in many areas. One example: The German state bank KfW received thousands of inquiries for additional liquidity from companies that were experiencing significant cash flow issues in the first days of Corona. Without a fast cash injection, they would be forced into bankruptcy. Can Robots catch Covid-19? No! But they can help to overcome it.
Handling thousands of inquiries within just a few days is of course very hard to achieve – especially during corona times with no one in the office due to the fear of catching Covid.
Luckily Robots can't catch Covid – so they helped overcome the crisis. Developed in only 4 weeks they immediately started to check inquiries, book the relevant data into the system and give clients the approval for the much-needed cash injection.
This is just one example of many where robotic process automation was key to overcoming operational issues within companies. Robots cannot catch Covid, so they were able to start and continue to work on their tasks.
Now, with the Coronavirus crisis (hopefully) coming to an end, for those who adopted bots during this period, it is unthinkable to revert to the manual processes they had pre-Covid. They grew fond of their Corona-immune colleagues and have been able to start working on more pressing and strategic topics in the meantime.
Expanding the reach of RPA by introducing Rocketbot to the US market bringing a flexible, cost-effective, agile RPA solution to sale channels in the US.
A real-life case study from Peru where the government implemented RPA with Rocketbot to compile Covid test data.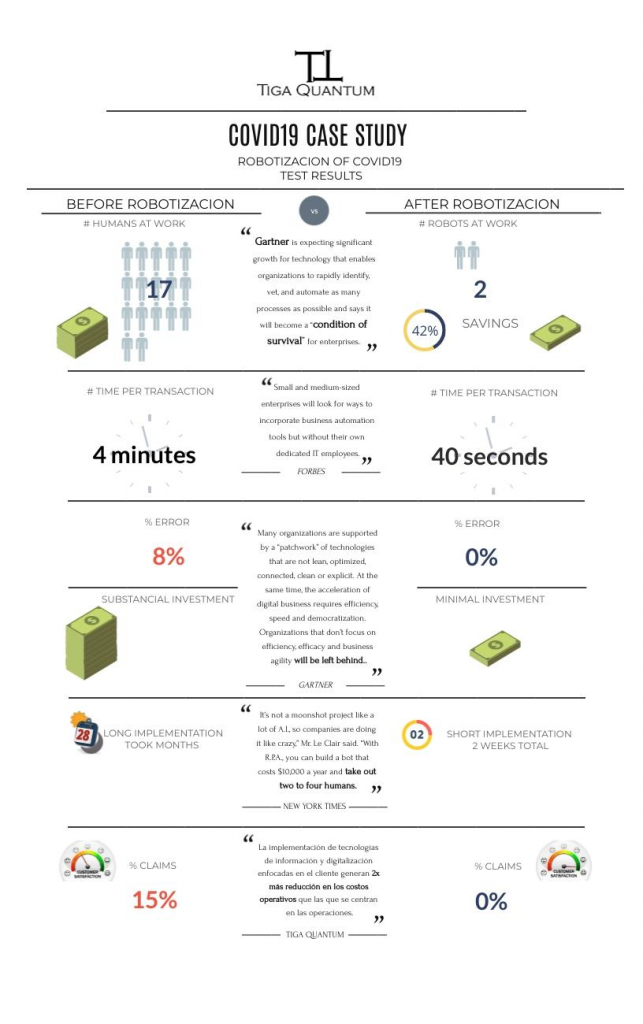 18. David Reid

-,

Sales Director at

VEM Tooling
Due to the pandemic, we've had to operate with restricted or limited resources, and automation has been a huge asset! Plastic injection molding is a fabrication procedure for mass-producing plastic parts, and industrial robots can conduct these extremely repetitive activities 24 hours a day, seven days a week.
One of the most prevalent robotic uses in injection molding is machine tending. A robot can relieve workers from repetitive effort and the danger of injury because this operation is labor-intensive and demands great consistency in handling due to the heat-sensitive material being molded. Typically, the plastic resin is physically transferred into an injection molding machine and then gradually melted during the injection molding.
The plastic is poured through a nozzle into a mold, where pressure is applied until the cooling time has passed. When a human operator removes the produced part and places it on a conveyor belt, the frame opens up. Depending on the quantities of components to be created, the procedure is repeated an infinite number of times.
This continuous process was tried out with industrial robots during the epidemic when we had limited resources so that human operators could focus on other challenging jobs and necessary inspections. Robotics has now been integrated into many aspects of the manufacturing and post-production processes, allowing us to produce and assemble plastic moldings quickly and at lower costs.
Conclusion:
At the time of COVID-19, the business productivity has deteriorated immensely and for that technology has paid a huge role. RPA has enhanced most of the businesses processes and ensured the capability to run all the work processes smoothly even in tough situations. Some of the expert insights were shared above, if you have anything insightful, do let us know in the comments!