Essential Steps for Effective HubSpot CMS Implementation
This blog post outlines the essential steps for implementing HubSpot CMS effectively, from setting your goals to measuring your results. By following these steps, you can ensure that your website is a valuable asset for your business.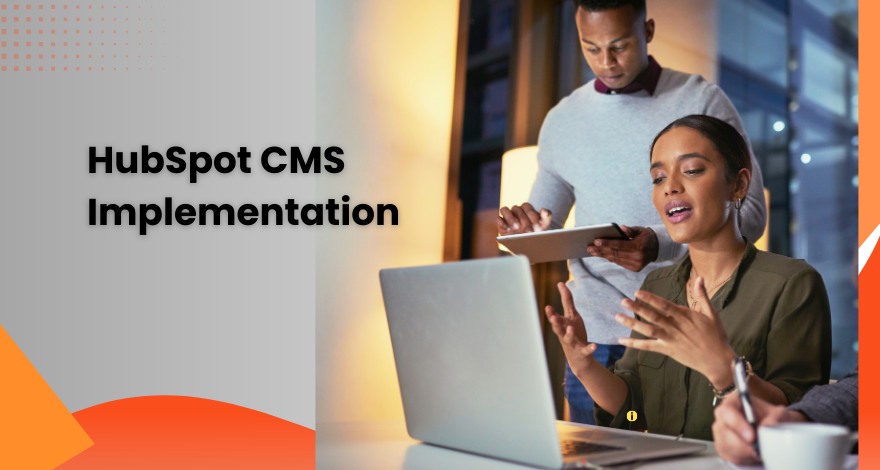 There's no denying, today's business landscape has experienced a significant cultural shift. The reasons vary from:
Inability of conventional CMS to cater the demands
High expectations from customers
The need to work smarter, not harder
This cultural transformation has addressed the need for more data, more customization, more automation and increased functionality. This clearly outlines the fact that your website should be more than a billboard - it's your window to the world.
Make Your Website More Than a digital brochure
What to do? Step into the world of HubSpot CMS!
HubSpot five hubs eclipse everything from sales, marketing, service, operation to content management, helping uncompromising companies achieve success. Plus, the platform goes beyond CRM functionality to drive sales, maximize ROI, facilitate inbound marketing strategies, and much more.
HubSpot's exclusive features and tools also mean it has a steep learning curve. Don't worry; this handy guide covers different ways to integrate the platform into your operations while adhering to guidelines to ensure a successful setup.
So, if you are looking to uncover HubSpot's benefits quickly, talk to an expert to skyrocket the implementation process. Let's start!
Why Pick HubSpot CMS?
You might be wondering if you need a HubSpot CMS? Should you have one? Yes! Let me tell you why we love it.
"We love it because it bridges the right software and tools to attract and nurture leads into customers delivering unparalleled customer experience".
Some other unskippable perks of HubSpot are:
You can easily manage all the content at one place
Easy customization for every user
End-to-end data analytics to see what's working and where the room for improvement
Automatic processes saving time and efforts on voluminous and repetitive tasks
Optimize your content for search, mobile and conversions
Related Read: 10 Reasons Why You Should Choose HubSpot CMS for Your Business
Simply put, HubSpot has everything needed to run a digital business within five "Hubs" that circumscribe:
HubSpot's Marketing Hub
HubSpot's Marketing Hub is an array of tools that can help you grow website traffic, maximize conversions, and build and execute effective inbound marketing campaigns.
Plus, the HubSpot Marketing Hub consists of tools for generating leads, automating marketing, and accessing advanced analytics that let you understand how well your campaigns are performing.
HubSpot's Sales Hub
HubSpot's Sales Hub is a lineup of tools that assist you in closing deals faster. Primarily, the HubSpot Sales Hub sheath tools for everything from tracking leads, and scheduling meetings, to managing your pipeline.
With HubSpot's Sales Hub, you have hands-on:
Track your leads' progress through the sales funnel
Schedule meetings with leads
Send follow-up emails
HubSpot's Content Management System (CMS)
HubSpot's Content Management System (CMS) is a dynamic tool that allows anyone to create professional-looking web pages, even with minimal experience. The CMS consist of a drag-and-drop editor that makes it easy to create and edit pages, along with SEO recommendations to help you improve your website's search engine ranking.
Furthermore, the CMS offers a variety of website themes to choose from, so you can find a design that portrays your brand and your requirements.
In totality, HubSpot's CMS lets you create an informative and visually appealing website.
HubSpot's Operations Hub
HubSpot's Operations Hub offers the tools to sync apps, clean and streamline customer data, optimize processes, and integrate programmable automation to make sure everything works well together.
With HubSpot's Operations Hub, you can:
Align data between your CRM, marketing automation platform, and other apps
Automate repetitive and voluminous tasks to save time and improve efficiency
Easily integration with other HubSpot products for a more holistic view of your customers
HubSpot Value of "Solve for the Customers" is Portrayed in Everything They do
A successful HubSpot implementation typically rewrites how a business operates because primarily separate systems become integrated under a single source of truth. With time, employee collaboration on the platform breaks down silos, and team members understand how to leverage automation to work smarter rather than harder.
HubSpot is also flexible - add as many or as few hubs that will cater to the budget bracket. The best part is there is a free plan available for everyone to get started.
4 Successful Approaches to Implement HubSpot
There are a number of ways to integrate HubSpot into your operations. But, we've handpicked easy yet tried-and-tested 4 successful approaches to help you kickstart.
In a myriad of choices, the best implementation choice depends on what service you need. Typically, free and Starter level hubs can be achieved by a DIY approach whereas HubSpot Pro and Enterprise Hubs need a reliable partner agency or a certified company to implement it.
So, let's breakdown each type of implementation and see how they fit your bracket:
Let's say you recently started a small business and now want to explore HubSpot to test the software.
If that sounds like you, then DIY makes a good choice. The onboarding cost is free, plus you pay only for hubs used. But, remember:
"DIY is not everyone's piece of cake"
DIY is conventionally not an ideal choice if you wish to shift to a higher service level hub (Pro and Enterprise). Besides, if you have dynamic sales, marketing, or revenue objectives, onboarding with a HubSpot Certified Partner will allow you to realize a quick return on your investment.
HubSpot Onboarding Services
HubSpot's Onboarding Services help new users to start easily so they accomplish their goals in less time.
Furthermore, HubSpot's experts understand your goals, business size, and software stack while crafting an onboarding plan to help you get started. The details, engagement length, and onboarding cost depend on what hub you purchased:
Marketing Hub Onboarding targets the users that are newbie to marketing software. During the onboarding process, you'll know how to access and use HubSpot data, nurture leads, and create automation processes.
| | |
| --- | --- |
| Engagement Length | 30-90 days |
| Cost | $3,000-$6,000 |
Sales Hub Onboarding assists new users on how to create prospecting and lead nurturing processes with strategies to close deals quicker.
| | |
| --- | --- |
| Engagement Length | 30-60 days |
| Cost | $1,000-$3,000 |
Service Hub Onboarding offers strategies for new clients to deliver exceptional customer service through the platform's help desk and ticketing services.
| | |
| --- | --- |
| Engagement Length | 60 days |
| Cost | $1,000-$3,000 |
HubSpot's CMS Onboarding helps users on how to use CMS to publish content, optimize for SEO, and create lead conversation paths.
| | |
| --- | --- |
| Engagement Length | 60-90 days |
| Cost | $2,000 |
2.1 HubSpot Advanced and Premier Onboarding
Whether you are a newbie or an existing customer with sophisticated needs, HubSpot Advanced and Premier Onboarding services is a hot pick for you.
The features offered are:
Website migration services
Integrations between the HubSpot CRM and other apps in their sales and marketing software stack.
Consultations for establishing complex workflows.
Strategies for marketing, services, operations and sales teams.
Assistance on merging numerous HubSpot and other business units in a single portal.
Frequent meetings to manage projects, troubleshoot concerns, and manage stakeholders.
Documentations to facilitate training and team interactions.
| | |
| --- | --- |
| Engagement Length | 120 days |
| Cost | $8,000-$15,000 |
2.2 HubSpot Partner Onboarding
There's no doubt, a certified HubSpot solution partner pace-up everything to help you achieve your objectives by building a solid foundation and setting you up for a bigger success.
HubSpot Onboarding specialists like Signity Solutions help you start deriving value at the outset. Plus, no onboarding hidden-fees while getting more support, with a high ROI (Return On Investment). Here's what included:
Kickoff within 7-15 days
Regular meetings
Setting up HubSpot default and domains
Setting up teams
Contact import and migration
Automation and workflows
Integrating existing systems with HubSpot
Setting themes and templates for website pages, email and landing pages
Ongoing support
| | |
| --- | --- |
| Engagement Length | 60-120 days |
| Cost | $6,000-$20,000 (depends on complexity, hubs and features) |
3.1 Inbound Consulting
Our strategic and experienced consultants are subject-matter experts on business growth, dedicated to scale your business, delivering exceptional results for HubSpot customers.
Our HubSpot consultant will partner with you to have a comprehensive understanding of your business, customers, objectives and strategies. Then, they will put their HubSpot expertise and knowledge of your business to offer consultative support of strategic decisions that nurture results.
During your HubSpot consulting engagement, our HubSpot professional will assist you with:
Strategizing marketing campaigns, establishing effective sales processes, and creating a client-first service organization.
Quantifying impression of sales, marketing, and services activities with HubSpot reporting and KPI tracking.
Process optimization with solution mastery and integrating successful business strategies based on HubSpot best practices.
3.2 Technical Consulting
Our technical consultant will help you streamline processes, address challenges and leverage the absolute value of HubSpot. Our experts will work with you in numerous ways, depending on what suits the best for your team.
Our experts will help with:
Custom API integrations (e.g. troubleshooting support, endpoint guidance, etc.)
Customized designs with HubSpot CMS
Optimizing integration connectors and platforms like Shopify, Zapier, ec
Advanced HubSpot software usage
Our HubSpot migration team provides services that streamline the process of shifting your website, landing pages, and blog to HubSpot. Our dedicated HubSpot professionals help you identify the service that will leverage the maximum benefits in minimal time.
Related Read: Website Migration Checklist for Moving into HubSpot
The best part is that you can hold your existing website look and feel or replenish the website design by matching the look and vibe with a theme of your choice. Our HubSpot migration specialist will help you throughout the migration process to address your future updates.
When Choosing a HubSpot Re-Implementation is the Right Choice?
HubSpot implementation has untold configurations and customizations. So, if your HubSpot implementation is turning into a navigation challenge or difficult to use, consider having reimplemented it in a way that makes it a lot easier for everyone to use.
Plus, there are a myriad of inescapable reasons why your HubSpot implementation process goes haywire, like process failures, poor data hygiene, broken pipelines, and more. A reimplementation helps address those problems while optimizing a handful of services, consisting:
Establishing naming conventions for objects, files, CTAs and other items
Addressing workflows and sales pipelines
Building portals and dashboards to present real-time business data across departments
Analysis of current processes that contributed to initial system failures
Matching HubSpot sales, services, and support processes with your present way of doing businesses.
Resolving workflows and sales pipelines
The HubSpot Implementation Process + Directives
Successful implementation is crucial to leverage the maximum benefits of HubSpot. So, below is a quick synopsis of the 5-step possess along with some handful guidelines for a successful implementation:
Step 1: Mobilization
Planning lays the firm foundation because any thin chances of slip ups at this part may need a complete structural overhaul of the system.
First, craft a project management structure that consists of the parties involved in managing and coordinating the work. Roles to consider consist of a project manager, executive sponsor, steering group and project team.
Next, outline goals and business objectives, and find top priorities. This aspect is crucial because it clarifies what you need from the platform and also helps you avoid paying for services that you actually don't require.
Step 2: Strategizing & Outlining Roadmap
Once mobilization is done, next is to conduct a comprehensive business analysis to determine what to include in your implementation.
Some things to consider are:
Size of contact list and how many you want to connect to HubSpot
Processes used by your staff and imperatives needed to scale the productivity
How present and potential customers flow throughout the business, means - where they come from, what departments they interact with, how services or products are delivered, what data flows to the marketing teams, etc.
Key Performance Indicators (KPIs) that are tracked at every state of the sales funnel
Next, craft a roadmap that eclipse goals and the resources needed to accomplish those goals.
Step 3: Designing and Prototyping
Designing and prototyping are conventionally performed by an onboarding evangelist that understands your needs and how to address them through the platform's features.
The elements of the process include:
Find what systems, services, and apps are to be integrated with the CRM
Identify crucial information that need to be migrated to the app
Clarifies client and service vendor deliverables
Determine future functionality needed by the CRM system
Determine terms and implementation cost
Step 4: Implementation
Processes are created and automated in HubSpot at this stage based on the information gather in the above mentioned step, consisting:
Goals and objectives
Business processes
Sales funnels
Data is prepared for migration to the system, sales funnels are staged, and users are added according to the hierarchy access. Developers can also setup HubSpot integrations and automation scripts, assign access and make customizations to the interface.
Step 5: Constant Improvements
At this step, all features are configured, employees are connected, and all sales processes and funnels are set up and working properly. Successful operations are crucial here because this stage is where KPI tracking starts to ensure everything is on the track.
Especially, if you want to evaluate whether business performance has improved or if you are inching ahead to achieving your goals. If business performance is not addressing your expectations, then you may want to go back and see if any flaws need to be fixed before re-analyzing the outcomes.
Are you ready to see a significant return on your HubSpot investment?
It's high time to leverage the power of HubSpot to make significant business gains in minimal time.
Signity Solution is the bridge between your HubSpot investment and your desired result. We are a HubSpot-certified partner focusing on delivering our clients nothing less than excellence.
Looking to leverage the power of HubSpot to make substantial business gains in minimum time? Or, if you want to make your website more than a billboard, let's do it together.